Found April 25, 2012 on The Show Speak:
Title got your attention? 
Well, if the title got your attention, the hot hitting and hot pitching Texas Rangers will keep it. 
The Rangers have scored 100 runs in 2012 and have only given up 49 runs year to date for an astonishing +51 run differential.
It is only April 24th.
The Texas offense is led by former MVP Josh Hamilton, who is hitting .400 with 8 HR's and 19 RBI's in the young season.  Word on the street is Hamilton is also hitting in day games, which is contrary to the excuse his blue eyes make it more difficult for him to hit during day games.   I tend to agree  - hitting a baseball in the daytime with blue eyes is difficult and was probably the most influential impediment to my aspirations of becoming a major league baseball player.    
The 14-4 Texas Rangers are seeking to their 3rd straight World Series appearance in 2012 after finishing runner up the last two seasons to the St. Louis Cardinals (2011)  and San Francisco Giants (2010).  
Now, if Japanese pitching phenom Darvish Yu would ride the mechanical bull at Gilley's, it would be a perfect start to the 2012 baseball season.
from 30 Teams in 30 Sentences:
 Texas Rangers:  The twisted imaginary images of Japanese pitching phenom Darvish Yu riding the mechanical bull at Gilley's nightclub in Dallas, Texas decked out in a big cowboy hat and a big ass belt buckle impressing the local cowgirls who are undoubtedly soaked in an overabundance of powerful vanilla scented stripper perfume and sporting identity shielding sun glasses is so worth this non baseball related run on sentence.
Mmm, vanilla scented stripper perfume....
Until Next Time,
Craig Turley
@That_Dude_CT
(Pittsburgh Pirate Parrot Magic Number is 74) var _gaq = _gaq || []; _gaq.push(['_setAccount', 'UA-22599031-1']); _gaq.push(['_trackPageview']); (function() { var ga = document.createElement('script'); ga.type = 'text/javascript'; ga.async = true; ga.src = ('https:' == document.location.protocol ? 'https://ssl' : 'http://www') + '.google-analytics.com/ga.js'; var s = document.getElementsByTagName('script')[0]; s.parentNode.insertBefore(ga, s); })();
Original Story:
http://feedproxy.google.com/~r/ShortS...
THE BACKYARD
BEST OF MAXIM
RELATED ARTICLES
ARLINGTON, Texas On a night when a sluggish Rangers offense was made to look even more drowsy by Yankees starter C.C. Sabathia, Josh Hamilton remained the primary power source for the Rangers offense. Hamilton sent a Sabathia pitch 422 feet into the seats overlooking the Rangers bullpen in the sixth inning of a 7-4 loss. It was Hamilton's eighth home run in 17 games this season...
ARLINGTON, Texas The Texas Rangers have decided to give starter Neftali Feliz some extra time between starts and he won't start again until the Rangers play in Toronto Tuesday. Feliz started Saturday in Game 2 of a doubleheader in Detroit and will be available in the bullpen for the next few games, including Wednesday's series finale against New York. "We're backing...
The Texas Rangers watched first-time starter Alexi Ogando fade and fatigue down the stretch last year. They don't intend to let the same thing happen with Neftali Feliz this season. Manager Ron Washington acknowledged as much Wednesday when announcing the club would move Feliz's next couple of starts around to give him extra rest. Feliz, who threw 119 pitches in an eight...
A couple who attended the Texas Rangers game last night has drawn the ire of the internet, and it is not pretty.  This is no Bartman situation, but it won't be good for these lovebirds in the next few weeks.  Below is the video which shows the incident in all of its glory and then you can enjoy some choice headlines on the subject which are around the internet today.  We aren't...
ARLINGTON, Texas (AP) -- Yu Darvish had a season-high 10 strikeouts pitching into the ninth inning and worked out of a couple of jams for the Texas Rangers in a 2-0 victory over the New York Yankees and countryman Hiroki Kuroda on Tuesday night. In only the seventh MLB matchup ever of Japanese starters, Darvish (3-0) allowed seven hits and walked a season-low two in 8 1-3 innings...
Alex Rodriguez sharing his thoughts on a called strike. Photograph by Googie Man (Photo credit: Wikipedia) Even though the 2012 MLB season is still so young, the media has labeled the Rangers as the best team in baseball. This is not surprising, as the sports media has a certain love for the Rangers and always gives them the benefit of the doubt. Currently, the Yankees, also...
Although the Frisco RoughRiders lost their third consecutive game on Sunday, third baseman Mike Olt belted his fourth home run of the season. Lone Star Dugout takes a look at all of the day's minor league action in the Texas Rangers' system.
Derek Holland just didn't have it tonight.  Maybe he was unnerved watching Pudge Rodriguez pitch from home to 2nd for the first pitch of the game.  Or maybe he just didn't have it. Holland gave up two runs on three hits in the 1st inning.  Then he calmed down a little for the next few innings.  It seemed probable that the offense could catch up.  Until the 5th, when Holland...
On Monday night, excellent lefties CC Sabathia and Derek Holland combined to allow 11 runs. With struggling right-handers Hiroki Kuroda and Yu Darvish set to do battle last night, I was fully expecting a display of offensive fireworks, one that would thoroughly disappoint an entire nation that had called in sick from work just to see this game. Oops. When I predicted yesterday that...
Tonight was just Yu Darvish's second home start. His first one was a little shaky — he only went 5.2 innings, allowing five runs on eight hits and four walks.  To the Mariners. This evening, against the Yankees, he left the mound in the 9th inning with a shutout on the line and the crowd on their feet, applauding. They did it last time too, but he seemed to accept it this time...
MLB News

Delivered to your inbox

You'll also receive Yardbarker's daily Top 10, featuring the best sports stories from around the web. Customize your newsletter to get articles on your favorite sports and teams. And the best part? It's free!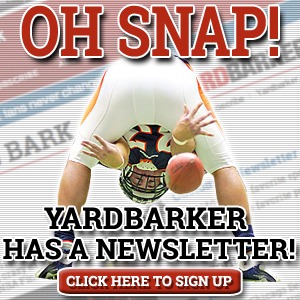 Latest Rumors
Best of Yardbarker

Today's Best Stuff

For Bloggers

Join the Yardbarker Network for more promotion, traffic, and money.

Company Info

Help

What is Yardbarker?

Yardbarker is the largest network of sports blogs and pro athlete blogs on the web. This site is the hub of the Yardbarker Network, where our editors and algorithms curate the best sports content from our network and beyond.