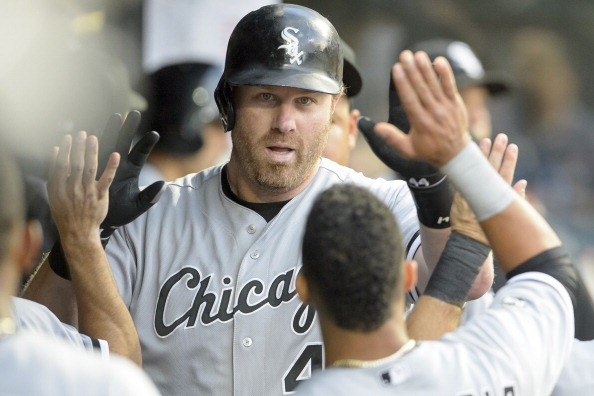 Slugger Adam Dunn could be headed to the postseason for the first time now that he's on the A's.
Getty Images
In August, the Oakland Athletics have seen their once-potent offense fall of a cliff. The team has hit just 22 home runs this month to go along with a line of .224/.304/.351. The trade of Yoenis Cespedes has had much to do with those struggles, but nearly every other regular has struggled as well, most notably Jonny Gomes, Brandon Moss, Jed Lowrie, Derek Norris, Alberto Callaspo, Coco Crisp, and John Jaso. But the A's made a move today that they hope will inject some life into the team's bats, acquiring Adam Dunn from the Chicago White Sox.
Dunn has spent the last four years scuffling in Chicago, and is hitting .220/.340/.433 this season with 20 homers. You know what you're getting from Dunn – a ton of strikeouts, plenty of walks, and insane power. However, Dunn's .212 ISO this season is below his career mark and one of the worst marks of his career, which you'd expect given that he'll be 35 after the season. He's also been terrible in August, hitting just .175/.221/.349 with only three homers and four walks in 68 plate appearances.
Due to Dunn's proficiency against righties (.232/.351/.457 with 18 of his 20 homers this season), I imagine he won't see the field at all when a left-hander is on the mound, which could be a slight problem given that the A's face lefties James Paxton, Brett Oberholtzer, Dallas Keuchel, John Danks, and Chris Sale over the next week and a half. The A's are already a platoon-heavy team, and adding Dunn to the mix gives Bob Melvin another option to plug and play into his lineup. However, Dunn's defensive deficiencies help limit where Melvin can play him without holding his breath.
This isn't the sexiest acquisition, but it could help the A's hold off the other contenders for a Wild Card spot. The AL West title is slipping from their grasp, as the Angels have taken the first three games in their series in Anaheim this weekend and have opened up a four game lead in the division. Oakland still has a four game lead on the Tigers and Royals (who are tied for the AL Central lead) for the second Wild Card spot, and have a 5.5 game cushion on the Mariners, who wouldn't be a playoff team if the season ended today.
But the A's are losing ground to everyone lately, and their competition is playing better than they are. In August, Oakland is just 12-16. They've lost six games in the standings to the Angels, seven to the Royals, three to the Tigers, six to the Indians, five to the Mariners, and even 3.5 games to a zombified Yankee team. On August 1st, the A's were running away with a playoff spot. They're still in a fine position today, especially given that they only have 27 games remaining, but they could easily fall into trouble, given that they have six games left with the Mariners and four (including today) with the Angels.
MORE FROM YARDBARKER:
Five most anticipated September MLB call-ups
MORE FROM THE OUTSIDE CORNER:
MORE FROM YARDBARKER
MLB News

Delivered to your inbox

You'll also receive Yardbarker's daily Top 10, featuring the best sports stories from around the web. Customize your newsletter to get articles on your favorite sports and teams. And the best part? It's free!