Found February 23, 2013 on NorthWest Sports Beat:
PLAYERS:
Felix Hernandez
,
Kobe Bryant
,
Derek Jeter
,
Chipper Jones
,
Tom Brady
,
Joe Montana
,
Bo Jackson
,
Barry Bonds
,
Bill Russell
,
Ken Griffey
,
Alex Rodriguez
,
Ichiro Suzuki
,
Steve Hutchinson
,
Cal Ripken
,
Cal Ripken Jr.
,
Dan Marino
,
Troy Aikman
,
John Elway
TEAMS:
Seattle Mariners
,
Los Angeles Lakers
,
New York Yankees
,
Atlanta Braves
,
New England Patriots
,
Tennessee Titans
Does it get any better? If you ask most knowledgeable sports fans, they will tell you there is no more loyalty in sports. These professional sports were once considered games, but have turned into businesses which focus on the bottom line more than entertaining the people responsible for that bottom line. Felix Hernandez and the Seattle Mariners did something last week that goes against this unfortunate trend in sports. By locking up Hernandez for the next 7 years, the Mariners effectively made King Felix a Mariner for life – a feat hardly achieved nowadays for ANY team. The deal tacked on 5 years to Hernandez's current contract, totaling 7 years, $175 million. ALL of that money is guaranteed. I repeat…ALL of it is guaranteed. While most people will concentrate on those terms alone, what is going to be passed over by most is the fact that this deal wouldn't get done without a special incentive for King Felix. There will be no private jets, no suites at the stadium, no new car or house for his family. Felix Hernandez became the highest paid pitcher in history with his new deal. The Mariners gave Hernandez a full no-trade clause. To the uneducated, this means that King Felix has the power to veto ANY trade involving him over the course of this deal. THIS was the important detail Felix wanted in the contract – not dollars, not years. Just a place to call home the rest of his career. He will be the first to tell you that he didn't do it for himself. He did it for us. For the last remaining loyal Mariner fans, this is a reward for us, too. With each milestone, with each stellar performance, Hernandez ends them all the same – by thanking the fans. By professing his love for this team, this city, these fans. The same city, team and fans who have been with King Felix since the Mariners signed him at age 16. With all this sentimental King Felix talk, it brings up the much larger topic of discussion I keep alluding to: loyalty in sports. When we were kids, we grew up with our favorite athletes. Players would often be drafted by a team and would spend their tenure as a professional athlete with that one team. It helped connect fans with their idols, players with their fans. It gave both the same sense of accomplishment when the team did well. It gave them both the same sense of disappointment when the did didn't do so well. While those emotions are felt by both even now, those emotions now have different motives behind them. For the fans, it is still a heartbreaking loss to see their beloved team go down on a given day. For most athletes nowadays, it seems to be a direct reflection of their next contract, their next stop on their journey as professional athlete. It seems almost impossible to find current (or JUST retired) athletes who have been with their team throughout their careers. Kobe Bryant, Tim Duncan,  Derek Jeter, Chipper Jones, Tom Brady,  Ray Lewis are a few good examples. Take a look at the most popular athletes of the past decade or two: Joe Montana, Jerry Rice, Bo Jackson, Reggie Jackson, Barry Bonds, Nolan Ryan, Michael Jordan, Bill Russell. They all moved on to different teams throughout their career. Loyalty in sports has become a rare trait. Even past local heroes left town on their own accord: Ken Griffey Jr., Alex Rodriguez, Ichiro Suzuki, Randy Johnson, and Steve Hutchinson…just to name a few. Long gone are the days of watching Tony Gwynn win multiple batting titles as a Padre or the days of watching Cal Ripken Jr. break the games played milestone in Baltimore orange. Long gone are the days of seeing The Admiral David Robinson command his team to the playoffs or watching Larry Legend and Magic duke it out in their respective green and yellow duds. Long gone are the days of Dan Marino, Troy Aikman and John Elway racing to get the most rings before their time was up. You get my point. And while I lament the days of old while touching on today's historic contract signing, there is still a shred of hope left in today's fast paced sports business world. Take a look at Felix. He's all the proof you need. CLICK HERE TO CHECK OUT THE MARINERS BLOG IN OUR CLUBHOUSE TODAY AT NWSB!
Original Story:
http://www.nwsportsbeat.com/mariners/...
THE BACKYARD
BEST OF MAXIM
RELATED ARTICLES
There is no outfielder on the current New York Mets roster that is making more than $497,218. That total belongs Lucas Duda, who has been with the team for the past three seasons. But that doesn't mean he is the highest paid outfielder that the Mets are paying. That honor belongs to Jason Bay, who will make $18.12 million from the ridiculous buyout the Wilpon's decided to use...
On the heels of inking a monumental contract extension worth $175 million dollars, P Felix Hernandez finally took to the mound to throw for the first time this spring training season. The Seattle Times is reporting that Hernandez threw indoors after rain halted an outdoor throwing session and he tossed 33 pitches. During a physical he was required to undertake during his contract...
An updated quick-click index of links to all 30 interviews conducted by SeattleClubhouse over the past 18 months. Interviews are with Seattle Mariners prospects, big leaguers, television personalities and front office personnel.
Felix Hernandez's recent contract extension immediately raised questions about which hurler is next in line to receive a big payday, and the best pitcher in baseball feels he deserves to be properly compensated. Justin Verlander, who has been lights out the past few years, told Yahoo! Sports' Jeff Passan that he would absolutely like to become baseball's first $200 million...
MLB News

Delivered to your inbox

You'll also receive Yardbarker's daily Top 10, featuring the best sports stories from around the web. Customize your newsletter to get articles on your favorite sports and teams. And the best part? It's free!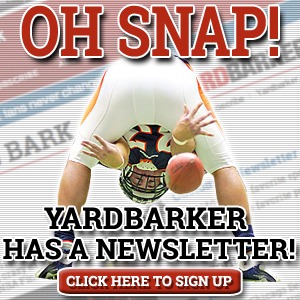 Latest Rumors
Best of Yardbarker

Today's Best Stuff

For Bloggers

Join the Yardbarker Network for more promotion, traffic, and money.

Company Info

Help

What is Yardbarker?

Yardbarker is the largest network of sports blogs and pro athlete blogs on the web. This site is the hub of the Yardbarker Network, where our editors and algorithms curate the best sports content from our network and beyond.