Found July 18, 2013 on The Daily Stache:
PLAYERS:
Prince Fielder
,
Yoenis Cespedes
,
Carlos Beltran
,
Danny Haren
,
Lucas Duda
,
Justin Turner
,
Mike Pelfrey
,
Ike Davis
,
Angel Pagan
,
Alex Cora
,
Josh Thole
,
Johan Santana
,
Francisco Rodriguez
,
Aneury Rodriguez
,
Fred Wilpon
,
Mike Nickeas
,
Chris Capuano
,
Marlon Byrd
,
Carlos Marmol
,
Kirk Nieuwenhuis
,
Bob Costas
,
Jordany Valdespin
,
Bobby Parnell
,
Kenshin Kawakami
,
Jason Bay
,
Fernando Tatis
,
Frank Catalanotto
,
John Maine
,
Hisanori Takahashi
TEAMS:
Detroit Tigers
,
St. Louis Cardinals
,
Washington Nationals
,
New York Mets
,
Minnesota Twins
,
San Francisco Giants
,
Toronto Blue Jays
,
Los Angeles Angels
,
Houston Astros
,
Los Angeles Dodgers
,
Seattle Mariners
,
Miami Marlins
,
Chicago Cubs
With the All-Star break's two days of horror almost over (The two days without baseball after the ASG really suck), I decided to do a little research. The Home Run Derby on Monday had home runs land in places I thought were impossible. Prince Fielder nearly cleared the Pepsi Porch while Yoenis Cespedes peppered the 3rd deck in LF. So I began to wonder about what exactly were the five longest home runs ever hit by Mets players since Citi Field opened in 2009. According to the ESPN Home Run Tracker, these five home runs below are the ones that were hit by Mets that are the ones that went the farthest. Of course MLB.com gives me embed-able video for four of the five home runs but NOT the one that was the longest. And of course it was hit by Carlos Beltran so I'll just #BlameBeltran and hope you enjoy these homers. 1. 459 Feet- Carlos Beltran vs. Dan Haren on 6/18/11. Two-Run HR in the 5th Inning. Made the score 6-0 Mets Notes: It was 10th homer of the season for Beltran as he went 2-4 with 3 RBI. Daniel Murphy played 3rd base and hit cleanup. Lucas Duda was at 1st Base and Justin Turner played 2nd base. Mike Pelfrey pitched a complete game to move to 4-5 on the year. This is only win by the Mets over the Angels at Citi Field. 2. 458 Feet- Ike Davis vs. Derek Lowe on 7/11/10. Solo HR in the 6th Inning. Made the score 2-0 Mets Notes: It was the 11th homer of the season for Davis as he went 2-3 with an RBI. Chris Carter started in LF and Angel Pagan had three hits. Davis, Alex Cora and Josh Thole had the RBI's in this game. Johan Santana got the win as he moved to 7-5 on the season. Francisco Rodriguez earned his 21st save. This was the last game before the All-Star break in Anaheim. 3. 456 Feet- Ike Davis vs. Aneury Rodriguez on 4/21/11. Solo HR in the 8th Inning. Made the score 9-1 Mets Notes: It was the 2nd homer of the season for Davis as he went 1-3 with 2 RBI. The win for the Mets ended a 1-9 stretch. It was this series where Fred Wilpon gave him infamous interview to the New Yorker. This win started a six game winning streak. Mike Nickeas hit his 1st MLB HR. Chris Capuano got the win to move to 2-1. 4. 453 Feet- Marlon Byrd vs. Carlos Marmol on 6/16/13. Solo HR in the 9th Inning. Made the score 3-1 Cubs Notes: It was the 11th homer of the season for Byrd as he went 1-4 with an RBI. Kirk Nieuwenhuis hit a walk off three run homer later in the inning to give the Mets a 4-3 win. Carlos Marmol pitched only 0.1 innings and gave up four runs, he was traded by the Cubs to the Dodgers a week or two later. This game helped Bob Costas declare the end of Western Civilization. Jordany Valdespin led off the game and played second base. Bobby Parnell pitched the 9th and got his 5th win of the year. This win helped spark a 17-11 stretch for the Mets heading into the All-Star break. 5. 450 Feet- Ike Davis vs. Kenshin Kawakami on 4/23/10. Solo HR in the 5th Inning. Tied game at 1-1. Notes: It was the 1st homer for Ike Davis in his major league career as he went 1-3 with an RBI. Jose Reyes batted third and Jason Bay hit cleanup while Wright batted 5th. Fernando Tatis & Frank Catalanotto both played. John Maine started and only lasted 3.2 ip. Hisanori Takahashi got his 1st major league win and 1st major league hit. This was part of an 8 game winning streak and sweep of Atlanta. The post The Five Longest Mets Home Runs At Citi Field appeared first on The Daily Stache.
Original Story:
http://dailystache.net/the-five-longe...
THE BACKYARD
BEST OF MAXIM
RELATED ARTICLES
Jerry Seinfeld was not just a big New York Mets fan in "Seinfeld." The actor/comedian loves the Mets in real life, and he was not in a joking mood after the events that took place at the All-Star Game at Citi Field on Tuesday night. Seinfeld, who actually named his dog after a former Mets player, [...]
So in yesterday's MiLB Report, Adam Rubin noted that Wilmer Flores would miss the Triple-A All-Star game with an ankle injury — but the injury itself is considered to be minor. It's bad timing for Flores, but his longterm health is more important than one exhibition game. One of the things that might have went by the boards in the report, however, was this… After primarily...
The renaissance season of Marlon Byrd is likely to finish where it started, as a member of the New York Mets. Despite the presumption that there may be considerable interest from contenders in the near future, the Mets are now telling inquiring teams that Byrd will not be traded unless they receive an offer they can't refuse. Citing the importance of remaining competitive...
Mets phenom Matt Harvey is living the dream in his first full season in the majors, starting the All-Star Game in front of the hometown fans and dating a supermodel. So why not shoot for the moon? Harvey said he wants to have Derek Jeter's life, especially his love life, and have "the best apartment in the city" when he gets "that $200 million contract."...
When the New York Mets broke camp this spring, they did so with a myriad of questions for manager Terry Collins. That's not surprising considering the Opening Day roster featured only nine players from the 2012 first-game roster. I broke the questions down to pitching and position players, limiting each category to just five questions. So, let's go back and address each question...
Let's be realistic, half a season worth of Marlon Byrd is not going cause a contending team to part with a top prospect.  Buster Olney pretty much hit the nail on the head with this tweet last week: There was a problem connecting to Twitter. If Byrd's performance to date hasn't caused other teams to view him as a 'difference maker', then it makes sense that the Mets front...
Phillies (48-48) vs. Mets (41-50) RHP Kyle Kendrick (8-6, 3.68) vs RHP Jeremy Hefner (4-6, 3.33)  Starting Lineup Eric Young Jr., lf Daniel Murphy, 2b David Wright, 3b Marlon Byrd, rf Ike Davis, 1b John Buck, c Kirk Nieuwenhuis, cf Omar Quintanilla, ss Jeremy Hefner, rhp Infielder Justin Turner (intercostal strain) will not be activated for Friday's game and will instead...
Matt Harvey recently sat down with David Amsden of Men's Journal to discuss how amazin' it is being Matt Harvey. When the article leaked Harvey caught some backlash for coming off cocky and a poor role model.  Harvey even sent out a disclaimer about being taken out of context.   It really sucks how words get used and completely taken out of context. — Matt Harvey (@MattHarvey33...
Last night was a memorable All-Star Game to say the least. The night began with Matt Harvey, the 24 year old, Connecticut native and NY Mets budding superstar having a scoreless two-inning outing to kick off the game on his home turf. After a couple runs knocked in by the AL, the NL was left without the jumpstart they were in desperate need of, acquiring just 3 hits all night. The...
Well the 2013 All-Star Game has come to a close as the American League defeated the National League by the score of 3-0. It was the lowest-scoring All-Star Game since 1990, when the AL earned a 2-0 victory. I loved the Opening Ceremonies and it was great to see Carlos Beltran and Mariano Rivera get some nice ovations, but not nearly as loud and boisterous as the ovations for the...
Philadelphia Phillies (48-48) @ New York Mets (41-50)Pitching Match-Ups:Friday, 7:10 - KK vs. Jeremy HefnerSaturday, 1:10 - Cole Hamels vs. Zack "Not Chris" WheelerSunday, 1:10 - Cliff Lee vs. Matt Harvey Mets Bats: R - 376 (19th)AVG - .235 (28th)OPS - .680 (28th)Their offense is horrible, but have managed to outscore the Phillies, despite playing 5 fewer games.  Marlon...
MLB News

Delivered to your inbox

You'll also receive Yardbarker's daily Top 10, featuring the best sports stories from around the web. Customize your newsletter to get articles on your favorite sports and teams. And the best part? It's free!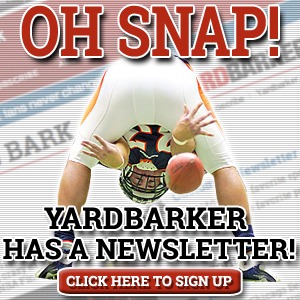 Latest Rumors
The Backyard

Today's Best Stuff

For Bloggers

Join the Yardbarker Network for more promotion, traffic, and money.

Company Info

Help

What is Yardbarker?

Yardbarker is the largest network of sports blogs and pro athlete blogs on the web. This site is the hub of the Yardbarker Network, where our editors and algorithms curate the best sports content from our network and beyond.