Found January 21, 2013 on Waiting For Next Year:
PLAYERS:
Chris Perez
,
Nick Swisher
,
Rafael Soriano
,
Mariano Rivera
,
Edwin Jackson
,
Brett Myers
,
Mark Reynolds
,
Adam LaRoche
,
Mike Aviles
,
Lance Berkman
,
Trevor Bauer
,
Drew Stubbs
,
Casey Kotchman
,
David Huff
,
Jeanmar Gomez
TEAMS:
Cleveland Indians
,
Boston Red Sox
,
Washington Nationals
,
New York Yankees
,
Chicago Cubs
,
Texas Rangers
,
Pittsburgh Pirates
On one of the first podcasts that I did with Craig I was trying to explain why I thought the Indians simply had to trade Chris Perez before the 2013 season started. "You DO NOT spend one-tenth of your payroll on a pitcher who might throw 60 innings," I argued.  "If we keep Perez, there is a chance he will be our highest paid player.  There is just no reason to allow that to happen, especially when rich teams habitually overpay for closers in trades and on the free agent market.  We can free up that money to spend elsewhere AND add talent to the roster from the trade.  This is a no-brainer." And that's when Craig supplied me with a metaphor: "Jon, you're a homeowner now. 1   You're saying it would be like splurging on a $50,000 basement renovation in a $100,000 house?  It's just not worth it?" I like Craig's analogy, but let me reimagine it slightly. Paying exorbitant amounts of money for a closer is like taking out a life insurance policy on your team's season.  Teams like the Yankees or Red Sox or Dodgers or Angels or Rangers—these teams have invested hundreds of millions of dollars in their roster.  They have, collectively, committed to spending nearly a billion dollars next season on their respective rosters. 2   For teams with these sorts of financial commitments, you can sort of understand why they wouldn't want a question mark at the backend of the bullpen.  Perhaps spending one-twenty-fifth of your total investment to make sure it doesn't all go up in flames could even be considered prudent, considering the money involved. The Indians, on the other hand?  Well, a small market team paying big bucks for a closer would be akin to taking out a big fat life insurance policy on your unemployed, alcoholic Uncle Bob instead of using the money to buy him a new suit, a haircut, and a job-interview prep class.  3   You end up spending far more on the insurance policy than you're ever likely to recoup, especially when the money could have been used more judiciously in the first place on something you and Bob could've really used. Enter Chris Perez and his shiny new one-year deal for $7.3 million—a deal that allowed the Indians to continue their arbitration drought.  Because of the Nick Swisher deal, Perez will be only the second highest player on the team rather than the highest.  WHEEEEE! This for a player who has averaged fewer than 60 innings pitched over the last three years.  He'll make more money in 2013 than Rafael Soriano, who just signed a $28 million free agent deal with the Washington Nationals. Looking over this list, I see only one closer in all of baseball who signed over the off-season to make more money in 2013 than Chris Perez did: Mariano Rivera. Not only does Perez's new contract hurt his trade value (as he becomes more expensive, he's necessarily less valuable as a trade commodity since an acquiring team has to foot the higher bill), but I'm also left wondering all the ways the Indians could've used that money instead. How about an arm to bolster one of the worst rotations in baseball last year?  Edwin Jackson will make only $4 million more pitching for the Cubs than Brett Myers will on the Indians this year. Maybe a first baseman who strikes out less than 200 times per year strikes your fancy? The difference between what we gave Mark Reynolds and what Nationals gave Adam LaRoche was only $5 million in 2013. I'm not sure exactly where Mike Aviles will play this season, but it's clear this team is missing a DH and he'll likely patch a hole somewhere in there.  Lance Berkman signed for roughly $7 million more than Mike Aviles will make this season after arbitration. The point is that $7 million is a lot of money, even in Major League Baseball, and a team like the Indians can't afford to waste it.  Couple that with the fact that Perez might've even netted us considerable value in a trade?  I say it again: what a waste. Waste? I can hear you from here.  How is it a waste to keep together a great young bullpen? Point taken. But if great young bullpens were so instrumental in winning one's division, shouldn't the 2012 Indians have run away with the AL Central rather than being outscored by a wider margin than every other team in the American League?  If having a good closer meant anything (and if Chris Perez were a good closer—a fight for another day, to be sure) wouldn't the Indians have the hardware to back it up these last few years?  Isn't it possible that a sure-thing closer is a luxury while a real designated hitter or a first baseman who isn't blind or a starting rotation with a collective ERA under 5.00 might actually be necessities?  I think it's possible, and, at the risk of mixing eight different metaphors, I wonder if the Indians didn't just put some fancy surround sound speakers in their rusted out double-wide. It's never too late to still make this trade and recoup some value from Chris Perez before he signs a free agent deal with the Marlins in a few years. 4   But the longer this goes on, the fewer dance partners we'll have left, and I can't help thinking that we already passed the apex of Perez's trade value sometime last July. This off-season has been filled with more positives than negatives so far.  I'm onboard with the Swisher signing.  I like the Francona hire.  I loved the Choo trade and can't wait to see Trevor Bauer.  I believe Drew Stubbs will be fun to watch, and Mark Reynolds will be better than Casey Kotchman and Brett Myers can't be worse than David Huff and Jeanmar Gomez. But I told myself that if the Indians opened the 2013 season with Chris Perez on the roster, they will have blown the off-season.  They will have taken an asset and, simply by doing nothing, turned it into a liability.  A young, promising talent is on its way to becoming the one thing a team like the Indians can never have—a final year arbitration player counting down the days to free agency, leaving town for free. Maybe I'm wrong about all this.  Maybe the Indians will claw their way into the post-season by the skin of their teeth, powered primarily by the talented young bullpen we saw on display last year.  Maybe they wouldn't have been able to accomplish anything without their hirsute closer.  Maybe closers matter way more than I think, and this'll be the year I'm proven wrong about them, once and for all.  I sure hope so. But would I bet $7.3 million on it?  Nah.  I'd rather have a real DH and just get Uncle Bob that job already.  That's just me, though. – (Thomas Ondrey/The Plain Dealer) ___________________________________ This is, technically speaking, unture.  My wife and I decided last night that the bank owns the home, and I have thus far managed to purchase the first floor powder room from them. touches inverted pinky to corner of mouth Not everyone's Uncle Bob is unemployed and/or alcoholic.  But EVERYONE has an Uncle Bob. Seriously, is there a better fit of franchise and player? Will Smith can sing at the opening press conference.  It'll be the jiggiest
Original Story:
http://www.waitingfornextyear.com/201...
THE BACKYARD
BEST OF MAXIM
RELATED ARTICLES
The IBI's 2013 Indians Top 60 Prospect countdown continues on with right-handed reliever Rob Bryson. So far the IBI listing has been a run of interest right-handed pitchers, and Bryson is another in a long line of good right-handed relief prospects in the system. He continues to perform each year with impressive strikeout totals, and Tony goes in depth with a detailed report...
With about three weeks left until spring training one of the more interesting battles to watch will be the backup catcher position. For the last three years that's a role that has been held by Lou Marson, but after the November trade that brought Yan Gomes into the fold it's clear that the Indians intend to create competition for the job this spring. Michael Goodman breaks down...
The IBI's 2013 Indians Top 60 Prospect countdown continues on with the first position player named do far: catcher Jake Lowery. Even though his prospect value slipped last season due to his performance offensively and high strikeout totals, he is still an interesting prospect going forward because of his power potential from the left side. Tony takes a look at the positives that...
Welcome to this week's edition of the IBI Power Poll. The Poll will take a look at a relevant topic of the time, an all-time list, or just something that we're talking about here at the IBI home offices. There's nothing like a list to spur a debate, so join us in our lively banter with our weekly polls! Today's poll focuses on the best Indians' third baseman of...
What a great Indians weekend as the widely popular Tribe Fest was jam packed on Saturday and is expected to have big crowds again today. On the news front, it was a slow week for the Indians other than a few players being named to World Baseball Classic rosters and several arbitration eligible players having their 2013 contracts finalized. Tony discusses the arbitration deals and...
Terry Francona's new book will talk a lot about his time with the Boston Red Sox and a lot about former outfielder Manny Ramirez. "Francona: The Red Sox Years,'' co-authored by Globe columnist Dan Shaughnessy will detail his eight year run as the manager of the Boston Red Sox naturally there are plenty of Ramirez stories to be told. Here are a few from Boston.com. Francona's...
Paolo Espino had another outstanding start in the Winter League, striking out eight in seven innings of five-hit baseball. While he's not considered a top prospect, he certainly can turn heads with outstanding starts. Quincy Latimore continued his hit streak in Australia, while Asdrubal Cabrera is slumping in the Caribbean. Join Jim Pete with another weekend edition of ATF.
The Winter Leagues are heading towards the end game, and several Indians prospects and players remain active down the stretch. Rob Bryson made an appearance on Saturday night looking to continue his scoreless innings streak, along with Paredes, Carrera and Cabrera in the Caribbean leagues, while Quincy Latimore continued to heat things up down under, along with Andrew Campbell. Jim...
Jordan Bastian at Indians.com informs us that the Indians are close to agreeing to terms with former Tiger utility man Ryan Raburn on a minor league contract that includes an invitation to Spring Training. Raburn, 31, struggled mightily last season, posting a .171/.226/.254 split with 1 homer and 12 RBI in 66 games. Prior to that, the right-handed hitter had a string of success as...
He also updated his Twitter profile. He's just 25-years-old and has only played in 9 games for the Indians last season, hitting .207/.250/.261 with 2 RBI in 24 plate appearances.
Ryan Raburn has a long run with the Detroit Tigers.  He spent seven seasons with the Tigers before eventually being released after the 2012 season.  He didn't have to wait long before potentially finding his new home.  The Cleveland Indians are reportedly close to finalizing a deal with Raburn. Jordan Bastian of MLB.com says the Indians plan to sign Raburn to a minor league...
Large crowds descended upon Progressive Field this past week for the inaugural Tribe Fest, and it turned out to be a rousing success. The Indians appear to be getting everything right this offseason with their trades, free agent signings, manager and coach hires, and now a great fan friendly event. What momentum the organization has built going into the 2013 season, and Jake Dungan...
MLB News

Delivered to your inbox

You'll also receive Yardbarker's daily Top 10, featuring the best sports stories from around the web. Customize your newsletter to get articles on your favorite sports and teams. And the best part? It's free!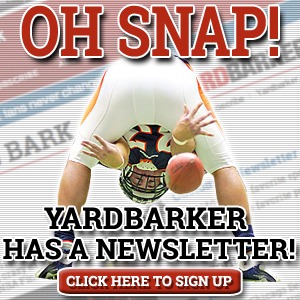 Latest Rumors
Best of Yardbarker

Today's Best Stuff

For Bloggers

Join the Yardbarker Network for more promotion, traffic, and money.

Company Info

Help

What is Yardbarker?

Yardbarker is the largest network of sports blogs and pro athlete blogs on the web. This site is the hub of the Yardbarker Network, where our editors and algorithms curate the best sports content from our network and beyond.