Found December 18, 2011 on 22gigantes:
PLAYERS:
Carlos Beltran
,
Albert Pujols
,
Melky Cabrera
,
Angel Pagan
,
Prince Fielder
,
CJ Wilson
,
Jose Reyes
,
Heath Bell
,
Mark Buehrle
,
Jimmy Rollins
,
Aramis Ramirez
,
Michael Cuddyer
,
Guillermo Mota
,
Eli Whiteside
,
Tim Lincecum
,
Matt Cain
,
Barry Zito
,
Aaron Rowand
,
Aubrey Huff
,
Cody Ross
TEAMS:
New York Mets
,
Los Angeles Angels
,
San Francisco Giants
,
Milwaukee Brewers
,
Miami Marlins
,
Philadelphia Phillies
,
Colorado Rockies
,
St. Louis Cardinals
Goodbye Albert. Hello Carlos?
The world champion St. Louis Cardinals, still reeling from the loss of one of the most prolific offensive forces in the team's storied history, are getting closer to signing another player who can handle the bat pretty well — Carlos Beltran.
And while nobody is going to mistake Beltran for Albert Pujols anytime soon, signing the 34-year old free agent outfielder would at least give St. Louis a fighting chance to defend its title.
Pujols bolted for "greener" pastures last week after signing a 260-godzillion dollar contract with the Angels, leaving a gaping hole in the Redbirds' lineup.
Enter Beltran, who has been somewhat relegated to bottom-of-the-barrel status (in terms of chops-licking free agents, anyway).
The Giants are so content with their own additions of Melky Cabrera and Angel Pagan, that they seem to have forgotten that Beltran is still out there.
This much is true: The longer Beltran stays out there, the more affordable he becomes.
With the exception of Prince Fielder (who will command a salary big enough to buy off his dad's attention a thousand times over), all the other star-powered names have been scooped up this winter.
C.J. Wilson has joined Pujols in Los Angeles. The Marlins got busy with Jose Reyes, Heath Bell and Mark Buehrle. Jimmy Rollins just re-signed with the Phillies. The Brewers signed Aramis Ramirez. Michael Cuddyer will suit up for the Rockies.
That just leaves Beltran among the "affordable" pack.
Supposedly, Beltran already has one offer on the table — a $10 million per year deal with a yet-to-be-named team. That team could be the Cards or Blue Jays, or one of two "mystery teams" according to Scott Miller at CBS Sports, who adds that Beltran prefers more than just one year.
It's difficult to imagine the Giants plunking out $10 million a year at this point. The front office folks have openly declared the shopping spree season over.
Oh, there will be the occasional Guillermo Mota or Eli Whiteside bargain-basement-second-hand-thrift-store pick up. But a Nordstrom Rack guy like Beltran? The Giants' brass says no.
CEO Larry Baer told fans last week that the team does not want to risk losing star pitchers Tim Lincecum or Matt Cain to free agency "down the road" because the Giants are strapped with expensive contracts. (Cough. Barry Zito. Cough. Aaron Rowand.)
Forget about Zito for a minute. Imagine if the Giants had not agreed to a fifth year on Rowand's contract. That's $12 million right there. That's Beltran in a San Fran uni.
I can see why ownership might be a little gun shy. Not one, but two albatrossian contracts still on the books will do that to a person.
But my momma always said, "it takes money to make money." (OK, she actually said, "well I'll be a dirty, cow-kicking, he-brother" but none of us kids ever figured out what that meant.)
Listen. You hear that? That's the sound of the Giants out on the precipice. It's quiet out here. And a little scary too.
There's no question the Giants are at a critical point here if they want to return to their rally thong glory days.
Yes, we still have Timmy, Matty, MadBum, and Vogey. Buster and Freddy are coming back. Pablo's poised for another All-Star season.
But there are question marks, too…
…starting with the two young dudes named Brandon. Neither has proven he can hit in the big leagues.
For that matter, Aubrey Huff's bat is no sure thing either.
Giants pitching coach Dave Righetti said last week that the toll of 200+ innings per season will eventually catch up to the starters.
And, as much as I like the Pagan and Melky signings, those two guys could still end up being the 2011 versions of Andres Torres and Cody Ross.
So why not go for it all now? Sign Beltran for two years, $20 million.
The Giants are going to extend Cain to a monstrous deal in the next couple of months, so he's safe. And Lincecum is still under the team's control for two more years, so he's safe too.
Hear me out, Mr. Baer. I'm talking two measly years here. Not five years like Rowand, or seven like Zito.
Sign Beltran for two years, $20 million.
He's going to be 35 at the start of the season, so anything longer is definitely too risky. Plus, three years (even if it's an option year) could muddle things up with Timmy and some of the other young players. We don't want to see Lincecum pull a Pujols, so you need to keep the books clear for 2014. I get that.
But one way the Giants can ensure there's money on the books in '14 is by — oh, I don't know — winning another World Series! Can they do that with the offensive production we saw in 2011? Of course not.
Beltran (.300/.385/.525/.910, 22 HR, 84 RBI in 598 plate appearances last season) has said he would love to come back to San Francisco (and the ball club even did its part in getting him some offensive help in the lineup).
The time is now for the Giants to make one last push for a big bat. The rewards far outweigh the risks in this one.
Carlos Beltran: Two years. $20 million.
Another downtown parade: priceless.
I hope you enjoyed reading "The Giants should make one last push for Carlos Beltran." I'm interested in your opinion on this article. Why not leave a comment at 22gigantes.com?
Original Story:
http://feedproxy.google.com/~r/22giga...
THE BACKYARD
BEST OF MAXIM
RELATED ARTICLES
The Cardinals did extensive background work on free-agent outfielder Carlos Beltran last week and maintain strong interest in him, according to major league sources. Other teams remain in the mix, however, and Beltran is weighing a variety of two- and even three-year options, sources say. A three-year deal might seem like a stretch for Beltran, who is 34 and had injury-marred seasons...
Former Met Carlos Beltran is receiving interest from several teams including the Red Sox, Cardinals, Blue Jays, and Rays. According to Ken Rosenthal of FOX Sports, Beltran is being extensively looked at by the Cardinals as an offensive alternative.  With Albert Pujols now in Anahiem, the Cards are looking at everyone in order to replenish their offense.  If the Cardinals pickup...
(source feed provided no summary content for this entry)
Galea was arrested in 2009 for allegedly smuggling unapproved drugs into U.S.
Here is the latest, and relevant Hot Stove buzz which has circulated around MLB over the last day or so: The Cardinals continue to have strong interest in Carlos Beltran, although St. Louis could wait to see what happens with the Prince Fielder market. The Reds acquired Mat Latos from the Padres for Edinson Volquez, Yasmani Grandal, and Yonder Alonso yesterday. The Twins are considering...
Carlos Beltran is one of the top free agents remaining (#4 among unsigned free agents on MLBTR's top 50 list). He hit .300/.385/.525 with 22 homers for the Mets and Giants this past season and won't cost a draft pick, so teams looking for a capable outfield bat have taken note. The 34-year-old switch-hitter won't come cheap, however. Here's the latest on Beltran...
The Rockies got Michael Cuddyer today, which fills their corner outfield gap and could be good news for the Cardinals. Colorado had been one of five teams with some interest in all-star outfielder Carlos Beltran, but with Cuddyer now in the fold, they're out; leaving the Blue Jays, Cardinals and two mystery teams on the list of interested teams. ESPN's Buster Olney said...
Does anyone want to go to St. Louis? After losing Albert Pujols to the Los Angeles Angels, it was unclear how the reigning champs would respond this off-season. Instead of going after the other marquee free-agents, the Cardinals appear to be shoring up their team through smaller moves. With the uncertainty surrounding Allen Craig — who had knee surgery in November — the Cardinals...
After a long hiatus from post-season baseball to the TLR retirement to Pujols departure, the Monday Ramblin's are back. It's only fitting the laziest column we do left without warning… Carlos Beltran. Lots of smart Cardinals fans are hot and bothered by this one. But my philosophy on injuries is pretty simple: if you've had a bunch of time on the DL, you're going to have...
Like others during the holiday season, the children of Redleg Nation have their hopes for the New Year – and wish lists. It's not that we're ungrateful.  We appreciate that Uncle Walt has already delivered a wonderful holiday present, The Boy with the Baseball Tattoo.  That 6'6″ gift is wrapped with a bright Reds ribbon on top.  We wait anxiously to open it on Saturday...
Looks like the St. Louis Cardinals aren't putting all their eggs in the Carlos Beltran basket. Multiple reports today say the Cards have held discussions with free agent Coco Crisp. There's no deal imminent as it is simply what the reports said, discussions. @HensonYahoo: The Cardinals are in discussions to sign Coco Crisp to play CF and bat at the top of the order. Jon Jay...
MLB News

Delivered to your inbox

You'll also receive Yardbarker's daily Top 10, featuring the best sports stories from around the web. Customize your newsletter to get articles on your favorite sports and teams. And the best part? It's free!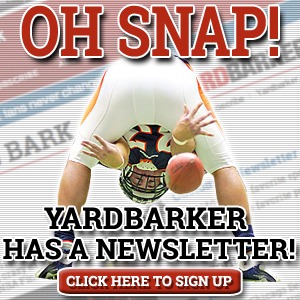 Latest Rumors
The Backyard

Today's Best Stuff

For Bloggers

Join the Yardbarker Network for more promotion, traffic, and money.

Company Info

Help

What is Yardbarker?

Yardbarker is the largest network of sports blogs and pro athlete blogs on the web. This site is the hub of the Yardbarker Network, where our editors and algorithms curate the best sports content from our network and beyond.