Found January 08, 2013 on Hall of Very Good:
PLAYERS:
Jack Morris
,
Bernie Williams
,
Curt Schilling
,
Jeff Cirillo
,
Mike Piazza
,
Craig Biggio
,
Derek Jeter
,
Dale Murphy
,
Roger Clemens
,
Kerry Wood
,
David Wells
,
Barry Bonds
,
Jeff Conine
,
Kenny Lofton
TEAMS:
New York Yankees
,
Chicago Cubs
,
Minnesota Twins
,
Miami Marlins
,
Cleveland Indians
,
Los Angeles Dodgers
A year ago, Jack Morris missed his ticket to immortality by just 48 votes.  And depending on who you're getting your Hall of Fame predictions and updates from...it looks like it might happen again.So, while not everyone agrees on whether or not Morris is Hall worthy, I think we can all agree...whether you're a metrics guy, a black/gray ink guy or something else, it's the numbers that make you a fan.4192 hits, 56 games and 61* (or for that matter 70...maybe 73?) home runs all mean something to someone.  And while we wait to see who going to get enshrined in Cooperstown next, here are some more numbers to play with.4229 Say what you want to about Julio Franco...but the guy could hit. During his 26-year professional career, the journeyman amassed an impressive 4229 hits. Of course, he had to enlist the United Nations to do it. Franco collected his hits in the Majors (2586), Minors (618), Mexico (316), Japan (286), the Dominican (267) and South Korea (156). 1617 While fellow ballot mates Bernie Williams and Curt Schilling made names for themselves in the postseason, Jeff Cirillo had to wait his entire career to get that one at bat. The infielder made the playoffs in his last season, 2007...after 1617 games in the bigs. 1390 With their last pick of the 1988 draft, the Los Angeles Dodgers selected then-first baseman Mike Piazza in the 62nd round...1390th overall. Suffice it to say, no one drafted after Piazza made the big leagues. 285 If the old addage "a walk is as good as a hit" is true...how good is being hit by a pitch? 285 times during his 20-year big league career, Craig Biggio found himself on the business end of an HBP. It should come as no surprise that the former Houston Astro is the modern day leader in that department. 80 As if four World Series wins with the New York Yankees isn't impressive enough...Bernie Williams is also the career leader in postseason RBI with 80. Tops among active players? Williams' former teammate Derek Jeter with 61. 35 Assuming he won't get the 75% of the vote necessary for induction, Dale Murphy stands to become the 35th player to drop out of Hall of Fame consideration after appearing on the ballot for the maximum 15 years. 20 In 1986, Roger Clemens became the first pitcher in history to strikeout 20 batters in a single game. Ten years later, he'd duplicate the deed. Interestingly enough, only one other player has accomplished the amazing feat...Clemens' fellow Texan Kerry Wood. 19 On May 23, 2002, Shawn Green was an offensive machine. The outfielder hit a record-tying four home runs and, probably more impressive, collected 19 total bases...breaking Joe Adcock's 1954 record. 15 Alledgedly battling a pretty mean hangover, New York Yankees pitcher David Wells shut down the Minnesota Twins in order May 17, 1998 to record baseball's 15th perfect game. 14Say what you want about Jack Morris (and many people do), you can't question his consistency and durability. Dude was the epitome of a pitching "Iron Horse". Matter of fact, this innings hog (he had eleven seasons of more than 235 innings pitched) holds the record for most consecutive opening day starts with 14. 7 During their storied careers, Barry Bonds and Roger Clemens nave each been awarded their league's top honors seven times. Amazingly, only twice (2001 and 2004), did Bonds take home the MVP Award the same season that Clemens won the Cy Young Award. On a lighter note...of the two, only Clemens has won both awards since, well, no one ever let Bonds take the mound. 6 In the brief history of the Florida/Miami Marlins, one man has become synonymous with the Fish...Jeff Conine. And rightfully so. Only Luis Castillo has played more games in the teal and black. That said, no one has more grand slams than Conine...he's the franchise leader with six. 6 Unlike Jeff Cirillo who spent nearly his entire career not playing in the postseason, Kenny Lofton and David Wells played baseball in October a number of times. And for a number of teams. The duo appeared in the playoffs for six different franchises...although they never appeared on a postseason roster together. Maybe more impressive...Lofton played postseason ball for the Cleveland Indians during three different tours of duty.So there you have it, gang…your Hall of Fame election by the numbers. Now sit back, relax and wait for the Class of 2013 to become official!
Original Story:
http://www.hallofverygood.com/2013/01...
THE BACKYARD
BEST OF MAXIM
RELATED ARTICLES
DETROIT Jack Morris remains on the outside looking in. Morris, who won 198 games in 14 seasons with the Detroit Tigers and pitched for four World Series winners, failed to cross the 75-percent threshold required for induction into the Baseball Hall of Fame. In totals released Wednesday afternoon, he got only 67.7 percent of the vote just a percentage point ahead of last year&...
Jack Morris' quest to reach the MLB Hall of Fame is down to its final shot. The former Detroit Tigers pitcher again fell short of induction (as did everyone else on the 2013 ballot) — Morris received 67.7 percent of votes, shy of the 75 percent required to make the Hall. This was Morris' 14th year on the Hall of Fame ballot, meaning he has just one year of eligibility left...
Ben and Sam try to figure out whether the sabermetric movement has helped keep Jack Morris out of the Hall of Fame or given him a better chance to get in.
(Written on 1/11/12) As we all know by now, The Baseball Writers have voted SS Barry Larkin into the Hall of Fame. Outside of the talk about how good of a player Larkin was, many have focused on those who fell short, such as Jack Morris, Jeff Bagwell and Lee Smith, all of whom got over 50% of the vote, but fell short of the 75% that was needed to gain entry. Tim Raines got 48...
I was planning on putting together a post regarding the Hall of Fame today, regarding the fact that nobody was elected to Hall by the BBWAA. I had some crystalline points and a well thought out opinion on the matter, I believed. In fact, I was asked the question earlier this afternoon, and then heard a similar response from, of all people, Jim Souhan on ESPN1500. Anyways, my response...
For the first time since 1996, the BBWAA (Baseball Writers Association of America) elected no one to the Baseball Hall of Fame. The ballot consisted of many repeat players such as Jack Morris making his 14th appearance but was littered with players linked to steroids such as Barry Bonds and Roger Clemens. The *home run king* received 36.2% of the votes which was well short of the...
Any fan of baseball, including writers with votes for the Hall Of Fame, should have been rooting for contemporary inductees in this year's ballots. Unfortunately, it did not happen. MLB lost an opportunity to shine the light on some outstanding players from recent times and from a couple decades back. For all that baseball has gone through over the past 15 years – the steroids...
MLB News

Delivered to your inbox

You'll also receive Yardbarker's daily Top 10, featuring the best sports stories from around the web. Customize your newsletter to get articles on your favorite sports and teams. And the best part? It's free!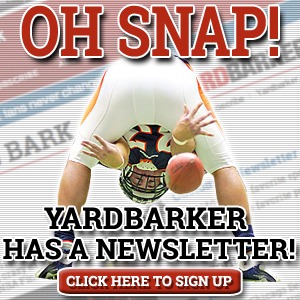 Latest Rumors
Best of Yardbarker

Today's Best Stuff

For Bloggers

Join the Yardbarker Network for more promotion, traffic, and money.

Company Info

Help

What is Yardbarker?

Yardbarker is the largest network of sports blogs and pro athlete blogs on the web. This site is the hub of the Yardbarker Network, where our editors and algorithms curate the best sports content from our network and beyond.