Found March 29, 2012 on Dodgers Rumors:
PLAYERS:
Magic Johnson
,
Stan Kasten
,
Peter Guber
,
Jackie Robinson
,
Bobby Cox
,
Justin Sellers
,
Miguel Cabrera
,
Ned Colletti
TEAMS:
Washington Nationals
,
Atlanta Hawks
,
Atlanta Braves
,
Chicago Cubs
,
Houston Astros
,
Los Angeles Dodgers
,
Detroit Tigers
So I gotta admit, I've been surprised over the last 24 hours or so as I have been diving into this whirlwind of news as it relates to Magic Johnson being announced the new owner of the Los Angeles Dodgers last night. Some good, some bad, but true to life, there are always optimists and there are always pessimists. I tend to be an optimist and a realist, which is kinda both, no?
Last night I hadn't really had the ability to absorb, analyze, or do anything but sit and smile with the cheesiest grin all over my face because I was so ecstatic about the news. I was so shocked, still kinda am, but we got some things to handle and so my random thoughts are here to save the day.
Wow! Magic Johnson, Stan Kasten, and Guggenheim are the new owners of the Los Angeles Dodgers. Yeah I am still stuck on this. I feel like I did when I was a little kid on Christmas opening my Super Nintendo, except it's like that, throw in a World Series, a new puppy, and a brand new pair of socks, then times that by a million. I think it was about six years ago around this time that I was thinking McCourt was a huge mistake, my skepticism set it further, and the nightmare became reality. I never thought the idea of McCourt selling the team was a remote possibility, but yet here we are. If I could do a cartwheel I seriously would.
Okay, now I gotta clear something up just for the sake of clearing it up, because I like to stick to the facts. Yesterday I know I said Magic Johnson bought the Dodgers. Yes that is partly true, but that is not entirely factual. Magic doesn't have anything close to two billion dollars. Though he did put up more than $1MM and neither does Stan Kasten. Mark Walter, CEO of Guggenheim partners is the new controlling owner. It's important you understand how this is going to work. You have Mark Walter on top, Guggenheim executives Bobby Patton and Todd Boehly, Mandalay Entertainment chief executive Peter Guber, Stan Kasten, and Magic Johnson. Most acting in a minority owner role, for the majority of these guys it's an investment opportunity, strictly business. This is not just a short-term deal for these guys, this is going to be the focus of these guys for the rest of their careers. Walter has already mentioned of passing the franchise down for generations, and that he plans to spend more time in Los Angeles, but insisted he will be sitting in the background leaving baseball decisions to Kasten, and community and business relations to Magic. As a matter of fact beyond the next couple of days you won't here about Walter, Patton, Boehly, or Guber all that much, if ever. Kasten is the baseball guy, his experience is going to be huge for this era the Dodgers are venturing into. Magic is the face of this ownership group, and though going forward he will be perceived as the owner, it's important you know all the parties involved so you know what's really going on here.
No Cohen! Yay! No LaRussa! Yay again! That's us fans winning right there ladies and gentlemen. Seriously God smiled upon us when he didn't let these guys in to our beloved franchise. Instead you got Magic and Kasten running the show, the first black owner in baseball history. Yep, Jackie Robinson is smiling too. I know there is some anti-Kasten talk churning, and while I understand where it's stemming from remember this. Kasten is the only NBA Executive to win back-to-back Executive of the Year awards, which he did with the Atlanta Hawks back in '86 and '87. Kasten helped build the Hawks into a perennial playoff contender back in the good ol' Dominque Wilkins days. He had four straight 50 win seasons, setting attendance records, and in the 90's he guided the Hawks to seven consecutive playoff appearances. That's just basketball guys. In the world of baseball he became President of the Atlanta Braves in 1986, from '87 to '03 the Braves won more games than any other team in Major League Baseball. Chew on that for a moment. He found himself one of the greatest GM's of that time in John Schuerolz and managers in Bobby Cox. He knows the baseball way, he knows how to win, and knows how to run a baseball franchise. From '91 to '05 the Braves won 14 straight division titles, 5 NL pennants, and the 1995 World Series. Pretty impressive right? I thought so too.
Here is where things go a little screwy on me. The team sold for $2.15BB! These guys just made it rain cash until McCourt was swimming around like Ebenezer Scrooge back in the good ol' Ducktales days. That's nearly three times the $845MM the Chicago Cubs sold for in 2009. I say they got what they wanted. They paid in cash, that's right no real estate debt, no funny money, nothing is tied up, it's all liquid baby. Cold-hard cash! From what I'm reading there's plenty more where that came from too, so money is not the issue here.
What's sickening to me is McCourt walks away with one billion dollars in  profit and didn't even have to give up full control of the parking lots. What is wrong with this picture? That's probably why I am not a politician. So to make this crystal clear, no we are not entirely rid of the Frank McNightmare yet. You remember that yesterday I clarified this just a bit by saying that the additional $150MM is to form a joint venture that will control the parking lots. Yeah I have no freakin' clue how this thing is going to work, and I will admit I am very nervous. But according to Bill Shaikin, the lots will be controlled by the Magic group. More details to come I'm sure, until then, hip-hip
hooray!
So two billion dollars. No biggie right? I mean seriously, that is a lot of money. Ridiculous money we are talking about right now? Did these guys figure out how to grow a money tree and they are just holding out on us or what? I don't need to tell you exactly how much money this is. It's an absurd amount of money. The reports of it being straight cash seem legit, though I still can't wrap my brain around this. It just doesn't seem possible. I see no reports of this being refuted so I am going to roll with it for now, hopefully this doesn't come back to haunt us later and we end up back in bankruptcy. I do have faith though that the MLB would've done their homework this time around, before just handing over a baseball team to a bunch of rich well dressed fellas.
Okay I just have to point this out because well I'm not always a nice guy and I love to see the irony in things sometimes. Jamie, you know the ex-McCourt gets $131MM in this deal. I bet she had no clue the team would sell for two billion dollars. I feel like Dr. Evil every time I write that. I'm sorry but Jamie you didn't read that green all that well, great negotiating, I blame you and thank you all at the same time. Because of you we now rid ourselves of your reality television show, and yes you have more money than I probably ever will, at least I am happy, and you aren't. Good riddance.
Time to squash some garbage I've heard on the radio, seen on the TV, and read all over the web. This is a good thing, not a bad thing. No the Dodgers aren't going to trade Ethier, Kemp, Kershaw, Billingsley, okay? Loney? Maybe. Uribe and Lilly? Hopefully. These analysts crack me up sometimes because I think they talk sometimes just to hear their own voices. Take a deep breath and think of it this way, no new ownership group is going to invest $2BB just to run the thing in the ground. Talk that they are all broke, in major debt, and are going to have to run this team on a dollar menu budget is just ludicrous. I saw some comment that Guggenheim is going to turn the Dodgers into the Houston Astros. Ignore it. It's like me saying that the Dodgers are going to trade Justin Sellers for Miguel Cabrera. Ridiculous. Just talking to talk, just stirring the pot. Shenanigans. This is an investment, meaning much like the real estate world, you have to improve and develop it. Some speculate that the sale price was hiked due to the pending television network deal. I can see that as possibly playing a small role in it, but it's not the sole reason. Guggenheim wanted this, Magic wanted this, and Kasten wanted this, so they made it happen. The fact that they may have overpaid or not doesn't matter anymore, because the bottom line is they own it. Well sorta. The deal still has to clear bankruptcy court, which will conclude by April 13. As Dylan Hernandez tweeted, the deal is all cash, no financing. MLB review will be a formality because there is no debt being added to the team liabilities. Gotta love this.
In what could be as late as May 1, Kasten and Magic will begin to get their feet wet, but I warn you don't expect anything to happen right away. In regards to Ned Colletti, well, you know I am no longer on board with his shenanigans, and if I could fire him myself I would, it would have been done long ago. Now I am not sure if I can ever forgive the things he's done to this team. But there is still this small part of me that thinks all this mess is more McCourt than it was Colletti. So over the next few months I imagine Kasten will be monitoring this situation, but I can promise you Colletti isn't getting fired right away. I think he will be around for the rest of the season, unless of course the product he has built for this season puts them dead last, then maybe, but it's not gonna happen. While I don't love the 2012 team, we've had worse, and I think this team can contend for a division title. Kasten, who served as President for the Braves, Nationals, Atlanta Hawks, and Atlanta Thrashers, has said he has no plans to make changes once ownership is officially transferred later this month.
A lot of expectations are going to have to be met, because let's face it, there is some serious damage control that needs to be done. Kasten and Johnson have been very vocal about their commitment already. They both understand that expectations are very high, changes need to be made, but I'm digging their approach.
"Scouting and player development is near and dear to my heart," Kasten said. "Having said that, we realize very clearly that this is L.A. There are expectations that we have and that our fans have and we intend to meet those expectations. We're not sitting back and waiting five years for a pipeline to develop. We're going to be doing that, but we're also going to be improving the team that we have now simultaneously."
"The support has been overwhelming," Johnson said. "The Dodgers, it's not that they need to be fixed, we need to just take them to the next level. People love this brand, they love the team, they love going to Dodger Stadium to watch a game. We just need to take them to the next level."
Call me crazy but it feels good to have an ownership group that you believe in. Trust. Confidence. Man, it's been a long time since I felt this way. Now if I had a nice hot Dodger Dog and an ice cold Rolling Rock to help me wash down this great news.
Original Story:
http://feedproxy.google.com/~r/dodger...
THE BACKYARD
BEST OF MAXIM
RELATED ARTICLES
Former NBA superstar Magic Johnson beat Wall Street billionaire Steve Cohen to purchase the Los Angeles Dodgers, according to the Wall Street Journal. Others in contention for the MLB team were Stan Kroenke and Tony La Russa. The reports revealed on Tuesday night that Johnson's consortium bought the LA side from previous owner McCourt (who bought the franchise for 430 million dollars...
I'll comment on the Orioles later in a few posts, however, I did want to mention what happened on the left coast night with the Los Angeles Dodgers. Well, it looks like a consortium of a bunch of well-do-people led by Magic Johnson – who we all know played for the Los Angeles Lakers back in the day - and longtime baseball executive Stan Kasten came to an agreement to purchase...
The Los Angeles Dodgers needed a little Magic after what they endured in the past two years, which includes filing for bankruptcy and a bitter divorce between their owners. But yesterday, team owner Frank McCourt announced new owners for the team who have agreed to buy the Dodgers spear-headed by none other than Magic Johnson. The deal was finalized just hours before the team was...
Magic Johnson and his ownership group have purchased the Los Angeles Dodgers for $2 billion. The largest price paid for a professional sports franchise in history. Also apart of the ownership group,  Peter Guber-who is also one of the owners of the Golden State Warriors, Stan Kasten (former President of the Washington Nationals), Bobby Patton and [...]
Magic Johnson spent much of his NBA career making others around him better. Los Angeles Dodgers fans are hoping that the Hall of Famer can do the same thing for their baseball team as part of the franchise's new ownership group. Johnson and the rest of his ownership group won an auction to purchase the Dodgers on Tuesday night for a little more than $2 billion. The historic deal...
The short list of people affiliated with the Dodgers' organization who are recognizable by one name just grew by one.There's Vin, Tommy, Sandy and now Magic.The ownership group led by Magic Johnson and Stan Kasten was chosen tonight as the winners of the auction. Initial reports put the sale at $2 billion, or 2,000 million dollars.Ken Gurnick was the first to report the news...
Unless there is a major snafu, Frank McCourt will pass the ownership of the Los Angeles Dodgers to a group led by Magic Johnson on April 30. While many now know that the deal (actually two. One side deal is for the land and parking lots around Dodger Stadium) totals $2.15 billion, the details around the sale are just now coming to light. Here's the latest: How Much Debt is in...
As the excitement from getting out from under Frank McCourt's reign dies down a bit, we'll have to start analyzing exactly what the hell just happened, both good and bad. Well, in an effort to do exactly that, Arash Markazi of ESPN Los Angeles talked to economists about the sale of the Los Angeles Dodgers
Dodgers fans rejoiced Tuesday night when it was revealed the ownership group fronted by Magic Johnson won the bidding to purchase the team. Their $2 billion winning bid blew away any previous amount paid for a North American sports franchise. Dolphins owner Stephen Ross paid $1.1 billion for his franchise in 2009 while the next highest amount for an MLB team was $845 million for...
    Yesterday we found out a group of investors that includes NBA legend Magic Johnson won the bid to purchase Major League Baseball's Los Angeles Dodgers. With the news came expected congratulatory remarks directed towards Johnson, many to his Twitter account. Former major league player Jose Canseco was among those who reached out to [...]
Today, the Dodgers have announced that the group led by Magic Johnson, Stan Kasten and Mark Walter have won the bidding for the Dodgers franchise and will be purchased for $2.15 billion.
This isn't one of those articles where the headline is written as a question and then I attempt to answer the question in the post. This time, I really am asking a question that I don't think I know the answer to, and I'd love to see a good discussion in the comments about the $2.15 billion price that Magic Johnson's group just paid for the Dodgers. Here's what we know...
MLB News

Delivered to your inbox

You'll also receive Yardbarker's daily Top 10, featuring the best sports stories from around the web. Customize your newsletter to get articles on your favorite sports and teams. And the best part? It's free!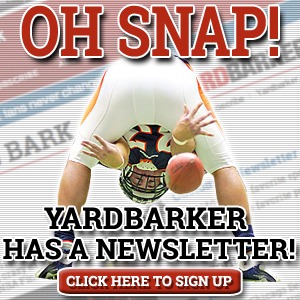 Latest Rumors
Best of Yardbarker

Today's Best Stuff

For Bloggers

Join the Yardbarker Network for more promotion, traffic, and money.

Company Info

Help

What is Yardbarker?

Yardbarker is the largest network of sports blogs and pro athlete blogs on the web. This site is the hub of the Yardbarker Network, where our editors and algorithms curate the best sports content from our network and beyond.