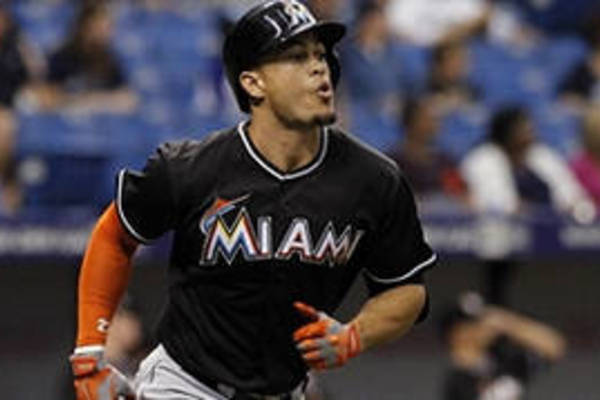 This week kind of sucked for monstrous dingers. The only two shots that went 450 feet both happened last Friday. That's apparently a trend here – the longest homers happen on Fridays. Anyway, Giancarlo Stanton remains in first on the yearly appearances list, and Michael Morse broke out of his tie with Justin Upton to claim second for himself. 1. Giancarlo Stanton vs Julio Teheran, 450 feet (May 30th) You may not be able to see where this Stanton homer lands because of the camera angle, but it smashed off of the ad board in center field at Marlins Park. I don't even have words for this guy anymore – he's a freak. 2. Ike Davis vs Josh Beckett, 450 feet (May 30th) This long home run by Davis lacks context due to the black batter's eye in center field at Dodger Stadium and some poor camera work, but this thing is a definite shot. 3. Chris Heisey vs Wade Miley, 447 feet (June 1st) We've established that the second deck seats in left center and center at Chase Field is in the long distance zone. Chris Heisey hammered that point home on Sunday. 4. Michael Morse vs Mike Leake, 440 feet (June 5th) Second deck at Great American Ballpark? Yeah, that'll do. On a related note, how about the year that Michael Morse is putting together? In Sabean we trust, I guess. 5. Troy Tulowitzki vs Addison Reed, 438 feet (June 3rd) This is another one of those Coors Field power alley shots that keeps going, and going, and going…and yet, doesn't look that impressive at the end of the day. Five longest homers of the year 1. Giancarlo Stanton vs Eric Stults, 484 feet (April 4th) 2. David Ortiz vs Masahiro Tanaka, 482 feet (April 22nd) 3. Justin Upton vs Jenrry Mejia, 477 feet (April 10th) 4. Paul Goldschmidt vs Troy Patton, 470 feet (May 28th) 5. Giancarlo Stanton vs Jonathan Pettibone, 469 feet (April 12th) List appearances Giancarlo Stanton, 6 Michael Morse, 4 Justin Upton, 3 Juan Francisco, 2 Mark Trumbo, 2 Jose Abreu, 1 Matt Adams, 1 Pedro Alvarez, 1 Jose Bautista, 1 Xander Bogaerts, 1 Michael Choice, 1 C.J. Cron, 1 Travis d'Arnaud, 1 Chris Davis, 1 Ike Davis, 1 Khris Davis, 1 Ian Desmond, 1 Matt Dominguez, 1 Josh Donaldson, Edwin Encarnacion, 1 Prince Fielder, 1 Todd Frazier, 1 Paul Goldschmidt, Carlos Gonzalez, 1 Chris Heisey, 1 Torii Hunter, 1 Junior Lake, 1 Brett Lawrie, 1 David Ortiz, 1 Hunter Pence, 1 Josmil Pinto, 1 Buster Posey, 1 Yasiel Puig, 1 Cody Ross, 1 Carlos Santana, 1 Troy Tulowitzki, 1 Scott Van Slyke, 1 Rickie Weeks, 1
PLAYERS:
Giancarlo Stanton
,
Justin Upton
,
Julio Teheran
,
Ike Davis
,
Josh Beckett
,
Chris Heisey
,
Wade Miley
,
Mike Leake
,
Troy Tulowitzki
,
Addison Reed
,
Eric Stults
,
Masahiro Tanaka
,
Jenrry Mejia
,
Paul Goldschmidt
,
Troy Patton
,
Jonathan Pettibone
,
Juan Francisco
,
Mark Trumbo
,
Jose Abreu
,
Pedro Alvarez
,
Jose Bautista
,
Xander Bogaerts
,
Michael Choice
,
C.J. Cron
,
Khris Davis
,
Matt Dominguez
,
Josh Donaldson
,
Edwin Encarnacion
,
Prince Fielder
,
Todd Frazier
,
Carlos Gonzalez
,
Torii Hunter
,
Junior Lake
,
Brett Lawrie
,
Hunter Pence
,
Josmil Pinto
,
Buster Posey
,
Yasiel Puig
,
Cody Ross
,
Carlos Santana
,
Rickie Weeks
,
Scott Van Slyke
TEAMS:
Miami Marlins
,
Atlanta Braves
,
Pittsburgh Pirates
,
Los Angeles Dodgers
,
Cincinnati Reds
,
Arizona Diamondbacks
,
Colorado Rockies
,
San Diego Padres
,
Philadelphia Phillies
,
Toronto Blue Jays
,
Boston Red Sox
,
Milwaukee Brewers
,
Houston Astros
,
Oakland Athletics
,
Texas Rangers
,
Detroit Tigers
,
Chicago Cubs
,
San Francisco Giants
,
Cleveland Indians
MORE FROM YARDBARKER

MLB News

Delivered to your inbox

You'll also receive Yardbarker's daily Top 10, featuring the best sports stories from around the web. Customize your newsletter to get articles on your favorite sports and teams. And the best part? It's free!