Found April 20, 2013 on World Series Dreaming:
I first wrote about the Matt Garza situation over a month ago when we found out he'd be out for the beginning of the season.  Today, MLBTR had the following to say about Garza's final arbitration year and his upcoming free agency: Soon-to-be free agent hurler Matt Garza of the Cubs ranks seventh on MLBTR's Tim Dierkes's latest 2014 Free Agent Power Rankings despite his prolonged absence from the majors. Garza appears to be set up for a mid-May return, reports Paul Sullivan of the Chicago Tribune. Much like Roy Halladay, Garza's expected free agent haul could swing wildly based on 2013 results. While that is, of course, the case for any prospective free agent, it is possible to conceive of a wider band of results for a player like Garza. The 29-year-old features a very solid track record and relative youth, but is coming off of a long lull due to multiple injuries. Of course, Garza's play upon his return will also play a big role in whether the last-place Cubs will look to deal the pitcher to a contender (or, in the alternative, look to extend or re-sign him). I've already said my piece in the previous blog linked above, and I just kinda wanted to play with the poll widget so I will pose it to you below.  Please pick your course of action and feel free to explain your rationale in the comments.  Thanks for playing! Note: There is a poll embedded within this post, please visit the site to participate in this post's poll.
Original Story:
http://worldseriesdreaming.com/2013/0...
THE BACKYARD
BEST OF MAXIM
RELATED ARTICLES
John Polonius (two RBI doubles) and Shilo McCall (a three-run HR and an RBI FC) knocked-in four runs a piece, leading the Giants to an 11-2 victory over the Cubs on Field #1, and Seven Neff and three relievers combined to toss a one-hit shutout, as the Giants blanked the Cubs 2-0 on Field #2, in Cactus League Extended Spring Training doubleheader action this morning at Indian...
The Cubs claimed speedy centerfielder Julio Borbon off of waivers yesterday. Borbon made himself known amongst the Cubs faithful by being caught stealing to end the game. Prior to that there was a lot of speculation about the roster move to clear a space on both the 40 man and 25 man rosters. Many speculated that Borbon addition would mean the end of Dave Sappelt in the lineup...
Shawon Dunston Jr reached base four times on three singles and a walk, scored twice, and drove-in a run, Yasiel Balaguert singled twice, tripled, and knocked-in four runs, and Jacob Rogers smacked a two-run triple and walked, leading one squad of Cubs to a 7-3 victory over one squad of Diamondbacks on Field #3, and Francisco Sanchez hammered a two-run triple and then scored on...
Javier Baez, SS, Chicago (NL) Baez, 20, hit .333 at the low-A ball level in 2012 but he did it while walking just nine times in 57 games. He then finished his injury-shortened season with another 23 games in high-A ball but struggled. His plate issues have continued into 2013 with 18 strikeouts and two walks in 58 at-bats. While his aggressive nature has not helped his batting average...
Matt Garza Starting pitcher Matt Garza threw two innings of a simulated game on April 19 without incident. He is scheduled to throw a total of four simulated games, working his pitch count up gradually throughout each of them. His next game calls for three innings or a total of 45 pitches. Cubs' manager Dale Sveum said that Garza threw well but had control issues. That...
Since taking over as owner of the Chicago Cubs in 2009, Tom Ricketts and his family have spoken at great lengths about how they are going to do whatever they could to bring the long coveted World Series Championship to the city of Chicago, and to the long suffering Cubs fans. In order to do this, he has needed the Cubs fans to buy into his plan, show some patience and let him and...
What do you call this stretch of time in Chicago Cubs' history anyway?(I'm talking about the team playing in the Major League ballparks, of course.)Is it The Intermission?Growing Pains?The 105th Year Stretch?Even though most of us kind of shrug through these games, it's nice to see some kind of emotion displayed once in awhile.Which was why I was so happy to watch an...
MLB News: Julio Borbon was claimed off of the waiver wire by the Chicago Cubs from the Texas Rangers Friday. Spending his whole career in the Texas system, Borbon has a solid glove, but very little power and while he possesses very nice speed, his knowledge of the art of running has a few holes in it. There have been plenty of gems that were found on the waivers after being cast...
The Brewers go for the series sweep, their 7th win in a row overall, and their 17th win in the last 22 meetings with the Cubs. Is that depressing enough for you? Cubs v. Wily Peralta (0-1, 6.19; pitched well but took an ND in 4/9 game at Wrigley which his bullpen blew for him): DeJesus 8, Castro 6, Rizzo 3, Soriano 7, Schierholtz 9, Castillo 2, Valbuena 5, Barney 4, Feldman 1. Brewers...
FOX Sports Wisconsin announced Friday that it will televise the Milwaukee Brewers-Chicago Cubs split doubleheader Tuesday, July 30. Game 1 will begin at 1 p.m. and game 2 at 7 p.m. Coverage will begin at 12:30 p.m. with Brewers Live. The split doubleheader serves as a makeup addition for the teams' Wednesday April 10 rainout at Wrigley Field.
MLB News

Delivered to your inbox

You'll also receive Yardbarker's daily Top 10, featuring the best sports stories from around the web. Customize your newsletter to get articles on your favorite sports and teams. And the best part? It's free!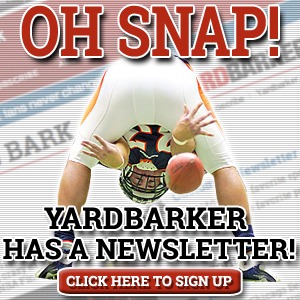 Latest Rumors
Best of Yardbarker

Today's Best Stuff

For Bloggers

Join the Yardbarker Network for more promotion, traffic, and money.

Company Info

Help

What is Yardbarker?

Yardbarker is the largest network of sports blogs and pro athlete blogs on the web. This site is the hub of the Yardbarker Network, where our editors and algorithms curate the best sports content from our network and beyond.