Found October 09, 2012 on BigAppleMetsTalk:
The Mets have a long list of things to do this off-season, one that really begins and ends with R.A. Dickey and David Wright. I honestly can not believe that they have some many issues to address. I thought this season would be one where we found some solutions going forward. Instead we found that we don' t really have much on the current roster who will be here in the future, and instead we need to look elsewhere to fill out a major league caliber lineup.
Obviously with our budgetary constraints we won't be able to fill all of our voids on the open market. So that means that guys like Lucas Duda, Kirk Nieuwenhuis and Jordany Valdespin will have to hit the gym and work their tails off this off-season. It didn't seem to work too well this past season as we did not get the home run power we were hoping for form guys like Lucas Duda. Maybe Lucas should try these exercise programs as a way to build up some more strength  because that is the only reason why he is here. These guys will all be invited to camp and have a chance to earn a roster spot next season. We know Jason Bay will most likely be here, and Sandy alluded to the fact that he will most likely be in a platoon in left field with a lefty, possibly Duda. But in my opinion that is not set, especially if Lucas is dealt, or one of the aforementioned players completely outplay him in the spring.
It comes as no surprise to anyone that we did not make the playoffs. But did we all think it would be this bad? Did we really believe that we would enter this off-season with more holes to fill than the Houston Astros? And yes I am serious, we are not that far off from being as bad as they are, only our pitching separates us. The Mets put a minor league lineup out there most nights, and Murphy, Davis and Wright can simply not do it alone.
I want wholesale changes in the lineup, but that will not happen unless we are able to make some trades. Sandy has his hands full with limited funds to work with once again. We took a step in the right direction this season financially. Next season we will have much more to work with after Santana and Bay's contracts come off the books. For now though, we need to grin and bear it, because unless Sandy has a bag of tricks up his sleeve, we may be looking at another mediocre season in 2013.
Original Story:
http://bigapplemetstalk.com/?p=5306
THE BACKYARD
BEST OF MAXIM
RELATED ARTICLES
In his post to CBS Sports.com, Jon Heyman writes that the "Mets are expected to offer about $100M to start as they try to make David Wright a Met for life."  According to Heyman:The Mets are expected to open negotiations with an offer for somewhere in the neighborhood of $100 million for star third baseman David Wright, people familiar with the team's thinking said.Photo...
According to Jon Heyman of CBSSports.com, the Mets plan to kick off negotiations with their franchise slugger David Wright with about $100 million opening bid in an effort to make him a Met "for life". Heyman goes onto say that the Amazin's will be flexible in their negotiations as they will negotiations through October before even consider dealing their third baseman.The Mets...
Last week in one of our MMO Roundtable posts, I posed the question to our staff about whether David Wright would be back in a Mets uniform next season. Only one out of the seventeen who replied said Wright wouldn't be back. Almost all of them made comments that Sandy Alderson has to do "whatever it takes", or that this was "a no-brainer".It was a landslide. Mets fans...
Mr. Met may be the New York Mets' lovable, baseball-headed mascot, but for intents and purposes, it is third baseman David Wright who is truly Mr. Met. Now, the Metropolitans are looking to make sure that Wright remains a Met for life. CBSSports.com reports that the Mets are looking to sign Wright to a contract extension, and it's likely that deal will be in the neighborhood...
The New York Mets will attempt to retain third baseman David Wright "for life" by offering a contract worth approximately $100 million, CBSSports.com reported. Wright, 29, has a $16 million team option on his contract for 2013 that the team almost certainly will pick up. Unless Wright agrees to an extension, he could be a free agent after next season. Both Wright and...
According to a report by CBSSports.com, the New York Mets are expected to offer David Wright about a $100 million when both sides open negotiations. The New York Mets are serious about re-signing David Wright and making him a Met "for life". The Mets are expected to negotiate throughout the month of October before even considering making a trade. Wright has a good relationship...
The New York Mets are set to start negotiations with David Wright very soon, Jon Heyman of CBS Sports reports. The opening offer will start off in the neighborhood of $100mm with the Mets set to give negotiations all of October in hopes of working out a deal. If the sides are unable to work out a deal, the Mets may look at trading the third baseman. The obvious goal for the Mets...
Among the Mets' top highlights of 2012 was R.A. Dickey becoming the first pitcher to win 20 games for the team in over two decades and of course Johan Santana's No-Hitter on June 1st.But there were plenty more nice moments we'll take away from 2012 besides those two, and this Mets video does a nice job of putting them all together. Enjoy!Starting on Monday we begin to break...
The Miami Marlins will dangle starter Josh Johnson as "trade bait" this offseason, The Boston Globe's Nick Cafardo reported Sunday. Despite some talk out of Florida that the Marlins won't deal Johnson, who can become a free agent after 2014, the 28-year-old could be trade bait says SI.com. The Marlins would likely get a boatload back from teams such as Baltimore, Toronto...
Photo by Michael BaronIf the Mets are to retain David Wright and R.A.Dickey while keeping the payroll at $100M, then they will have to be creative to fill the holes on the roster.  Sandy Alderson has already stated that the roster will change while the organization is not big players in the free agent market, meaning they will be involved in the trade market... One of the areas...
John Delcos and myself have collaborated before on several projects and are contributors to each other's blogs. We will be working again this offseason beginning with today's feature on the Top Ten Positives to take away from the Mets' overall disappointing season. Tomorrow we'll examine the Top Ten Negatives. So in no particular order we give you our top ten positives...
With so many items on the Mets to-do list this offseason, their longest such list in nearly a decade, you'll get few arguments that improving the outfield would be paramount after addressing the R.A. Dickey and David Wright situations. The Mets will not be the only team spanning the terrain for available outfielders. Division rivals like Philadelphia have made their intentions...
MLB News

Delivered to your inbox

You'll also receive Yardbarker's daily Top 10, featuring the best sports stories from around the web. Customize your newsletter to get articles on your favorite sports and teams. And the best part? It's free!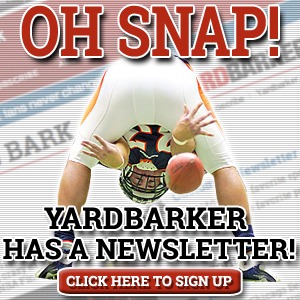 Latest Rumors
The Backyard

Today's Best Stuff

For Bloggers

Join the Yardbarker Network for more promotion, traffic, and money.

Company Info

Help

What is Yardbarker?

Yardbarker is the largest network of sports blogs and pro athlete blogs on the web. This site is the hub of the Yardbarker Network, where our editors and algorithms curate the best sports content from our network and beyond.