Found October 31, 2011 on Mets Fever:
As my fellow Mets fans arise this morning and head to work, they do so knowing the the St. Louis Cardinals have corralled two championships in just six years.  They do so knowing that the Mets now haven't managed to sniff one in a full decade.  Finally, they do so knowing the the future of the teams franchise player is in question.
At 12:01am Thursday morning Jose Reyes will be able to seek and accept offers from other teams.  His camp has made it clear, and it makes perfect sense, that he wants to see whats out there.  Reyes has been under team control for more than ten years.  Many would contest that the five year, $33.75 million extension he signed in 2007 was a bargain at the time, considering his potential.  Now, that his potential (or glimpses of it) have been realized, his next contract will undoubtedly be the most lucrative of his career.
The 2012 New York Mets will look vastly different, and much more depressing if Jose Reyes doesn't stick around this winter.  With that said, there are no more blank checks in Flushing, NY.  The Mets front office has to maintain a delicate balance between expressing to Jose that they want him back on a fair contract, and flat out negotiating against themselves.  Its for that reason that the news this week that the Mets intend to lead with a modest four year deal doesn't surprise me.  There really is no reason for the Mets to set the market price because Reyes is not going to sign prior to listening to other offers.
The next thirty days or more will bring with them numerous offers and countless rumors.  Philadelphia, Boston, Milwaukee, San Francisco, Miami and maybe even the Yankees will be in the hunt.  Whether or not a bidding war ensues or the market fizzles remains to be seen.  No one thought Sandy Alderson would be able to fleece the Giants of their top prospect, Zack Wheeler, at the trade deadline in exchange for Carlos Beltran, but it happened.  Until that market takes shape, the Mets needn't boost Reyes' free agent value.
Sandy Alderson and the rest of the team's front office will be forced to maintain a delicate balance moving forward.  They must illustrate not only the desire to bring Jose back, but also a certain level of flexibility in order to improve upon their initial offer.  Should contract negotiations get out of hand or Reyes appear to be intent on signing with the absolute highest bidder, I don't foresee major fan backlash.  However, if the Mets appear out of it early or if the process becomes one that insults the average fan's intelligence, it will only exacerbate the problem.
Retaining Reyes at a semi-reasonable contract provides the Mets with both an all-star caliber shortstop and a credible lead off man for the foreseeable future.  Failing to do so, despite putting forth their best effort will leave additional holes to fill.  Failing to do so while pricing themselves out early and/or clearly handling the situation poorly will not only leave those same holes, but will also leave a sour taste in the mouths of fans that the team will need to see in the ballpark next season if it is to right itself moving forward.  These are tricky times in Flushing.  The team can certainly win by retaining their race horse, they could lose by coming up just short, or they could stand to lose more than their premiere lead off man should this turn into the public relations nightmare fans have become so unfortunately accustomed to. 
Follow me on Twitter
@RobPatterson83
Original Story:
http://www.metsfever.com/2011/10/mets...
THE BACKYARD
BEST OF MAXIM
RELATED ARTICLES
The union published an official list of free agents, which included seven Mets from the 2011 roster.  Of course, the biggest name on our list is Jose Reyes, the others were all minor role players on a mediocre team so I don't think any of them are significant loses. Where do I stand on Jose Reyes, I'd like to see him return but not at any cost.  At one point I thought...
Well the World Series is finally over. The parade is over.  No more baseball until next spring!!! ARGGGH!!!.  As we head into our last couple of days before we change the clocks back and get thrown into darkness until early next year  we wonder the fate of our shortstop.  The Mets have a couple of days to bargain with Reyes and his agent and there is some rumors that the Mets will not take
I'm very glad to see that the Wilpons finally agreed to change the color of the outfield walls to blue. I still can't for the life of me understand what the logic was behind black and orange, but thankfully that chapter of Citi Field is now behind us. While I'm quite pleased with the aesthetic and cosmetic changes, the more important thing will be the new slimmed down...
While the Mets embark upon a future that may not include all-star shortstop and fan favorite Jose Reyes, I can't help but notice how oddly familiar this all seems. The drama of potentially losing the face of the franchise and the intense media build-up leading up to his final moments, is something that many of us old-timers have seen before. I know that most of you reading this...
The New York Mets have no plans to make an offer to Jose Reyes before the window of exclusivity with the free-agent shortstop closes on Thursday, a person familiar with the situation said this week.
SPEAKING PUBLICLY for the first time about Jose Reyes since the shortstop became a free agent on Sunday, general manager Sandy Alderson reiterated what the Daily News reported on Friday: The Mets will not begin with an offer designed to overwhelm the shortstop, and the team does not expect a a resolution for several months.
Unlike CC Sabathia, Jose Reyes will test the free-agent market when other teams can start bidding, and that likely doesn't bode well for the Mets."There are better fits, places that give him a better chance to win, probably," David Cone said of the shortstop, who can be contacted...
The Mets do not plan to make an offer to free-agent shortstop Jose Reyes anytime soon, general manager Sandy Alderson said Monday, nor do they expect Reyes to sign before December.
Seven Mets were listed by the Players' Association as free agents Sunday, but all winter intrigue in Flushing will involve one name: Jose Reyes.
In case you missed it, this past weekend: Jose Reyes, Willie Harris, Chris Young, Chris Capuano, Miguel Batista, and Jason Isringhausen have joined 142 other players in filing for free agency. The Mets officially named Tom Goodwin as their first base coach. He joins Dan Warthen (pitching coach), Dave Hudgens (hitting coach), Bob Geren (bench coach), Tim Teufel (third base...
The Mets signed a speedy base-stealing threat yesterday, but it wasn't Jose Reyes. The team hired former major league outfielder Tom Goodwin as its first-base coach, completing the coaching staff for next season. Goodwin, 43, hit .268 over 14 major league seasons and was primarily a center fielder, spending...
MLB News

Delivered to your inbox

You'll also receive Yardbarker's daily Top 10, featuring the best sports stories from around the web. Customize your newsletter to get articles on your favorite sports and teams. And the best part? It's free!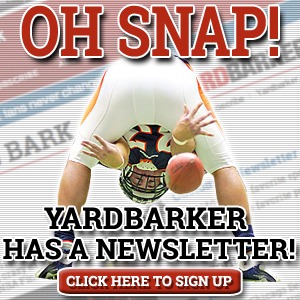 Latest Rumors
The Backyard

Today's Best Stuff

For Bloggers

Join the Yardbarker Network for more promotion, traffic, and money.

Company Info

Help

What is Yardbarker?

Yardbarker is the largest network of sports blogs and pro athlete blogs on the web. This site is the hub of the Yardbarker Network, where our editors and algorithms curate the best sports content from our network and beyond.