Found March 15, 2013 on NorthWest Sports Beat:
Scratchin My Hat I was originally going to title this article, "5 players who are surprising me in Mariners spring training." The more I thought about it, though, the less surprised I was and the more annoyed I was getting. Most of this annoyance is directed toward the Seattle Mariners' veteran AAA outfielder, Carlos Peguero.  It isn't that I don't like Peguero; in fact, that is part of the problem. I don't think that I am alone in this. It seems that the radio announcers get all excited about Carlos Peguero every time he comes up to bat.  So either he is a likable, strong kid with a lot of potential, or Rick Rizz simply has some sort of man crush on the guy—that thought is bringing up way too many mental pictures that I am not comfortable with. Moving on. The truth of the matter is that Peguero is surprising me, not because of how strong or likable he is.  I know that he has a great swing and a lot of power.  I would expect him to hit the ball into the stratosphere, so that's not a surprise. Carlos Peguero's strike-out rate has been surprising thus far. (Photo: Keith Allison via Flickr) The surprising thing is his strike-out rate.  As of this writing, Peguero is hitting .364 in 33 at bats.  He has struck out 11 times and has 12 hits including three home runs, 2 doubles and a triple. So far he is striking out a third of the time.  That's fairly normal for a guy with a power approach.  They either hit the ball a long way or they don't hit it at all.  Last season, Peguero played in just 17 games with the M's and he hit .179 in 57 at bats with 28 strike outs and 10 hits. The surprising thing is that, so far, he doesn't seem to be swinging at as many bad pitches. Peguero actually did fairly well in the minors the last two seasons in AAA and he is always reported as being a star in the winter leagues.  However, we all know that Carlos has trouble with breaking balls down in the zone. If we all know it, the scouts all know it, and every pitcher will know it as well. In spring ball, it isn't about scouting—it's a chance for pitchers to experiment with new pitches and zone control.  It is a paradise for a guy like Carlos, which is annoying because with great numbers and a friendly face (not to mention that man crush thing), I want him to make the team. The problem is that I don't think he is worth the roster spot.  I don't think his "surprise" performance is based on reality, but I can't help but feel like the Mariners are going to give him a chance, which means that Peguero will be taking away a spot from someone that could be a legitimate game changer early in the season. How much playing time do you think he would get as a backup outfielder?  Not enough to keep him fresh, that's for sure. Guess what?  He will swing at bad pitches.  And he isn't the greatest choice as a backup anyway because he can't play center, and although they use him in right, I don't see the wisdom in that defensively.  Like I said—it is annoying. CLICK HERE TO CHECK OUT THE MARINERS BLOG IN OUR CLUBHOUSE TODAY AT NWSB!
Original Story:
http://www.nwsportsbeat.com/mariners/...
THE BACKYARD
BEST OF MAXIM
RELATED ARTICLES
Smell the Hot Dogs & Beer?! The 2013 commercials are finally OUT. We look forward to baseball season every single year. And one event that lets us Seattle Mariners die-hard fans know the season is right around the corner is the Mariners releasing their commercials. The M's unveiled their ads Tuesday morning. The newest season features Dustin Ackley wearing his love for fans...
It is Ackley's Breakout Time! The 2009 number 2 overall pick has been fine, but the Mariners need more than that in 2013. In the land of the rising sun, where the 2012 season began for the Seattle Mariners a year ago, 2B Dustin Ackley kicked off his sophomore season with a bang. In the 4th inning, Ackley took A's pitcher Brandon McCarthy to dead center for his first home run...
Step up, or get out In 2012, the Mariners saw breakout seasons from guys like Kyle Seager, Hisashi Iwakuma and Tom Wilhelmsen. It also saw the departure of guys like Brandon League and Jason Vargas. With the plethora of players brought in this offseason, the front office has proven that they are not afraid to bring in fresh faces to replace the old. Looking forward to the upcoming...
He could probably talk to a Buffalo too! The young 3B has been ahead of schedule his entire career; Mariners fans are looking forward to year three. At the ripe age of 25, 3B Kyle Seager is heading into his third season with the Seattle Mariners, his second complete season. Called up in 2011, Seager surprised both fans and experts by arriving at the show only a month after 2B Dustin...
The Seattle Mariners continue to play in Peoria, Arizona, yet the tune sounds a bit different as of late. The Mariners have lost 6 of their last 7, which comes after winning 10 straight. Young and old pitchers keep rotating, and the lineups continue to shift and adjust, in hopes of finding a groove; it will take a little longer for the young, old, and new to mesh. A few things...
The veteran, journeyman pitcher Jon Garland may actually make a rotation after all.  Garland, who missed the entire 2012 season after shoulder surgery in 2011, has been a decent pitcher.  Not surprisingly, he has his best success in pitcher parks.  While the Mariners have altered their dimensions, they are still considered to have a pitcher-friendly park. Perhaps the Mariners...
In addition to scouting a trio of young Mariners pitching prospects, a number of top position prospects also made the trip to Goodyear Stadium. Nick Franklin batted second and played shortstop alongside Brad Miller. Franklin struggled at the plate and in the field as he failed to make hard contact and booted two balls on the infield. On one play a few steps to his right, Franklin...
The best of the best For a city that's had more than its fair share of losers, Seattle has been home to some of the most perennial athletes of the past half century as well. From Steve Largent, Jerry Rice, and Shaun Alexander, to Slick Watts, Lenny Wilkens, Shawn Kemp, and Gary Payton, to Kasey Keller, to Alex Rodriguez, Randy Johnson, Ichiro, and Edgar Martinez. But out of all...
As the 2013 MLB season grows closer every day, the Seattle Mariners find themselves with an interesting predicament in the outfield. In the previous 3 to 4 years, the Mariners have struggled tremendously to find 3 competent outfielders to place on the field at one time. Circumstances are different this year. For the first time in years, the M's starting outfield could be one of...
Ace. Workhorse. Unhittable. King. Venezuelan. Those are just five of many words you can use to describe Felix Hernandez, who has been one of baseball's most consistent pitchers since he burst onto the scene as a 20-year-old in 2006. He has especially taken off in the last four years averaging 238 innings pitched and 224 [...]
Michael Morse made the Mariners out of camp five years ago thanks to big offensive production in spring training. Now he's back, and even though he's a big league regular, he's still having another fruitful spring for Seattle. Morse hit two home runs and drove in five runs to lead the Mariners back from a six-run deficit for an 8-7 win over the Cincinnati Reds Thursday...
The Mariners went into the winter with the intention of being agressive. After flirting with Josh Hamilton, they really didn't do much. How will this team fare in the AL West? Key Losses: Mike Carp, 1B (Red Sox, Trade) John Jaso, C (Athletics, Trade) Shawn Kelley, RHP (Yankees, Trade) Miguel Olivo, C (Reds, Free Agent) Mauricio Robles, LHP (Phillies, Waivers) George Sherrill,...
Mariners News

Delivered to your inbox

You'll also receive Yardbarker's daily Top 10, featuring the best sports stories from around the web. Customize your newsletter to get articles on your favorite sports and teams. And the best part? It's free!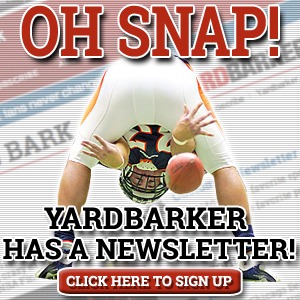 Latest Rumors
Best of Yardbarker

Today's Best Stuff

For Bloggers

Join the Yardbarker Network for more promotion, traffic, and money.

Company Info

Help

What is Yardbarker?

Yardbarker is the largest network of sports blogs and pro athlete blogs on the web. This site is the hub of the Yardbarker Network, where our editors and algorithms curate the best sports content from our network and beyond.