Found June 04, 2012 on Full Spectrum Baseball:
PLAYERS:
Johan Santana
,
Bill Buckner
,
Juan Uribe
,
Dioner Navarro
,
Tom Seaver
TEAMS:
Chicago Cubs
,
New York Mets
,
Philadelphia Phillies
,
San Diego Padres
,
Los Angeles Dodgers
,
Cincinnati Reds
,
Washington Nationals
,
St. Louis Cardinals
Where were you when the world stopped turning? A pitcher from the New York Mets actually pitched a no-hitter. That's right. We can all stop holding our breath. (I was. Weren't you?) After 8,019 games, the second longest active drought in baseball came to an end yesterday. The longest drought in baseball obviously still belongs to my favorite punching bag, the Chicago Cubs. How's that World Series hunt going? Seriously, though. Thank you, Johan Santana. Ok. There was a missed call. So what? That call wouldn't have impacted the ultimate outcome of the game. It was an 8 to 0 blowout of the St. Louis Cardinals. Quiet down, Yankees fans. We all know Santana threw 134 pitches (a career high) and walked 5 people. You can walk someone in a no-hitter. Check out Dave Righetti. Besides, when did you know of the Mets to do anything cleanly? See Bill Buckner. Last night at CitiField, a team best known for backing into its successes finally addressed that giant white elephant in the stadium. You...
Original Story:
http://www.fullspectrumbaseball.com/2...
THE BACKYARD
BEST OF MAXIM
RELATED ARTICLES
Mets ace Johan Santana will get two extra days of rest after his no-hitter. The team says Santana will make his next start Friday night at Yankee Stadium in the opener of the Subway Series. Santana threw a career-high 134 pitches Friday night against St. Louis in the first no-hitter in team history. The Mets have been trying to get Santana additional rest this year after he missed...
Johan Santana's no-hitter made SNY the most watched station in New York on Friday from 7:30 to 10:15 p.m. So now, before looking below, how many folks were watching SNY for inning 9 to help make it... Full story at Bob's Blitz ~ http://www.bobsblitz.com
NY Post and NY Daily News folks: Tweet
As most of you know, for most of the offseason, I've taken an optimistic approach toward the Mets for this new season. In our 2012 MMO Predictions, I picked the Mets to win the second Wild Card in the National League. For comeback player of the year, my choice was Johan Santana. I'm on record as saying that by the end of this season, the Mets will have increased their attendance...
Friday night, while the Maglio Ordonezless Tigers were trying hard to lose, Michael Kay revealed to the YES Yankiverse news of something better in another world. He basically said, "Johan Santana has a no-hitter going after eight innings."For tens of thousands of Yankee fans, it was like on "Fringe," where the hot lady scientist suddenly realizes the existence of a new...
History happened on Friday night for the New York Mets franchise. Johan Santana pitched the first no-hitter in the teams' history. The 8-0 victory over St. Louis Cardinals on Friday night. But the excitement didn't end there. Following the historic night, during a post-game interview on Mets flagship network SNY with R.A. Dickey, one unidentified Mets player, either heading...
A day after Johan Santana made Mets history, R.A. Dickey baffled the St. Louis Cardinals in his own way. The knuckleballer followed up Santana's no-hitter by shutting out St. Louis, David Wright homered and the New York Mets beat the Cardinals 5-0 on Saturday. ''It's no easy chore to follow Johan,'' Dickey said, ''I went to bed reminding myself to...
Can everyone just let the whole foul ball thing go already? Santana pitched incredibly, baseball is a game with a human element. and umpires make mistakes. Let it go already. It was an awesome game to watch, and Mets fans that watched this game will never forget it.
First off, hat tip to the 7Line.com for the title of this article, it was just too fitting not to use. Usually I watch the Mets play upstairs, in the bedroom.  I don't mind it to be honest; it allots me some relaxation from my day. Even though my wife isn't much of a baseball fan, she does tolerate my screaming at the television for reasons she has the slightest clue about...
Gavin Cecchini went to New York for a pre-draft workout and wound up a witness to one of the greatest nights in Mets history. The high school shortstop from Louisiana, drafted No. 12 overall by the Mets on Monday night, worked out for the team Friday at Citi Field. Later that night, he watched from a suite at the ballpark as Johan Santana pitched the franchise's first no-hitter...
NEW YORK (AP) -- R.A. Dickey followed up Johan Santana's no-hitter by shutting out St. Louis, David Wright homered and the New York Mets beat the Cardinals 5-0 on Saturday. Dickey (8-1) gave up seven hits, struck out nine and walked none in his third career shutout -- first this season. The Mets scored three runs in the second, on a mishandled grounder and two run-scoring groundouts...
The local Kent State Golden Flashes won their NCAA tournament game last night against the University of Kentucky. But that's not just the notable bit from their opening game, as KSU defeated UK by the score of 7-6 in 21 innings. That's not a misprint. Let's head over to Elton Alexander and the Cleveland Plain Dealer to see how this one broke down: Lefty Michael Clark got the...
MLB News

Delivered to your inbox

You'll also receive Yardbarker's daily Top 10, featuring the best sports stories from around the web. Customize your newsletter to get articles on your favorite sports and teams. And the best part? It's free!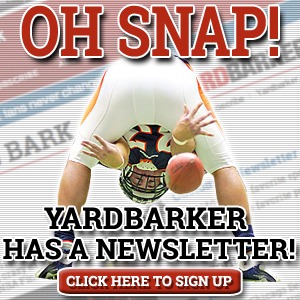 Latest Rumors
Best of Yardbarker

Today's Best Stuff

For Bloggers

Join the Yardbarker Network for more promotion, traffic, and money.

Company Info

Help

What is Yardbarker?

Yardbarker is the largest network of sports blogs and pro athlete blogs on the web. This site is the hub of the Yardbarker Network, where our editors and algorithms curate the best sports content from our network and beyond.