Found January 18, 2012 on SF Lunatic Fringe:
On Tuesday, Tim Lincecum asked for $21.5 million from the San Francisco Giants in arbitration.  The Giants asked for a far more reasonable $17 million.  That's still more than any other non-free agent player in arbitration.  Heck, it's more than Pablo Sandoval will make in three years. Boy, remember when a player's arbitration years were supposed to be the cheap years? But that's not what this is about. On Monday, before the arbitration numbers came up, Hank Schulman tweeted this:
Lincecum issue is complex. He wants 2 years for FA flexibility or 8 years for lifetime security. Makes more sense for Gs to go 4-5 yrs if…
It should be noted that Hank quickly said that he doesn't think there's actually been an eight-year proposal by Tim's agent.  But still. Now, it's easy to think "Lock him up!"  And Cain, and Wilson.  And MadBum, in a few years.  That's a pitching core.  That's a dominating (and somehow still underrated) pitching staff.  That's the heart of a team, the draw for free agent hitters who want to know they'll be on a World Series contender.  Pay 'em.  For as long as they want. But then…two words. Barry.  Zito. If you don't know what I mean, you haven't been a fan of baseball for very long.  Zito's 7-year+option contract is the albatross of albatrosses.  7 year, $126 million, with an eighth year that will pay him a $7 million buyout to not play in 2014. And as Zito approaches make the most money per year in said contract, the realization starts to sink in: Tim Lincecum could make more money in arbitration than Zito in his albatross of a contract. But, you say, Lincecum is not Zito. After all, it's not like Lincecum has had a serious drop in velocity even before he's become a free agent.  Oh, except for a couple of times in 2010.  Or that, after having an average 94 MPH fastball in 2008, he was at 92 in 2011, and even lower in 2010.  (Zito, as a comparison, dropped from about 88 in 2002 to 85.7 in 2010.*) But, you say, Lincecum won Cy Young awards ridiculously early in his career.  It's not like Zito won two Cy Young awards in his first two full seasons in the majors.  No, Zito only did it in his second full season. Okay, what I can't argue myself out of is that Lincecum at 80% is a better pitcher than Zito at 80%.  And when Zito got his ridiculous contract, he was already sliding badly.  Lincecum's slide, if you can call it that, is still giving him sub-3.00 ERAs and votes for Cy Young awards. But at some point, Lincecum will slide.  Maybe it will be injury.  Maybe it will be ego.  Maybe it will be too many speeding tickets while high (which, frankly, makes me worry more about non-pitching injuries).  But a slide is likely to happen before the end of a deal that lasts until 2020. And how much will Lincecum be costing at that point?  Seriously, if he's making Zito money now, where will he be at the end of a back-loaded contract?  And how will that affect other signings, be it Cain, Wilson, Posey, or stealing away some Dodger star prospect via free agency. Eight years for a pitcher is insane.  For any pitcher.  Even a once-in-a-lifetime talent like Lincecum. Eight years will be overpaying for past accomplishments.  Part of it will be for over Cy Young awards like Barry Zito.  Part will be for a World Series win, like with Aubrey Huff. … And I'd do it.  If we're going to overpay for someone, it might as well be one of our own.  And it might as well be for one of the bonafide superstars of the team. There are days where I know I'll eventually regret eating a certain meal.  But that meal just tastes so damn good going down.  I know what'll happen, I know I'll feel terrible later.  But I go in with eyes wide open.  And it's still worth it. Get 'er Done, Sabes.  Negotiate it down as best as you can.  Play hardball like Lincecum's 2008 velocity.  But Get 'er Done. * – I'm not comparing to 2011 because Zito had all sorts of injury issues that obvious had an impact in his velocity to a career low.
Original Story:
http://www.sflunaticfringe.com/2012/0...
THE BACKYARD
BEST OF MAXIM
RELATED ARTICLES
Yesterday was the deadline for arbitration-eligible players and their teams to exchange dueling salary figures in advance of arbitration hearings in February. The San Francisco Giants set a record in their $17 million offer to Tim Lincecum, the highest such amount ever offered a player with fewer than six years of service time. Lincecum countered with his own record-setting figure...
Just $4.5 million separates the Giants and star pitcher Tim Lincecum for a new contract for 2012. In baseball terms, that's a small amount -- but it's enough that Lincecum could go before an arbitrator to decide his salary.
The Giants' list of arbitration-eligible players is now down to three. San Francisco avoided arbitration with right fielder Nate Schierholtz today as the two sides agreed on a one-year, $1.3 million dollar contract that includes a $150,000 performance-incentive bonus, per Andrew Baggarly of the San Jose Mercury News. Schierholtz, who turns 28 on Feb. 15, batted .278/.326/.430...
Some more arbitration updates… According to Baggs, the Giants reached agreement with Nate Schierholtz on a one-year deal worth $1.3M and $150K in incentives. Meanwhile, Tim Lincecum and the Giants have filed arbitration figures which, as expected, break the records that were held by Derek Jeter and the Yankees (from back in 2001).
SAN FRANCISCO (AP) - Giants ace Tim Lincecum asked for $21.5 million in salary arbitration Tuesday and was offered $17 million by the club.The two-time NL Cy Young Award winner's request neared the record amount sought in arbitration. Houston pitcher Roger Clemens asked for $22 million in 2005.San Francisco's offer ...
SAN FRANCISCO (AP) -- Giants ace Tim Lincecum asked for $21.5 million in salary arbitration Tuesday and was offered $17 million by the club.
SAN FRANCISCO - Giants ace Tim Lincecum asked for $21.5 million in salary arbitration Tuesday and was offered $17...
The Tim Lincecum arbitration process, now in full swing, would have prompted a chuckle out of Charlie Finley. Of all the player-friendly language in baseball's collective bargaining agreement, the stuff pertaining to...
Giants right-hander Tim Lincecum is seeking $21.5 million in salary arbitration, barely short of the record $22 million that Houston's Roger Clemens requested in 2005. San Francisco countered with a $17 million offer Tuesday.
Tim Lincecum asked San Francisco for $21.5 million in arbitration, just shy of the record for a player, and the Giants offered him a club-record $17 million Tuesday on a dizzying day when 79 players agreed to contracts.
Of all the different times of the baseball year, arbitration season has to be my least favorite. It's not even close, really. There's way too much sound and way too little fury as players, teams and agents do a dance that will most likely end with an inevitable and snooze-inducing "so-and-so avoids arbitration" headline. I know a lot of people like to get all hot...
Giants News

Delivered to your inbox

You'll also receive Yardbarker's daily Top 10, featuring the best sports stories from around the web. Customize your newsletter to get articles on your favorite sports and teams. And the best part? It's free!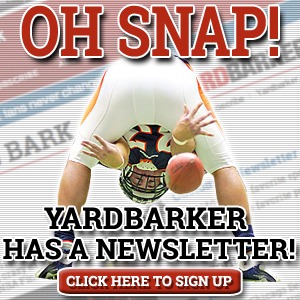 Latest Rumors
Best of Yardbarker

Today's Best Stuff

For Bloggers

Join the Yardbarker Network for more promotion, traffic, and money.

Company Info

Help

What is Yardbarker?

Yardbarker is the largest network of sports blogs and pro athlete blogs on the web. This site is the hub of the Yardbarker Network, where our editors and algorithms curate the best sports content from our network and beyond.