I don't have to tell you why I'm writing this. You already know. You've been hit with the sorrow and confusion and the anger just as much as I have. You've been left to wonder where we go from here. So, no, this article needs no explanation. It's simply an example, a reminder of sorts. Sports are more than just a competitive activity designed for exercise and leisure. Sports can be the dinner table, the family room, the long drive in the car. They can be the nightly walks or the quiet chats on the back porch. I'm sure not many think of playing sports or watching sports in the same context as any of the above activities. I know I didn't until I began to think about my relationship with my dad and my relationship with my son. If you were to ask me why I'm a Padres fan, I could come up with any number of reasons. But the truth is far simpler than any discussion about the team, their history, or their capabilities. I'm a Padres fan because my father took me to my first game in San Diego. It was a day game in 1996. The Padres were horrible, but my dad loved them. And he loved me. And I loved him. We didn't get to see as much of each other as we would have liked after my parents' divorce. Such is the case with many children. But when we did, we forged a bond built from the love of baseball and other sports. A trip to the park was more than just a game. It was time to catch up and talk about life. It was time to laugh and joke. It was time to be a kid and be a parent. Not everyone enjoys sports like we do, and that's a shame. It about more than watching overpaid athletes play a child's game. It's about sharing in the joy sports bring through interaction. Is it really the game itself that brings joy? Probably not. To me, it's always been the memories, the talks, the time spent together. Every time my dad told me to stop stepping in the bucket, or to stay in front of a ground ball, or to hang in there when my football throws didn't spiral, or to stop traveling when I knew damn well I wasn't traveling, a piece of who I am today was built. We didn't have much time together (usually just the summers every year), so we made the time count. We made the time count on the court and in the field, in the stands and in the couch. And in reality the team didn't matter. The Padres will always be my favorite team, but it could have been any team. It could have been the Arizona Diamondbacks. I suspect this will be my son's favorite team. Living in Arizona, I took my son to his first game at Chase Field. He's since seen more Diamondback games than this Padres fan would like to admit. But it's not about the team. The team doesn't matter. Every moment I spend with my son is a moment to treasure. We can never know how many we'll have together. It seems the world is always providing reminders of this sad fact. So we'll grow together through sports, through conversations, through time together. And there won't be a single moment that I take for granted.
Original Story:
http://www.mlbinjurynews.com/2012/12/...
MORE FROM YARDBARKER
MLB News

Delivered to your inbox

You'll also receive Yardbarker's daily Top 10, featuring the best sports stories from around the web. Customize your newsletter to get articles on your favorite sports and teams. And the best part? It's free!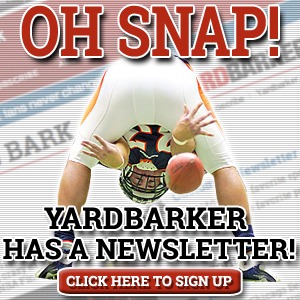 Latest Rumors
Best of Yardbarker

Today's Best Stuff

For Bloggers

Join the Yardbarker Network for more promotion, traffic, and money.

Company Info

Help

What is Yardbarker?

Yardbarker is the largest network of sports blogs and pro athlete blogs on the web. This site is the hub of the Yardbarker Network, where our editors and algorithms curate the best sports content from our network and beyond.