Found September 09, 2012 on IT IS HIGH, IT IS FAR, IT IS caught:
Good morning.It is now clear to me what MUST happen if the Yankees are going to have any success in the post-season.I know.  We are not likely to get there.Nonetheless, there is only one thing the Yankees can and MUST do, if they do reach post season play.Simply put; they have to win the first game every time.This team has proven, time and time again, that it can no longer win back to back games in series that matters.In a five game series, if we win game one and every other game, we win.  Same for a seven game series.If we lose game one, we are done.  Gone.  Finished.You can mark us down as, " unable to compete."It is as simple as that.
Original Story:
http://johnsterling.blogspot.com/2012...
THE BACKYARD
BEST OF MAXIM
RELATED ARTICLES
- To make that blown call on the final play of last night's game worse, Mark Teixeira re-injured his left calf and will likely miss Sunday's series finale against the O's. - In better news, Andy Pettitte threw a simulated game on Saturday and apparently everything went smoothly. Here's a little more on Pettitte from Dan Martin: "I felt good, it was a good day...
C.C. and the rest of the Yankee lineup need to be pumped up for this game tonight and bring home a big win   Back on top in the AL East are the Yankees after a key win last night in Baltimore. It's been a back and forth battle for them in the past week or so and for today, they maintain sole possession of first place in their division. The offense seems to be waking up slightly...
From John Harper:The Yankees have had worse nights during this stretch in which their 10-game lead, not to mention their aura of superiority, has disappeared. But this was surely the most ominous night of them all. And not because they got jobbed by first base umpire Jerry Meals. Yes, replays showed that Mark Teixeira was easily safe diving into first base to beat a double-play...
Mark Teixeira is 6-foot-3 and weighs 220 pounds. He's coming off of a calf injury. But still, with the game on the line and him needing to get to first base safely, Teixeira's choosing to slide into the bag Saturday night rather than run still ranks pretty high on the what-were-you-thinking meter. Teixeira had just hit a weak grounder that spelled doom for the Yankees, who...
This image is from the New York Daily News website. Maybe the baseball gods were on the Orioles' side for a change. Comments?
Joba Chamberlain's return from the disabled list didn't start out very well, as the reliever posted a 10.57 ERA over his first nine appearances, allowing runs in all but three of them. However, Chamberlain seems to be getting his legs underneath him, giving the New York Yankees a potential weapon in the late innings down the stretch. Chamberlain entered Sunday's game...
Curtis Granderson has struggled badly through the second half, but the New York Yankees are hoping his big day Sunday will help spark his bat down the stretch. Granderson didn't start against the Baltimore Orioles in the series finale, but he hit a home run as a pinch hitter in the sixth inning, then had a pair of two-run hits to finish his day with three hits and five RBI...
I was as peeved as anybody about the way the Yankee game ended Saturday night -- clearly Mark Teixeira was safe, although the umpire didn't see it that way. However, CC Sabathia also needs to be the CC of old; your ace can't be giving up five runs in a start.Anyhow, I just wanted to weigh in on the hissy fit Joel Sherman had in the post-game presser. He asked Girardi if CC...
BALTIMORE-Curtis Granderson made good use of his time on Sunday against the Orioles. Granderson came off the bench to deliver a pinch-hit homer and five RBIs, and Derek Jeter added a two-run homer to help the New York Yankees regain first place in the American League East with a 13-3 victory over the Baltimore Orioles Sunday afternoon. New York (79-61) split the key four-game series...
Slumping Curtis Granderson came off the bench to hit his 35th homer and drive in five runs, and the New York Yankees beat the Baltimore Orioles 13-3 Sunday to regain sole possession of first place in the AL East and earn an important split of the season series. Derek Jeter also homered for the Yankees, who lead the Orioles by one game with 22 left. Each team won twice in a four...
After the magic of Thursday night at Camden Yards where the Orioles engineered an incredible win, the two teams met again on Friday. The atmosphere was not nearly as festive as it was on Thursday; however, there was still buzz in the air as the Orioles faced their notorious rival for the second in a four game series. However, the Orioles could not pull off a miracle as the experienced...
The New York Yankees likely expected a tight race in the AL East, but the Boston Red Sox are surprisingly not one of their challengers. The Yankees will try to maintain sole possession of first place during a three-game series with their sputtering archrivals beginning Tuesday night at Fenway Park. New York (79-61) moved one game ahead of Baltimore with a 13-3 rout at Camden Yards...
Yankees News

Delivered to your inbox

You'll also receive Yardbarker's daily Top 10, featuring the best sports stories from around the web. Customize your newsletter to get articles on your favorite sports and teams. And the best part? It's free!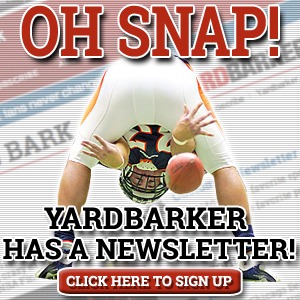 Latest Rumors
The Backyard

Today's Best Stuff

For Bloggers

Join the Yardbarker Network for more promotion, traffic, and money.

Company Info

Help

What is Yardbarker?

Yardbarker is the largest network of sports blogs and pro athlete blogs on the web. This site is the hub of the Yardbarker Network, where our editors and algorithms curate the best sports content from our network and beyond.