Found January 27, 2013 on NorthWest Sports Beat:
A Mariners Legend Earlier this week, the Seattle Mariners released the news that Ken Griffey Jr. would be added to the Mariners Hall of Fame.  Griffey will be the seventh member of the most elite members of the Seattle franchise. The Mariners Hall of fame was formed in celebration of the club's 20th anniversary in 1997.  Since that time, other members have slowly been added over the years. Here is the current list as found on the Mariners website: Alvin Davis (1997) Dave Niehaus (2000) Jay Buhner (2004) Edgar Martinez (2007) Randy Johnson (2012) Dan Wilson (2012) There's no doubt about it. Ken Griffey Jr. belongs in the Mariners Hall of Fame. (Photo: AP) When it comes to the Mariners including Ken Griffey Jr., there really is nothing to debate.  Junior was the heart and soul of the Mariners, and all of Major League Baseball, for many years.  In some ways he still is, as he has not once been included in the black list conversations concerning performance enhancing drugs. In Seattle, he is known best for his backwards cap, his fun loving attitude, his Spider-Man catches and his power hitting.  Many people call Safeco Field, "The house that Griffey built", indicating that he practically single-handedly saved the franchise from being moved. Ironically, he only played in the new stadium, which is built around his hitting intricacies, for a single season before requesting a trade to the Cincinnati Red's. However, the Mariners fans stayed loyal to their superstar, which was evident when he returned to Seattle in 2009 and retired as a Mariner in 2010.  Here are some of the reasons why: 1. The Early Days Junior won the hearts of Seattle fans who had stuck it through many seasons of bad baseball when he stepped up to the plate for the first time in April of 1989.  There were a lot of expectations upon Griffey as a prospect, but no one expected that the first pitch he would ever hit for the home crowd would sail over the outfield wall. Quite a birthday gift for his old man, as well as to everyone else in the Emerald city. 2. Father & Son Make History Speaking of his old man, the Mariners did a classy thing in bringing in the older Griffey to play alongside his son.  On September 14, 1990 the two made history in hitting father-son back-to-back home runs. That wasn't just a cool baseball moment in Seattle; it was a family moment and the Griffey's invited the entire city in on that moment. 3. Refuse to Lose Sliding into home plate in game 5 of the American League Division series in 1995 off of "The Double" hit by Edgar Martinez.  This moment personifies the hope that all Mariners fans have in their underdogs that refused to lose.  The spirit of that moment continues to this day. When Griffey announced his retirement, Nike put out an ad in his honor that shows his value to the Mariners, as well as the whole sport of Major League Baseball: However, I feel like the real news in this whole piece is not about Griffey, but about how Griffey can once again mask some of the painful things the Mariners organization are doing. Sometimes, un-news hides the true news, and that news doesn't feel good going into 2013. I only hope that I'm wrong. CLICK HERE TO CHECK OUT THE SEATTLE MARINERS CLUBHOUSE AT NWSB!
Original Story:
http://www.nwsportsbeat.com/mariners/...
THE BACKYARD
BEST OF MAXIM
RELATED ARTICLES
Northwest C-R-A-P It is no secret that the Mariners need a lot of crap to pull together a respectful season.  Actually, crap is the one thing that they don't need at all.  The Mariners have been a crappy ball club for the past decade. Some of the only quality stuff they have put out there are their commercials.  And last year, even that was debatable. It was encouraging early...
Not long ago, the rumors began to swirl about a possible four-year contract extension for Seattle Mariners ace Felix Hernandez.  After his dominating performances over the last few seasons, it would make sense for the Mariners to try to lock him up for as long as possible.  However, Hernandez may not be interested in such an extension. Jon Heyman of CBS Sports says Hernandez...
The Seattle Mariners have started to address one concern before to spring training by signing catcher Ronny Paulino to a minor league deal with an invite to the major league camp. The Mariners announced the deal Friday. Paulino is the 19th invite to major league spring training on top of the 40-man roster. Paulino, 31, spent last season in Baltimore, playing 20 games with the Orioles...
One of the Seattle Mariners top prospects and one of the most highly thought of young left-handed pitching prospects in baseball, James Paxton talked with SeattleClubhouse's Rick Randall about his favorite team, favorite pitchers, his draft story and his minor league career.
In The Outfield Headline: With FanFest wrapped up, it's time to dive into the season ahead and the outfield spots… This season may not be as predictable as originally anticipated. Some have called Jack Zduriencik desperate and worried about his job by adding veterans like Jason Bay and Raul Ibanez, or one-year contracts like Kendrys Morales or Michael Morse. If this multitude...
Contract talks between the Seattle Mariners and their star pitcher, Felix Hernandez, have stalled, according to CBS Sports. Hernandez still has two years left on his current contract but both sides want to extend the deal. Seattle is reportedly looking to give Hernandez four additional years while Hernandez is seeking a six-year extension. A six-year deal would likely make Hernandez...
The Seattle Mariners and their ace pitcher, Felix Hernandez, have been dancing around the idea of extending the 26-year-old's contract another four years for $100 million. That would make King Felix the highest paid pitcher in baseball (CC Sabathia's contract also calls for a yearly pay of $25 million, but that doesn't kick in until [...]
Mariners News

Delivered to your inbox

You'll also receive Yardbarker's daily Top 10, featuring the best sports stories from around the web. Customize your newsletter to get articles on your favorite sports and teams. And the best part? It's free!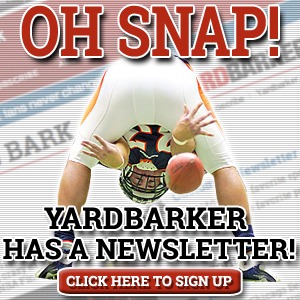 Latest Rumors
Best of Yardbarker

Today's Best Stuff

For Bloggers

Join the Yardbarker Network for more promotion, traffic, and money.

Company Info

Help

What is Yardbarker?

Yardbarker is the largest network of sports blogs and pro athlete blogs on the web. This site is the hub of the Yardbarker Network, where our editors and algorithms curate the best sports content from our network and beyond.