Found April 10, 2012 on hardballchat.com:
PLAYERS:
Justin Morneau
,
Joe Mauer
,
Carlos Marmol
,
Theo Epstein
,
Jonathan Papelbon
,
Daisuke Matsuzaka
,
Yu Darvish
,
Derek Jeter
,
Vernon Wells
,
Carlos Lee
,
John Lackey
,
Erick Aybar
,
Orlando Cabrera
,
Alex Rodriguez
,
Albert Pujols
,
Jesus Montero
TEAMS:
Minnesota Twins
,
Chicago Cubs
,
Boston Red Sox
,
Philadelphia Phillies
,
Texas Rangers
,
New York Yankees
,
Los Angeles Angels
,
Houston Astros
,
San Francisco Giants
,
Seattle Mariners
VI: Minnesota Twins 1B/DH Justin Morneau A former MVP, Justin  Morneau has clunked his noggin one too many times. In the games such as football or rugby, a true tough player might sit two weeks with a concussion. Justin Morneau has let concussions derail a once promising career. During his time off, Morneau has let his fitness go forth into the nether while his power numbers have severely declined. A Minnesota Twins lineup that was once the class of the AL Central now is far less imposing with a declining Morneau, a complacent C Joe Mauer, and a host of other lackluster hitters surrounding them. This season Morneau is due 14 million dollars. Add to the surgery on his wrist, and we have a player who is declining at the rate of rapidity usually reserved for the hockey players he grew up with as a child in Canada. It seems that every time anything makes unwanted contact with Morneau's head, he is concussed. Talk about a glass jaw. V: Chicago Cubs CP Carlos Marmol Chicago Cubs Closer Carlos Marmol is another example of a reliever with electric stuff but a lack of control that is severely overpaid. Marmol is a headliner on a long list of bad contracts that new operations manager Theo Epstein is going to have to eat to turn the Chicago Cubs back into contenders. Carlos Marmol is just as likely to plunk two batters and walk the bags loaded as he is to bring his fiery heat and run a flawless ninth. IV: Philadelphia Phillies CP Jonathan Papelbon The slow start of the Philadelphia Phillies can be attributed more to their lackluster offense and declining team speed than pitching, but the start of Closer Jonathan Papelbon's Phillies career has not been sharp to say the least. Papelbon continues the trend of big market teams overpaying for closers. While closers are intrinsic to the well-being of a baseball team, with the icy cold blood and shocking heat a combination of magics that only closers can bring, Papelbon is severely overpaid given that  he will throw one inning at a time. Imagine paying a right fielder for one hit a game. He will be paid 11 million fifty eight dollars. The additional fifty eight are to stroke his ego, which is his number, 58. Lord knows I'd like to have those 58 for my grocery budget. III: Boston Red Sox SP Daisuke Matsuzaka Does anyone remember the myth of the "gyroball?" The ridiculous American media made up a pitch that Boston Red Sox SP Daisuke Matsuzaka had no idea existed but he somehow used to outrageous success. When are American GM's going to realize that a six man rotation and far more off days are the luxury that the wiry Japanese pitchers cannot bear to live without in the MLB. For every 18 win season there are five Japanese pitchers with denigrated shoulders. The idea of Japanese pitchers exhausting their arms before they even sustain success will be even further evidenced by Texas Rangers SP Yu Darvish, another candidate for this list. Daisuke will be paid 10 million dollars this season. There will be no gyroballs thrown. II: New York Yankees SS Derek Jeter There are a lot of other players such as Los Angeles Angels CF Vernon Wells, Houston Astros 1B Carlos Lee, or Boston Red Sox SP John Lackey, who apparently has found a taste for the beer on the South Side, who could be placed here, but what better to do than pick on the Bronx Bombers? My unwavering Yankee fans that I call family in Brooklyn will hate me for this. New York Yankees SS Derek Jeter is a legend. He is a first ballot hall of famer, a former Gold Glove winner, a line driver hitter, and a leader. There have been so  many times where the rest of the baseball world are shaking their heads as Jeter racks up the hardware. How many people have heard of SS's John McDonald or Jack Wilson? Erick Aybar? Orlando Cabrera? These were all guys that could have stolen the award away from the entitled Bronx without question. The Jeter machine is all hype today. The once mighty shortstop is now reserved to hitting an average clip and has such limited power that even the little league fence in right and the clouds of pollution that you could cut with a butter knife are not enough to carry his ball out. I: New York Yankees 3B Alex Rodriguez The guy is a legend, albeit a tainted one. Most of his home runs were hit under the influence of PED's. I know what they can do to a man. Hitting one on the rugby pitch is like slamming into a brick wall. Even though his manhood is reserved for his puffed chest and his biceps, illicit drugs do truly effect the power of any who unfortunately sell themselves to them. My fear is that Los Angeles Angels 1B Albert Pujols will suffer the same extreme decline that Alex Rodriguez has. Granted, PED's do speed the aging process once an athlete weens off of them. A-Rod's home run numbers continue to be bolstered by the newer park, which carries home runs out like they're tennis balls. Rodriguez's biggest problem however is health. He will likely be reduced to a role at DH without Seattle Mariners C Jesus Montero still in the fold. With two iconic players aging, it is no shock that they top this list. The Yankees may always be contenders on paper, but they are a big market team in the same boat as Philadelphia.
Original Story:
http://www.hardballchat.com/2012/04/t...
THE BACKYARD
BEST OF MAXIM
RELATED ARTICLES
MINNEAPOLIS The Minnesota Twins entered this season hoping right-hander Scott Baker would be starting their home-opener today. Instead, Baker was preparing to travel to New York to get a second opinion on his troublesome right elbow from Dr. David Altchek. A recent MRI showed the same flexor strain that bothered Baker at times last season, and the Twins are worried about the continual...
MINNEAPOLIS Twins manager Ron Gardenhire talked before his team's home opener Monday about Minnesota's lack of offense through its first three games. The Twins scored just five total runs in the season-opening series against the Baltimore Orioles and failed to score more than two runs in a game. Gardenhire delivered a similar message following Monday's 5-1 loss to the...
Minnesota Twins right-handed pitcher Scott Baker will have to undergo season-ending elbow surgery. Baker, who had to leave a minor league rehab start last week, will go under the knife to repair the flexor pronator tendon in his right elbow. The team's opening day starter in 2011, Baker has missed time in each of the last two seasons because of the same injury. Recovery...
I know that the baseball season is a marathon, not a sprint. But already in the early stages of the season there is cause for concern if you are a Minnesota Twins fan, like me. Coming off a 99-loss season in 2011, Twins management did almost nothing to improve an offense that was near the bottom in runs scored or a bullpen that was absolutely God-awful. They added Jason Marquis to...
In the marathon that is a 162-game baseball season, a three-game losing streak is barely reason to panic. But after Minnesota was swept in their three-game season-opening series against the Baltimore Orioles, Twins fans seem to believe that not much has changed from last year's 99-loss season. Indeed, it was a rough opening series for the Twins, who scored just five runs in...
MINNEAPOLIS LaTroy Hawkins still remembers the call he got from manager Tom Kelly after the Twins' 2001 season. Minnesota finished the year with an 85-77 record, good for second in the American League Central. Despite the Twins' success that season, however, Kelly called to tell Hawkins that he wasn't returning as Minnesota's manager for 2002. "I felt bad...
One of my favorite movies of all-time has to be the Big Lebowski and I have to say that when I heard about this Minnesota Twins ad parodying it, I was quite excited. The commercial features former Twins pitcher Kent Hrbek as "The Big Hrboswski" and it is an instant classic:
With the Atlanta Braves win over the Astros last night, the idle Minnesota Twins (0-4) became the last winless team in the Major Leagues.  That is a dubious distinction that no team ever wants to have.  But what really has to be scaring Twin fans right now is that they could remain winless for a lot longer than any of us would have ever thought possible. Few, if any, expected...
- Sources within WWE and outside of WWE have confirmed that as of now, The Bella Twins are scheduled to leave the company when their contracts expire at the end of April. Speculation is that they just want to move on to other things. The Twins wrote the following last night during RAW: "Don't believe what you hear #! Tune into WWE Superstars this week you won't be disappointed...
MLB News

Delivered to your inbox

You'll also receive Yardbarker's daily Top 10, featuring the best sports stories from around the web. Customize your newsletter to get articles on your favorite sports and teams. And the best part? It's free!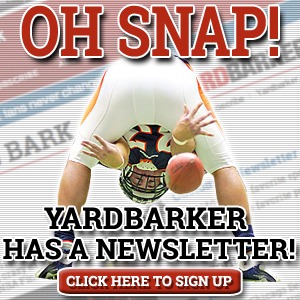 Latest Rumors
Best of Yardbarker

Today's Best Stuff

For Bloggers

Join the Yardbarker Network for more promotion, traffic, and money.

Company Info

Help

What is Yardbarker?

Yardbarker is the largest network of sports blogs and pro athlete blogs on the web. This site is the hub of the Yardbarker Network, where our editors and algorithms curate the best sports content from our network and beyond.