Found November 20, 2012 on Taking Bad Schotz:
Yes, Miguel Cabrera won the AL MVP and deservedly so. But that doesn't mean that Mike Trout didn't also deserve to win the award. This year's award is more important than who came in first. This year marks the beginning of a war. A war on WAR, or Wins Above Replacement, a new sabermetric statistic that is supposed to more thoroughly express a player's all around impact on the game by including base running and defensive abilities in addition to the traditional Triple Crown categories, of which Cabrera led all three. Miguel Cabrera won the Triple Crown, something that had not been done since Carl Yastrzemski in 1967. In the eyes of the "old-school" baseball men, Cabrera should have run away with the award. But Mike Trout, the incredible rookie from the LA Angels had a 10.7 WAR making him only the second player since 1969 to have a WAR greater than 10 and not win the MVP. In the eyes of the "new-school" stat geeks, Mike Trout should have ran away with the award as well. via blogcritics.org Although much of the younger generation of baseball fans believe Trout should have won because of his highlight plays in centerfield and the constant threat he posed on the base paths, I cannot agree more with the Miguel Cabrera winning the MVP. Anytime a player does something that hasn't been done in 45 years, he deserves to be recognized for their accomplishments. No, Cabrera cannot play the field like Trout. And no, he will never steal more than 5 bases in a season. But Cabrera carried his club. Without Cabrera, the Tigers who ended up making it all the way to the World Series (something irrelevant to voters as the votes are counted before the playoffs begin) would not have even made it to the playoffs. Look at when Cabrera was his best; August and September as his team battled back to catch the White Sox. Cabrera hit 19 of his 44 home runs and 54 of his 139 RBI in August or later. Cabrera led his team to the division title and then carried the Tigers through the playoffs all the way to the World Series (again, this has no bearing on the award), while Trout cannot claim to have led his team even to the playoffs. via tumblr (http://www.tumblr.com/tagged/mike-trout?before=1344658651) With that being said, Mike Trout had probably the best rookie season of all time and did so after missing nearly a full month of the season. Trout came up at the right time to use all his skills to his benefit though. He is starting his career in a time where the journalists voting on awards are really looking at defense and base running closer than they ever have in the past. WAR is becoming one of the most widely used statistics in the MLB along with home runs, RBI, and batting average for hitters and ERA, WHIP, and strikeouts for pitchers. Trout is the prototypical "5-tool" player. He is a player who will have success in the league for years. Trout will routinely show up on highlight shows for his diving catches, robbing home runs, stealing bases and making it look easy to leg out a triple. Trout will have plenty of chances to win an MVP. In fact, I wouldn't be surprised if he won multiple MVPs over the course of his career. But this year the MVP belonged to Miguel Cabrera. Quite convincingly I might add, taking 22 of the 28 first place votes. Miguel Cabrera may have won this battle, but the war will rage on. And sabermetrics will rule the future of the game. -Goldberg
Original Story:
http://www.takingbadschotz.com/?p=10237
THE BACKYARD
BEST OF MAXIM
RELATED ARTICLES
The Ryan Raburn era in Detroit came to a quiet end Tuesday afternoon. In a press release announcing that the Tigers had added pitching prospects Melvin Mercedes and Bruce Rondon to the 40-man roster, along with shortstop Dixon Machado, there was a quiet mention that the Tigers had released Raburn. Raburn played seven seasons for the Tigers, playing six positions, but none of them...
DETROIT - Bruce Rondon will be the most intriguing Tiger when spring training begins in three months. Even if the club trades for or acquires a free agent closer such as Ryan Madson, Tigers general manager Dave Dombrowski whet the appetite of fans when he addressed the media after the World Series and said, Do not discount Bruce Rondon in the role of closer on our ballclub. Rondon...
– According to Danny Knobler of CBSSports, the Arizona Diamondbacks are interested in short stop Jhonny Peralta, but they won't trade him until they find a better short stop than him. – The Detroit Tigers released utility player Ryan Raburn reports Brian Britten, the Tigers' Director of Media Relations. A move that clears a spot on the 40-man roster towards the Rule-5...
DETROIT What now for the Tigers? Signing right fielder Torii Hunter was a great start, but my guess is that there will be at least two more significant deals or signings. Deciding what to offer pitcher Anibal Sanchez -- whose interest will heighten after top pitcher free-agent Zack Greinke signs -- and making at least one significant starting lineup move appear to be in the offing...
If you believed in the MVP candidacy of Mike Trout over Miguel Cabrera, then the day since the announcement has likely been a frustrating one. Obviously there was the vote itself, in which 22 of 28 members of the Baseball Writers' Association of America said that Cabrera was the more "valuable" player in 2012 — the other six did indeed vote for Trout. But beyond the outcome...
Late Tuesday afternoon, a second interesting clue was released as to the possible next offseason move of the Detroit Tigers. First, it was reported that the Arizona Diamondbacks were interested in Jhonny Peralta. A short time later, the Tigers were … Continue reading →
According to CBS Sports' Jon Heyman, free agent short stop Stephen Drew is drawing interest from several clubs including the Detroit Tigers who just exercised a $6 million dollar team option on infielder Jhonny Peralta for the 2013 season. Drew became a free agent this offseason after the A's declined their half of a $10 million dollar mutual option though according to MLBTradeRumors...
Something has to give when a respected veteran major league player is traded to a team and the uniform number he has worn for 16 years is already on the back on one of his new teammates.  Usually it ends up costing the new acquisition a nice dinner or maybe even a new car. What happened when former Los Angeles Angels outfielder Torii Hunter called his new teammate Rick Porcello...
BROOKS BROWN RIGHT HANDED PITCHER Born: June 20, 1985 Height: 6'3″ Weight: 210 Bats: Left Throws: Right Drafted: 1st round, 34th overall, 2006 (Diamondbacks) How Acquired: Minor League Free Agent College: University of Georgia Agent: N/A WTM'S PIRATE PLAYER PROFILES Brown was a supplemental first round pick of Arizona in 2006 on the strength of a fastball...
Jim Bowden has proposed that the Arizona Diamondbacks send Justin Upton to the Detroit Tigers for Nick Castellanos and Avisail Garcia. Continue reading →
If you believed everything that you've heard, you might be under the impression that we have the next Miguel Cabrera in our system. I don't mean to burst your bubble, but I'm not signing up for that just yet. Does that mean I don't believe in Wilmer Flores? Quite the opposite actually – I just don't like putting lofty expectations on young players. Flores is and has always...
Whenever I am struggling with writer's block or just insanely bored, I like to take a look back through the traffic sources for the blog,  Sometimes the keyword referrals provide me with an idea but most of the time they just provide a good chuckle, like the time someone cam across the site by Googling "is Jeff Mathis a homosexual."  That was my personal favorite...
MLB News

Delivered to your inbox

You'll also receive Yardbarker's daily Top 10, featuring the best sports stories from around the web. Customize your newsletter to get articles on your favorite sports and teams. And the best part? It's free!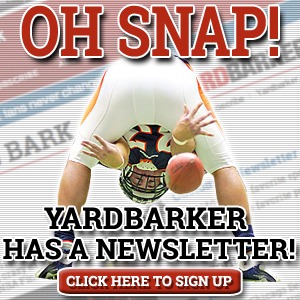 Latest Rumors
Best of Yardbarker

Today's Best Stuff

For Bloggers

Join the Yardbarker Network for more promotion, traffic, and money.

Company Info

Help

What is Yardbarker?

Yardbarker is the largest network of sports blogs and pro athlete blogs on the web. This site is the hub of the Yardbarker Network, where our editors and algorithms curate the best sports content from our network and beyond.