Found October 10, 2012 on isportsweb.com:
The Yankees and the ALDS have an eerie relationship. It serves as either a small stepping-stone towards alarger pedestal or a heartbreaking roadblock of a larger goal. The Yankees aren't like your favorite baseball team. The Baltimore Orioles have already had a successful season, anything in addition to making the ALDS is icing on a historic cake. They are playing with house money, having been a consensus pick for 4th in the division in March.The Yankees don't have that luxury.  Like every other season, this one is World Series or bust. Expectations never wavier in the Bronx, even though the ALDS has been anything but an easy hurdle for the Yankees in recent years.  Since its inception in 1995 the Yankees have lost in the ALDS six times. Every one of those losses has been considered an upset to a degree. As this year's version of the most nervous week of a Yankees fan's year heads back to the Bronx tied at one game apiece, an unfamiliar feeling has settled upon Yankeeland. Uncertainty.You knew something was off during previous ALDS losses. The pre 2000 dominance was absent from even the wins. It never felt like the Yankees had control of the series. Yankees fans have conditioned themselves to weather the storm of under achieving ALDS teams. They know what to look for. A shaky first game is the first sign, and if the mighty Bronx Bombers bats are quieted, usually there is not enough pitching for the Yankees to fall back on.  A 7-3 win in game one quelled those fears from the Yankee faithful, and while leaving 10 runners on base is never a recipe for success, other then Alex Rodriguez the big bats in the Yankees order are not struggling.So why does a feeling of dread blanket the Yankee fan base today? The Yankees have three games at Yankee Stadium (It may not have the ghosts the old one did, but that's an entire other column), where they must win two of those three. If they need it, they have C.C. Sabathia ready for game five.  Hiroki Kuroda goes tonight, and yet the feeling amongst Yankees fans is starting to feel like: "here we go again."Yankees fans are accustomed to certain things, there will be games in the Bronx in October, and they will be heavily favored in the ALDS.  Yankees fans don't like uncertainty, and the saga of these two teams dating back to the beginning of the season has been anything but predictable. The only thing we can predict is that we have no idea what is going to happen. These teams went 9-9 in the regular season. The 7-3 score in game one was indicative to a Jim Johnson mini meltdown, and take that away these teams have looked dead even through the first 20 games they have played this season.This uncertainty is uncomfortable for Yankees fans. The Orioles aren't scared of the big, bad Yankees. The mystique of Derek Jeter has no tug on them, they all believe they can hit C.C. Sabathia, and who does Alex Rodriguez scare these days anyway? The Yankees have pulling, power hitting lefties that are built to play in Yankee Stadium. So do the Orioles.  The Yankees (save C.C Sabathia) have a solid, yet unspectacular staff anchored by a highly effective bullpen. The Orioles follow a similar model. The Yankees are playing a younger, healthier, and potentially hungrier version of themselves.  It doesn't matter that the Yankees are heading home because the Orioles play a style that fits that ballpark as well. They can throw all the mystique and aurora at the face of the Orioles and it will go unnoticedWith a park so fit for offense and two starting pitchers (Kuroda and Miguel Gonzalez) who haven'tbasked in October's glow enough to know that the autumn chill isn't always kind to new comers, bullpen management could be essential in the rest of the series. This is where I think the Yankees gain a slight advantage.  Joe Girardi was able to conserve his bullpen in Baltimore. He only used David Robertson, and it was for only 1 1/3 inning combined.  Buck Showalter used his bullpen for six innings in the two games. Small details like bullpen management are magnified in close series like this. When I saw C.C. Sabathia trotting out to the mound with a four run lead in the ninth during game one I couldn't help but wonder out loud what the point of that move was. Sitting here with game three mere hours away and a fresh bullpen, I am glad that Girardi was able to use his bullpen in a conservative fashion for the two games in the pitchers paradise known as Camden Yards. A fresh bullpen may be the key to the series, unless it has just saved Yankees fans from seeing a Rafael Soriano October breakdown (he seems like the type, doesn't he?).The Yankees are not doomed, but the Baltimore Orioles are not the Minnesota Twins.  No fear exists in the eyes of the Orioles.  Through two games we only know that we know nothing. Buckle up everyone, these (potentially) three nights in the Bronx look to offer excitement. What else is new?
Original Story:
http://feedproxy.google.com/~r/isport...
THE BACKYARD
BEST OF MAXIM
RELATED ARTICLES
HUUUGE DOUCHE
The Donald has never been shy about sharing his opinions, even when no one wants to hear them, and now he thinks he knows more about putting together a lineup than Joe Girardi.
ESPN struck again putting together another headline that appears to be racist.After New York Yankees slugger Alex Rodriguez struck out three times against the Orioles, ESPN's Wallace Matthews posted "KKK-Rod" as the headline to his Rapid Reaction blog.Check out a screenshot of the headline below, courtesy of Deadspin. (click to enlarge)Paul M. Banks is CEO of The Sports Bank...
With one out in the 13th inning of Thursday night's ALDS Game 4, Orioles rookie Manny Machado stood at third base with Yankees star Alex Rodriguez -- pupil and teacher, side by side with a game and a series on the line. It was an improbable setting and an unlikely situation for the 20-year-old Machado. After all, just about two years ago -- before he was the third pick in the...
With one hit and five strikeouts through nine at-bats in the American League Division Series, New York Yankees third baseman Alex Rodriguez hasn't been performing like a middle-of-the-order hitter. It's possible he won't be in that part of the lineup when the best-of-five series against the Baltimore Orioles, which is tied 1-1, resumes Wednesday at Yankee Stadium. ...
Down by a run in an all-even AL division series, Joe Girardi approached Alex Rodriguez and told baseball's highest-paid player he was going to pinch hit for him. Bold move, benching one of the game's great sluggers. ''I just had a gut feeling,'' the Yankees manager said. ''I just went to him and I said, `You're scuffling a little bit right now...
For one night, Raul Ibanez was the greatest hitter of all time. Pinch-hitting for Alex Rodriguez -- who many predicted would someday hold that title -- in the bottom of the ninth, Ibanez launched a home run into the right-field stands at Yankee Stadium to tie the game. Then, improbably, impossibly, he hit another in the 12th inning, sending New York into a frenzy and the Yankees...
For all of his home runs, All-Star accolades and huge salaries, Alex Rodriguez finds himself in a most familiar spot this season. A-Rod is an October lightning rod. With every swing and miss, memories of his amazing run during the New York Yankees' championship season in 2009 fade even further. Instead, fans are becoming more and more vocal, calling for manager Joe Girardi...
The team that scored more runs this season than anyone except the Texas Rangers has a problem with its offense. And it remains to be seen what the New York Yankees do to try to fix it. The talk heading into Game 3 of the American League Division Series between the Yankees and Baltimore Orioles on Wednesday night centered on whether Alex Rodriguez would be dropped from the third...
What a night! Squawker Jon and I were on the phone in the ninth inning, when we saw that Raul Ibanez had taken Alex Rodriguez's place in the lineup. We barely had time to digest it when we saw that Ibanez hit a homer to tie the game. Then, to make things even more unbelievable, he of course did something that has never been done in a postseason game before -- hitting a home run...
NBC Sports Baseball Analyst Darryl Hamilton joins Fox Sports Tonight to discuss the batting struggles for Alex Rodriguez.
Yankees News

Delivered to your inbox

You'll also receive Yardbarker's daily Top 10, featuring the best sports stories from around the web. Customize your newsletter to get articles on your favorite sports and teams. And the best part? It's free!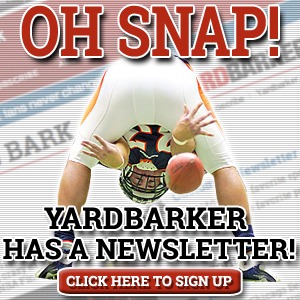 Latest Rumors
Best of Yardbarker

Today's Best Stuff

For Bloggers

Join the Yardbarker Network for more promotion, traffic, and money.

Company Info

Help

What is Yardbarker?

Yardbarker is the largest network of sports blogs and pro athlete blogs on the web. This site is the hub of the Yardbarker Network, where our editors and algorithms curate the best sports content from our network and beyond.