The top 10 MLB right fielders headed into spring training 2017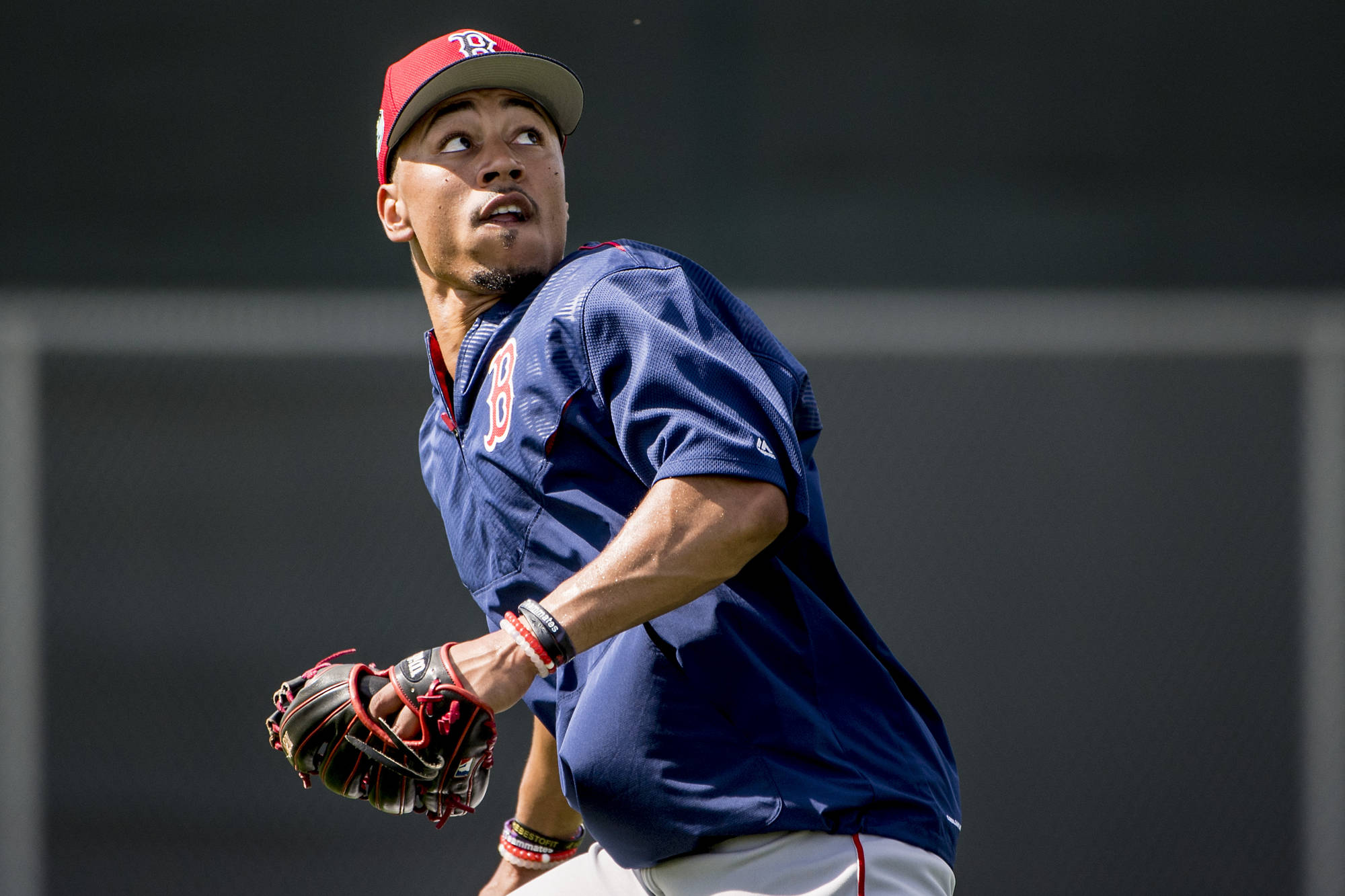 Mookie Betts #50 of the Boston Red Sox tracks a fly ball during a team workout on February 19, 2017 at Fenway South in Fort Myers, Florida.
Billie Weiss/Boston Red Sox/Getty Images
The right field position traditionally has one job, and one job amongst all others: to rake. Some of the most potent power threats in the history of the game have called the right corner of the outfield home, including Hank Aaron, Frank Robinson, Reggie Jackson, Mel Ott and none other than Babe Ruth himself.

In today's game, the tradition of the spot being home to some of the most prodigious hitters of the day has stayed true. Today, it is home to a pair of the most precocious talents in the game; one already with an MVP on his trophy case, another who put an all out assault on taking yet another one from Mike Trout a year ago. Behind them, there is a stockpile of talent that includes a trio of elite sluggers, a reigning home run champ and another former MVP looking to reestablish himself as well.

That's a lot of build up, but the promise more than delivers. Here's a look at the top 10 right fielders in baseball today (as well as a potential AL/NL MVP primer). 
10. Mark Trumbo, Baltimore Orioles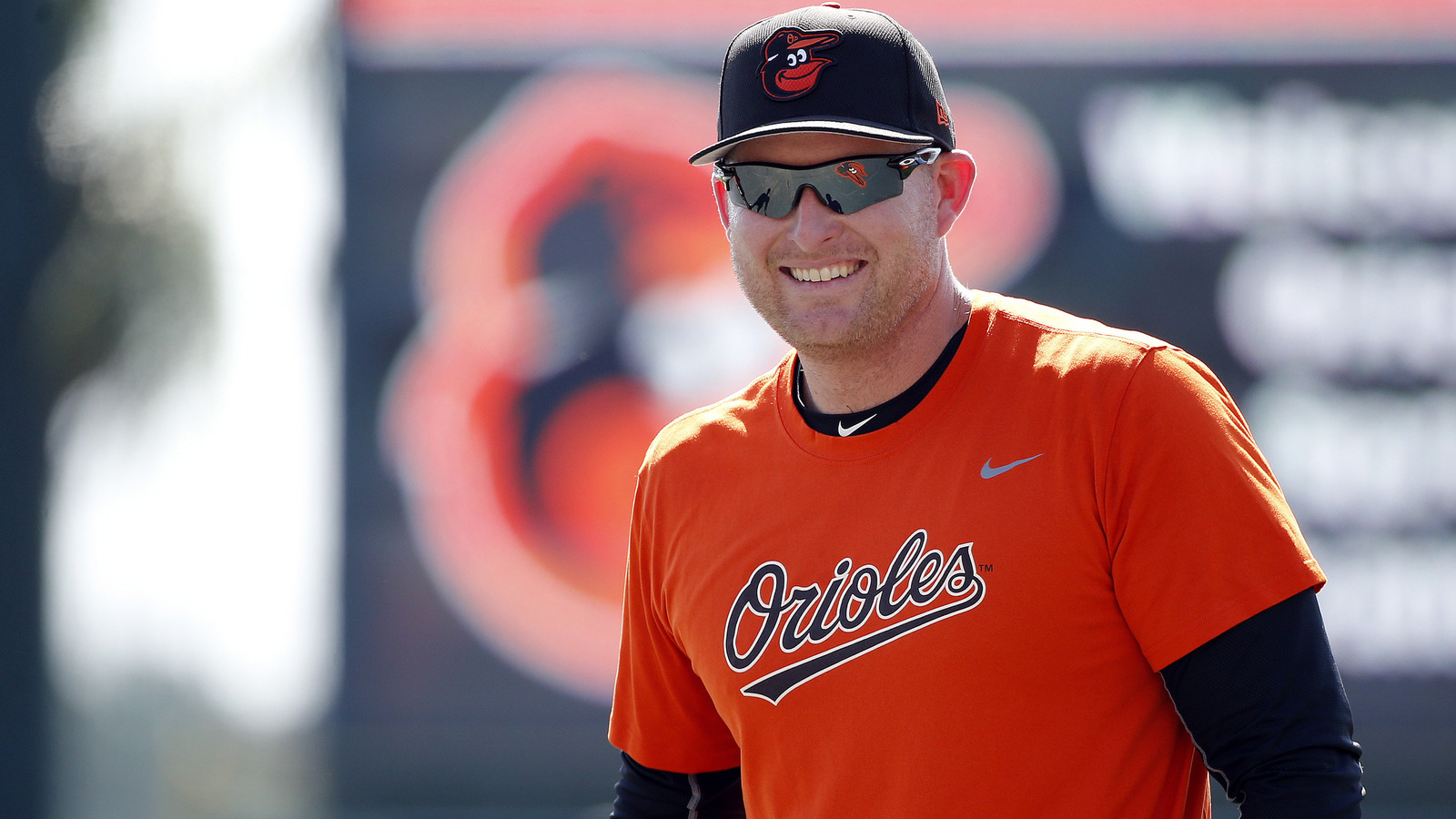 Baltimore Orioles right fielder Mark Trumbo works out prior to their spring training game against the Boston Red Sox at Ed Smith Stadium on March 1, 2017.
Kim Klement-USA TODAY Sports
It was no surprise to see Trumbo put on a tremendous power display last year, he has long been able to beat the ball over the fences. But never had he done it at the level he did a year ago, as he paced the Majors with a 47 long balls and a career-best .533 slugging percentage. In the process, he continued to offset it with a massive strikeout total (170), but unlike in the past he did it by working his way on base more often and working his way across the plate 94 times.

9. Kole Calhoun, Los Angeles Angels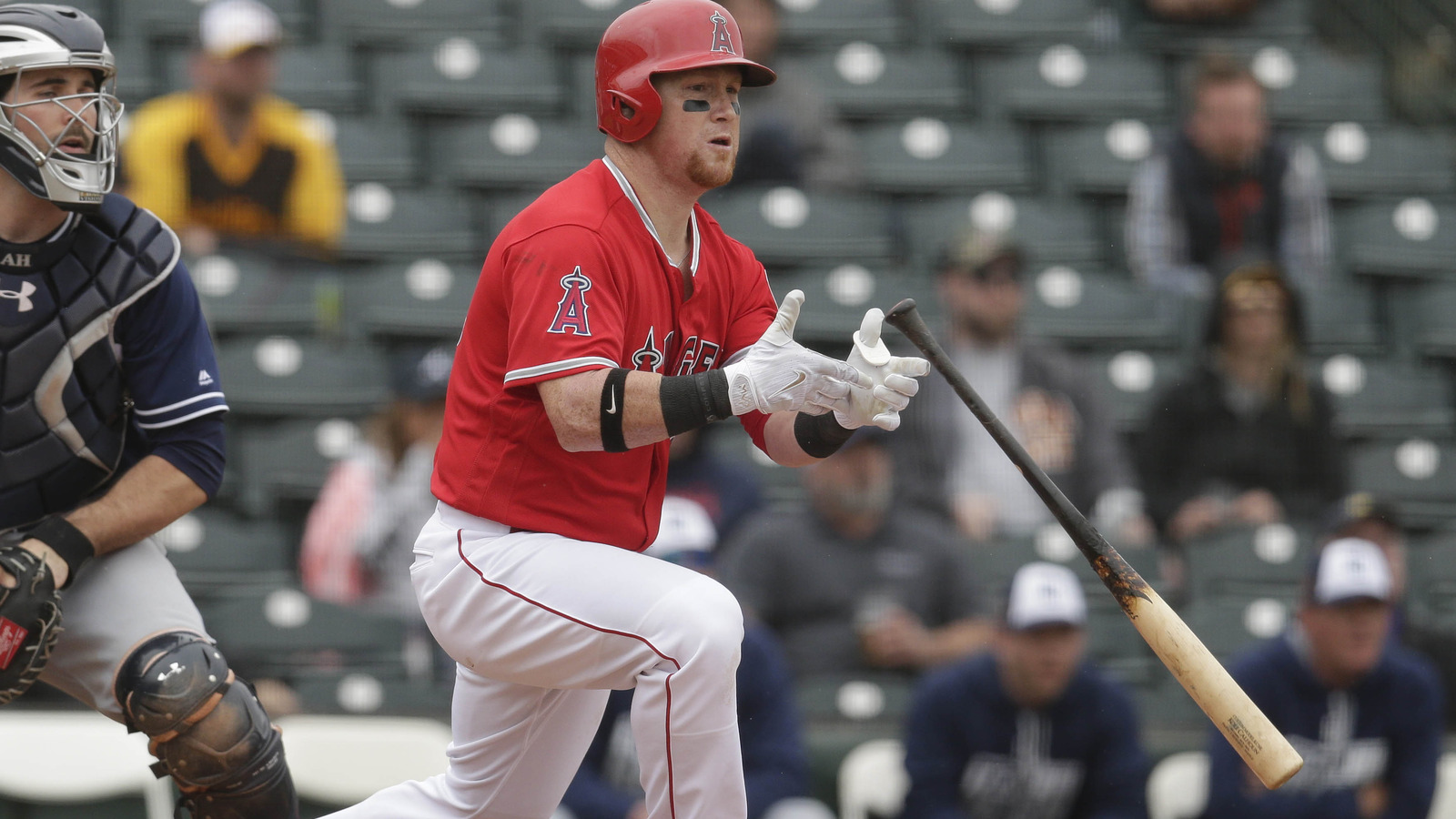 Los Angeles Angels right fielder Kole Calhoun hits an RBI single in the third inning against the San Diego Padres during a spring training game at Tempe Diablo Stadium on Feb. 27, 2017.
Rick Scuteri-USA TODAY Sports
Calhoun is a sneaky consistent producer and has been so over the past handful of seasons. He finished top 5 among all returning right fielders in hits last year, with 161. He replicated his same amount of hits from the previous year, when he finished 6th in the AL in the category. Since becoming a full-time starter in 2014, he has averaged 20 home runs, a .327 on-base % and won a Gold Glove as well. Being steady is an underappreciated ability, until it is framed as what it truly is: being dependable. And you know what you're going to get from Calhoun, and it is better than advertised.

8. Andrew McCutchen, Pittsburgh Pirates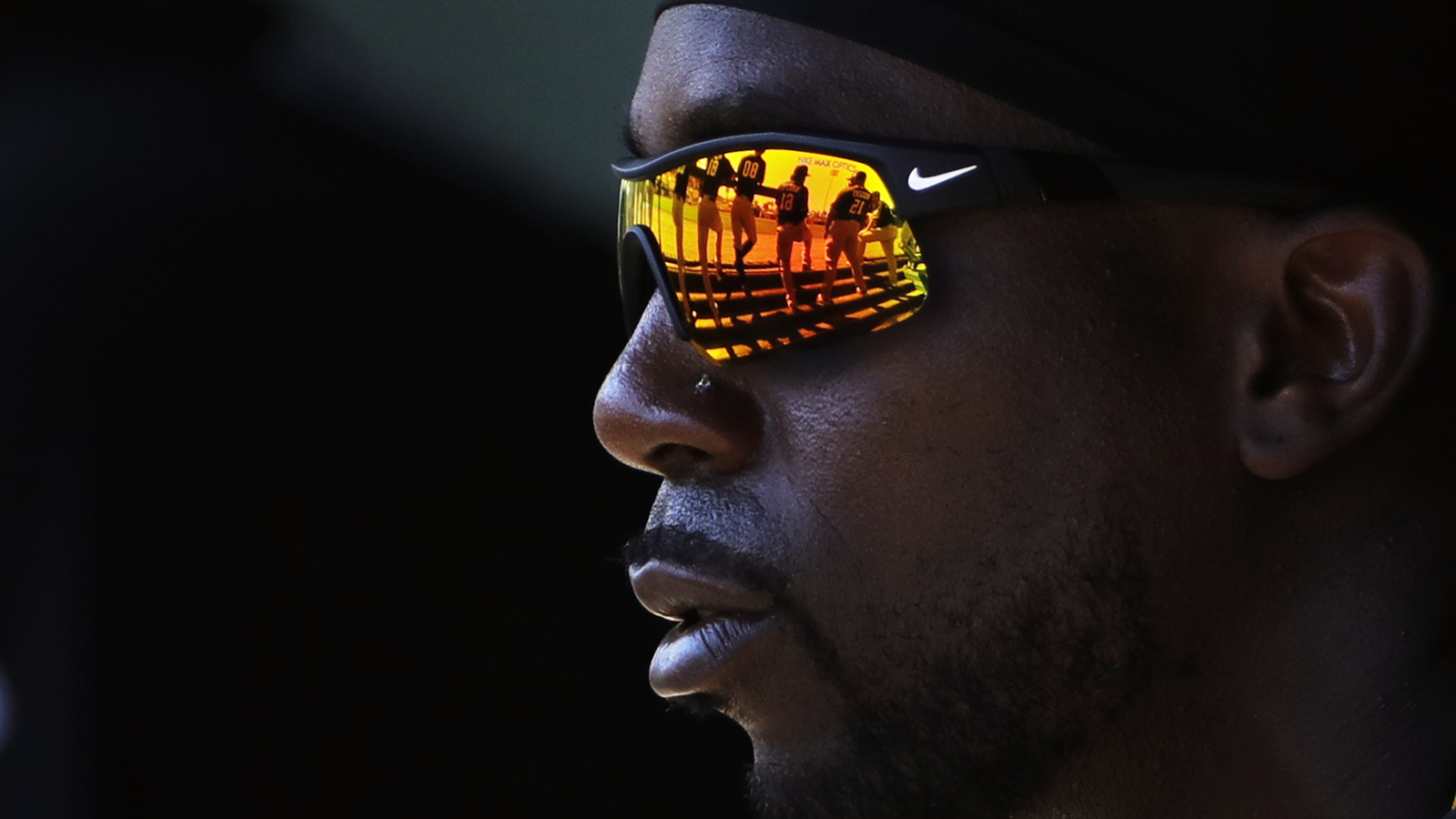 Pittsburgh Pirates' Andrew McCutchen sits in the dugout in the fourth inning of an exhibition spring training baseball game against the Baltimore Orioles in Sarasota, Fla., Sunday, Feb. 26, 2017. 
AP Photo/David Goldman
It will be an interesting year for McCutchen, as no player has had as contentious of a calendar year as he has. He will look to revive his standing in a new position this summer, as he will slide over to right field in the new year and look to put the worst season of his career behind him. It is hard to imagine that Cutch has the same type of complete and total struggles that he did a year ago, when he posted a .253/.336/.430 split line. While it's not a slam dunk that he reaches back to the perennial All-Star level he lived at just two years ago, McCutchen is still riding a streak of six straight 20 home run seasons and is likely to reach closer to an .800 OPS this year. Many players have picked up their production after sliding over out of center.

7. Carlos Gonzalez, Colorado Rockies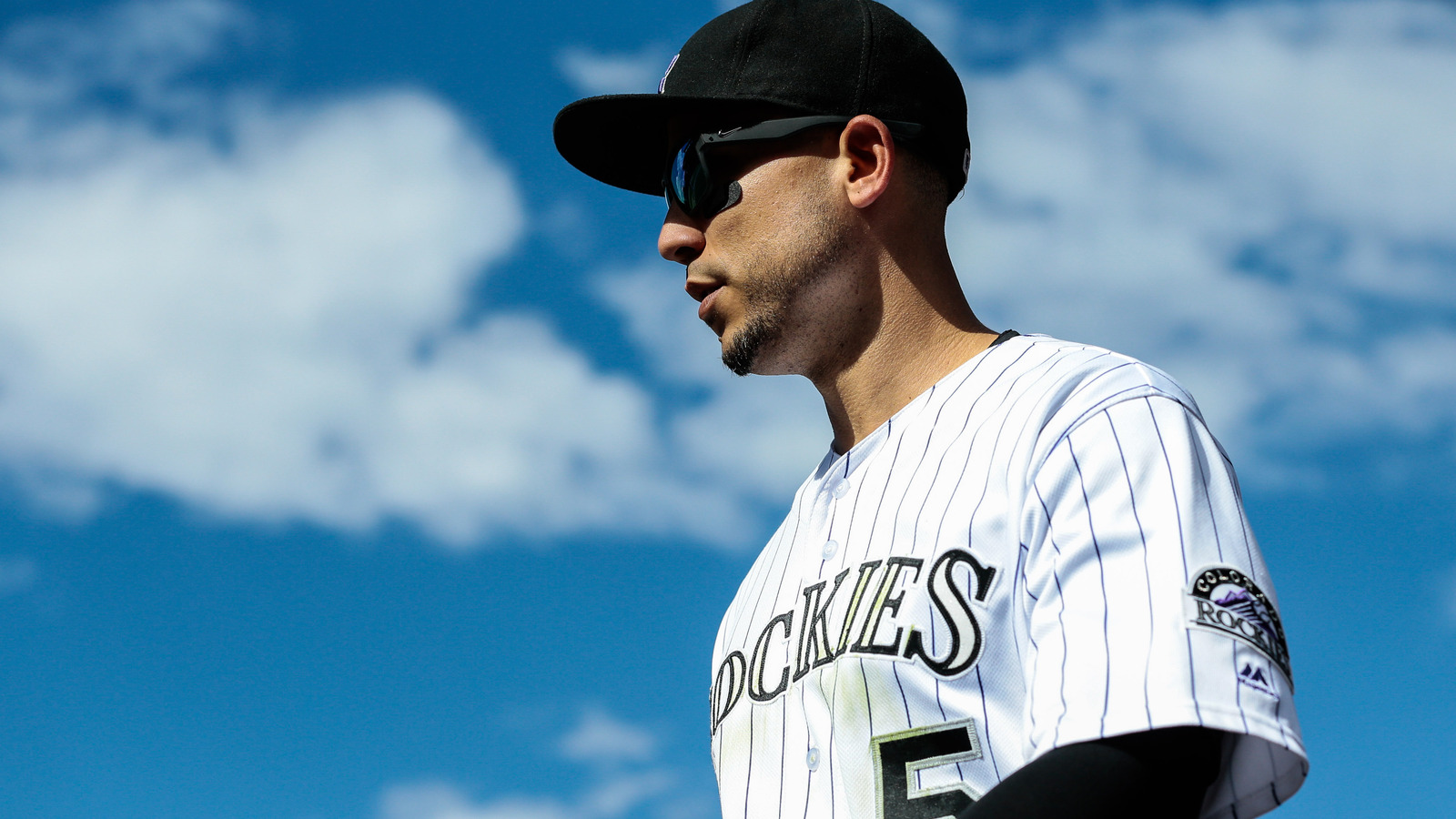 Colorado Rockies right fielder Carlos Gonzalez in the middle of the fifth inning against the Milwaukee Brewers at Coors Field on Oct. 2, 2016.
Isaiah J. Downing-USA TODAY Sports
There are few players that can do as many things consistently well at the plate as CarGo does, and he proved it yet again in 2016. He became an All-Star for the third time, while producing an impressive .298/.350/.505 split, which pulled his OPS over .800 for the seventh time in his nine year career. And while production rate has never been a problem for him, staying healthy has, so his totals have often been at less than top tier levels. That was not a problem last year either, as he played in 150 games, which allowed him to drive in 100 runs and finish fourth in the NL with 42 doubles.

6. J.D. Martinez, Detroit Tigers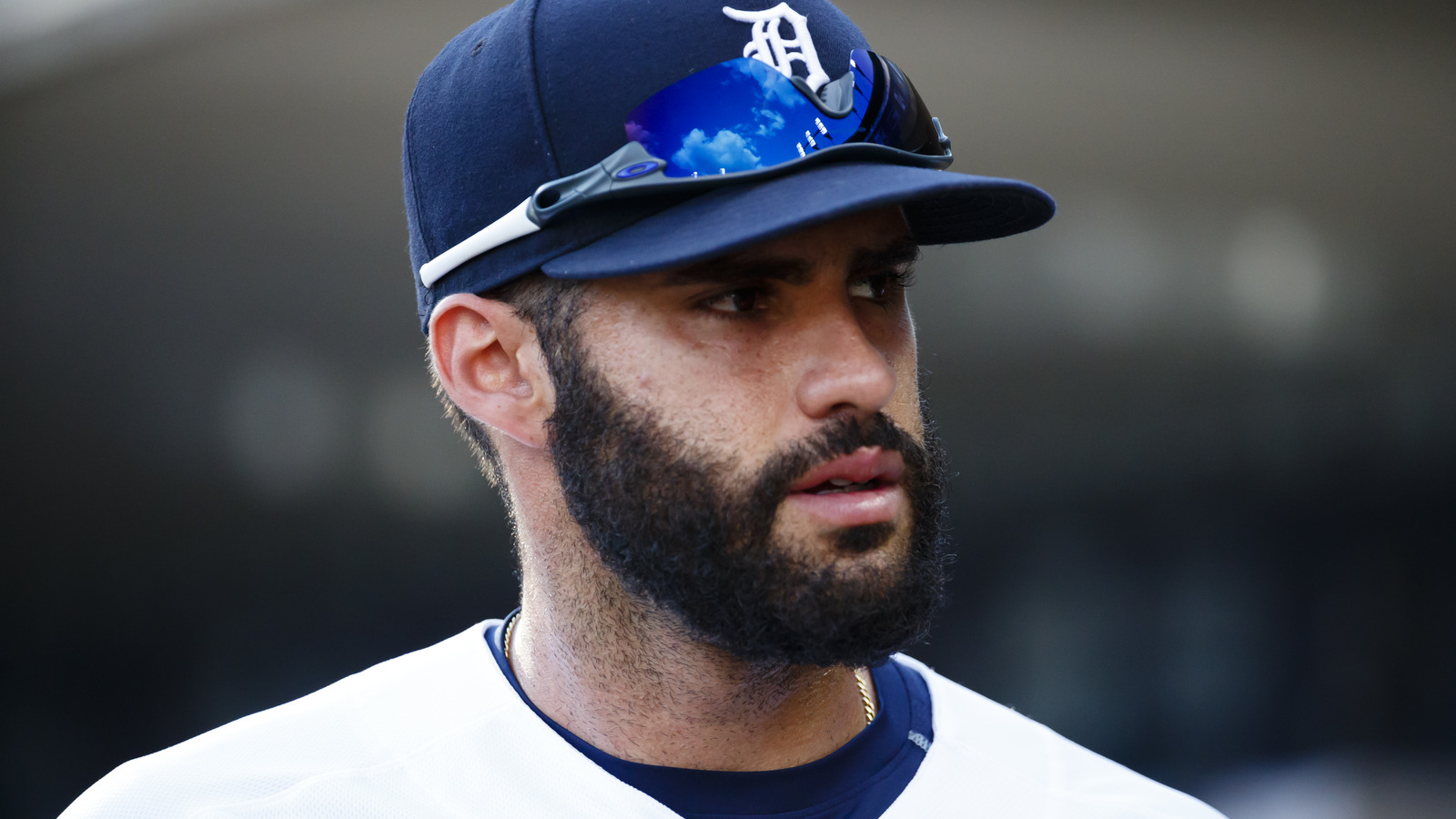 Detroit Tigers right fielder J.D. Martinez in the dugout prior to the game against the New York Mets at Comerica Park on Aug. 6, 2016.
Rick Osentoski-USA TODAY Sports
It's official: Martinez is firmly placed on the 'All-Underrated' team. He hit for a .300 average for second time in three years, while posting a career-best .373 on-base percentage. 2016 also saw him bring in a .907 OPS, making it the the third time in as many years he has finished in the top AL top 10 in the category and third straight year he has risen in the league charts in the comprehensive stat. While others in his lineup get a bigger bulk of the spotlight, Martinez is as important as any at keeping the Tiger lineup rolling.

5. Jose Bautista, Toronto Blue Jays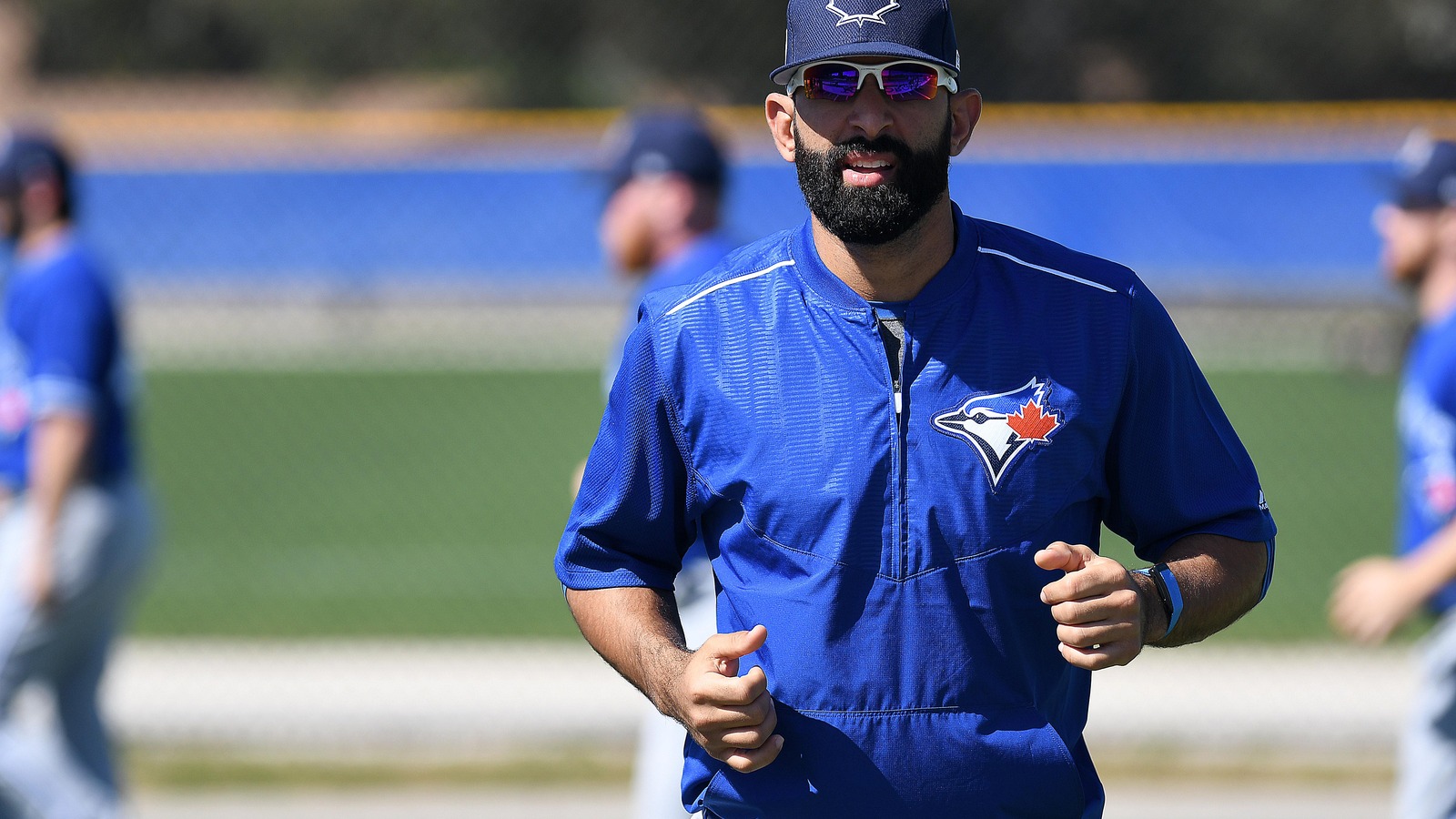 Toronto Blue Jays outfielder Jose Bautista warms up before the start of the spring training workout at Bobby Mattix Training Center on Feb. 24, 2017.
Jonathan Dyer-USA TODAY Sports
2016 was his worst year as a Blue Jay, true. And yes, he did not turn the free agent market upside down like he may have expected. But make no mistake, it is far too soon to write off Bautista as being well down a downward spiral in his career. Defensively, he is probably closer to the designated hitter stint in his career, but at the plate the skills are still sharp. Joey Bats hit 22 home runs in 116 games last year, bringing his three-year total to 97. Another few 30 homer seasons aren't much of a stretch for the 36-year-old either.

4. Nelson Cruz, Seattle Mariners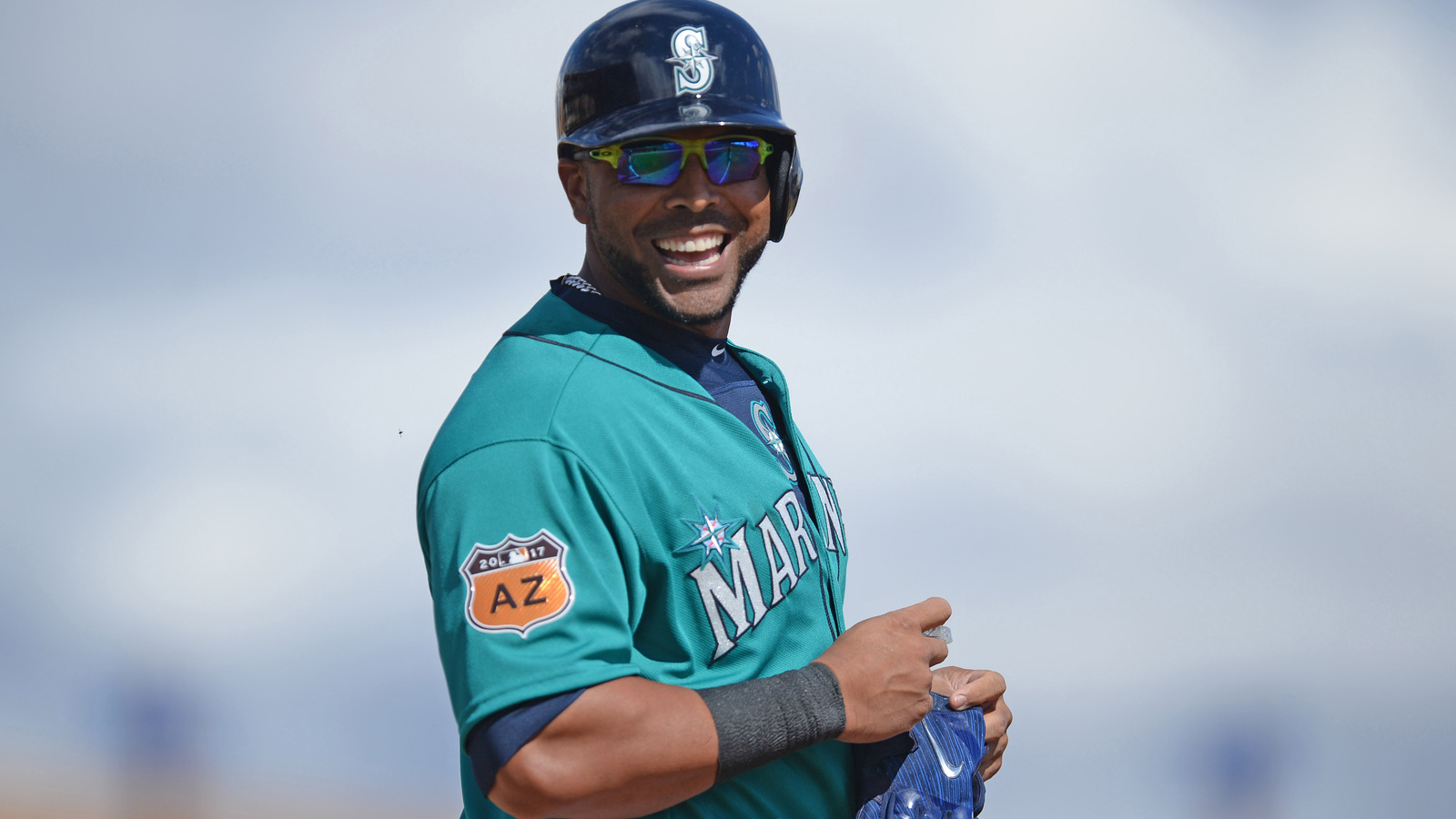 Seattle Mariners designated hitter Nelson Cruz looks on against the Chicago White Sox during the second inning at Camelback Ranch on Feb. 28, 2017. 
Joe Camporeale-USA TODAY Sports
Admittedly, it is slightly a stretch to consider Cruz a true right fielder, as he appears on the lineup card more often than not in the DH role these days. But he did make over 200 plate appearances as a RF last year, so he deserves amongst peers at the position. Cruz remains one of the foremost power hitters in the game today and has thoroughly put the notion of Safeco potentially zapping into his power numbers to rest. No player in baseball has hit more homers than Cruz over the past two years, and since signing with the M's, he has worked out a .294/.365/.561 split line to round things out as well.

3. Giancarlo Stanton, Miami Marlins
Miami Marlins right fielder Giancarlo Stanton connects for a solo home during the sixth inning against the Washington Nationals on Sept. 20, 2016.
Steve Mitchell-USA TODAY Sports
Stop me if you've heard this before (or have likely thought it as well): "if only he could stay healthy, his numbers would be insane." No player in baseball has left more incredible seasons on the table than Stanton has, due to the crazy rash of untimely injuries that find him. In 2016, he rebounded well from the broken jaw that ended his MVP push of two years ago. He was in the midst of another substantial drive last year when a knee injury stopped him short of reaching his potential again. Mind you, this is a man that has not played in 150 games since 2011 and has still once led the National League in home runs, twice led it in slugging percentage and has homered once every 12 at-bats over the past two years. The full potential continues to lurk; we just want to see it once, that's all.

2. Bryce Harper, Washington Nationals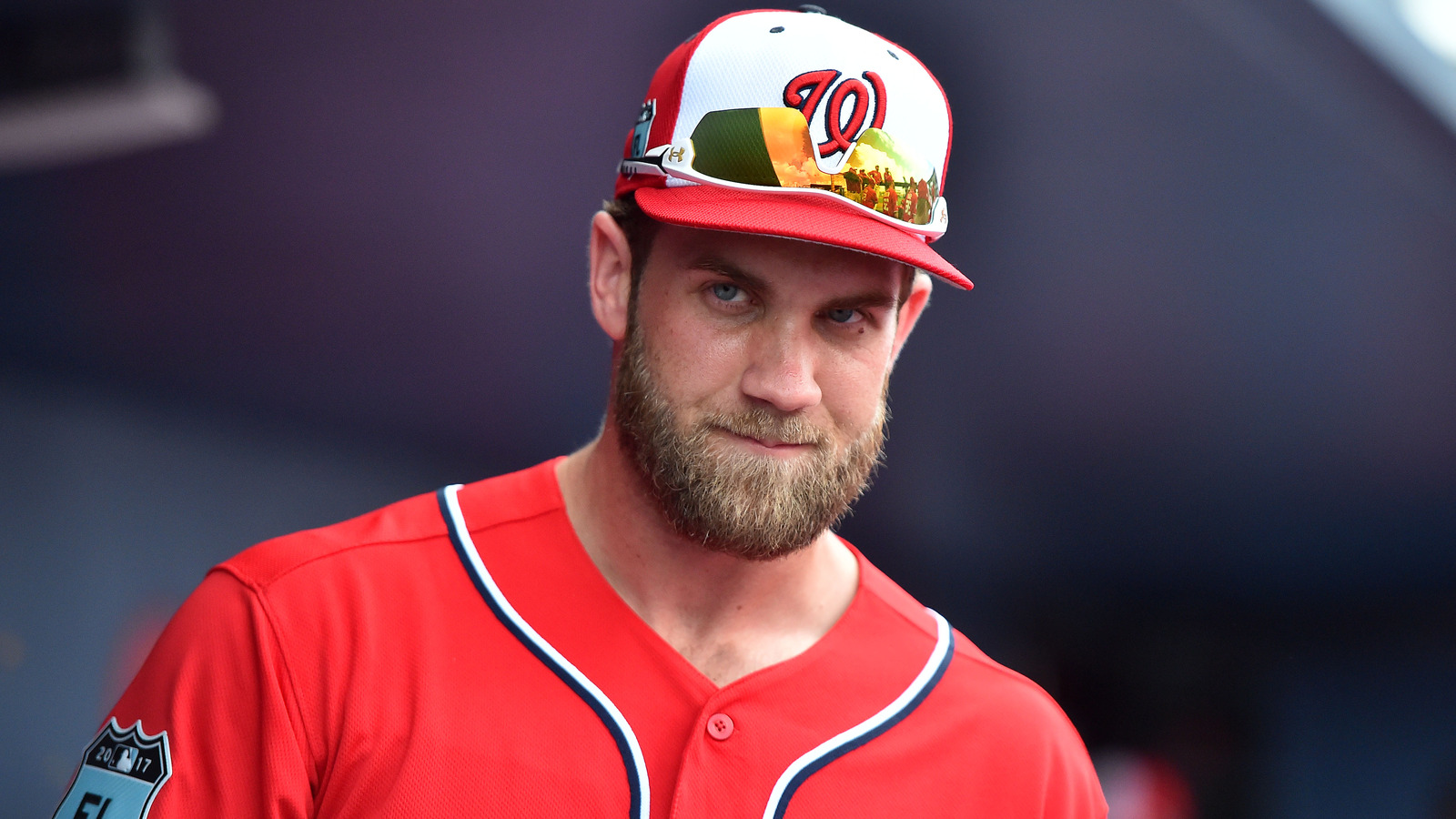 Washington Nationals right fielder Bryce Harper (34) looks on in the dugout before the game against the Houston Astros at The Ballpark of the Palm Beaches on Feb. 28, 2017.
Jasen Vinlove-USA TODAY Sports
It would seem ridiculous that this time a year ago we would be saying we need to see more from Harper, but here we are. In 2015, Harper delivered on his substantial promise and paid in full, becoming the third youngest MVP in baseball history and doing so in unanimous fashion. Yet last year, after a sizzling hot April where he won NL Player of the Month, Harper battled through bouts of inconsistency, hitting .200 and .176 in May and July, respectively and hit .226 in the second half.

Regardless of it all, at 24 Harper remains in the handful of elite talents in the game. Even in his down year, he still hit 24 homers and just as many doubles, while driving in 86 runs and totaling the second most walks in the NL. Bryce will be fine, he is still taking strides towards becoming a more impactful player, that will be hitting behind Adam Eaton and Trea Turner this year, which means his at-bats will mean more than ever. Bet on Bryce to cash in on that opportunity and be back in the MVP race yet again.

1. Mookie Betts, Boston Red Sox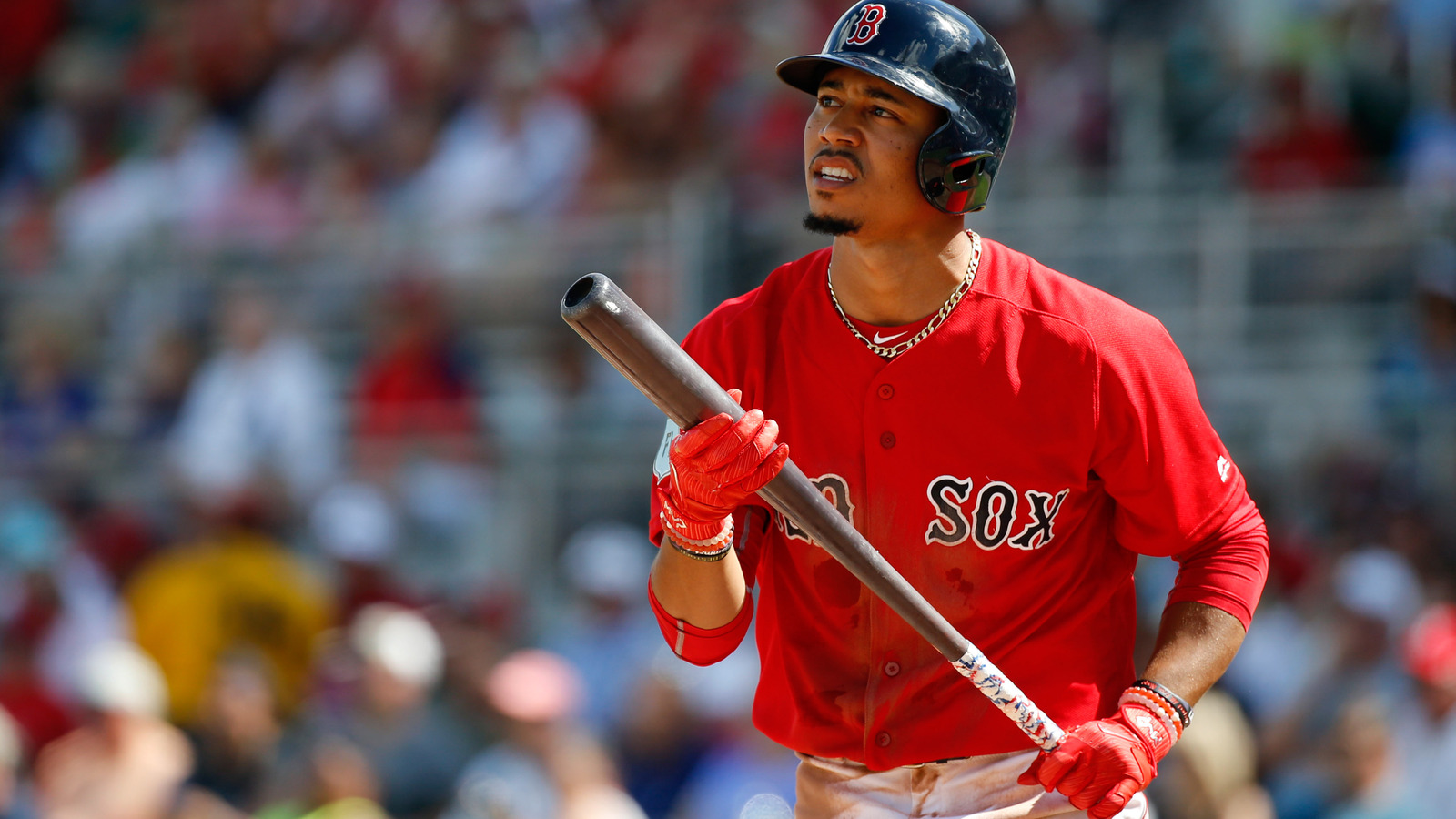 Boston Red Sox right fielder Mookie Betts at bat against the St. Louis Cardinals on Feb. 27, 2017.
Kim Klement-USA TODAY Sports
Wow. Pardon the lack of immediate precision in attempting to describe what Betts' breakout season was, but it was a show from top to bottom. There was no stone left untouched last summer by the now 24-year-old buffet of skills. He finished in the top 10 of virtually every statistic worth counting in the AL, with a .318 average (2nd), 113 RBI (4th), 122 runs scored (2nd), 26 stolen bases (3rd), a .534 slugging percentage and .897 OPS (both 8th). He even found time to finish second in hits, third in doubles and work up a Gold Glove, Silver Slugger and runner up in the MVP vote as well.

All of this worked up in a 9.0 WAR by Baseball Reference metrics and put him squarely within the sights of reaching even the ultimate WARrior (brutal, I know), Mike Trout. Betts is a superstar in the making, and is set to be the new cornerstone in Beantown, starting immediately. 
Just a bit outside: Hunter Pence, Jason Heyward
Up & Comer - Stephen Piscotty, Cardinals: Piscotty was thrust into the core of the Cardinal lineup last year and responded well, posting an .800 OPS and posting a respectable 22 home runs as well. The 26-year-old also showed flashes of greater power potential to come, connecting for 35 doubles as well. If he converts even a handful of those into a few more home runs, he could solve the Cardinals' issues in the heart of their lineup. At the very least, he is a promising line drive hitter who could hit a new level if he matches production on both sides of the All-Star Break this year (.295/.370/.430 before, .247/.310/.430 after).
PLAYERS:
Hank Aaron
,
Babe Ruth
,
Mike Trout
,
Mark Trumbo
,
Kole Calhoun
,
Andrew McCutchen
,
Carlos Gonzalez
,
J.D. Martinez
,
Jose Bautista
,
Nelson Cruz
,
Giancarlo Stanton
,
Bryce Harper
,
Trea Turner
,
Mookie Betts
,
Hunter Pence
,
Jason Heyward
,
Stephen Piscotty
TEAMS:
Los Angeles Angels
,
Baltimore Orioles
,
Pittsburgh Pirates
,
Colorado Rockies
,
Detroit Tigers
,
Toronto Blue Jays
,
Seattle Mariners
,
Miami Marlins
,
Washington Nationals
,
Boston Red Sox
,
San Francisco Giants
,
Chicago Cubs
,
St. Louis Cardinals
MORE FROM YARDBARKER:
QUIZ: Every MLB player to win both ROY and MVP honors
There have been 25 MLB players who have earned both Rookie of the Year and Most Valuable Player honors in their career. How many can you name?
1951 NL ROY, 1954 and 1965 NL MVP
1956 AL ROY, 1961 NL and 1966 AL MVP
1968 NL ROY, 1970 and 1972 NL MVP
2001 NL ROY, 2005 and 2008 NL MVP
2012 AL ROY, 2014 and 2016 AL MVP
MORE FROM YARDBARKER
MLB News

Delivered to your inbox

You'll also receive Yardbarker's daily Top 10, featuring the best sports stories from around the web. Customize your newsletter to get articles on your favorite sports and teams. And the best part? It's free!