Unless you're a Mets fan living under a rock or have "boycotted the team", the hot topic after yesterday's 5-4 loss to the defending champion St. Louis Cardinals was Andres Torres being called out on an appeal play. Personally, I've never seen a player actually called out on an appeal…yet for some odd reason I just felt in the pit of my stomach when the Cardinals actually did it that this would be the exception. Sure enough, he was called out.
Most Mets fans screamed that it was CLEAR that he touched first. From both camera angles, it wasn't as blatantly obvious, one angle didn't give a good look at all whilst the other showed his foot at an angle in which it appears that his foot touched the bag. Definitive though? No. With that said my biggest qualm was with the reactions from not only Terry Collins, but Andres Torres during the game made it seem like they were okay with the call. Otherwise both would have went ape-**** just like Mets Twitter did. Given the magnitude of the call I expected more umbrage. I do wonder in the back of my mind if they'll protest this game, although it seems very unlikely.
What might have been: Cedeno would likely be called upon to bunt, advancing Torres over to 3rd and one out. Tejada did draw a walk but instead of there being one out, there were two. Murphy's fly out to end the game could have been a sacrifice fly and the game might've been tied; or if the throw was strong enough for Torres to not test it, David Wright would have come up in a huge spot. But we'll never know, won't we?
Fans have been calling for more instant replay in baseball. It's clear that with the advancement of technology and more camera angles being instituted, it has exposed human error in umpiring/referring in general much more in recent years. I agree with it yes, but how would you like it expanded? It won't be for balls & strikes so when do you use it? Do you issue managers an X amount of challenges during the game? Tough. It wasn't as if we're talking about the St. Louis (the irony)-Kansas City call in game 6 of the 1985 World Series at 1st Base, which was as egregious of a call that you'll ever see in baseball.
Besides, calls like these & the one against Mike Baxter in Toronto (the phantom tag) hurt more because of WHEN they occurred more than anything. If the Mets were getting blown out (on either side of the spectrum) or this happened earlier in the game, this wouldn't be much of a story. But both ultimately cost the Mets here. In a 162 game season, you'll have a game or 2 decided by umpiring mistakes. Let's just hope that this doesn't adversely affect the Mets moving forward and they can take these next two games.
And so on.
Original Story:
http://dailystache.net/archives/3466?...
MORE FROM YARDBARKER
MLB News

Delivered to your inbox

You'll also receive Yardbarker's daily Top 10, featuring the best sports stories from around the web. Customize your newsletter to get articles on your favorite sports and teams. And the best part? It's free!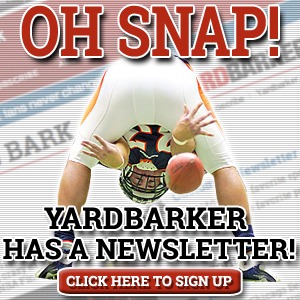 Latest Rumors
Best of Yardbarker

Today's Best Stuff

For Bloggers

Join the Yardbarker Network for more promotion, traffic, and money.

Company Info

Help

What is Yardbarker?

Yardbarker is the largest network of sports blogs and pro athlete blogs on the web. This site is the hub of the Yardbarker Network, where our editors and algorithms curate the best sports content from our network and beyond.