Found January 09, 2012 on BigAppleMetsTalk:
It has been the question that has driven N.Y. baseball fans around the water cooler for the past nine years:  Reyes or Jeter?  This may seem like an odd time to have this discussion with Jeter being on the tail end of his career and Reyes bringing his shaved eyebrows down to Miami, but it's time we settle the score once and for all.  Let's face it, this may be the last time a Mets fan has the opportunity to have a discussion like this for a very long time so why not have some fun with it?  I have heard this discussion take place between Mets and Yankees fans over and over again.  Most of the time I would just walk away nodding my head because it ends up sounding like two cavemen arguing over who invented the wheel.  Yankees fans would elect Jeter president in 2012 if they could, so it was nice for Mets fans to have someone to throw in their face the past eight or nine years.  I would get a kick out of hearing Yankees fans make ridiculous claims in Jeter's favor, and Mets fans respond with their ridiculous statements in favor of Reyes.  I have to admit, that is one of the main reasons why I am going to miss Reyes not being a Met anymore.
But the question still remains:  If you were a G.M. of a baseball organization, who would you want to build your team around if we rewind to the beginning of their respective careers?  Jeter or Reyes?
The question is not as easy as it seems.  Yankees fans cry Jeter, and Mets fans shout Reyes.  While I am a Mets fan, I am a baseball enthusiast above all, and do not have any animosity towards the Yankees.  That is why I am the perfect New Yorker to finally bring this debate to a close.  After reading this, you will no longer ponder the question of Reyes or Jeter.
As I stated earlier, the question seems easy to answer.  Jeter is an icon.  Jeter is a Yankee legend.  Jeter is a role model.  Jeter gave us new meaning when we talk about number two.  But erase his fairy tale career.  Would you build your team around him?  Do his tools blow you away?  The answer is no.  Jeter has above average tools but I don't think there is a single scout who would agree with you if you said Jeter had better tools than Reyes.  Reyes is lightning on the base paths.  Reyes can hit for contact and power.  Reyes is as smooth as Yoplait at shortstop.  So Jeter has the resume, but Reyes has the tools.  Who do you pick?
Mets fans would argue that if you put Jeter on any team other than the Yankees and he would not be who he is today.  Their meaning being that his skill set is not legendary, although he has found a way to propel himself into super stardom.  I couldn't disagree more.  First of all, you cannot discredit anything the man has done because there is no way you can tell for certain that he would not have become a legend with some other organization.  Just like we can't assume that Reyes's ridiculous skill set would lead to legendary status had he played in pinstripes.  This idea of Jeter being great because he is a Yankee is completely irrelevant.  If you want to make the argument that he is a legend simply because he was a Yankee, then the only way I would agree is if you said he was so proud to put that uniform on each and every day, that he squeezed out every ounce of talent that he was given.  If that's the case, then being a Yankee did help him along the way.  But don't discredit the man because of his situation.  Plain and simple, Jeter was born with the "it" factor.  The "it" factor takes guys who may not have the best tools and abilities, and turns them into legends.  Larry Bird.  Joe Montana.  Derek Jeter.  All had the "it" factor.  It guides them.  It drives them.  It puts them in the  right place at the right time.  Remember when Jeter made that play against the Athletics in the playoffs where he was totally out of position?  He had no business being where he was.  He cut the ball off between home plate and first base, and somehow turned out to be in the perfect spot.  To this day I scratch my head and wonder what Jeter was doing there.  It was the "it" factor.
That's the difference in a nutshell between Reyes and Jeter.  When I watch Reyes, I feel like I'm being cheated.  He is so talented and yet I can't stop feeling like he's leaving something on the table.  Jeter dives head first into the stands…Reyes goes out dancing the nights before games.  When I'm scratching my head about Jeter, it's usually because he just did something amazing and I can't believe what I saw.  When I scratch my head about Reyes, it's usually because I can't believe what a bone-headed play I just witnessed from such a talented player.
Coca-Cola or Pepsi?  Bird or Magic?  McDonald's or Burger King?  Jeter or Reyes?  I think it's time to answer the question.  Maybe the question is easier to answer than I thought.  Jeter is a ball player.  He is a gamer.  He is the captain.  He is my pick.  The fastest car doesn't always win the race; the better driver will usually find a way to win even if his car isn't as fast as his opponent.  The biggest fighter doesn't always win the fight; it's usually the fighter who displays more heart that wins.  The smartest person doesn't always score higher on the test; it's usually the person who studies the most that scores the highest.  While Reyes may have the talent to win a M.V.P. award one day, I will always have room on my team for a Hall of Famer.  When I need a pinch runner for #2, that's when I'll call for #7.
View This Poll
Original Story:
http://bigapplemetstalk.com/?p=3863
THE BACKYARD
BEST OF MAXIM
RELATED ARTICLES
Image via Wikipedia On the heels of the news, via WFAN's Sweeny Murti tweet, that New York Yankees Jorge Posada was retiring, reading the headline 'Rivera will decide on retirement by spring training,' made me want to puke. That headline came from an article by Rob Abruzzese over at the uber-popular Bronx Baseball Daily, also a personal favorite blog that I visit regularly...
With the talks of Jorge Posada hanging up his catchers gear for good in the next few weeks, there has been a lot of talk circulating as to whether or not the Yankees should eventually retire his number. Personally, I am a huge fan of Jorge; however, I do not feel his number should be [...] No related posts.
Nakajima will play in Japan again in 2012 with hopes of signing with an MLB team in 2013.The New York Yankees bid $2 million to negotiate with Japanese shortstop Hiroyuki Nakajima. They were surprised to win the bid and really had no role for him on their team. They view Nakajima as a utility player at best and did not put their best foot forward to sign him.Negotiations came to...
On Saturday, news surfaced that Jorge Posada intends to retire after 17 years in baseball. In that time, he combined two things that rarely go together. He was a longtime New York Yankee, and he was constantly underrated. Players for the game's marquee franchise usually get at least their share of attention yet, somehow, Posada slipped through the cracks. In honor of the recently...
Jorge Posada is planning to retire after 17 seasons with the New York Yankees rather than pursue opportunities with other teams. A person familiar with the decision told The Associated Press Saturday that the five-time All-Star catcher will announce his retirement this month. Posada, 40, won five World Series titles with the team that drafted him in the 24th round of the 1990 draft.
With the Giants making short work of the dirty birds from Atlanta, the Knicks finding their way into the season and the Jets melting down, there's precious little space for other sports news right now. That's a shame, because the news that broke over the weekend about Jorge Posada deserved a bigger moment in the spotlight. Sweeney Murti of WFAN reported Saturday that Posada...
With Jorge Posada set to announce his retirement in the coming weeks, another terrific Yankee backstop – Yogi Berra – believes Posada is doing the right thing by keeping his career pinstripes-only.
Jorge Posada made the right call. The man who spent so many years calling pitches for championship Yankees teams is calling it a career. Posada is going out on his own terms, and he is going out in pinstripes. That's exactly the way it should end for Posada. The...
Chris Jaffe provides a timeline of the career of Jorge Posada. I'm somewhat surprised at how poorly Posada ranks against the game's great catchers in terms of WAR. Johnny Bench 71.3 Ivan Rodriguez 67.3 Carlton Fisk 67.3 Gary Carter 66.3 Yogi Berra 61.9 Mike Piazza 59.1 Bill Dickey 54.4 Mickey Cochrane 51.2 Ted Simmons 50.4 Gabby Hartnett 50.3 Jorge Posada 44.7 Ernie...
Andy Carey, third baseman for the New York Yankees dynasty of the 1950s that won four straight American League pennants and two World Series, has died at 80.
Yankees News

Delivered to your inbox

You'll also receive Yardbarker's daily Top 10, featuring the best sports stories from around the web. Customize your newsletter to get articles on your favorite sports and teams. And the best part? It's free!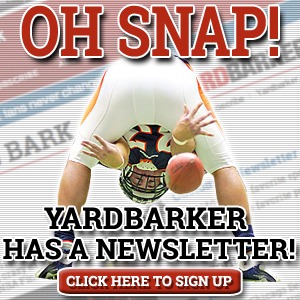 Latest Rumors
The Backyard

Today's Best Stuff

For Bloggers

Join the Yardbarker Network for more promotion, traffic, and money.

Company Info

Help

What is Yardbarker?

Yardbarker is the largest network of sports blogs and pro athlete blogs on the web. This site is the hub of the Yardbarker Network, where our editors and algorithms curate the best sports content from our network and beyond.