Found February 25, 2013 on Waiting For Next Year:
PLAYERS:
Terry Francona
,
Michael Bourn
,
Asdrubal Cabrera
,
Jason Kipnis
,
Nick Swisher
,
Michael Brantley
,
Carlos Santana
,
Mark Reynolds
,
Lonnie Chisenhall
,
Drew Stubbs
,
Shelley Duncan
,
Jack Hannahan
,
Casey Kotchman
,
Ryan Raburn
,
Scott Kazmir
,
Ben Francisco
,
Matt Capps
,
Carlos Carrasco
,
Trevor Bauer
,
Daisuke Matsuzaka
,
Sandy Alomar
,
Rich Hill
,
Zach McAllister
TEAMS:
Cleveland Indians
,
Tampa Bay Rays
,
Cincinnati Reds
,
Miami Marlins
,
Boston Red Sox
The weekend in Wahooland saw the games beginning in Arizona. We have been hearing about how great the vibe is in camp and how loose yet focused the Indians have been under new skipper Terry Francona. Now it was time to see how that translated into Spring Training games. The results in these tilts are meaningless, but the Tribe won all four, including two split-squad games Sunday afternoon. There was lots to like. Here were some of the takeaways: The first lineup we saw will be something close to what will be on opening day, barring injury. Francona's Friday nine was Michael Bourn, Asdrubal Cabrera, Jason Kipnis, Nick Swisher, Michael Brantley, Carlos Santana, Mark Reynolds, Lonnie Chisenhall, and Drew Stubbs. If seeing that batting order, with nine real legit major league ball players, didn't make you feel better about the team, then nothing will. A full year of bottom fours that included the likes of Shelley Duncan, Jack Hannahan, Casey Kotchman, and Brett Lillibridge will make you wonder how your team can compete. This year's one through nine looks to have no holes in it. In that first game, the Indians trailed 5-0 after the top of the first, but struck back to take a 7-5 lead by the end of the third. All of the damage was done by those starters. The highlights a the two-run blast from Chisenhall, two doubles from Brantley, and an RBI single from Swisher in his first at-bat as in Indian. The Tribe won 11-10 on a walk-off bases-loaded double off the bat of Mike McDade. The man who made the most noise over the weekend was OF/IF Ryan Raburn. There are a couple of bench spots available on this team. The Indians have brought in several candidates to fight for them. The one who has taken the quickest step out of the box was Raburn. The former Detroit Tiger who plays outfield and second base was released in November and brought to Cleveland on a Minor League deal. In his first two games, the 31-year old hit three home runs and drove in five. Swisher was so impressed, he showed up in the clubhouse Sunday morning wearing Raburn's jersey, saying he was looking for some of his power. Raburn followed by saying "that's alright, as long as we can trade contracts." Raburn is coming off of the worst year of his career, but the pressure is off as he joins a new franchise. "Last year is not who I am. It was just a bad year and quite frankly, I stunk it up pretty good. I'm ready to put it behind me and I've been doing as much work as I can to get ready for this year and win a spot on this team," he said. Francona has long been a fan of the versatile Raburn, which could give him an advantage if all things are equal.  "The day I got the job, Chris and I were talking," said Francona. "I said if this guy [Raburn] ever comes off the Tigers' roster, he's a guy I like. Chris said he liked him, too. So we targeted him early." If he plays well this spring, the veteran Raburn will break camp as one of the bench bunch. Lefty Scott Kazmir continues to impress in his comeback attempt. Every year the Indians seem to throw as many veteran minor league deal free agents as they can against the wall and hope at least one of them sticks, especially with arms. This year's batch includes Raburn, Ben Francisco, Matt Capps, and a former top prospect who is trying to ressurect his career. Scott Kazmir has come to Cleveland with something to prove. Word out of Goodyear is that the lefty looks like he is close to being back to the guy he was thought to be before his velocity was took a significant dip. According to Francona, Kazmir has "looked so good its scary. I wish we could just bottle it up for the season." In his first trip to the mound in game action, Kazmir pitched two scoreless innings, allowing just one hit, striking out one. If the 29-year old can find his old form, it will be a coup for the Tribe to have him at the back end of their rotation. The other candidates for the fifth spot had mixed results. Kazmir followed Carlos Carrasco, who lasted just one inning giving up four runs (three earned) on four hits and a walk in yesterday's 7-4 split squad win over the Brewers in Maryvale. Carrasco is coming off of Tommy John surgery and struggled in his first spring outing. "It looked like Carlos just didn't let the ball go," said Francona. "Mickey (Callaway) took a trip to the mound and he started letting it go a little better. The ball didn't come out of his hand like we've seen in his bullpens. Hopefully as he gets back into competition, we'll see that." Kid sensation Trevor Bauer was the third Tribe pitcher to face the Brewers and he went two strong scoreless innings, giving up two hits, striking out two without walking a better. Daisuke Matsuzaka stayed with the club in Goodyear to face the Reds and like Bauer and Kazmir, pitched two innings without allowing a a run in the Tribe's 3-0. He did it in 22 pitches, giving up just one walk. According to reports, Dice-K's fastball was topping out at 89. "After he hit the first batter, he regained his command right away," said Sandy Alomar Jr., who managed the club in Goodyear while Francona was with the group in Maryvale. "He pitched very well from the stretch and he was able to throw some good breaking balls when he needed to." Tribe pitchers allowed just one hit in the game, a sixth inning single off of lefty reliever Rich Hill. Zach McAllister, who will be the team's fourth starter, looked sharp in his two innings. I know it is early, but with Bauer being as young as he is and the Indians not wanting to rush him, I think its going to be a three-horse race between Kazmir, Dice-K, and Carrasco. Carrasco still has minor league options, which doesn't work in his favor if things between the three get close. Dice-K and Kazmir, should they impress, would undoubtedly get looks from other pitching starved teams. It should be interesting to see how things play out. (photo via Chuck Crow/The Plain Dealer)
Original Story:
http://www.waitingfornextyear.com/201...
THE BACKYARD
BEST OF MAXIM
RELATED ARTICLES
The IBI's 2013 Indians Top 60 Prospect countdown continues on with right-handed pitcher Shawn Armstrong. Everything came together as hoped for Armstrong last season as he was 100% healthy for the first time since he went off to college, his arm strength was all the way back, and he really solidified himself as a legit pitching prospect in the Indians' organization. Tony breaks...
The IBI's 2013 Indians Top 60 Prospect countdown continues on with right-handed pitcher Dillon Howard. Last season was a difficult season for Howard as he struggled with injuries and other things which really affected his performance and the quality of his stuff. Tony shares all of the injuries he struggled through and some other factors which contributed to a poor showing in...
Yan Gomes had a brilliant performance for the Indians in yesterday's Spring Training contest as the right-handed hitting catcher socked a home run, a double and recorded five RBI. Gomes is currently in camp competing with Lou Marson for a chance at the Indians' backup catching job. He's made some noise so far, but does he have a legitimate chance to supplant the incumbent...
With me being off the ballot, what I accomplished during the steroid era meant nothing. You look at the people who voted for the Hall of Fame. I think there might have been 600. They still voted for people who were cheating the game. It boggles my mind that the people you know cheated, who admitted they cheated, are still on the Hall of Fame ballot. That is sad. It's really sad...
GOODYEAR, Ariz. (AP) -- New Cleveland Indians manager Terry Francona has named Justin Masterson his starter for opening day. Francona told the right-hander in the dugout Tuesday before Cleveland played the Kansas City Royals. It will be the second time Masterson starts a season opener. A year ago, the 28-year-old struck out 10 over eight innings against the Blue Jays in Cleveland...
GOODYEAR, Ariz. (AP) -- Michael Brantley is going to try and deal with his toughest task yet at the Cleveland Indians' training camp -- rest. Off to a hot start, the outfielder reported to the clubhouse Tuesday wearing a protective wrap on his left forearm. It covered the area where Brantley got 15 stitches following a play in which he was accidentally spiked by Oakland Athletics...
The Cleveland Indians got a scare yesterday afternoon when Michael Brantley was injured.  He was spiked during the Indians' spring contest against the Oakland Athletics.  The injury resulted in stitches, and the team will monitor his wound and decide when it is best for him to get back into games. Nick Camino of WTAM 1100 in Cleveland says Brantley is listed as day-to-day...
Carlos Santana is being drafted 40-50 slots ahead of Miguel Montero this year, and if you go the Santana route, you're paying for upside. A former top prospect, Santana has highly-regarded offensive potential and could be a major contributor to your team if he realizes that potential. However–they key word is if; Montero actually ranked ahead of Santana last season despite fewer...
PHOENIX (AP) Scott Kazmir hopes Sunday was a big step on his road back to the major leagues. Kazmir allowed one hit and struck out one in two scoreless innings as a Cleveland Indians split squad beat the Milwaukee Brewers 7-4. "Until you get that first one out of the way, you're always going to be anxious," said Kazmir, who hasn't pitched in the majors since...
The Tribe are 5-0 and on a roll after they topped the Oakland Athletics (a much better nickname than the A's) 14-10 on Monday. Join the IBI's Arthur Kinney as he looks back at this game and the best and worst performances of the day, all while working in references to Casey Coleman, Jackson Browne, the Cincinnati Reds, and THE Ohio State Buckeyes.
I stuttered like a fool to open the podcast this week. Scott Raab is a pretty regular guy who sets you at ease, but I still managed to stutter right into the opening just the same like a nervous Nelly. Anyway, after letting him laugh at me, Scott and I spent a nice amount of time discussing the news of the day in longer form. Of course, to keep up with Scott Raab you can follow him...
GOODYEAR, Ariz. (AP) -- From the moment he slipped on a Cleveland Indians jersey this spring, Terry Francona has relished being back with a big-league team after taking one season off following a tumultuous 2011 in Boston. Francona brings excitement and relevance to the Indians, who lost 94 games last season but have been overhauled by a free-agent spending spree. Francona co-authored...
MLB News

Delivered to your inbox

You'll also receive Yardbarker's daily Top 10, featuring the best sports stories from around the web. Customize your newsletter to get articles on your favorite sports and teams. And the best part? It's free!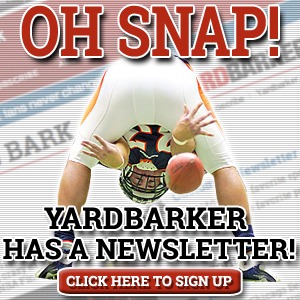 Latest Rumors
Best of Yardbarker

Today's Best Stuff

For Bloggers

Join the Yardbarker Network for more promotion, traffic, and money.

Company Info

Help

What is Yardbarker?

Yardbarker is the largest network of sports blogs and pro athlete blogs on the web. This site is the hub of the Yardbarker Network, where our editors and algorithms curate the best sports content from our network and beyond.