Found March 22, 2013 on WHYGAVS?:
PLAYERS:
Jonathan Sanchez
,
Gerrit Cole
,
Kyle McPherson
,
Francisco Liriano
,
Starling Marte
,
Jose Tabata
,
Yamaico Navarro
,
Travis Snider
,
Lew Ford
,
Alex Presley
,
Brad Hawpe
,
Andrew McCutchen
,
Justin Wilson
,
Garrett Jones
,
Steven Pearce
,
Adam Jones
,
Jameson Taillon
TEAMS:
Pittsburgh Pirates
,
Baltimore Orioles
As I made my way to spring training on Sunday night, I tried to figure out the Pirates' rotation for this week. My main hope was to see Gerrit Cole in person, though I figured that might be a long shot given the late date in the spring and the fact that Cole had just pitched the day before. I was right about that; before I even made it to McKechnie field on Monday, Cole was demoted to minor league camp. My second main goal was to avoid having to see Jonathan Sanchez pitch. I realized pretty quickly that I was going to fail in that goal, too, and by Monday afternoon we'd fired out that Cole would be pitching on Thursday night in Sarasota.  That's a mean thing to say about Jonathan Sanchez, who is still a fairly talented pitcher and certainly someone who should get the second chance the Pirates are giving him. What bothers me about Sanchez is more the idea of Sanchez arguably being the front-runner for the Pirates' fifth rotation spot on March 22nd and what that sa...
Original Story:
http://www.whygavs.com/pittsburgh-pir...
THE BACKYARD
BEST OF MAXIM
RELATED ARTICLES
Brad Hawpe has been released. The Pittsburgh Pirates have granted Brad Hawpe his unconditional release today, cutting camp down to 36 active players. Hawpe didn't really have a shot at making the team, and it seems that he didn't want to go to Triple-A. He wouldn't have had much of an opportunity there, since the Triple-A outfield is starting to look crowded. The Spring Training...
Bryan Morris was optioned to Triple-A today. One day after we learned that Bryan Morris had a fourth option year, the Pittsburgh Pirates optioned Morris to Triple-A. It's coincidental in the way that it played out. Baseball America reported the players with additional option years yesterday. The Pirates and Morris had known for a few months. I've been saying for the better part...
  Bryan Morris has an extra option year. Baseball America has a list of players who received the rare fourth option year (h/t Bucs Dugout). We already knew two of the Pirates on the list who had received fourth options: Pedro Alvarez and Andy Oliver. One player who was unexpected was Bryan Morris. From what I can gather from Baseball America's description of the rules, Morris...
Bryan Morris was optioned to Triple-A. The Pittsburgh Pirates made a few cuts from major league camp this morning. They optioned right-hander Bryan Morris to Triple-A, and reassigned infielders Ivan De Jesus Jr. and Jared Goedert to minor league camp. It was previously believed that Morris was out of options, although earlier this week we learned that he was granted a fourth option...
For three years now, Pirate fans have broken down every tiny aspect of Pedro Alvarez's game. What's his strikeout rate? What does that mean? Is he struggling with fastballs? Breaking balls? Is the "Daydro" thing actually a thing or a weird sampling problem? Why would he hit better during day games? Does he need contacts or something? Did you see how far he hit that...
Is Gaby Sanchez really available? Ever since the New York Yankees lost Mark Teixeira, there have been plenty of rumors connecting the Pirates to the Yankees. Most of those rumors seem to be of the message board type. One team has a need, the other team has a strength in that area, so they match up. In this case, the Pirates have a strength, the Yankees have a need, and baseball doesn't...
Spring training is like this: on Thursday night you see the entire Pirate starting line up in Sarasota and you get excited about it, until you realize that you also have tickets for Friday's game and Friday's game is starting in 15 hours and there's no way that any of those players you just watched are going to be playing on Friday. This is the story of Friday's game...
The sixth weekend of the college season is about to get under way. The Pirates have the #9 and #14 picks in the upcoming June amateur draft. Throughout the college/HS season, leading up to the draft, we will cover the interesting players that are being discussed in the Pirates draft range. There will also be daily notes on past picks by the Pirates who went unsigned. For a recap...
The Pirates made a surprising move today, sending Bryan Morris to Triple A.  The writing was written on the wall for Bryan Morris when he was given a rare fourth option.  When I wrote my Roster Watch it was before he was given the option. I still think this move hurts the team.  It hurt…
Jose Tabata is still supposedly young. He is only 24. I don't think people realize how young he is. He is only two months older than Starling Marte for reference. It's really easy to think of him as a veteran player because he's had some MLB success.  He doesn't get the benefit of the doubt…
Garrett Jones had an very good season last year. He put together a nice looking .274/.317/.516 triple slash line, hitting 27 HR, and driving in 86 RBI. He figures to platoon with Gaby Sanchez at first base and see time in right field. Jones told PiratesDugout.com's George Von Benko that he is excited about the upcoming season.
Ben Zobrist homered leading off a three-run sixth inning Friday for Tampa Bay, but Stefan Welch hit a three-run homer in his first spring training at-bat to help the Pittsburgh Pirates beat a split squad 6-4. Welch, a third baseman who played last season at Double-A, hit a towering shot to right field off Dane De La Rosa. The Rays scored three runs to take a 4-3 lead in the sixth...
MLB News

Delivered to your inbox

You'll also receive Yardbarker's daily Top 10, featuring the best sports stories from around the web. Customize your newsletter to get articles on your favorite sports and teams. And the best part? It's free!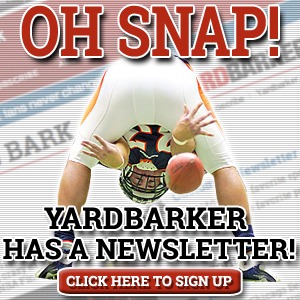 Latest Rumors
Best of Yardbarker

Today's Best Stuff

For Bloggers

Join the Yardbarker Network for more promotion, traffic, and money.

Company Info

Help

What is Yardbarker?

Yardbarker is the largest network of sports blogs and pro athlete blogs on the web. This site is the hub of the Yardbarker Network, where our editors and algorithms curate the best sports content from our network and beyond.