Found May 02, 2012 on Bloguin Best:
Remember the call in the Armando Galarraga perfect game from a couple years ago? That was at least a bang-bang play. Check out this call by first base umpire Tim Welke, which was much, much worse. Jerry Hairston grounds it to third baseman Chris Nelson, who makes a nice diving stop and throws over to Todd Helton at first. Not only does Hairston appear to beat the throw to the bag, but Helton is a good two feet off the bag, and never even had his foot remotely close to the bag while having possession of the ball. Of course, Hairston is called out and the inning ends for the Dodgers. Man, I'm not one for robot umpiring, but something like this is absolutely hideous. The safe call was as clear as the day is long, and the announcers even picked up on it before even seeing a replay. If I were Don Mattingly, I'd be absolutely furious. The Dodgers lost the game 8-5 on a walk-off homer by Jason Giambi in the ninth inning after tying it up in the top half of the inning. [follow]
Original Story:
http://bloguin.com/theoutsidecorner/2...
THE BACKYARD
BEST OF MAXIM
RELATED ARTICLES
WAY OFF BASE
Umpire Tim Welke blew a call so badly in the Dodgers-Rockies game on Wednesday that it's almost comical to see how much he missed it. Dodgers infielder Jerry Hairston Jr. grounded a ball to Rockies third baseman Chris Nelson who made a diving stop and threw across the diamond in the top of the 6th. His throw pulled Todd Helton a couple feet off the first base bag, yet Welke...
This makes you wonder if the MLB should be hiring umpires with better eyesight. Watching the officiating in baseball can sometimes be so frustrating that you want to smash your TV. There has been no call worse than the one against the Los Angeles Dodgers on Wednesday though. If you want to watch a video of it you have to go here because the MLB is on top of ripping every single...
In today's Rockies-Dodgers game, Jerry Hairston hit a groundball to third base. The throw pulled Todd Helton off the bag. Strike that – the throw pulled Todd Helton out of the vicinity of the bag. Tim Welke still called Hairston out. Here's a screengrab of where Helton was when he caught it. Seriously, MLB, expanded use of replay. For the love of God, expanded use of replay.
Nothing gets white guys fired up like a blown call in a worthless baseball game in May. Sure, Tim Welke had a bad angle in the top of the 6th last night when he called Jerry Hairston out with Todd Helton about two feet off the bag. Looked horrible in real-time and looked even worse on replay. The Rockies eventually won and of course white guys went totally berserk on Twitter. Like...
The play: Wednesday afternoon, Coors Field, Dodgers vs. Rockies — Dodgers utilityman Jerry Hairston, Jr. hit a ground ball to Rockies third baseman Chris Nelson's left.  Nelson made a nice diving play, stood up and threw the ball wide to first base.  It was wide enough that Todd Helton, who is a pretty good defensive first baseman, realized he wasn't going to catch it while...
MLB umpire Tim Welke, Dodgers-Rockies game yesterday. It may have gone a bit like this: He was out! He was safe! You idiot! He was out! All right, you're out of here! ... Full story at Bob's Blitz ~ http://www.bobsblitz.com
This afternoon, Tim Welke gave us this. This evening, the Braves and Phillies <http: //www.fangraphs.com/livewins.aspx?date=2012-05-02&team=Braves&dh=0&season=2012>gave us this. Source: FanGraphs Then, in the wee hours of the night, Jered Weaver gave us this. Baseball!
HOW in the WORLD  is Jerry Hairston out on this play??? First base umpire Tim Welke must have gotten his signals crossed!!! This play happened in the top of the 6th inning today, as the Los Angeles Dodgers trialed the Colorado Rockies 2-1. First base umpire Tim Welke calls Dodgers' Jerry Hairston out at first, as first baseman Todd Helton is nowhere near
Of course that umpire called Jerry Hairston out. Todd Helton's aura was still on that base. How great is the Bud Selig era? Chicks dig the long ball and now Umpires dig the Web Gem. [Follow me @TravisHouser]
Yesterday was just a heart pounding game for the Mets. In case you missed it, the Mets were gliding through the game nicely until Todd Helton tied the game on a pinch hit grand slam, and at that point it was a back and forth battle through the 11th inning when the Mets got ahead and took the series. The Mets overall in their last series scored 21 runs over 3 games and now go to Houston...
Umpire Tim Welke made a laughably bad call in the Dodgers/Rockies game Wednesday. Welke called Jerry Hairston out at first, even though Todd Helton caught the ball at least 3 feet off the bag. Deadspin has it if you haven't seen it. Here's the thing though, from his angle Welke really might have thought Helton was still on the bag. Hard to tell, but it's definitely in...
MLB News

Delivered to your inbox

You'll also receive Yardbarker's daily Top 10, featuring the best sports stories from around the web. Customize your newsletter to get articles on your favorite sports and teams. And the best part? It's free!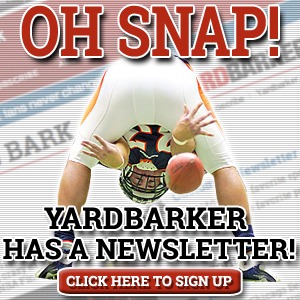 Latest Rumors
Best of Yardbarker

Today's Best Stuff

For Bloggers

Join the Yardbarker Network for more promotion, traffic, and money.

Company Info

Help

What is Yardbarker?

Yardbarker is the largest network of sports blogs and pro athlete blogs on the web. This site is the hub of the Yardbarker Network, where our editors and algorithms curate the best sports content from our network and beyond.