Found June 18, 2013 on IT IS HIGH, IT IS FAR, IT IS caught:
Here is today's quick review of the amazing young, position-playing talent that has had game experience this year in pinstripes:Dave Adams - .213Nunez ( unfortunately, still not recovered ) - .200Neal ( Don't bother to learn his first name ) - .200 ( strikes out 60% of at bats )Corbin Joseph ( converted from second to first ) - .167A.  Romine - .132 ( one of those catching prospects the whole league wanted, remember?).And these are the best young players we have.  By young, I mean 26 and older.No one has any speed, no one is known for their outstanding arm, no one has any power, and no one has a keen batting eye.  Nunez can either catch or throw, but not both.  Dave Adams was wanted in the Cliff Lee non-trade.This group, which is "head and shoulders" above any other position-player Yankees in our minor league system ( which is why they got the " call ups "), is our future.Let me know if you see any of these guys on the lists of hot young prospects now in ...
Original Story:
http://johnsterling.blogspot.com/2013...
THE BACKYARD
BEST OF MAXIM
RELATED ARTICLES
Lee wants to win but may be smiling just like this if he picks up NL Cy Young hardware in 2013. Cliff Lee picked up his ninth win of the year last night, holding the Nationals to a pair of solo homers, striking out nine, and walking none. Lee baffled Nats hitters all night and did so while pitching with a blister on his hand. Lee's ERA decreased to 2.53 and his xFIP fell to 3.15...
It's funny how fast things can change. Just two days after finishing up an atrocious road-trip against three bad teams, the Phillies have won two straight against the Nationals, with a chance to sweep the series on Wednesday. Cliff Lee allowed a solo home run to Jayson Werth in the fourth, but the Phillies came back to score four straight runs, which was all they would need in...
(April 30, 2013 – Source: Jason Miller/Getty Images North America) With June wrapping up soon and July on the way, I'll be looking into some trade targets and rumors surrounding the Giants and A's until they actually do (or do not) happen. Cliff Lee is having quite the season.The Giants are short a starting pitcher. Hey, perfect! This is what I'm assuming most fans are thinking...
With plenty of storylines surrounding the 2013 Phillies, Pat and Corey break down the most pressing issues in the latest episode of Phillies Nation TV. The guys cover topics like how to explain Cole Hamels' season, what it means to trade an ace like Cliff Lee, Ben Revere's resurgence, and why Kevin Fransden deserves more playing time. Jay Floyd talks with Kyle Simon, the rightly...
Phillies 4, Nationals 2: Nats offense no match for Cliff Lee. Back to 2 games under .500, and a tie for 2nd place in the NL East with the Phillies. According to Davey Johnson in his postgame press conference (video here), no need to think about about the missed opportunity with the Braves losing both games of a double header to the Mets yesterday: "It's a long season...
With last night's 4-2 win over Washington, the Phillies not only sealed their second straight win, but they pulled within seven games of first place behind the Braves - tying the Nationals. Cliff Lee was superb even after an hour and 14 minute-long rain delay before the game started. Lee...
Cliff Lee struck pitched eight outstanding innings, and Michael Young contributed three doubles as the Phillies defeated the Washington Nationals 4-2 Tuesday night. The start of the game was delayed by an hour and 14 minutes, but the game went rather quickly as starters Cliff Lee and Ross Detwiler looked...
Cliff Lee struck out nine in eight impressive innings, Michael Young tied a career high with three doubles and the Philadelphia Phillies beat the Washington Nationals 4-2 Tuesday night. Lee (9-2) allowed two runs and five hits to win his fifth straight decision. The three-time All-Star lefty lowered his ERA to 2.53 and helped the Phillies move into a second-place tie with the defending...
Washington Nationals (34-35) vs. Philadelphia Phillies (34-37) Ross Detwiler (2-4, 3.02) vs. Cliff Lee (8-2, 2.55) TIME: 7:05, Citizens Bank Park TV: CSN WEATHER: 70, rain MEDIA: Facebook or Twitter After a walkoff win by Domonic Brown yesterday, more good news. Carlos Ruiz is back. But more bad news, too. The rain is staying, the game is delayed to start, and the showers will likely...
Last night the Phillies gave their fans something to be happy about. In the series opener against Washington last night John Lannan returned after two months on the DL and took a no-decision against his former team. He allowed two earned on six hits through five innings. Headed into the...
MLB News

Delivered to your inbox

You'll also receive Yardbarker's daily Top 10, featuring the best sports stories from around the web. Customize your newsletter to get articles on your favorite sports and teams. And the best part? It's free!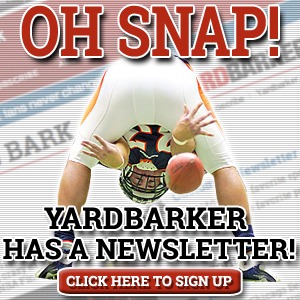 Latest Rumors
Best of Yardbarker

Today's Best Stuff

For Bloggers

Join the Yardbarker Network for more promotion, traffic, and money.

Company Info

Help

What is Yardbarker?

Yardbarker is the largest network of sports blogs and pro athlete blogs on the web. This site is the hub of the Yardbarker Network, where our editors and algorithms curate the best sports content from our network and beyond.