Found August 15, 2012 on Pirates Prospects:
PLAYERS:
Oliver Perez
,
Brian Giles
,
Jason Bay
,
Xavier Nady
,
Honus Wagner
,
Stan Musial
,
Frank Thomas
TEAMS:
Pittsburgh Pirates
,
Seattle Mariners
,
New York Mets
,
San Francisco Giants
,
Los Angeles Dodgers
On a busy day for Pittsburgh Pirates history, we have two transactions that include Hall of Fame players and two pitchers that threw just one inning in their Pirates career. In his Jolly Roger Rewind, John Fredland goes back to 1951 to recap a first for an all-time Pirate great.
The Transactions
On this date in 1969, the Pirates traded Hall of Fame pitcher Jim Bunning to the Los Angeles Dodgers for two minor league players and cash. The Pirates gave up a lot to get Bunning and the trade didn't work out well. He went just 14-23 in two seasons with Pittsburgh. The return they got for Bunning twenty months later was nowhere near the package they gave to the Phillies. Chuck Goggin was a 23 year old infielder at AAA and Ron Mitchell was an 18 year old tenth round draft pick in 1969, who hit just .236 in Rookie League ball. Mitchell never made the majors, toiling in the minors for 11 seasons in the Pirates organization, while Goggin played six games for the Pirates between the 1972-73 seasons and 72 games in his three year career. Bunning went 3-1 in nine starts for the Dodgers, then signed with the Phillies as a free agent for 1970 and went 15-27 over the last two years of his career.
On this date in 1910, the Pirates purchased the contract of Max Carey from South Bend of the Central League. The local paper declared that the Pirates signed a speedy college athlete, who started his career in the minors just recently, therefore he wasn't seen by many scouts. The purchased turned out to be a great one, as Carey is a member of the Baseball Hall of Fame. The part about when his career started wasn't quite true, he had played 144 games of minor league ball over two seasons with South Bend. His stay in Pittsburgh lasted 17 seasons, and although it ended unceremoniously, he still put up some amazing numbers in a Pirates uniform. Carey played 2178 games for Pittsburgh, collecting 2416 hits and 918 walks, with 1414 runs scored and 688 stolen bases. He's fourth in team history in runs, hits and games, second in walks to Willie Stargell and first all-time in steals.
The Players
Oliver Perez (1981) Pitcher for the Pirates from 2003 until 2006. Despite having an abundance of pitching talent, Perez has won only 59 major league games over ten seasons. He has had constant trouble throughout his career with concentration on the mound and putting in the work/effort to get the most of his talent, among other things. He has a 59-71 4.59 career record, highlighted by a 12-10 2.98 season with the Pirates in 2004, with 239 strikeouts in 196 innings. His low-lights include the rest of his Pirates career (9-18 record), his last two years in New York under a huge disastrous contract and spending all of 2011 in AA. Somehow he is back in the majors and actually doing well, albeit in a relief role with the Seattle Mariners, getting limited use. The Pirates acquired him as part of the deal for Brian Giles, with Jason Bay also coming to Pittsburgh. They unloaded him on the Mets in the deal that brought Xavier Nady back to Pittsburgh at the 2006 trading deadline.
Ramon Morel (1974) Relief pitcher for the 1995-97 Pirates. He was signed by the Pirates in 1991 out of the Dominican Republic as an amateur free agent. Ramon was in full-season ball as a starting pitcher by 1994, going 10-7 2.83 in 168.2 innings for Augusta of the South Atlantic League. The next year, he was really rushed through the system, starting the year in High-A ball and right after getting called up to AA in early July, he was called up to the majors to replace Paul Wagner, who was placed on the disabled list. His stay was short, just one appearance, but he did return to the team in September for four more relief outings. Ramon was back in AA to start the 1996 season and not pitching well the first two months as a starter. That didn't stop the Pirates from calling him up again and putting him in the bullpen for the rest of the season. In 29 appearances, Morel went 2-1 5.36 in 42 innings. He pitched five games for Pittsburgh in May of 1997, before being sent to the minors, then eventually put on waivers in September, where he was picked up by the Cubs. Ramon pitched three games for Chicago, his last three major league outings. He pitched two years in the minors for the Expos(1998-99) and has since played International ball, including a season in Japan.
Duffy Dyer (1945) Catcher for the Pirates from 1975 until 1978. A first round draft pick in 1966, he spent 14 seasons in the majors, including seven in New York and four for Pittsburgh. Dyer never played more than 94 games in a season, accomplishing that twice(1972,1977), the second time with the Pirates. Pittsburgh acquired the light-hitting catcher on October 22,1974 in exchange for outfielder Gene Clines. Dyer was a strong defensive catcher with a good arm, which is what kept him in the majors for so long, despite hitting just .221 in 722 career games. With the Pirates, he backed up Manny Sanguillen during the 1975-76 seasons, then when Manny was traded to Oakland for a season, Dyer became the starting catcher. That year he hit .241 with 54 walks and he led all NL catchers with a .996 fielding percentage. When Sanguillen returned the next year, Duffy saw limited time and by 1978 he would be gone via free agency. In his four seasons with the Pirates, he batted .227 with nine homers and 57 RBI's in 269 games.
Bernie Walter (1908) Pitcher for the Pirates on August 16,1930. Just one day after his 22nd birthday, Bernie Walter played his only game of pro ball. The story of his one game is an odd one. Walter was with the Pirates during the entire 1930 season, since day one of Spring Training, yet he pitched just one inning all year. He had attended the University of Tennessee just prior to joining the Pirates. Pittsburgh used him often during the 1930 season, but that was as a batting practice pitcher. On August 16,1930 they played a doubleheader and two of their top pitchers, Larry French and Erv Brame, were unable to pitch. In stepped a rookie named Charles "Spades" Wood to start game one and he threw eight innings, allowing seven runs on nine walks and eight hits. He was pinch hit for in the eighth and with a near empty bench, manager Jewel Ens went to his batting practice pitcher to throw the last inning. Walter ended up setting the side down in order, recording a strikeout. The pitching staff was soon healthy and new recruits were soon brought in to help out, ending the career of Walter with one inning pitched and a 0.00 ERA. It literally was the whole career for him, as he never played in the minors.
Red Peery (1906) Pitcher for the Pirates on September 22,1927. He began his career with Salt Lake City of the Pacific Coast League in 1923, playing sparingly over three seasons there. After barely seeing action his first three years, Peery moved on to St Joseph of the Western League in 1926, where he pitched often. That season, he went 15-14, pitching 49 times for a total of 247 innings. He stayed in the same league in 1927, switching teams to Wichita, where he went 16-8 with 222 innings thrown over 33 outings. Red(real first name was George) made his major league debut with the Pirates during the second game of a late season doubleheader, coming in for the last inning of an eventual 7-1 loss to the Giants. He allowed a walk, but no hits, giving up a run when left fielder Clyde Barnhart committed an error. Peery closed out the inning without further damage. The season ended shortly thereafter and the Pirates went on to the World Series for the fourth time in their existence. Red returned to the minors, coming back for a short time in 1929 with the Boston Braves. The left-hander returned to the minors in 1930 for a brief time, playing with three different clubs with very little success, in what turned out to be his last season of pro ball.
Lew Carr (1872) Shortstop for the 1901 Pirates. He didn't start his pro baseball career until the age of 28, playing college ball well into his 20′s for Hobart and William Smith Colleges, a small college in upstate New York that has produced just two major league players(Frank Dwyer is the other). He was playing for Troy of the New York State League, when the Pirates signed him on June 30,1901. The Pirates had tried to sign him for a week prior, while at least two other NL teams also had their eye on Carr, who came highly recommended for his excellent fielding. In his debut on July 2nd, he went 1-4 with an error, singling from the seventh spot in the batting order during his first time up in the majors. Lew was brought to the Pirates to replace Bones Ely for a short time, while the regular shortstop recovered from an illness. During a July 4th doubleheader, Carr went 0-8 and was pinch-hit for at one point by Ely. The next day, he collected two hits but also made two errors. On July 6th, he collected a triple, much to the delight of the Pittsburgh fans, who didn't get to see him make a single play in the field the entire game.
During the next game on July 8th, Lew collected two hits, made an outstanding play in the field and impressed bystanders with his coolness in the field, never rushing the ball on throws, which was common with new players during that time. After a one hit, one error day on the 9th, Carr was removed from the game the next day after being hit by a pitch. Ely took his place in the field and never left. At that time, Honus Wagner was on the team, but not always playing his normal shortstop position most people know him for, he was at third base. On July 13th, Wagner got thrown out of a game late, forcing the Pirates to throw Carr in at an unfamiliar position and he quickly looked out of place. In his only inning that day, he flubbed two plays at the hot corner, before he switched spots on the field with Ely. That was the last major league game for Carr, who was soon released and returned to the minors, where he played another eight seasons before retiring.
Jolly Roger Rewind: August 15, 1951
Rookie Bob Friend pitched his first career shutout, limiting the Cardinals to two hits in a 7-0 Pirates' victory at Forbes Field.
The twenty-one-year-old Friend, who had held the Cubs to five hits in a complete-game victory just four days earlier, allowed just one St. Louis runner to get as far as third base. Friend battled wildness all game, walking eight batters, but benefited from three double plays to blank a Cardinals lineup featuring future Hall of Famers Stan Musial and Red Schoendienst. The win improved Friend's season record to 5-8.*
Ralph Kiner ignited the Bucco offense with his baserunning, and then broke the game open with a pair of big hits. In the second inning, Kiner drew a walk off Gerry Staley, stole second, and came around to score when Cardinals' first baseman Nippy Jones missed Joe Garagiola's ground ball for an error.
With the Bucs leading 3-0 in the fifth, Kiner broke a ten-game home run drought by driving a Staley pitch off the scoreboard in left for a three-run homer, his thirty-second of the season. Kiner completed his day by tripling home George Metkovich—himself the contributor of three hits and three runs scored—in the eighth inning for his fourth RBI of the game. Kiner's two runs scored gave him a National League-best 95, and his home run and RBI totals stood second in the league.
Despite the victory, the Pirates remained in last place in the National League, twenty-seven and a half games behind first-place Brooklyn.**
Pittsburgh Post-Gazette game story
* The Pittsburgh Post-Gazette noted that Friend "will leave the Pirates to join the organized reserve officers for two weeks next month." Friend served in the Army Reserves for several years of his major league career.
** The Post-Gazette reported that Bucco general manager Branch Rickey had decided to purchase the contract of outfielder Frank Thomas—"born within a baseball's throw of Forbes Field"—from their New Orleans farm club. The article noted that Thomas "lives at 347 Lawn Street, Oakland."
Original Story:
http://feedproxy.google.com/~r/Pirate...
THE BACKYARD
BEST OF MAXIM
RELATED ARTICLES
Jeff Karstens – Image Credit: Pittsburgh Pirates Jeff Karstens has been working on some adjustments over his last several starts. Since returning from the disabled list due  to a shoulder injury, which caused him to miss over two months, Karstens has posted a 3.79 ERA after his four earned run outing on Monday against Los Angeles. "I don't think I've pitched terribly, but...
During last night's game, the Pirates and ROOT Sports hosted a charity auction that was wildly successful. By auctioning off some very neat Pirates-related prizes/experiences and some VIP bags, they raised over half a million dollars for Pirates Charities, which is incredible. The proceeds will benefit the Pirates' "Wins for Kids" program and the Children's Institute of...
Andrew McCutchen is currently in the lead for the batting title in the National League, and his .359 average leads the majors. The biggest threat to his league leading average this year has been Melky Cabrera, who currently has a .346 average. But today it was announced by Major League Baseball that Cabrera was suspended 50 games after testing positive for testosterone. The San Francisco...
Just some news and notes before the Bucs take on the Dodgers this week.   It was announced that James McDonald will be moved back to Friday, and AJ Burnett will pitch on Thursday, for the getaway game against the Dodgers.  This will give James another day to rest, and hopefully fix what is going wrong. It's important that the Pirates get him right before the end of the season...
The West Division-leading Indianapolis Indians dropped a 4-2 decision to the Rochester Red Wings Tuesday evening at Rochester's Frontier Field. In this game, right-hander Kyle McPherson made his second Triple-A start for the Indians. It was McPherson's 11th start of the season. He missed the first two months of the season with shoulder right-shoulder inflammation. Indianapolis...
Garrett Jones hit two three-run homers, A.J. Burnett became the first Pirates pitcher with 15 wins in 13 years, and Pittsburgh avoided a four-game sweep with a 10-6 victory over the Los Angeles Dodgers on Thursday. Jones had a career-high six RBIs, and Pedro Alvarez also homered for the Pirates, who had lost six of seven. The Dodgers, who lead the NL West by a half-game over San...
It was apparent right away that Wednesday's game was going to be another disaster for the Pirates. To start the night, Shane Victorino hit a tapper towards third and Josh Harrison threw it away for an error. Then a single put men at the corners for the Dodgers with no outs and Matt Kemp up. Kemp hit a slow roller up the middle, which was hardly a bad result…until Neil Walker...
Jameson Taillon gets the start for Bradenton tonight. His 1.16 WHIP ranks him fourth in the Florida State League, right in between teammates Eliecer Navarro(1.13) and Casey Sadler(1.16). Justin Wilson makes his first start since his no-hitter last Thursday. State College returns tonight from their All-Star break. A full recap of yesterday's games can be found here. Taillon has...
The Pirates head into tonight's game protecting a 1/2 game lead in the wild card race. That doesn't quite mean that a loss drops the Pirates out of the playoffs; the Dodgers are tied with the Giants and so a Dodger win coupled with a Giant loss (they're tied 2-2 with the Nats in an afternoon game as of this writing) and a Cardinal loss would still put the Pirates a 1...
Subtitle: Everything Sucked and Neil Walker Got HurtWait, that's not the subtitle, that's the recap. In the back of my head, there's a voice that is saying that Andrew McCutchen hit a line drive home run to dead center off of Clayton Kershaw and that maybe that's a sign that he's getting hot again, but that would just be blatantly looking for a bright spot where...
Positive Recap From Mellie. You will get not get a positive outlook from me. I know most people disagree with my assessment, even on this blog, but this probably started at the All Star Break, and the Pirates have failed to clear hurdles, and in some cases Hurdle's. ASB was one.  They couldn't carry the [...]
MLB News

Delivered to your inbox

You'll also receive Yardbarker's daily Top 10, featuring the best sports stories from around the web. Customize your newsletter to get articles on your favorite sports and teams. And the best part? It's free!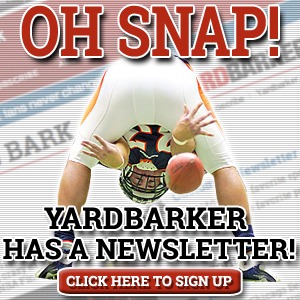 Latest Rumors
The Backyard

Today's Best Stuff

For Bloggers

Join the Yardbarker Network for more promotion, traffic, and money.

Company Info

Help

What is Yardbarker?

Yardbarker is the largest network of sports blogs and pro athlete blogs on the web. This site is the hub of the Yardbarker Network, where our editors and algorithms curate the best sports content from our network and beyond.