Found August 25, 2012 on Pirates Prospects:
PLAYERS:
Gary Matthews
,
Jack Murphy
,
Dave Roberts
,
Dave Winfield
,
Ozzie Smith
,
Fernando Gonzalez
,
Dave Parker
,
Rollie Fingers
TEAMS:
Pittsburgh Pirates
,
Chicago White Sox
,
San Diego Padres
,
Boston Red Sox
,
New York Mets
Today in Pittsburgh Pirates history, we have two transactions of note, including one that brought the franchise it's all-time winningest pitcher. We also have three players born on this date from three different era. In his Jolly Roger Rewind, John Fredland recaps a victory from the last team in franchise history to win the World Series.
The Transactions
On this date in 1959, the White Sox traded minor league third baseman Bob Sagers and veteran outfielder Harry Simpson, to the Pirates for slugging outfielder Ted Kluszewski. The Pirates traded for Kluszewski two years earlier after he had a down year for the Reds. The one time prodigious home run hitter was bothered by a bad back that sapped his ability to hit the long ball. After topping 40 homers in three straight seasons(1953-55), Ted managed just six in 160 games for the Pirates. Simpson was a 33 year old journeyman outfielder, who played some first base as well. The White Sox were his second team in 1959 and he was seeing limited action. Harry was an All-Star in 1956, driving in 105 runs, but had been in decline since that season. Sagers was a 25 year old infielder, with a solid bat and no major league experience. After the deal, the Pirates received very little return, nine games from Simpson and one minor league season from Sagers. The White Sox got a nice batting average(.294) from Kluszewski, who batted 318 times for them between 1959-60. He never regained his power, hitting seven homers. The White Sox lost Ted after the 1960 season to the Angels in the expansion draft. He played his last season in Los Angeles, hitting 15 homers in 107 games.
On this date in 1912, the Pirates acquired their all-time winningest pitcher, Wilbur Cooper. He began the year playing for Columbus of the American Association. Cooper was just twenty years old at the time, with no previous major league experience. He ended up playing 13 years for the Pirates, and over his last eight seasons, he won at least 17 games every year. Wilbur topped twenty wins, four times on his way to 202 wins in a Pittsburgh uniform. For more on Cooper, check out his bio linked above(under his name).
The Players
Gary Matthews Jr (1974) Center fielder for the 2001 Pirates. Before he had his one standout season with the Rangers in 2006, Gary was a disappointing high-ranked prospects that jumped around the majors. He played for five teams his first five seasons, including two stops in San Diego. Matthews Jr played 106 games for the Cubs in 2001, hitting .217 with a .684 OPS. The Pirates picked him up off waivers on August 10th, giving him a chance as their everyday center field for the rest of the year. Gary hit .245, with five homers and 14 RBI's in 46 games. The New York Mets purchased his contract from Pittsburgh just after Christmas and he continued his journey towards Texas, then an eventual big contract with the Angels. Matthews played two games for the Mets before being traded to Baltimore. From there he went to San Diego, back where he started his career. The Padres lost him on waivers to the Braves, who released him at the end of 2004 Spring Training. Matthews signed with Texas, where his hit well playing in the high-offense park. A big 2006 season, highlighted by an All-Star appearance and an amazing catch to rob a home run that was replayed over and over, led to a 5 year/$50mil contract with the Angels. It turned out to be a disastrous deal for Anaheim, who got one good year and two down years from him before dealing Matthews back to the Mets. While the Angels paid most of his contract, Mets got a .190 average and one RBI in 36 games from Gary before he was released. He signed with the Reds, playing a month in AAA before being released again, ending his playing career.
Jim Suchecki (1927) Pitcher for the 1952 Pirates. He was originally signed as a 15 year old in 1943 by the Red Sox. It took seven years before he made his debut in Boston, throwing four games in relief during the 1950 season. Jim would be traded early in the 1951 season to St Louis Browns, where he had a rough season. In 29 games for the Browns, Suchecki went 0-6 5.42, making six starts and 23 relief appearances. During Spring Training in 1952, the Pirates bought him from St Louis. He made the Opening Day roster and would pitch five times through early May, all in relief. After a scoreless Pittsburgh debut, Jim gave up runs in each of his next four appearances. On May 5th, he was picked up by the White Sox off waivers. Suchecki never made it back to the majors, finishing his career in 1954, playing in the Giants organization.
Tony Boeckel (1892) Third baseman for the 1917 and 1919 Pirates. He played five years of minor league ball, the last four in the Northwestern League, before the Pirates brought him to the majors for the first time. He joined Pittsburgh on July 23,1917, making his debut at third base. His first game didn't last long, after one AB, he was overcome by the extreme heat that day and had to be pulled from the game. Things got better for Boeckel, as he took over the hot corner for the rest of the season, hitting .265 with 23 RBI's in 64 games. He didn't play in 1918 due to WWI, returning to the Pirates as their starting third baseman the next season. Boeckel played everyday through the middle of June, hitting .250, with 16 RBI's in 45 games. The team put him on waivers, despite the fact they had won seven straight games at that point. Seldom-used Walter Barbare took over at third base and Boeckel was picked up by the Boston Braves, who were coming into town. The Pittsburgh front office said they didn't think Boeckel was giving full effort on the field. It sure seemed that way by the way he played in Boston, hitting .286 with 27 homers and 298 RBI's in 668 games, after batting .259 with no homers for the Pirates. Unfortunately for Tony, he died at age 30 after the 1923 season, from injuries he received in a car accident. Also involved in the accident was Bob Meusel, a star outfielder for the Yankees, who escaped uninjured. Boeckel was the first active major league player to die in an automobile accident.
Jolly Roger Rewind: August 25, 1979
Tim Foli's nineteenth-inning single off John D'Acquisto scored Bill Robinson with the winning run, giving the first-place Pirates a 4-3 victory over the Padres at Jack Murphy Stadium.
With the score tied 3-3 and two outs in the bottom of the nineteenth, Bill Robinson doubled down the right-field line against D'Acquisto, pitching his fifth inning of relief. D'Acquisto walked Omar Moreno intentionally, and Foli followed by lining an 0-2 pitch to right to break a tie that had endured ever since the teams traded runs in the twelfth inning.
Earning the victory with a gritty four-inning outing was veteran Bucco reliever Dave Roberts, the sixth Pirates' pitcher of the night. Three of Roberts' four innings—he did record a 1-2-3 eighteenth—were eventful. In the sixteenth, Jay Johnstone reached third base with two outs, and Bob Skinner, managing the team after Chuck Tanner's eleventh-inning ejection*, ordered intentional walks of Dave Winfield and Fred Kendall to load the bases for D'Acquisto. Roberts' first three pitches to his mound opponent missed the strike zone. He looked towards second base, where Winfield was shouting at him and making the "choke" sign. Roberts responded to Winfield's gamesmanship by throwing three consecutive called strikes to retire D'Acquisto.
An inning later, Roberts fell into trouble again when the Padres loaded the bases with none out. But he worked out of the jam by striking out Johnstone, inducing Jerry Turner to ground into a forceout at home plate, and setting down Bill Fahey on a groundout.
Finally, Roberts followed Foli's nineteenth-inning clutch hit by allowing a leadoff single to Ozzie Smith in the bottom of the frame. After Paul Dade bunted Smith into scoring position, however, Roberts closed out the Padres by retiring Fernando Gonzalez and Johnstone, ending the game six hours and twelve minutes after its initial pitch.**
For much of regulation, the notion of a thrilling, late-night ending seemed farfetched. Seeking his third complete-game victory of the season over the Pirates, forty-year-old Padres' starter Gaylord Perry took a 2-0 lead and five-hit shutout into the top of the ninth. But Bill Madlock's two-out single scored Dave Parker to get the Bucs on the scoreboard, and pinch-runner Matt Alexander raced home from third when Fahey mishandled Rollie Fingers' pitch for a passed ball. The dramatic ninth-inning rally deadlocked the scoreboard, but the teams had considerably more drama and many more innings to go before deciding the contest.
The victory allowed the Pirates to increase their National League East lead over second-place Montreal to two and a half games.
Box score and play-by-play
* After the ejection, Padres' manager Roger Craig alleged to the umpires that Tanner was managing the Pirates from the runway leading from the clubhouse to the dugout.
** Roberts' final pitch came at approximately 4:17 am, Pittsburgh time. The game remained the longest game by time of game in franchise history until the infamous 6:39 nineteen-inning contest in Atlanta on July 26, 2011.
Original Story:
http://feedproxy.google.com/~r/Pirate...
THE BACKYARD
BEST OF MAXIM
RELATED ARTICLES
Image Credit: Pittsburgh Pirates When Jeff Karstens takes the mound, Michael McKenry is usually the guy behind the plate. It's been that way for the past two seasons more often than not, but the two work well and have fun together. "It's a lot of fun because there's a lot of trickery involved, different aspects of the game that you can fiddle with and play with," McKenry...
The Pittsburgh Pirates reinstated infielder Jordy Mercer from Paternity leave and optioned Daniel McCutchen to Triple-A Indianapolis. Mercer was placed on paternity leave on Monday due to the birth of his first son with his wife Kasey. Mercer is hitting for a .212/.250/.404 line over 25 games this season with the Pirates. McCutchen made one appearance in relief for Pittsburgh. On...
Wandy Rodriguez didn't impress over his first four starts with Pittsburgh after being traded from Houston. The left-hander posted a 5.58 ERA over 24.2 innings, before taking the mound at PNC Park on Friday. Not having started since the 15th, Rodriguez did pitch two innings of relief in the Bucs 19-inning marathon game in St. Louis. Rodriguez looked much sharper and tossed a quality...
Through August 1st of the 1910 Pittsburgh Pirates season, the defending World Series champs had gone 50-36, putting them in third place. The Giants had a half game lead on the Pirates, but they trailed the Cubs by a full seven games, with just over two months left in the season. Pittsburgh left on a road trip that would take them from Philadelphia, to Boston, to Brooklyn, then to...
The Pirates were pretty busy for a Friday afternoon in August today; they sent Daniel McCutchen back down to Triple-A and brought Jordy Mercer back from paternity leave (this brings the roster back to 13 position players and 12 pitchers, which makes sense given that the Pirates were both off yesterday and will be off again next Thursday), they sent Yamaico Navarro down to Triple...
Back in 2008 and 2009, Neil Huntington and crew dismantled the core group of Pirates players in a series of trades. Trading those players was the right move. There was some outrage from the fan base. But as Huntington noted, he wasn't breaking up the 1927 Yankees. The hope was that the return would be decent. Has it been decent? Or has this team been taken to the cleaners? Let's...
Indianapolis Indians  8,  Columbus Clippers  6 (Box)   Kyle McPherson pitched 7 scoreless innings. Yes, there are two of them, and both made big contributions to the Indianapolis Indians' win at Victory Field tonight.  Kyle McPherson pitched 7 shut-out innings for the Indians, allowing the Columbus Clippers only 2 hits.  Then DH Dallas McPherson hit two home runs, including...
You may have noticed that Rod Barajas has a 3-game hitting streak.  It may not be a huge deal, but for someone who's batting .202 this season, it's quite encouraging. It started with Monday's game, during which Rod was 0 for 3, struck out once, and was hit by a pitch.  So how did that [...]
The Pirates have claimed Hisanori Takahashi off waivers from the LA Angels. The lefty reliever will report to Pittsburgh in a day or so, at which point the Bucs will make a roster move to clear a spot for him. Takahashi is a 37 year old from Japan in his third big league season. He's 0-3 with a 4.93 ERA this season, but was better in his first two (3.61 in 2010 with the Mets and...
Jeff Karstens pitched seven-plus innings before leaving with an injury and the Pittsburgh Pirates snapped a four-game losing streak with a 4-0 win over the Milwaukee Brewers on Saturday night. Karstens (5-3) gave up seven hits, did not walk a batter and struck out four for his first win in nine career starts against Milwaukee. Karstens also had an RBI single and scored during Pittsburgh...
Exploring the Arsenal will run prior to each game, providing you with a brief scouting report on the starting pitcher expected to oppose the Pirates. The chart below shows the horizontal and vertical movement of every pitch thrown by that particular pitcher in 2012. This chart is from the catcher's point of view. Click here for a general guide to pitch types and classifications...
Just what the doctor ordered.  A team that has no problem pushing around the Charmin Soft Pirates after they got swept by the Padres. Not sure if you noticed but I took the day off yesterday.  Nothing to do with the Pirates.  Twitter blackout, no message boards.  And this is basically where I'm at. This [...]
MLB News

Delivered to your inbox

You'll also receive Yardbarker's daily Top 10, featuring the best sports stories from around the web. Customize your newsletter to get articles on your favorite sports and teams. And the best part? It's free!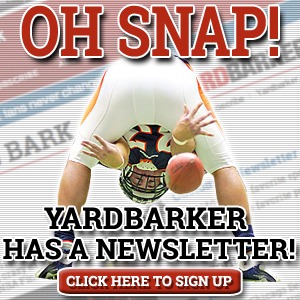 Latest Rumors
Best of Yardbarker

Today's Best Stuff

For Bloggers

Join the Yardbarker Network for more promotion, traffic, and money.

Company Info

Help

What is Yardbarker?

Yardbarker is the largest network of sports blogs and pro athlete blogs on the web. This site is the hub of the Yardbarker Network, where our editors and algorithms curate the best sports content from our network and beyond.