Found December 29, 2011 on Pirates Prospects:
Born on this date in 1977 was Pittsburgh Pirates shortstop Jack Wilson, who played for the team from 2001 until 2009. Wilson was originally draft by the Cardinals in 1998. The Pirates acquired him on July 29, 2000 in exchange for pitcher Jason Christiansen. Jack started the 2001 season in the majors as the team's starting shortstop, skipping over AAA. After hitting .155 through the first month he was sent to AAA where he tore up the league hitting .369 in 27 games, earning a promotion. He would hit just .223 with 25 RBI's that rookie season in 108 games, but he led the NL in sacrifice hits and he showed solid defense. The 2002 season he established himself as a solid everyday player who now provided above average defense. He raised his batting average to .256, took more walks, scored 77 runs and again led the league in sacrifice hits.
Wilson had 783 total chances at SS in 2005
From 2002 to 2007 Jack played an average of 149 games a year. His best season came in 2004 when he played 157 games, recorded 201 hits, 41 doubles, a league leading 12 triples, 11 homers and a career high 82 runs scored. He hit .308 that year, earned his only all-star appearance and won the silver slugger award. Wilson had a strong season in 2007 when he hit a career high 12 homers and posted a .791 OPS but he missed the beginning of the 2008 season with a calf strain and ended up playing just 87 games that year. In 2009 Wilson was traded to the Seattle Mariners on July 29th, exactly nine years to the day the Pirates acquired him. In his nine seasons in Pittsburgh he played 1159 games, hit .269 with 508 runs scored. He led NL shortstops in assists in both 2004-05 and putouts in 2004. He turned 255 double plays between the 2004-05 seasons.
Also born on this date, in 1974, was outfielder Emil Brown who played for the Pirates from 1997 to 2001. He was originally signed by the A's who lost him to the Pirates in the 1996 rule V draft. Brown spent the entire 1997 season in the majors as per the rules of the draft, getting just 112 plate appearances in 66 games. He hit .179 with five stolen bases and 16 runs scored. The following season he went to AA to get regular AB's and hit .330 with 14 homers and 24 stolen bases, earning a late season call-up. He spent the 1999 season in AAA hitting .307 with 18 homers and 16 stolen bases and for a second straight season he received some playing time in September. He started the 2000 season back in AAA getting a few brief call-ups in May and June before coming up for good in late July. In 50 major league games he hit .218 with three homers and 16 RBI's. The next year he began the season in the majors but hit only .203 through 61 games so the Pirates traded him to the Padres for two minor leaguers. In took another four seasons before Brown had his first good season in the majors. With the Royals from 2005-07 he hit .279 with 229 RBI's and 196 runs scored in 410 games. He hit .205 in 196 games with the Pirates.
Finally, born on this date in 1895 was Clyde Barnhart, who spent his entire major league career with the Pirates, playing from 1920 to 1928.  He started his minor league career in 1915 and hit just .256 in D level ball then did not play the 1918-19 seasons so it was quite a jump to the majors for him in 1920. After hitting .322 in 131 games of A ball( a higher level back then, than it is now) he earned a late season look in which he hit .326 in 12 games. He was the everyday thirdbaseman in 1921 but lost the job to a young Pie Traynor the following year. Barnhart moved to the outfield and hit .330 in 75 games in 1922 earning more playing time in 1923 and he responded with a .324 average and 72 RBI's in 114 games. He struggled in 1924 and lost his starting  job for a second time and again to another future Hall of Famer, Kiki Cuyler. During the 1925 season Barnhart became the everyday leftfielder and he had a big season hitting .325 with 114 RBI's helping the Pirates to their second championship in team history. He hit .250 in the WS against the Senators, driving in 5 runs.
Barnhart had a knack for being replaced by great all-time Pirates and the 1926-27 seasons were no different although he had himself to blame the next two times. He hit just .192 in 1926 and was never especially skilled in the outfield so the Pirates called upon rookie Paul Waner to take his place. The following season Barnhart was still around due to the loss of two outfielders and likely would've had the starting job if he came into camp into shape but he didn't and rookie Lloyd Waner took the position from him giving the Pirates an outfield to start the year of all future Hall of Famers, the Waners and Cuyler. Barnhart eventually did get plenty of time in 1927 when Cuyler was hurt and then benched. In the WS that year Clyde hit .313 against the Yankees. He was with the Pirates in 1928 and hitting well in limited time when they sent him to a minor league team in Indianapolis in exchange for Adam Comorosky. Barnhart played four minor league seasons before ending his pro career. He was a career .295 hitter in 814 games for the Pirates. His son Vic was an infielder for the Pirates in 1944-46.
Original Story:
http://feedproxy.google.com/~r/BuccoF...
THE BACKYARD
BEST OF MAXIM
RELATED ARTICLES
Josh Bell has the potential to be an elite hitting prospect, but what else do the Pirates have in their system? A question that gets asked a lot about the Pittsburgh Pirates' farm system is: where's the offense? The question isn't asked in that manner every time. Sometimes it's an indirect question, asking if the Pirates are going to focus on offense in future drafts. Sometimes...
Checking in on Pirates' players and friends in Thursday's winter league action:   VENEZUELAN LEAGUE Tiburones de La Guaira  6,  Bravos de Margarita  2 Anthony Claggett made the start for Los Bravos, and buzzed through the first four innings, allowing only a walk and a single in the top of the 1st.   He retired the side in order for three innings, but got into trouble fast...
Yes, it's still EXTREMELY early and tons of things could (and should) change between now and April 5th, but since we are now under 100 days until the season and there isn't much else going on at the moment, here's a look at the Bucs as they currently stand. I started with the rotation. Next up: the bullpen. Here's how the 'pen would probably look if the season started tomorrow...
Looking in on a few Pirates' players and friends in winter league action:   VENEZUELAN LEAGUE  Tigres de Aragua 6,  Leones del Caracas  3 Wil Ledezma was the pitcher of record when Los Tigres took a lead they would not surrender in the 6th inning.  Los Tigres got onto the scoreboard first, with a run in the 3rd by CF Jorge Cortes.  Cortes led off with a single, then came...
Pittsburgh Pirates 2011 Minor League Review Organizational Talent Rankings via Baseball America: 2011 (19) | 2010 (15) | 2009 (18) | 2008 (26) | 2007 (19) | 2006 (19) 2011 Affiliate Records MLB: [72-90] NL Central AAA: [76-68] International League – Indianapolis AA: [64-77] Eastern League – Altoona A+: [74-63] Florida State League – Bradenton A: [69-69] South Atlantic League...
Bill Center of the San Diego Union-Tribune held a chat today (h/t MLBTR), and a question was brought up about the San Diego Padres' return for Ryan Ludwick. The Pittsburgh Pirates received Ludwick for a player to be named later back in July, although the player has yet to be named. Center reports that he is hearing the Padres could opt for cash considerations in the deal. Center...
On this date in 1943 the Pittsburgh Pirates traded catcher Babe Phelps to the Philadelphia Phillies for first baseman Babe Dahlgren. Phelps hit .284 in 95 games for the Pirates in 1942 but he did not play during the 1943 season. The Pirates also included cash in the deal. Dahlgren played for six different teams from 1940-43, hitting .287 with 50 walks and 56 RBI's in 136 games...
The Pirates Prospects 2012 Prospect Guide is now available for purchase in eBook form. The eBook is sold through our publisher, and not on the site. The price is the same as the regular version, $20.00, and all of the contents are the same. There is a benefit to the eBook being sold through the publisher. They often give discount codes which you can use towards the book. The discounts...
Just the Venezuelan and Puerto Rican Leagues in action on Tuesday night, with a few Pirates' players and friends getting in on the fun.   VENEZUELAN LEAGUE Cardenales del Lara  4,  Tigres de Aragua  2 Former Pirate Romulo Sanchez earned the win for Los Cardenales, throwing 2.2 scoreless innings.  Sanchez entered the game immediately after Los Tigres scored their 2 runs in...
This is probably a sad indictment of my existence as a Pirate fan, but when every year starts my general hopes for the Pirates can be boiled down thusly: I hope that they're not too embarrassingly terrible and I hope that whatever happens over the course of the next 365 days gets them closer to a future in which I can have Pirate-related-hopes that aren't so depressing. Usually...
Bill Brink has some good stuff up at the PG about the Pirates' blueprint. Both his main article from yesterday about the "waves" of talent that the team is trying to create and his behind the scenes chat with Frank Coonelly (at PG+) that goes into detail about the payroll are worth your time, if you haven't read them already. At The Platoon Advantage, The Common...
The Pirates relievers stayed busy last season. They'll get a chance to do so again this season. The bullpen, including anchor Joel Hanrahan, will return mostly intact for the 2012 season in a departure from general manager Neal Huntington's approach in recent years.
MLB News

Delivered to your inbox

You'll also receive Yardbarker's daily Top 10, featuring the best sports stories from around the web. Customize your newsletter to get articles on your favorite sports and teams. And the best part? It's free!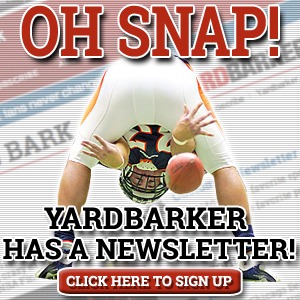 Latest Rumors
The Backyard

Today's Best Stuff

For Bloggers

Join the Yardbarker Network for more promotion, traffic, and money.

Company Info

Help

What is Yardbarker?

Yardbarker is the largest network of sports blogs and pro athlete blogs on the web. This site is the hub of the Yardbarker Network, where our editors and algorithms curate the best sports content from our network and beyond.