Found February 07, 2012 on Pirates Prospects:
On this date in Pittsburgh Pirates history, two teammates from the 2001-02 Pirates celebrate birthdays. Starting off with Adrian Brown(1974) who was a 48th round draft pick by Pittsburgh in the 1992 amateur draft that played for the team from 1997 until 2002. As a low draft pick he worked his way slowly through the minors, not making it to AA until the middle of his fifth season in pro ball. He hit .306 that season with 45 stolen bases then followed in up with a season split between AA/AAA in which he hit .313 in 99 games. The Pirates had called him up for five weeks that year, starting in late May but he struggled and was returned to the minors until September. In 1998 he returned to AAA until August, then hit .283 in 41 games after being recalled, earning a job for 1999. He was on the Opening Day roster but began the year slow hitting .178 through 24 games, then spent a month down in AAA before coming back to finish the year batting .270.
Brown was a .285 career hitter in the minors
In 2000 Brown had his best season in the majors, hitting .315 in 104 games with 64 runs scored and 13 stolen bases. He seemed primed to have a big season in 2001 but an injured shoulder cause him to miss all but 8 major league games and 15 rehab games in the minors. He would hit .337 in 51 AAA games in 2002 but just .216 in 91 games with the Pirates, who released him at the end of the season. He played pro ball until 2006, playing another 40 major league games spread out over three seasons with three different teams. Brown spent a total of 15 years in pro ball and played in the minors during each of those seasons, a total of 1141 minor league games and 447 in the majors
His teammate for two years, Humberto Cota(1979) was a catcher for the Pirates from 2001 until 2007. He was originally signed as an amateur free agent by the Braves in 1995 then released by them two years later. The Devil Rays picked him up then eventually traded him to the Pirates on July 23, 1999 in the Joe Oliver/Jose Guillen deal. Cota was a September call-up each of his first two seasons in the majors and in 2003 he played with the team from late July until mid-August. He had a total of 24 games played between his first three seasons in the majors with just 44 plate appearances. He spent the 2004 season as the backup to Jason Kendall, receiving very little playing time throughout the season but it was his first full season in the majors. When Kendall was traded in the off-season Cota took over and had his best year in the majors, playing 93 games, hitting .242 with 7 homers and 43 RBI's. In 2006 rookie Ronny Paulino emerged, hitting .310 in 129 games and taking over the regular catcher spot. Cota played briefly for the Pirates in 2007 before being granted free agency. He has played minor league ball since, currently catching in the Mexican League.
Also born on this date was Spike Shannon(1878) an outfielder for the 1908 Pirates. He was a native of Pittsburgh,Pa who spent his first six seasons of pro ball in the minors, starting at age 20. Spike was a September 1903 rule 5 draft by the Cardinals. He became their starting right fielder and hit .280 in 134 games that rookie season while playing outstanding defense, leading all NL outfielders in fielding percentage. In 1906 the Cardinals traded him mid-season to the Giants. Shannon would lead the league in both games played and plate appearances that year. In 1907 he led the league in plate appearances, runs scored with 104 and times on base, so his dropoff in 1908 was unexpected. With the Giants he hit .224 in 77 games before being picked up by the Pirates on July 22nd off waivers. In 32 games for Pittsburgh he hit .197 in what would be his last time in the majors. He spent four seasons in the minors, one as a player/manager before becoming an umpire.
Finally, we get to Mike Jordan(1863) who played for the worst team in franchise history, the 1890 Alleghenys. The team went 23-113 on the season and late in the year they were desperate for anyone who knew how to play ball just so they could finish out the season. Jordan definitely fell into that class, he had played minor league ball since 1884 but never made the majors before signing with the Alleghenys in late August 1890. They threw him into left field(occasionally he played center field) for the last 37 games of the season and while he played strong defense, his offense set a franchise futility record. He came to the plate 143 times and no other position player in Pirates history had more plate appearances with a lower average, in fact no other position player came to the plate more than 53 times with a worse average.  He hit .096, collecting 11 singles and a double and the Alleghenys record during his time with the team was just 4-35. That was the only major league experience for Jordan, who played in the minors until 1893.
Original Story:
http://feedproxy.google.com/~r/BuccoF...
THE BACKYARD
BEST OF MAXIM
RELATED ARTICLES
The latest farm system rankings to come out belong to Keith Law, who released his top 30 farm system rankings today (ESPN Insider subscription required). In the description, Law noted that the top tier of talent for the Pirates was very strong, but that the system lacked depth, which he said was surprising considering the high draft positions and the amount of money they've spent...
First, news broke yesterday that Edwin Jackson turned down a three year deal from the Pittsburgh Pirates. Then just a couple of hours ago today, the story came out that Roy Oswalt said "thanks, but no thanks" to the Pirates approaching him wanting to talk. So why don't players want to play in Pittsburgh? There's a culture of losing in Pittsburgh. The streak is...
Two weeks ago Pirates Prospects celebrated its third birthday. That seems kind of incredible to me, because it seems like I've been running this site for longer than three years. It's also incredible because three years ago I would have never thought this would be my job. I started the site to provide resources for Pirates fans to use. Some of those resources are staples of the...
Plenty of star power among former Pittsburgh Pirates born on this date but we start with the current player celebrating a birthday today. Pedro Alvarez turns 25 today. He was the first round draft pick of the Pirates in 2008, second overall. Pedro split his first season between high-A and AA, hitting .288 with 27 homers and 95 RBI's. He moved to AAA for 2010 and in 66 games hit...
It's about time to kick off one of our favorite things in all the world: Season Previews. Five years ago, they began as a semi-serious analysis and ended up as half-assed haiku. We're just gonna go with what we know. Moving right along with our preview of the National League Central, here is the tentative Pittsburgh Pirates forecast. The average fan Has never heard of...
Four former Pittsburgh Pirates players born on this date but before I get to them I will briefly mention four players I inadvertently left off yesterday. Charlie Jackson(1894) outfielder for the 1917 Pirates, Bill Steinecke(1907) a catcher for the 1931 Pirates, Felipe Montemayor(1928) outfielder for the 1953,1955 Pirates and Juan Pizzaro(1937) pitcher for the 1967-68 Pirates were...
Tom Singer of MLB.com reports that the Pittsburgh Pirates will look into left handed reliever Clay Rapada. Rapada was designated for assignment today by the Baltimore Orioles. If the Pirates were to add him, it would either have to be via a waiver claim, or through a trade. Either way, they'd have to clear a 40-man roster spot. Rapada has 52.2 innings in the majors, and the results...
At the Hardball Times today, Chris Jaffe has a "fun" article that deals with little-known facts about one-hitters. Fun is in scare-quotes because the very first fact is about guys that have more than one game in their career with the only hit in a one-hitter. Neil Walker has fewer hits than anyone to have accomplished this (he did it once in 2010 and once in 2011). That...
Former Duquesne reliever Joe Beimel went 1-1 with a 5.33 ERA in 35 games with the Pirates last year.
Well, the Pirates have apparently been making a last-ditch effort to make a big splash and improve their pitching this season, but it didn't work. They went after free agents Edwin Jackson and Roy Oswalt, but Jackson signed with the Nationals instead and Oswalt "rebuffed" their offers to join a bidding war. Both would have been welcome additions – they're relatively big...
We heard some rumblings about the Pirates possibly inquiring on starter A.J. Burnett earlier this offseason, but it did not amount to much. Today, Ken Rosenthal wrote that the Pirates are believed to be one team that is considering a trade for the highly paid veteran. First off, Burnett has a list of 10 teams he put on his no trade list. Amazingly, the Pirates are not among those...
Joel Hanrahan hopes to rise above the checkered encore history of the team's few iconic closers. Evan Meek hopes to rebound from his own more-recent injury history. Slay those two demons, and the Pirates bullpen will again be one of the strongest pillars of contention.
MLB News

Delivered to your inbox

You'll also receive Yardbarker's daily Top 10, featuring the best sports stories from around the web. Customize your newsletter to get articles on your favorite sports and teams. And the best part? It's free!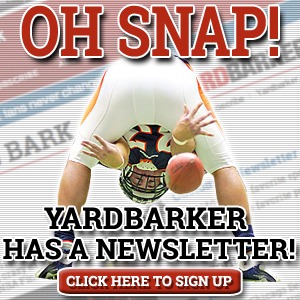 Latest Rumors
The Backyard

Today's Best Stuff

For Bloggers

Join the Yardbarker Network for more promotion, traffic, and money.

Company Info

Help

What is Yardbarker?

Yardbarker is the largest network of sports blogs and pro athlete blogs on the web. This site is the hub of the Yardbarker Network, where our editors and algorithms curate the best sports content from our network and beyond.