Found January 02, 2012 on Pirates Prospects:
Born on this date in 1951 was all-star third baseman Bill Madlock who played for the Pittsburgh Pirates from 1979 until 1985. He was originally drafted by the Washington Senators in 1970 and made his major league debut in 1973 after they moved to Texas. After just one season he was traded to the Chicago Cubs for Hall of Fame pitcher Fergie Jenkins. The Cubs dealt him to the Giants in 1977 and after 2 1/2 seasons they traded him to the Pirates in a six player deal on June 28, 1979. Madlock played 85 games for the Pirates after the trade and hit .328 with 44 RBI's and 21 stolen bases, helping them to an NL East title. In the playoffs he hit .250 in the NLCS then .375 with three runs batted in, to help the Pirates to their fifth World Series title.
Madlock batted over .300 eight times
Madlock had a down year in 1980 hitting just .277 after never hitting below .298 in any season. He followed that up with a .341 batting average to lead the NL in 1981. It was his third batting title, he won two with the Cubs during the 1975-76 seasons. He also made his second all-star appearance with the first one coming in 1975. Madlock tied a career high with 154 games played in 1982 and he would hit .319(2nd in the NL to former Pirate Al Oliver) while setting career highs with 92 runs scored, 19 homers and 95 RBI's. He finished 11th in the NL MVP voting. The 1983 season was the last good season for Madlock, he hit .323 to win his fourth batting title, made the all-star team for his third and final time and finished 8th in the NL MVP voting, the second highest finish of his career behind his 1976 season.
Bill slumped down to just .253 in 103 games in 1984 although he had numerous minor injuries throughout the year and missed the end of the year due to right elbow surgery. In 1985 he was hitting only .251 through 110 games when the Pirates traded him to the Dodgers for three players. He would hit .360 the rest of the way, helping the Dodgers to playoffs where he hit .333 with three homers and seven RBI's. Madlock played two more seasons in the majors, finishing with a .305 career average in 1806 games. While with the Pirates he hit .297 with 392 runs and 390 RBI's in 801 games
Some other brief mentions for birthdays on this date, including three years in a row in the 1890′s that former Pirates players were born:
Bill Wagner(1894) was a backup catcher for the Pirates from 1914 until 1917. He began his pro career in 1914 and bounced between the minors and majors for the first three years getting into a total of just 27 games with the Pirates through the 1916 season. He finally spent the entire season in the majors in 1917 playing 53 games in which he hit .205 with 9 RBI's in 151 at bats. Right after the season ended the Pirates sold him to the Boston Braves where he finished his major league career in 1918. He played two more minor league seasons before retiring from pro ball. He was no relation to Honus Wagner, his teammate for all four seasons in Pittsburgh. Bill Wagner batted .205 in 80 total games with the Pirates.
Jesse Altenburg(1893) was a teammate of Wagner from 1916 until 1917. He played four seasons in the minors before getting his first chance at the majors after hitting .320 in 109 games for Wheeling of the Central League. The Pirates brought him to the majors in mid-September for the last two weeks and he hit .429 in eight games, going 6 for 14 with a double and triple. He started the 1917 season with the Pirates but was let go after just a month due to a .176 average in 11 games. He never returned to the majors, finishing his playing career in the minors in 1924. He also managed for four seasons in the minors.
George Boehler(1892) pitched for the 1923 Pirates. Prior to that he got limited playing time in the majors, pitching 37 games for the Tigers over five seasons before spending the next three years in the minors. He returned to the majors with the Browns in 1920 but pitched just four games over two seasons. Boehler spent the entire 1922 season in the minors but he did all he could do to earn another shot in the majors. Pitching for Tulsa of the Western League he pitched 62 games, throwing a total of 441 innings and he won 38 games. The Pirates signed him for the 1923 season and he started the second game of the year, giving up seven runs to the Cubs in a loss. After one more start he was moved to the bullpen where he was used sparingly, making just eight appearances between April 24 and July 16. He returned to the minors, getting one more brief trial with the Dodgers in 1926 before finishing his career in the minors in 1930. Boehler won 248 games over 17 seasons in the minors and he went 6-12 4.71 in 61 major league games.
Sam Crane(1854) played middle infield for the 1890 Pittsburgh Alleghenys. Crane was a light hitter with an average glove who bounced around between 1880 and 1889, playing in the majors for six of those ten years with six different teams in three different leagues. He played in the minors with Scranton in 1888 then was out of pro ball in 1889. When the Player's League was formed for the 1890 season it created eight more major league teams and the need to fill those rosters so Crane returned to the majors with the New York Giants. After two games he was shipped to Pittsburgh where he played 22 games, hitting .195 while playing 2B and SS. He returned to the Giants to finish his career, playing another two games for them in 1890. In his career he hit .203 with 183 runs scored and 45 RBI's in 373 games.
Original Story:
http://feedproxy.google.com/~r/BuccoF...
THE BACKYARD
BEST OF MAXIM
RELATED ARTICLES
Despite what we've seen over the last two decades, the Pirates during their long history have had some mighty good infields and outfields.  No, really.  Inspired by a brief exchange on a message board recently, I thought it'd be interested to try to determine which ones were the best. As a measure, I decided to use Wins Above Replacement (WAR), specifically the version found...
The Mexican Pacific League playoffs began yesterday.  This league uses a playoff format like we're used to seeing in the US leagues.  The top 6 teams are in the playoffs, with #1 Culiacan playing the #6 Navojoa, #2 Mexicali vs. #5 Mochis, and #3 Obregon vs. #4 Hermosillo  in the best-of-7 first round.  Los Venados de Mazatlan, with Pirates' Rogelio Noris, finished in last...
There were eight former Pittsburgh Pirates players born on this date but by far the most important one was first baseman Gus Suhr, who was born on this date in 1906. Suhr is considered by some as the best first baseman in team history and he manned the position in Pittsburgh for ten seasons from 1930 to 1939. Suhr was signed by the Pirates after hitting .381 with 51 homers, 62 doubles...
A few months ago, one of my favorite guys on the interwebs, Paul "Sully" Sullivan posted his "All Nope... Not THAT One Team".  Basically, it was a roster of players who share the names of other famous people.And if the modern day king of shedding light on the "things that make you go hmmm" makes a sequel...I'd like to add Pittsburgh Pirates reliever...
  Edwin Jackson is looking for a five year deal at $12 M a year. At the start of the off-season I had Edwin Jackson listed as a pitcher that I liked, but one that I never thought would be a possibility for the Pittsburgh Pirates. A few weeks ago I pointed out that the market for the 28 year old right hander has been surprisingly quiet. There were talks that Jackson's asking price...
For a team that finished 23.5 games back in the standings in 1906, the Pittsburgh Piratesdid very little to improve for the following season. It is likely they expected the Chicago Cubs to fall back somewhat from their amazing 116-36 season but looking at the off-season moves, or lack there of, you could say that the Pirates themselves should've expected to regress as well. Now...
The Pittsburgh Pirates have signed left handed pitcher Jo-Jo Reyes to a minor league deal, according to Jenifer Langosch of MLB.com. We heard the Pirates were interested in Reyes back in December. Reyes is 27 yeas old and had a career 6.05 ERA in 334.2 innings in the majors. In that time he has a 5.8 K/9, a 3.9 BB/9, and a 1.5 HR/9 ratio. He's a good flier to take on a minor league...
Michael McKenry is the favorite to win the job as backup catcher, but he has much to do on the offensive end, and has been working with Clint Hurdle this offseason.
Continuing down memory lane with a look at the 82nd win in 1983. The 1982 Pirates were never in serious contention for the post-season. Althought they did play meaningful games in September, something that we have only been able to wish for recently. That 1982 team had a strong offense – ranking second in the National League in runs scored, first in homers and first in OPS. There...
We'll keep track of today's minor moves right here.. In a press release, the Blue Jays announced the signings of right-handers Jerry Gil, Robert Coello, and shortstop Brian Bocock to minor league deals.  All three players will receive invitations to Major League spring training.  Bocock was involved in a minor mid-season swap this year when he was sent from the Phillies...
Welcome to 2012, Pirate fans! Hopefully this year will be better than the last. I spent the last few days of 2011 and the first couple days of 2012 turning over post ideas and discussion points in my head, so the long holiday break here at WHYGAVS is over. Let's start with what's the Pirates' most pressing current need for what's left of the off-season: the starting...
MLB News

Delivered to your inbox

You'll also receive Yardbarker's daily Top 10, featuring the best sports stories from around the web. Customize your newsletter to get articles on your favorite sports and teams. And the best part? It's free!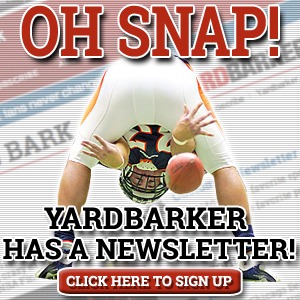 Latest Rumors
Best of Yardbarker

Today's Best Stuff

For Bloggers

Join the Yardbarker Network for more promotion, traffic, and money.

Company Info

Help

What is Yardbarker?

Yardbarker is the largest network of sports blogs and pro athlete blogs on the web. This site is the hub of the Yardbarker Network, where our editors and algorithms curate the best sports content from our network and beyond.