Found November 03, 2011 on Pirates Prospects:
On this date in 1856 one of the winningest pitchers to ever put on a Pittsburgh uniform was born. Jim McCormick only played one season in Pittsburgh, for the 1887 Alleghenys but only three pitchers who have won more career games than him have also put on a Pirates uniform, Pud Galvin, Bert Blyleven and Burleigh Grimes. In fact, McCormick's 265 career wins still ranks him 39th all-time despite the fact he played just 10 seasons in the majors. He is also one of just eight players born in Great Britian to ever play in the majors.
McCormick twice won 40 games in a season
Jim made his major league debut in 1878 for the Indianapolis Blues, a one year franchise in the NL that finished in 5th place(out of 6 teams) that year. He went just 5-8 that year making his final win total that much more impressive. The next year he was on a poor hitting team called the Cleveland Blues, a team that finished last in hitting. He started 60 of the teams 82 games and completed all but one start and despite a 2.42 ERA he had a 20-40 record. His 1880 season is one of the best pitching seasons ever, still on the Blues, he posted a 1.85 ERA and won an NL leading 45 games. He also made 74 starts, completing 72 and he led the NL in innings pitched. His totals in each of those last three categories ranks him in the top 4 all-time for single seasons. He led his league in wins in 1883 and ERA in both 1883 and 84.
The year prior to joining the Pirates he played for the Chicago White Stockings(Cubs) and went 31-11 with a 2.82 ERA. The White Stockings decided to trade him to the brand new to the NL, Pittsburgh Alleghenys right before the start of the season. In exchange, they got cash and pitcher George Van Haltren, who the Pirates not only unloaded twice, but he turned out to be one of the best 19th century hitters not in the Hall of Fame yet. Jim struggled his only season in Pittsburgh going 13-23 with what was easily his highest season ERA at 4.30. Despite the poor record he was offered a job for the 1888 season with Pittsburgh, albeit at a lesser salary. He refused, and walked away from baseball at age 30, just 35 wins short of the magical 300 mark that gets you into the Hall of Fame. Of course, he had no way of knowing that at the time and very little publicity went along with milestones back then.
Also on this date in 1866 another Pirates pitcher was born, named Harry Staley, who has a direct connection to McCormick. Staley helped fill the opening in the rotation left by the retirement of McCormick. Harry played for the team from 1888-89 when they were the Alleghenys and 1891 when they took on the name Pirates. The Alleghenys bought him from a minor league team named the St Louis Whites in June of 1888 after he posted a 1.76 ERA in 20 starts. He made another 24 starts in the majors that year, completing all of them, with a 12-12 2.69 record. The following season he posted a 3.51 ERA during a higher offense year, finishing 6th in the NL in ERA. In 1890 almost the entire Alleghenys team, along with most of the better players around baseball, jumped to the newly formed Player's League for the season. The league folded after one year and all players were put back on their original rosters from 1889 as long as the team reserved them. Staley pitched well upon his return but was released in May with a 4-5 record. He pitched in the majors until 1895 and had 136 career wins, 37 with the Pirates.
Finally, one of my favorite baseball names was born on this date in 1898, Homer Summa who played for the 1920 Pirates. Homer was his given name but that didn't make him a home run hitter in the majors, hitting just 18 round trippers in 3001 at-bats. Homer struggled his rookie year in the minors in 1919 hitting just .192 over 113 games. He had a complete turnaround the next season hitting .351 for a team from Norfolk and earning himself a shot at the majors. He made his major league debut on September 13, 1920 for the Pirates, two days before Pie Traynor made his major league debut. Summa hit .318 in his 10 games with the Pirates, going 7-22 with 3 walks. He was returned to the minors for 1921 and signed with the Cleveland Indians the next season. He played 7 seasons there, hitting .303 in 768 games and two years later he retired from the majors with a .302 average. He went on the play in the Pacific Coast League for 4 seasons and he had a .318 career minor league average.
Original Story:
http://feedproxy.google.com/~r/BuccoF...
THE BACKYARD
BEST OF MAXIM
RELATED ARTICLES
The following Pittsburgh Pirates have elected for minor league free agency, per Baseball America: RHP: Jose Ascanio (AAA), Anthony Claggett (AA), Nelson Figueroa (AAA), Sean Gallagher (AAA), Kevin Hart (AAA), Aaron Heilman (AAA), Steven Jackson (AAA), Brett Sinkbeil (AA), Tyler Yates (AAA) LHP: Dan Meyer (AAA), Garrett Olson (AAA), Justin Thomas (AAA), Aaron Thompson (AAA), Donald...
Read my review on the Top 5 Positives here. #5  The run of contention until early August Image credit timesunion In the end, the 2011 Pirates weren't much better than any of the previous 18 teams before them.  But they'll be treated like they were during the offseason, and only minimal improvements will be made to a club that could be one of the worst in the league come 2012...
We covered Gary Redus yesterday, today just happens to be the birthday of the man he platooned with in Pittsburgh for a time. Born on this date in 1966 was Orlando Merced, first baseman/outfielder for the Pirates from 1990-96. Merced was signed as an amateur free agent by the Pirates in 1985 and he struggled his first two seasons before missing most of the 1987 season, getting into...
According to Ken Rosenthal, the Pittsburgh Pirates were one of the teams that have sent scouts to watch soon-to-be 49 year old left hander Jamie Moyer pitch.  Moyer is recovering from Tommy John surgery, which he underwent in 2010, and which cost him the entire 2011 season.  Rosenthal quoted scouts who said that Moyer looked just as good as he always has.  The speculation was...
In my projection of the 40-man roster I've included estimates for each of the arbitration eligible players, in order to try and get the estimated 2012 payroll.  My method for estimating salaries is simple.  I'll look at the numbers that the players put up, look at comparable players, and go with the salaries for those players.  For example, Joel Hanrahan compares very closely...
You know what? I'm tired of being negative about this off-season. I still don't think that things are going to play out terribly well for the Pirates this winter, but I also don't think I've done a good job of making it clear that I don't think the Pirates are breaking up the 1927 Yankees again. Ronny Cedeno and Ryan Doumit and Paul Maholm and Garrett Jones (should...
  Four Pirates free agents have qualified for Type B status. These guys range in terms of risk but in my opinion the Pirates should offer all four arbitration. First is Derrek Lee.  He won't accept.  It seems pretty obvious that Mr. Lee served his time, and did it well.  He has built some good [...]
One scout in the AFL said that Cole's fastball is better than Stephen Strasburg's. Most of the hype coming out of the Arizona Fall League for Pittsburgh Pirates prospects has been dominated by Robbie Grossman.  The outfield prospect is either leading, or is in the top five of every offensive category, posting a .375/.474/.615 line in 96 at-bats.  However, the latest talk...
The MLB Movember Mustache Madness Wild Card bracket is only getting wilder.  We've already seen some ridiculous fake mustaches, but now we reel it in a bit to see some somewhat believable fake facial follicles face off. Ronny Cedeno He has to get extra credit for actually wearing the fake mustache while playing, right? VS. Magglio Ordonez A washed up right fielder...
Not too much going on in the Winter Leagues tonight…  the Australians play tonight (for them) or early morning (for us)   VENEZUELAN LEAGUE Tigres de Aragua  1,  Leones del Caracas  0 In the battle of the big cats, Los Leones were held to just 3 hits, plus one walk, and two double plays eliminated two of those base runners.  Pirates' DH Ramon Cabrera had one of the hits...
You know what? I'm tired of being negative about this off-season. I still don't think that things are going to play out terribly well for the Pirates this winter, but I also don't think I've done a good job of making it clear that I don't think the Pirates are breaking up the 1927 Yankees again. Ronny Cedeno and Ryan Doumit and Paul Maholm and Garrett Jones (should...
If you want to see Gerrit Cole pitch before spring training, your best bet to do so is probably going to be on Saturday night, as the MLB Network is televising the Arizona Fall League Rising Stars Game, where both Cole and Robbie Grossman will be representing the Pirates. The game starts at 8:10 ET, though I'm not sure when Cole is pitching and I don't expect him to throw...
Pirates News

Delivered to your inbox

You'll also receive Yardbarker's daily Top 10, featuring the best sports stories from around the web. Customize your newsletter to get articles on your favorite sports and teams. And the best part? It's free!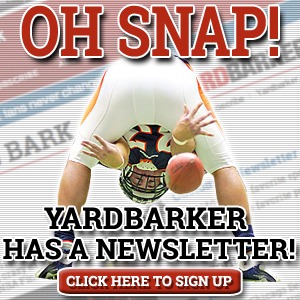 Latest Rumors
The Backyard

Today's Best Stuff

For Bloggers

Join the Yardbarker Network for more promotion, traffic, and money.

Company Info

Help

What is Yardbarker?

Yardbarker is the largest network of sports blogs and pro athlete blogs on the web. This site is the hub of the Yardbarker Network, where our editors and algorithms curate the best sports content from our network and beyond.