Found April 08, 2013 on We Talk Fantasy Sports:
PLAYERS:
RA Dickey
,
Jon Lester
,
Jose Reyes
,
Kevin Youkilis
,
Curtis Granderson
,
Derek Jeter
,
Mark Teixeira
,
Alex Rodriguez
,
Ichiro Suzuki
,
Phil Hughes
,
Ivan Nova
,
CC Sabathia
,
Prince Fielder
,
Chris Davis
,
Glen Perkins
,
Chris Parmelee
,
Michael Bourn
,
Matt Moore
,
Trevor Bauer
,
Alex Cobb
,
Justin Masterson
,
David Price
,
Lonnie Chisenhall
,
Carlos Santana
,
Mark Reynolds
,
Dayan Viciedo
,
Addison Reed
,
Felix Hernandez
,
Dan Straily
,
Bartolo Colon
,
Brett Anderson
,
Grant Balfour
,
Coco Crisp
,
Jason Vargas
,
Derek Holland
,
Joe Nathan
,
Matt Harrison
,
Tommy Hanson
,
Albert Pujols
,
Mark Trumbo
,
Jered Weaver
,
Yu Darvish
,
Ian Kinsler
TEAMS:
Toronto Blue Jays
,
Cleveland Indians
,
Boston Red Sox
,
New York Yankees
,
Detroit Tigers
,
Minnesota Twins
,
Tampa Bay Rays
,
Chicago White Sox
,
Seattle Mariners
,
Oakland Athletics
,
Houston Astros
,
Los Angeles Angels
,
Texas Rangers
R.A. Dickey has pitched just 10.2 innings for the Toronto Blue Jays, and fans are already booing him!  He has not been good, there is not doubting that.  He has allowed 15 hits, 12 runs, 10 earned runs, 3 homers, walked 6 and struck out 9.  His ERA is 8.44, his WHIP sits right under 2 and the Cleveland Indians and Boston Red Sox hit .326.  Not for nothing, the Blue Jays offense has scored 1 run in his two starts.  I think Dickey will be fine, not matching last seasons stats, but good enough to win 12-15 games for this ball club, but if the Jays don't get the bats going, it won't matter how good R.A. throws the knuckler.Toronto managed just 9 runs this weekend and were shut out last night by Jon Lester, after J.A. Happ shut out the Boston Red Sox the night before.  Jose Reyes had 8 hits this weekend, including 3 XBH (2 2b, 1 hr) in the series opener.  You know its bad when even with his speed and his hot start, Reyes scored just once and did it himself.  Will Middlebrooks hit 4 home runs off Jays pitching, including 3 of them last night.  He is slugging .880 at the moment.Jon Lester improved to 2-0 on the year and has looked like Jon Lester of 2010 when he won 19 games.  He has 13 striekes out to just 2 walks over 12 innings.Kevin Youkilis has already hit 4 doubles and home run for the Yankees, who lost 2 of 3 in Detroit this weekend.  The Yankees offense has struggled, as we all figured, without Curtis Granderson, Derek Jeter, Mark Teixeira and Alex Rodriguez, but it is the poor play of Robinson cano and Ichiro Suzuki that is puzzling.  Cano was just 2 for 12 and Ichiro went 1 for 9.  Together they have scored 3 runs and have 1 RBI and 0 XBH.The Pitching has not been much better, as Phil Hughes and Ivan Nova both failed to last 5 innings against the Tigers powerful lineup.  C.C. Sabathia rebounded very nicely after a rough first start, pitching 7 shutout innings while beating Justin Verlander.Verlander struggled early allowing 3 earned runs in the 2nd inning, including a 2 run homer to Jason Nix.  He recovered and pitched 5 innings of shutout ball in a losing effort.Before being shutout in the series finale, the Tigers scored 8 runs in each of the first two contests.  Prince Fielder went yard twice in the opener driving in 5 runs and added 2 more RBI in game 2.Chris Davis added 6 RBI to his league leading 17 this weekend against the Twins, with 5 in the series opener, aided by a grand slam.Adam Jones chipped in with 5 RBI as well, on 7 hits including 2 doubles and scored 4 times.Oddly enough, the Minnesota Twins took the series 2-1.  Glen Perkins picked up his first two saves of the season.  Chris Parmelee had an RBI in each game, 4  in total.In one of the weirdest series this weekend, the Indians and Rays played to 3 shutouts.  The Rays shut out the Indians the first two games, before losing 13-0 in the series finale.In game 1, Michael Bourn's single and double were all the Cleveland Indians could muster against Matt Moore and Tampa Bays bullpen. Game 2 saw Trevor Bauer make his Indians debut and walked 7 over 5 innings, picking up the loss.  Alex Cobb pitched a gem, striking out 6 over 7.1 innings as the Indians scattered just 4 singles.  Last night finale was Ace vs Ace, Justin Masterson vs David Price and it was Masterson who was masterful and Price who looked cheap!  Price lasted just 5 innings as the Indians scored 8 runs on 10 hits, including 2 home runs.  The Rays are now 0-2 in Price's starts and he has looked pretty bad.  In 11 innings, he has given up 17 hits, 10 earned runs, 3 home runs and just 7 strike outs to 5 walks.Lonnie Chisenhall, Carlos Santana and Mark Reynolds teed off on Rays pitching last night combining for 10 hits, 10 RBI, 4 doubles, and 3 home runs!The Chicago White Sox and Seattle Mariners played to three 1 run games, 2 that went to extra innings.  The Mariners needed 6 XBH to beat the White Sox in the opener, the Sox bullpen almost blew the lead in the 8th of the second game, and Dayan Viciedo hit a walkoff home run last night to take the series from the Mariners.Addison Reed picked up his 3rd save and earned a W.Michael Morse hit his league leading 5th home run of the season.The Sox beat Felix Hernandez who gave up 4 earned runs over 6.1 innings.The Oakland Athletics out scored the Houston Astros 24-9 as the Astros fell to 1-5 at home this season.  Dan Straily was fantastic in the series opener, striking out 11 'Stros in 6.2 innings while awarding no base on balls.  Bartolo Colon than made his season debut, returning from a 50 game suspension, picking up a W.  He lasted 6 innings, giving up 3 earned runs 8 hits.  Brett Anderson finished them off with 10 strikeouts of his own over 6 innings.  He allowed 2 unearned runs along the way.  Grant Balfour picked up his first save of the year.Coco Crisp homered in all 3 games and picked up 7 hits (4 doubles) and 5 RBI.  Jason Vargas and Derek Holland battled as the Texas Rangers took the series opener from the Los Angeles Angels.  The Rangers scored a run in the 7th and 8th to win 3-2.  Joe Nathan picked up his first save.Game 2 featured 500 pounds of pitching between Matt Harrison and Tommy Hanson.  Hanson won his first start as an Angel and Harrison fell to 0-2.  Harrison has lasted 10.2 innings over two starts and allowed 10 earned runs.  Albert Pujols went yard twice to pick up his first home runs of the season.  Mark Trumbo also hit his first Trumbomb of the season.Sunday Night Baseball featured Jered Weaver vs Yu Darvish and they disappointed, just like every other pitching matchup this weekend.  Both pitchers got injured and they eached walked 4 batters over 5 innings.  Darvish picked up his 2nd win.Ian Kinsler notched 6 hits this weekend, with 2 home runs, 6 RBI and 3 runs scored.
Original Story:
http://www.wetalkfantasysports.com/20...
THE BACKYARD
BEST OF MAXIM
RELATED ARTICLES
Not even a week into the season  and the Toronto Blue Jays  have a losing record.  I can not believe, with all talent in their lineup that the Jays have a  2-4 record. This past weekend, the Jays played a three game series against the Boston Red Sox. They lost the first game 6-4.  "We made too many mistakes tonight,"  said Jay's manager, John Gibbons at the post game...
This morning's rant is for all the owners who took it up the ace on Sunday. It's one thing when your ace is pitching @TEX or @COL but home against Cleveland where David Price gave up 8 ER and 13 baserunners in 5 IP? Ouch. Home against an Ortiz-less Boston offense (RA Dickey - 4.2 IP, 7 ER, 12 baserunners - the first 5 runs coming before an out was recorded)? Damn. Home...
NASHVILLE, Tenn. There is a distinctive structure to the busy clutter that is the office of McKinnis Sports Management. For agency president Bo McKinnis, its a mix of preparation for an impending office expansion, the looming national tax deadline of clients, an accumulation of correspondence while constantly on the road the past few months, and an avowed packrat mentality that...
The Toronto Blue Jays were the story of baseball's offseason, acquiring Jose Reyes, Mark Buehrle, Josh Johnson and others from the Marlins as well as trading for NL Cy Young Award winner R.A. Dickey from the Mets. The Jays haven't been to the playoffs since winning consecutive World Series in 1992-93 but were installed as Bovada betting favorites to capture the AL East this season...
The greatest source of entertainment for Blue Jays fans on Sunday came from this guy.The video footage picks up after the man has already made his way onto the field, and he appears to have every intention to escape by scaling the outfield wall.However, his attempt proves both hilarious and futile, as he is mobbed by security within seconds of reaching the warning track. So close...
The Boston Red Sox finished up their season opening 6 game road trip with a huge 13-0 win over Toronto on Sunday afternoon. The team jumped all over last seasons NL Cy Young winner, R.A. Dickey with 5 runs in the first inning and the runs snowballed from there. While it is fantastic for the team to play this well together it makes my job to pick 3 stars of the game very difficult...
Will Middlebrooks hit three home runs, two off NL CY Young Award winner R.A. Dickey, and the Boston Red Sox routed the Toronto Blue Jays 13-0 Sunday. Middlebrooks went 4 for 5 with four RBIs. He hit two home runs off Dickey, a two-run shot to right in the first inning and a solo drive into the second deck in left in the fifth. He connected again off Dave Bush with a leadoff longball...
Welcome to the first edition of Triple Play, a new weekly column in 2013 that combines three features from last season (Who's Hot/Who's Not, Playing the Name Game and Random Thoughts). Look for this column on Mondays or Tuesdays throughout the season. Off we go: Who's Hot: Dexter Fowler, Colorado Rockies While Chris Davis and Justin Upton have gotten tons of headlines –...
The First Pitch: Fantasy baseball sage Paul Sporer sums up today quite well: Aces looking more like Jokers today! #nailedit — Paul Sporer (@sporer) April 8, 2013 Sunday was a day of Aces performing anything like Aces. Boston 13 Toronto 0 Ace on his face: R.A. Dickey 4 2/3 IP 10 hits, 8 runs, 7 earned, 2 walks, and 5 Ks. Some might ask, how long has this been going on? Five hitters...
Baseballs must've looked like this to some of the game's best pitchers last Sunday. If you had bet that the majority of aces would bust last Sunday, you'd be very rich right now. To wit: Cole Hamels – Phillies – 5 2/3 innings vs. Kansas City Royals, 8 earned runs, 9 hits, 4 walks, 2 strikeouts. After two starts, Hamels is 0-2 with an ERA of 10.79 R.A. Dickey – Blue...
MLB News

Delivered to your inbox

You'll also receive Yardbarker's daily Top 10, featuring the best sports stories from around the web. Customize your newsletter to get articles on your favorite sports and teams. And the best part? It's free!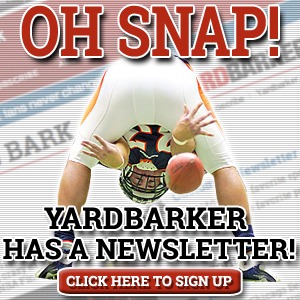 Latest Rumors
Best of Yardbarker

Today's Best Stuff

For Bloggers

Join the Yardbarker Network for more promotion, traffic, and money.

Company Info

Help

What is Yardbarker?

Yardbarker is the largest network of sports blogs and pro athlete blogs on the web. This site is the hub of the Yardbarker Network, where our editors and algorithms curate the best sports content from our network and beyond.