Found January 23, 2013 on Waiting For Next Year:
PLAYERS:
Travis Hafner
,
Alex Rodriguez
,
Luke Scott
,
Mike Aviles
,
Asdrubal Cabrera
,
Terry Francona
,
Jason Kipnis
,
Lonnie Chisenhall
,
Jim Thome
,
Mark Reynolds
,
Drew Stubbs
,
Casey Kotchman
TEAMS:
Cleveland Indians
,
New York Yankees
,
Tampa Bay Rays
,
Baltimore Orioles
Here's a piece I never thought I would be writing again, let alone in 2013. With Indians roster all but set, there is still one spot that is wide open as we sit here on January 23rd. Designated Hitter. For years, the Indians have had the position held down with a big bat who plopped themselves in the spot and didn't move. From Eddie Murray in 1995, to David Justice in 1997, to Ellis Burks in 2001, to Travis Hafner in 2004 all the way through 2012, the Tribe has been set in that spot in the way the position was originally designed. When you think of the DH spot, the poster boys of the last 20 years have been Seattle's Edgar Martinez and Boston's David Ortiz. These are two fringe Hall of Famer who consistently hit in the middle of their respective lineups, came up with big hits time after time, and couldn't play the field (though Ortiz moonlights during interleague play as a first baseman). As you can see by the list above, the Indians have stayed the course with the DH spot. If the season started today, there would be a shift in that organization's view of the role. In essence, there has been a change in the view throughout the American League. Many teams are now moving to a "DH by committee" spot, allowing regulars to take turns in the spot to rest their legs, while keeping their bats in the lineup. The Yankees did it a lot with Alex Rodriguez last season as he recovered from his various ailments. Notorious forward-thinker Joe Madden used a plethora of DH options last year, with a regular left-handed all-hit, no-field guy in Luke Scott mixed in for just over half the season. Really, the DH role and bench spots these days are all about versatility. Without another free agent signing, the Indians will enter the season with a combination of players who will get shots. Mike Aviles, acquired from Toronto in early November was brought in to be a super utility man who can play second, short, and third with a little outfield mixed in if need be. I thought the idea of adding Aviles was to be as a stopgap if the Tribe decided to trade shortstop Asdrubal Cabrera, but it looks as though AC will be staying right where he is. Manager Terry Francona told us Aviles is here to play. So he will be doing quite a bit of rotating all over the diamond. Second baseman Jason Kipnis, Asdrubal, and third baseman Lonnie Chisenhall will all be able to take advantage of their rest days. As we know, Kipnis and Cabrera wore down in the second half of 2012. Francona has a great option to keep his infielders fresh. Reports have circulated over the last few weeks that the Indians are still looking for another bat. This morning CBS Sports's Jon Heyman said are eyeing a couple of old-friends should they decided that they want a regular DH: Jim Thome and Travis Hafner are two of the ex-Indians being considered, among other free agents. There has been a hint of buzz about a possible Manny Ramirez reunion, but the ex-Indians great who is tearing it up on the winter league playoffs is not a consideration at this point, one person familiar with the Indians' thinking said. First off, you can forget the Manny thing. He has burned every single Major League bridge he had left. Nobody is going to take a shot on him. After last year's debacle in Oakland, it doesnt matter what he does in a winter league. That cheater has played his last game in the bigs. This brings us to Thome and Hafner. I have been staunchly on record against bringing back Hafner, even at a reduced rate. The Indians need to move away from the idea of Pronk. Let me repeat what I said two weeks ago: We've seen that movie 1,000 times. Having Hafner clogging up a roster spot when he can do nothing but hit against right-handed pitching when he actually stays healthy, makes zero sense. The guy hasn't played more than 118 games in a season in six years. I know, the other side will say "what if he can stay healthy?" What's the point of revisiting? If the guy is still available at this point, there is a reason. I just do not want to revisit the whole Pronk thing again. As for Thome, there is still a faction of people in this town that haven't forgiven him for how he left for Philadelphia over a decade ago. I think he put that all to rest in August 2011 when he made his triumphant return to Cleveland. I will be the first to tell you I am an unabashed Thome fan and supporter. Some people here called him a liar, I called him a realist. Never once did I blame him for taking the money and a chance to win in Philly. At the time, the Indians were starting a long rebuild and signing Thome to a anchor-type contract would have been a mistake. There is no nicer man in the game than Gentleman Jim, my favorite athlete of all time. if you want a greater detailed version of my Thome defense, click here. This is a snipit. Good friends of ours lost a daughter 13 years ago to Cystic Fibrosis at age 17. She struggled with her illness for years and was in and out of the hospital. Now I didn't know them at that time. So one day I'm telling them a story about when my late father threw out the first pitch on his 60th birthday at Jacobs Field and how Thome was so nice to him talking before the game. They began to tell me how big Jim used to show up unannounced regularly to come and visit their daughter at the hospital and she didn't even know who he was when he first arrived. They said he would sit with her for an hour or more, just talking. Never with reporters, never with cameras, he would just show up on his own accord. He did this all summer long. My friends to this day say they have the utmost respect for him because he didn't need to go to the hospital to visit her, he did because he wanted to. He'd come in quietly and leave quietly. All class. That is what Gentleman Jim is all about. With all of that said, I just don't think that a third go-round with a now 42 year old Thome is a good idea. Sure, he could be regular DH against right-handed pitching. Over the last three years, Big Jim had a line of .276/.395/.937 in 526 ABs against righties. He still has the power, but like additions Mark Reynolds and Drew Stubbs, Thome is a whiff machine. He is zero speed and offers zero versatility. I'd be a complete hypocrite if I was so vehemently against re-signing Hafner but wanted Thome back in the Wahoo Red, White, and Blue. If the Indians are dead set on adding an aging free agent bat, why not bring back Casey Kotchman for another year and move Mark Reynolds to DH a few times a week? Did I just say that out loud? OK, so Kotchman's bat leave a lot to be desired (.229/.280/.612), but the guy is the best defensive first baseman this city has seen in decades. I think he would add more value a few times a week in the field than Hafner or Thome would, considering neither of them can stay healthy. I am for sticking with the Aviles rotation plan while giving a kid like Rule V draftee Chris McGuiness a shot. It should be interesting to see how it all plays out. Commenters letting me have it on my Kotchman take in 3…..2…..1….. (photo via Joshua Gunter/ The Plain Dealer)
Original Story:
http://www.waitingfornextyear.com/201...
THE BACKYARD
BEST OF MAXIM
RELATED ARTICLES
With about three weeks left until spring training one of the more interesting battles to watch will be the backup catcher position. For the last three years that's a role that has been held by Lou Marson, but after the November trade that brought Yan Gomes into the fold it's clear that the Indians intend to create competition for the job this spring. Michael Goodman breaks down...
The Cleveland Indians are in the market for a designated hitter, and they are considering a reunion with two former players, Travis Hafner and Jim Thome, according to Jon Heyman of CBS Sports. The Indians are looking to add a hitter, have a few bucks to spend (but not too many bucks) and are considering a reunion with several former longtime Indians. The Indians...
The IBI's Steve Orbanek returns with this week's edition of Then & Now, which looks at left-handed pitcher Scott Barnes. Barnes made his debut with the Indians last season and left a favorable impression, but what does the future hold? Last season, Barnes was a reliever, but could he possibly again be positioned to be a starter? Steve ponders after the jump.
The IBI's 2013 Indians Top 60 Prospect countdown continues on with first baseman Mike McDade. The Indians picked up McDade this offseason in a waiver claim from the Blue Jays, and he is in the mix to make the big league roster this spring as a power bat off the bench or will serve as depth in Triple-A. Tony gives you 411 on the new Indians prospect and what kind of hitter and...
Today the Cleveland Indians announced that they have extended non-roster invitations to Major League spring training camp to first baseman Jesus Aguilar, right-handed pitcher Matt Langwell, right-handed pitcher Preston Guilmet, catcher Roberto Perez, and left-handed pitcher Giovanni Soto.
Terry Francona, Cleveland Indians manager, joins Matt this week to talk about his new job and why he is excited to get to work. He also discusses his alma mater, Arizona, winning a national championship in baseball last season, offers thoughts on the Baseball Hall of Fame and insight into his philosophy of using sabermetrics. Plus, hear all about his new book that chronicles his...
There's no flash when it comes to Nick Swisher's numbers; he's a 25-homer, 90-RBI guy who will contribute a ton in OBP leagues (career 13.3 BB%). If you're looking to maximize Swisher's skills then look no further than his L/R splits. Against right-handed pitching Swisher has a career 0.48 BB:K rate while it's a nice 1.08 rate against lefties. However, where his plate...
The Indians turn the corner from Tribe Fest and head through the final three weeks of the offseason with a few questions yet to answer. With a time-share likely at DH with the current roster, can their numbers improve? Are there just too many questions with regards to Ubaldo Jimenez and the starting rotation for the Tribe to succeed? Jim Pete tackles these, as well as Kipnis, Chisenhall...
The winter ball season continued to wind its way to an end Thursday night, with fewer and fewer Cleveland players still participating in the games. Luckily for you, the reader, there is still plenty to write about, like Ezequiel Carrera in Venezuela and Quincy Latimore and company in Australia. Plus, this leaves us some freedom to look at the ghosts of prospect past popping up around...
Large crowds descended upon Progressive Field this past week for the inaugural Tribe Fest, and it turned out to be a rousing success. The Indians appear to be getting everything right this offseason with their trades, free agent signings, manager and coach hires, and now a great fan friendly event. What momentum the organization has built going into the 2013 season, and Jake Dungan...
It is one of the biggest questions leading into spring training for the Indians: who should lead off? With the departure of Shin-Soo Choo in a trade, the Indians lost their best lead off option, and the IBI's Jeff Ellis breaks down all the schools of thought with regard to what kind of player should hit lead off before finally settling on an obvious solution to this question.
MLB News

Delivered to your inbox

You'll also receive Yardbarker's daily Top 10, featuring the best sports stories from around the web. Customize your newsletter to get articles on your favorite sports and teams. And the best part? It's free!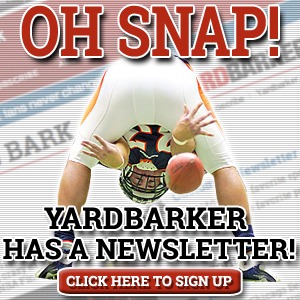 Latest Rumors
Best of Yardbarker

Today's Best Stuff

For Bloggers

Join the Yardbarker Network for more promotion, traffic, and money.

Company Info

Help

What is Yardbarker?

Yardbarker is the largest network of sports blogs and pro athlete blogs on the web. This site is the hub of the Yardbarker Network, where our editors and algorithms curate the best sports content from our network and beyond.