Found March 06, 2013 on Grab Some Bench:
The White Sox and Chris Sale have recently talked contract extension for the 23-year-old lefty.  The question has been asked whether or not it makes sense for the Sox to extend the young ace now, or wait a little bit. The earliest that Sale could become a free agent is 2017, so the Sox have him under team control for the near future.  However, Sale will become arbitration eligible after the 2013 season and at that point will be looking for a pretty healthy raise over his current salary of 600K, that is assuming he has another year similar to last season. Here are both Luke's and my thoughts on the situation ... Editor, Matt Hoeppner's Thoughts Arbitration can get messy, especially when the two sides are drastically apart in numbers.  This will be the last season that Chris Sale will come relatively cheap to the White Sox so it makes sense that they are talking extension.  In a world where the top 5 highest paid pitchers in the game are all making over $20 million per year, locking up a pitcher of Sale's quality and potential at a young age sounds like a good idea.  He's only 23, has only pitched 286 career innings and flawlessly stepped into the rotation last year and was the White Sox best pitcher.  There is no reason to assume that he won't continue to develop and get better. If you can lock him up to a mid-range contract for a few years with maybe a club option for another year that you could get him overall a little cheaper than what it would cost to go to arbitration for several years.  You also avoid the ill-will that often comes out of multiple trips to arbitration.  Sale has to be a major piece of the puzzle for the future, treat him like one. Editor, Luke Stanczyk's Thoughts I do not think that trying to lock-up Chris Sale long term is a wise decision right now. While Sale had a fantastic first season as a starter and looks like he has the talent and mentality of an ace, giving a guy a long-term deal after just one season is too big of a risk to take. I understand the thought process: Rick Hahn and Co. want to lock Sale up now to give themselves a bit of a bargain, as with the more success Sale has, the larger contract he will demand. However, we are talking about a guy who isn't arbitration eligible for the first time until 2014 and is under team control until 2017. Given that, what's the rush? Let him pitch through 2013, and if doesn't tail off or suffer any serious injuries, then work out a contract that allows him to avoid arbitration and allows you to keep him past 2017 when he's free agency eligible. That's a win-win for both sides, and by that time, the Sox will be sure if Sale is that long-term ace. What do you think? Comment below with your thoughts, or tweet them to @GRAB_SOME_BENCH!
Original Story:
http://www.grabsomebench.com/2013/mar...
THE BACKYARD
BEST OF MAXIM
RELATED ARTICLES
From the esteemed Dan Hayes of CSN Chicago: White Sox pitcher Chris Sale confirmed Tuesday his representatives have had discussions with the club about a contract extension. (snip) "We've been kind of back and forth but nothing too crazy right now," Sale said Tuesday when asked about extension talks. Think of the headline potential. "Sale Extended: Now Through 2018!" That...
The White Sox are always a peculiar team to me.  They rarely come into a season with fanfare, but seem to ride a mix of veterans and mildly known young guys to a good enough record to not be horrible, but also not make the playoffs.  the last time they made the playoffs was 2008 and since they've finished either 2nd or 3rd in the AL Central.  How long can the White Sox continue...
The U.S. team played to a 4-4 tie with the Chicago White Sox on Tuesday in the first of its two exhibition games leading up to the start of the World Baseball Classic. It was still a losing afternoon for the Americans. First baseman Mark Teixeira will miss the tournament after straining his right forearm while swinging in the batting cage before the game. Yankees manager Joe Girardi...
WHITE SOX 8, CUBS 3 MESA, Ariz. -- Paul Konerko hit two home runs and Adam Dunn added a two-run shot as the Chicago White Sox beat the Chicago Cubs 8-3 Thursday. Dunn and Konerko hit consecutive homers in the sixth inning. They also added singles and Gordon Beckham had a RBI double. White Sox starter Jose Quintana allowed one earned run and two hits in 3 2-3 innings. He struck...
The only thing consistent from year-to-year with Alex Rios is his inconsistency. In the last four years he's had batting averages in the .240s, .260s, .280s, and .300s. I mean, seriously, it doesn't get less consistent than that. In the last three years he's had stolen base totals of 34 (career high), 11 (career low), and 23 (just right), and don't even get me started on...
Last season, when Dayan Viciedo wasn't on one of his torrid hot streaks, there was a lot of criticism aimed at the 23 year-old Cuban outfielder. Many grew tired of his lack of plate discipline - especially in situations when the White Sox needed a smart at bat, if you will. But I'm here to remind you why we, as White Sox fans and even analysts, should not take "the...
Who do you think is the slowest player in major league baseball? No fair guessing Bartolo Colon. Allow me to re-phrase. Who do you think is the slowest position player in major league baseball? You probably have a few names floating around in your mind. Many of them are probably catchers. I can tell you I don't know if I've ever seen a worse runner than Jesus Montero. Montero...
  The White Sox unveiled the 2013 marketing campaign – "Make an Impact." This follows in the footsteps of "Appreciate the Game," which came after "All in." The sequence of these campaigns is interesting. After an abysmal 2011 season, we were "ALL IN" on getting rid of Ozzie. I don't know about you all, but I most certainly appreciated...
White Sox News

Delivered to your inbox

You'll also receive Yardbarker's daily Top 10, featuring the best sports stories from around the web. Customize your newsletter to get articles on your favorite sports and teams. And the best part? It's free!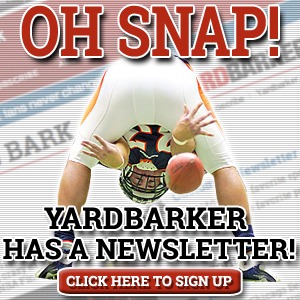 Latest Rumors
Best of Yardbarker

Today's Best Stuff

For Bloggers

Join the Yardbarker Network for more promotion, traffic, and money.

Company Info

Help

What is Yardbarker?

Yardbarker is the largest network of sports blogs and pro athlete blogs on the web. This site is the hub of the Yardbarker Network, where our editors and algorithms curate the best sports content from our network and beyond.