Found April 17, 2013 on Fox Sports South:
PLAYERS:
Wade Davis
,
Cliff Lee
,
Chris Johnson
,
Juan Francisco
,
Fredi Gonzalez
,
Dan Uggla
,
Jason Heyward
,
Brian McCann
,
BJ Upton
,
Mike Minor
,
Kris Medlen
,
Paul Maholm
,
Tim Hudson
,
Jeff Francoeur
TEAMS:
Kansas City Royals
,
Philadelphia Phillies
,
Atlanta Braves
ATLANTA The Royals ended the Braves' 10-game winning streak in anticlimactic fashion Wednesday afternoon, blanking Atlanta 1-0 at Turner Field. Here are three observations from the game: 1. Wade Davis joins a short list Wade, meet Cliff Lee. Cliff, meet Wade. For just the second time this season, an opposing pitcher took the mound and beat the Braves. Both instances came via shutouts. The first time came during the opening series against the Phillies, where Lee, who could not buy a victory despite pitching well last season, opened his 2013 campaign with an eight-inning silencing of one of baseball's most dynamic offenses. The Phillies won the game, 2-0. Davis was similarly dominant. Going against an offense he watched hit five home runs just 14 hours prior, Davis worked through seven scoreless innings. He struck out seven batters and walked none. The Braves legitimately challenged his unblemished scoreboard only once, as a Chris Johnson double into shallow right field gave Atlanta's third base coach Brian Snitker enough reason to send Juan Francisco chugging home. He was thrown out by, at the very least, three feet. Inning over. Braves manager Fredi Gonzalez said after the game that he liked Snitker's aggressive decision there, given Davis' performance up to that point. The Braves hitters, notably Dan Uggla and Jason Heyward, were visibly frustrated with home plate umpire Doug Eddings' strike zone video replay appeared to confirm the players' assessment that it was too wide for two strikeout calls but Gonzalez again did not second guess. "You know what? It is what it is. Doug is one of the better umpires in the major leagues," Gonzalez said. "I think in any given game, especially a one-run game, you're going to get a little frustrated with the strike zone. Other than that, we had some opportunities ... we just couldn't get good swings today." The quick takeaway from Davis' outing, though, is that there are occasionally going to be these types of games for this Braves offense. After all, possessing one of the league's top strikeout rates has a way of ending rallies at times. But Gonzalez and his staff knew that going in. This is the price the team is willing to pay, and it has bought it baseball's best start and an early four-game lead in the NL East race. When their powerful bats are not on not to mention Freddie Freeman and Brian McCann being on the DL as well as Jason Heyward, B.J. Upton and Dan Uggla all hitting sub-.200 shutouts are a possibility. Luckily, the Braves have a strong pitching staff to accompany their batters. Speaking of which 2. Mike Minor is starting to look like a bona fide ace To preface this observation of the Braves' young and heretofore dominant left-hander, let me say that four-fifths and the team's rotation Minor, Kris Medlen, Paul Maholm and Tim Hudson is pitching at or near an All-Star level, reminiscent in some regards to Atlanta's rotations from the franchise's glory days. That is not statistically supposed to happen. Not impossible, but certainly improbable. However, barring Maholm's career-best start (3-0, 0.00 ERA), which has placed him among the league's elite starters early on, Minor is pitching on a higher plane than any of his teammates. Though he went just six innings against the Royals, his pitch count had reached 88 and the offense was nonexistent. Unlike his first two starts where he received 11 runs in support, he received none Wednesday afternoon. All the same, he kept the Braves competitive. He allowed just one earned run while striking out five. He did not walk a Kansas City batter and still has walked just one hitter all season, one of the lowest walk rates in the majors. "It was kinda weird because I felt like when I gave up that run it wasn't stupid, but it was just a bad pitch," said Minor, who is now 2-1 with a 0.95 ERA. "I was kinda pissed off. I knew it was going to be a close game just by the way the game was progressing. We weren't really getting a lot of hard-hit balls; we weren't really hitting very well. His bullpen also delivered three shutout innings. The team's ERA is now down to 1.77 after its seventh game allowing one run or fewer. As has been repeated multiple times here, the Braves' offense is very good and has been fun to watch. But it is the pitching staff thus far, the best group in baseball that has truly triggered this overwhelming start to the season. Atlanta lost for just the second time in 2013 Wednesday, but it wasn't due to bad pitching. Mike Minor may be frustrated over one of the 88 pitches he threw to blue-clad hitters Wednesday, but he and his staff continued to roll. 3. Jeff Francoeur dislikes streaks, apparently Not to sound mean-spirited or dig up old news, but Francoeur seems to dislikes streaks involving the Braves organization. Keep in mind, Francoeur came back to Earth during the 2006 season in Atlanta this after a memorable rookie season that saw him bat .300 and hit 14 home runs in 70 games the same year the team went 79-83 to end its record-setting 14 straight division titles. Including the 2006 season, the Braves would not make the playoffs again until 2010, and by then Francoeur was long gone. In many ways, his legacy is, perhaps unfairly to some extent, tied back to that era. He was a major piece on that roster and considered the franchise's future star, but it never panned out for either party. On Wednesday, coming off a 2-for-4 night just hours earlier, Francoeur helped end the Braves' 10-game winning streak by driving in the games only run. "I think he had a pretty good series against us, defensively and offensively" Gonzalez said of Francoeur. The 29-year-old right fielder is now hitting .255 with two home runs and 10 RBI in 27 career games against his first club.
Original Story:
http://www.foxsportssouth.com/mlb/atl...
THE BACKYARD
BEST OF MAXIM
RELATED ARTICLES
by John Viril— In his last two starts, Wade Davis showed he has learned how to strike out batters during his year in the bullpen. Wednesday's 7 shutout innings with 7 strikeouts against the red-hot Atlanta Braves is ample evidence of his development. Davis's dominance was the key factor in breaking Atlanta's major-league leading 10-game win streak in a 1-0 Kansas City victory...
So you probably heard about the Atlanta Braves second loss of the season yesterday, a 1-0 defeat in Atlanta at the hands of mighty Wade Davis and the Royals. In actuality, this win was gifted to Davis by none other than the most pitcher-friendly son of a ***** in on earth. That's right, when this asshole is behind home plate; a pitcher is sure to get healthy in a hurry. He has...
Philadelphia Phillies (6-6) at Cincinnati Reds (5-7) Cliff Lee (2-0, 1.08) vs. Bronson Arroyo (1-1, 5.25) Time: 7:10 pm, Great American Ballpark TV: ESPN, PHL 17 Weather: Partly Cloudy, 68 Media: Twitter and Facebook First, let us send out thoughts and prayers to the people who may have been affected by the heinous bombings at the Boston Marathon. We certainly hope that if you have...
The Phillies are coming off of their second-straight series win of the year after the Roy Halladay of old returned against the Marlins yesterday. The Good Doctor threw 8 strong innings, allowing an earned run on five hits while walking one and striking out two to notch his 200th career...
Phillies (6-9) at St. Louis Cardinals (8-6)Matchups: Thursday - 7:10 - Cole Hamels v. Adam WainwrightFriday - 7:10 - Oh No, It's Roy v. Jaime GarciaSaturday - 7:10 - Cliff Lee v. Lance LynnSunday - 8:10 - Oh No, It's KK v. Jake Westbrook (For our "out of market" friends, note that tonight's game is on the MLB network and the finale Sunday will be on ESPN.)  Pitching...
It is hard to believe that the MLB season is already 10% over, but baseball is a long grind and there is a long long way to go. After 1/10 of the season, what do we know and what don't we know about the 2013 Philadelphia Phillies? Lets start with what we know. Cole Hamels and Cliff Lee both look poised to have big seasons. While Cole struggled his first few times out, his stuff...
Remember that collapsed deal in mid-2010, when we almost traded Jesus Montero to Seattle for Cliff Lee? It died because a promising Yankee 2B prospect  named David Adams had broken his ankle - not sprained it, as originally believed, and the Mariners pulled out. (Also, I think their fan base rebelled against the deal when it was made public; they didn't want to help the hated...
MLB News

Delivered to your inbox

You'll also receive Yardbarker's daily Top 10, featuring the best sports stories from around the web. Customize your newsletter to get articles on your favorite sports and teams. And the best part? It's free!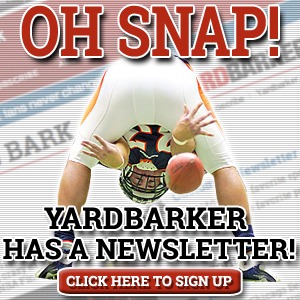 Latest Rumors
The Backyard

Today's Best Stuff

For Bloggers

Join the Yardbarker Network for more promotion, traffic, and money.

Company Info

Help

What is Yardbarker?

Yardbarker is the largest network of sports blogs and pro athlete blogs on the web. This site is the hub of the Yardbarker Network, where our editors and algorithms curate the best sports content from our network and beyond.