Via Larry Brown Sports:
Three girls who all appear to be related ran onto the field at the College World Series on Tuesday night, recorded themselves doing it on video, and talked about it before and after on Twitter. Let me just tell you this: these girls tweeted some gems.
So here's the setup. The girls in question are Kayleigh Hill, Emily Hill, and Torrie Hill, and they're from Omaha, Nebraska. They were at the final game of the CWS, which UCLA won 8-0 over Mississippi State to win their first title in school history.
Early in the game, Kayleigh Hill first told the Twitter world that the three would run onto the field if they could raise enough money to cover the fine:
If everyone chips in to the $1500 fine between me Emily and torrie, we will run on the field. Guys I actually really wanna

— Kayleigh Hill (@gonedownHILL) June 26, 2013
Then, during the sixth inning, two of the Hill girls announced their plans on Twitter to run out onto the field:
2nd out we goin

— Kayleigh Hill (@gonedownHILL) June 26, 2013
End of the 6th, kayleigh torrie and I are running on the field. Watch for us

— Emily Hill (@mothafukaimhILL) June 26, 2013
This ones for you bowk

— Kayleigh Hill (@gonedownHILL) June 26, 2013
They went through with the plan, and Kayleigh was crazy enough to selfie-record the whole thing on Vine and post it to her Twitter, though she later deleted it.
So how did that all work? Did she edit that video and post it while in jail?
Torrie says she got off because she's a minor, but the other two were detained.
And then here's the tweet of the millennium:
I hope the guy that tackled me follows me. Shawty you was fiiiiiiine

— Emily Hill (@mothafukaimhILL) June 26, 2013
Make an arrest and score a date? That would be a heck of a night for the security guard.
The girls and their friends even started a #freeteamhill movement on Twitter that seemed to catch on.
June 26, 2013
Well executed. I guess this is a perfect example of technology in 2013 working for you.
That was easily our favorite fan running onto the field story since this one.
MORE FROM YARDBARKER
MLB News

Delivered to your inbox

You'll also receive Yardbarker's daily Top 10, featuring the best sports stories from around the web. Customize your newsletter to get articles on your favorite sports and teams. And the best part? It's free!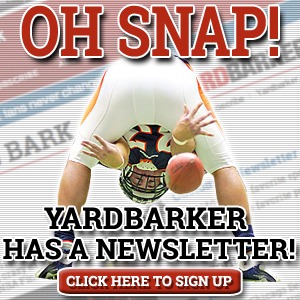 Latest Rumors
Best of Yardbarker

Today's Best Stuff

For Bloggers

Join the Yardbarker Network for more promotion, traffic, and money.

Company Info

Help

What is Yardbarker?

Yardbarker is the largest network of sports blogs and pro athlete blogs on the web. This site is the hub of the Yardbarker Network, where our editors and algorithms curate the best sports content from our network and beyond.