Three Up, Three Down: Chris Sale doing (bad) Chris Sale things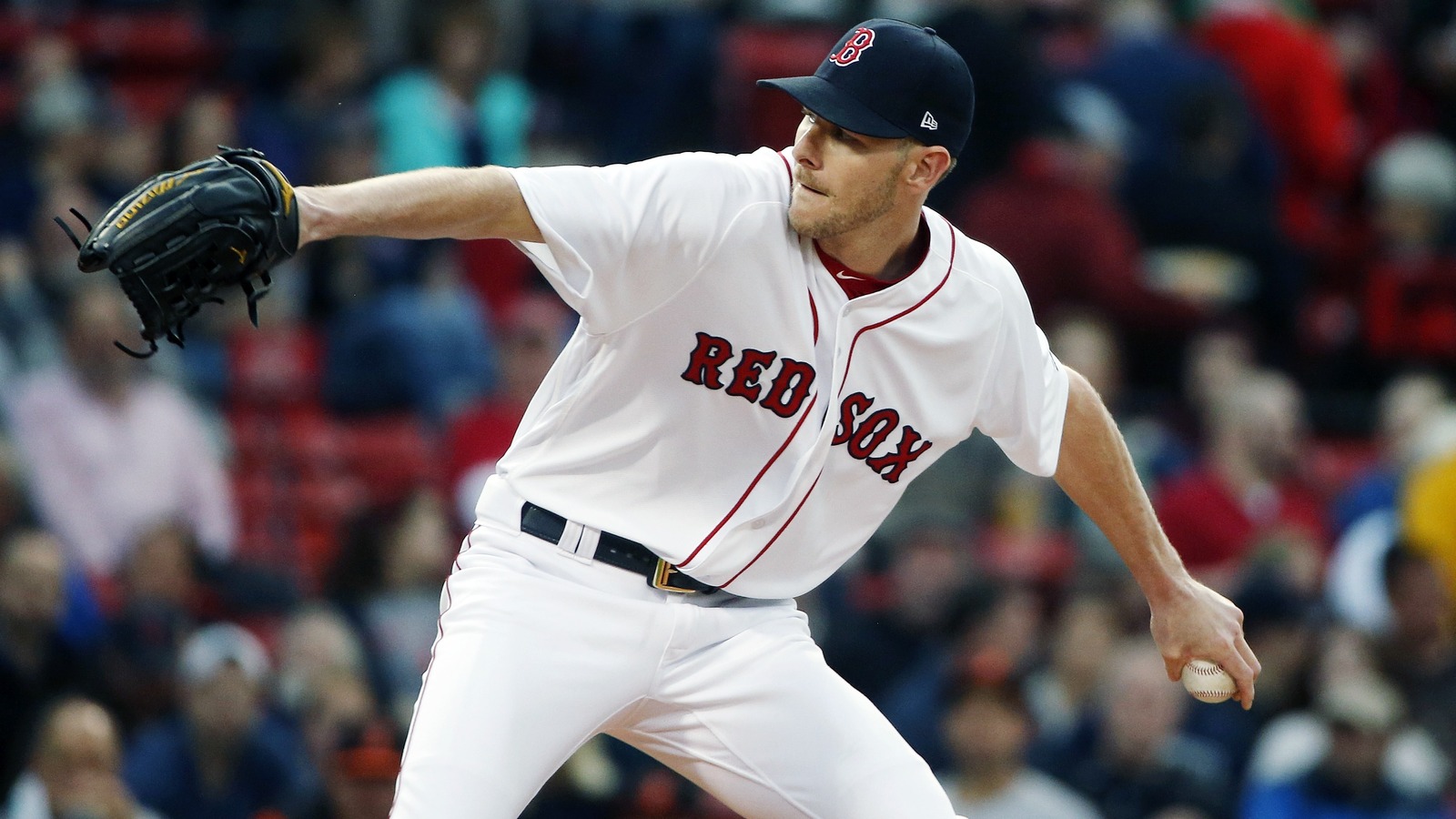 Boston Red Sox's Chris Sale pitches during the first inning of a baseball game against the Baltimore Orioles, Tuesday, May 2, 2017.
AP Photo/Michael Dwyer
Welcome to this week's edition of Three Up, Three Down — your weekly catch-up of the three best highlights (and lowlights) from around the league. We're here for all of the cheers and the jeers, because it's baseball. You can't have a winner without someone losing along the way.
This week, all continue to rise for a judge holding court, we marvel at someone good in D.C. (for once) and shake our heads at Boston (and Baltimore).

Up: Aaron Judge and where the ball goes
TV monitors in the Yankee Stadium concession stands are now being encased in Kevlar. This is obviously not true, but you could understand if the team did make immediate renovations thanks to the powerful rookie right fielder. Judge has been nothing short of remarkable in starting his first full season with the Yankees, mashing home runs at a rate not seen from a rookie in years.
Let's quickly surmise what he has done to start 2017: leads all of baseball in home runs, including Eric Thames and Ryan Zimmerman, youngest player to ever hit 13 homers through a team's first 26 games, halfway to breaking the franchise record for most home runs in a rookie season (Joe DiMaggio's 29 back in 1936), first Yankee to hit more than ten long balls in April since Alex Rodriguez did so in 2007…
You know what, let's stop to appreciate how nearly every one of Judge's homers find itself in left-, right- or dead center.
Down: Chris Sale fanned the flames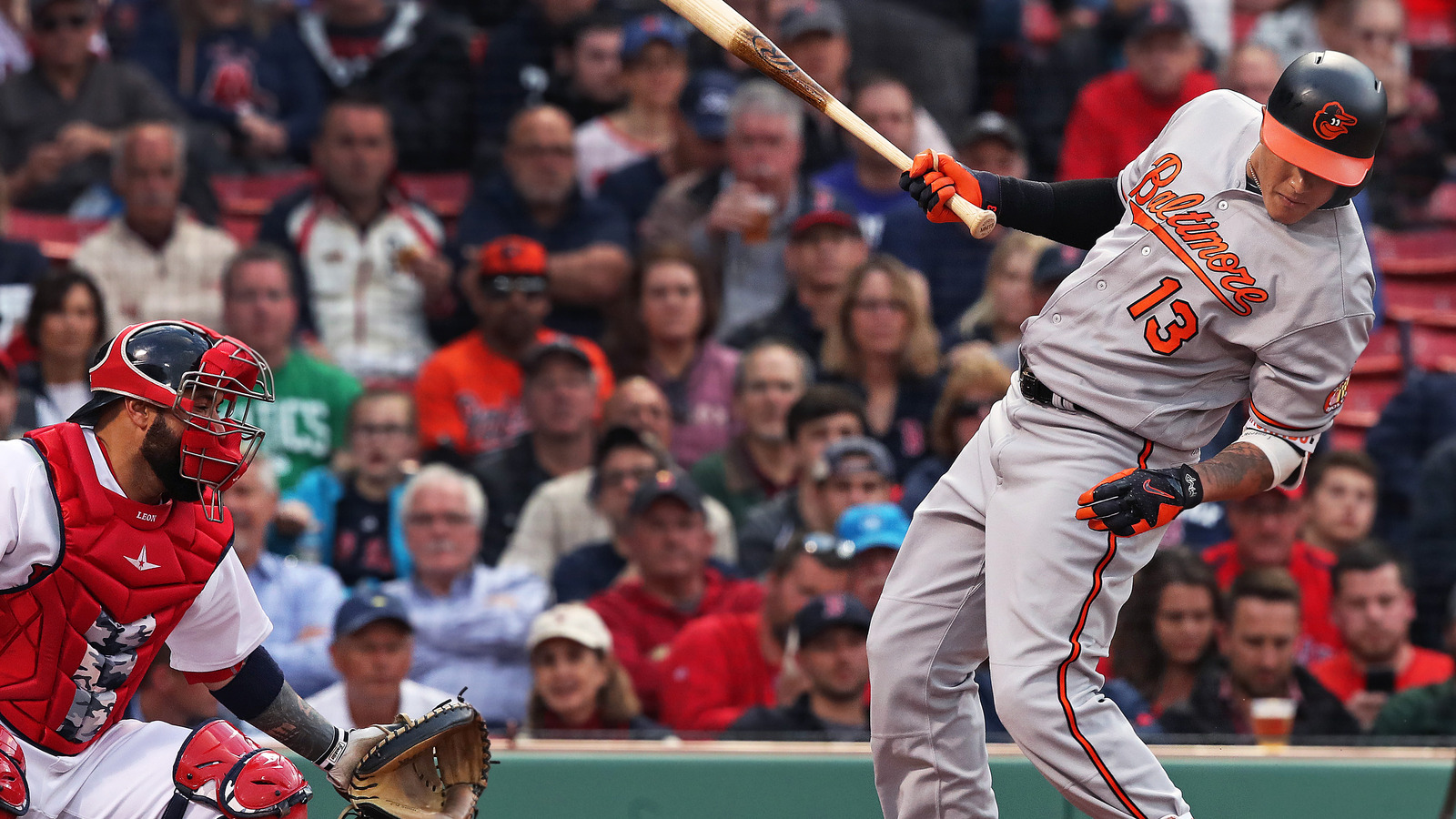 The Orioles' Manny Machado ducks out of the way of a top of the first inning pitch from Red Sox starter Chris Sale that prompted a warning to both teams by home plate umpire D.J. Reyburn on May 2, 2017. 
Jim Davis/The Boston Globe via Getty Images
Really, Chris? We're going to keep getting all in our feelings because of slow home run trots? In what had been a very contentious week-plus between the Red Sox and Orioles, Boston's ace threw behind Manny Machado after the Baltimore third baseman took his sweet time around the bases after a home run at Fenway Park on Monday night. (And the fun continued on Wednesday night. Way to let cooler heads prevail, everyone!)
Sale may be the best hurler in the American League, and on some level, his teammates may appreciate how much he honors the self-policing code within baseball. Yet, Sale didn't just impose himself into a situation that should have died down after Dustin Pedroia criticized fellow teammate Matt Barnes for his attempt at so-called justice. He did so almost immediately after fans gave Adam Jones a standing ovation because of an unfortunate racist incident the night before. Sometimes, you just wonder if the unwritten rules are less about the team and more about giving temperamental players an excuse to be jerks. If it would have kept him calm, maybe the Sox should have signed Drake LaRoche after trading for Sale.
Up: The Astros in the AL West standings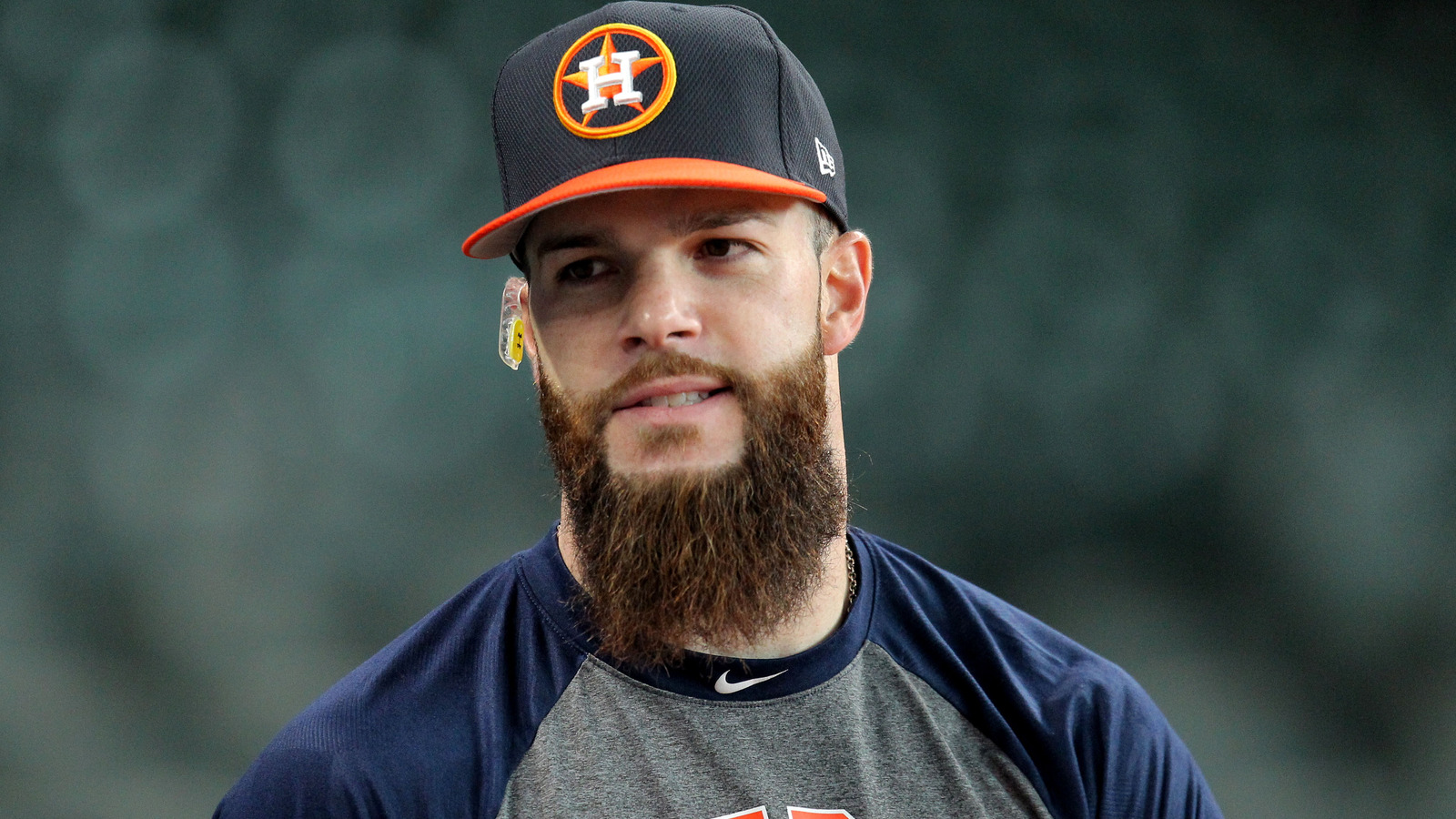 Houston Astros starting pitcher Dallas Keuchel prior to the game against the Texas Rangers at Minute Maid Park on May 3, 2017.
Erik Williams-USA TODAY Sports
The Houston Astros lead the division with their with a 19-10 record, with 12 of those wins coming from behind. It seems as if the swoon toward the end of 2016 felt like an aberration. The Astros are doing this with a very balanced offense: third in the AL in home runs, second in total runs, first in total hits and batting average, and second in several advanced metrics. And the pitching depth concerns that Houston had entering the season have been put at bay.
Dallas Keuchel has been flat-out incredible with a 5-0 start and 1.21 ERA to the season, but Lance McCullers and Charlie Morton have been racking up strikeouts to help Houston lead all of baseball in the category. Ken Giles has been holding down the fort as closer, and the bullpen has been lights out, especially reliever Chris Devenski. Thanks to better-than-expected pitching, Houston is doing laps around the AL West, and as the season goes on, the Astros look as if they will do the same to the rest of the Junior Circuit.
Down: The rest of the AL West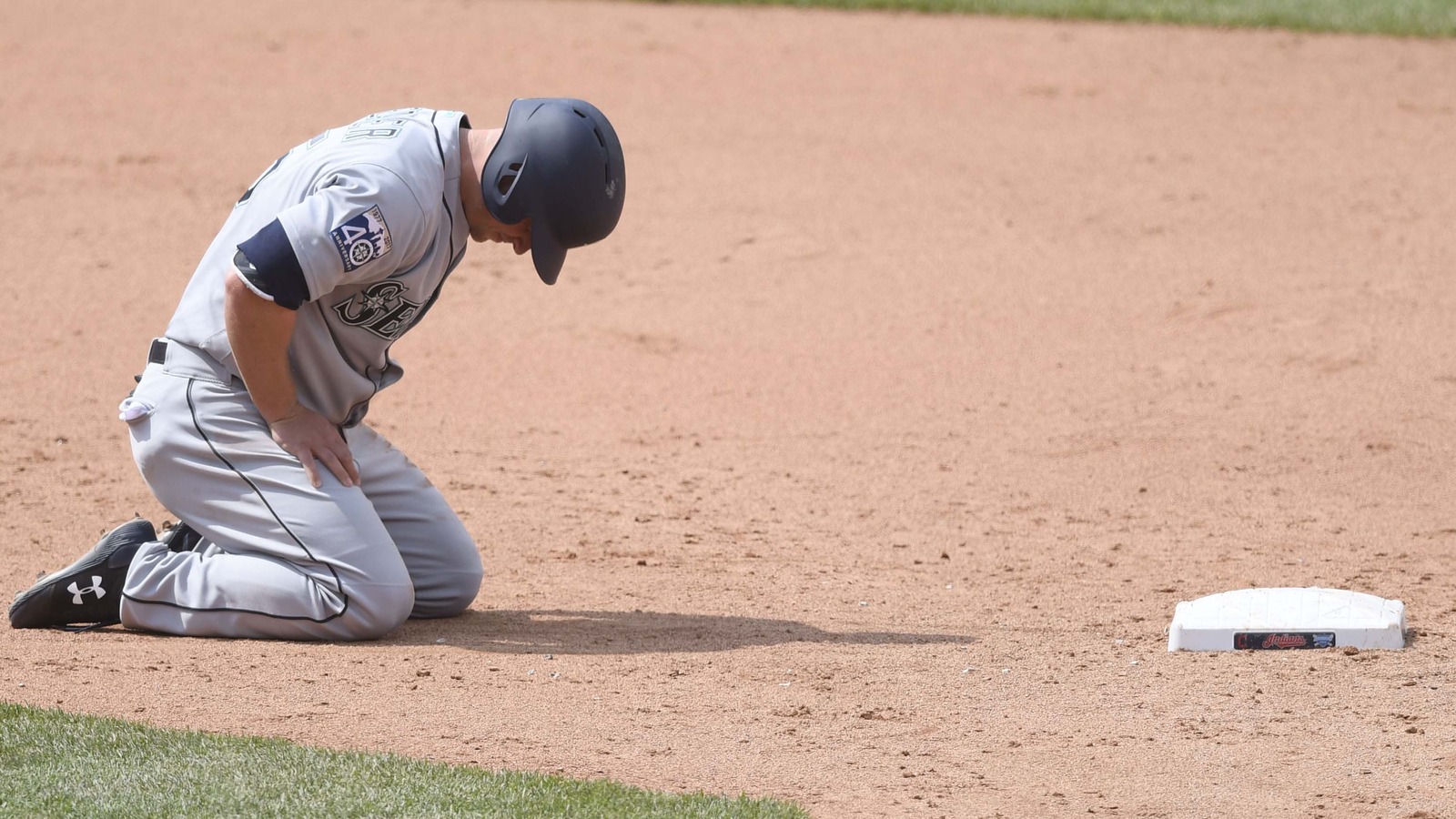 Seattle Mariners third baseman Kyle Seager reacts after he was doubled off second base in the sixth inning against the Cleveland Indians at Progressive Field on April 30, 2017.
David Richard-USA TODAY Sports
That the Los Angeles Mike Trouts of Anaheim are behind the Astros hovering around .500 is telling of how far Houston is versus the divisional field. As you can tell, it's not much better starting out of the gates for Seattle who can't seem to get it together when away from Safeco Field. The perpetually rebuilding Oakland A's follow, also with a poor road record and baseball's second fewest runs scored behind Kansas City. Bringing up the rear are the Texas Rangers, who seem to be snake-bitten with a combination of injuries and the rise of the Astros.
Houston is the best team in the AL West, but the rest of the group seems to be doing its usual falling short of competitiveness. Granted, the season is a few weeks old, and in the case of Texas and Anaheim (yep, Anaheim), they may be helped when some key players come off the disabled list in time. Yet while pennants and playoff positions aren't won in April or May, without some serendipity and better play, they could be totally lost.
Up: The resurrection of Ryan Zimmerman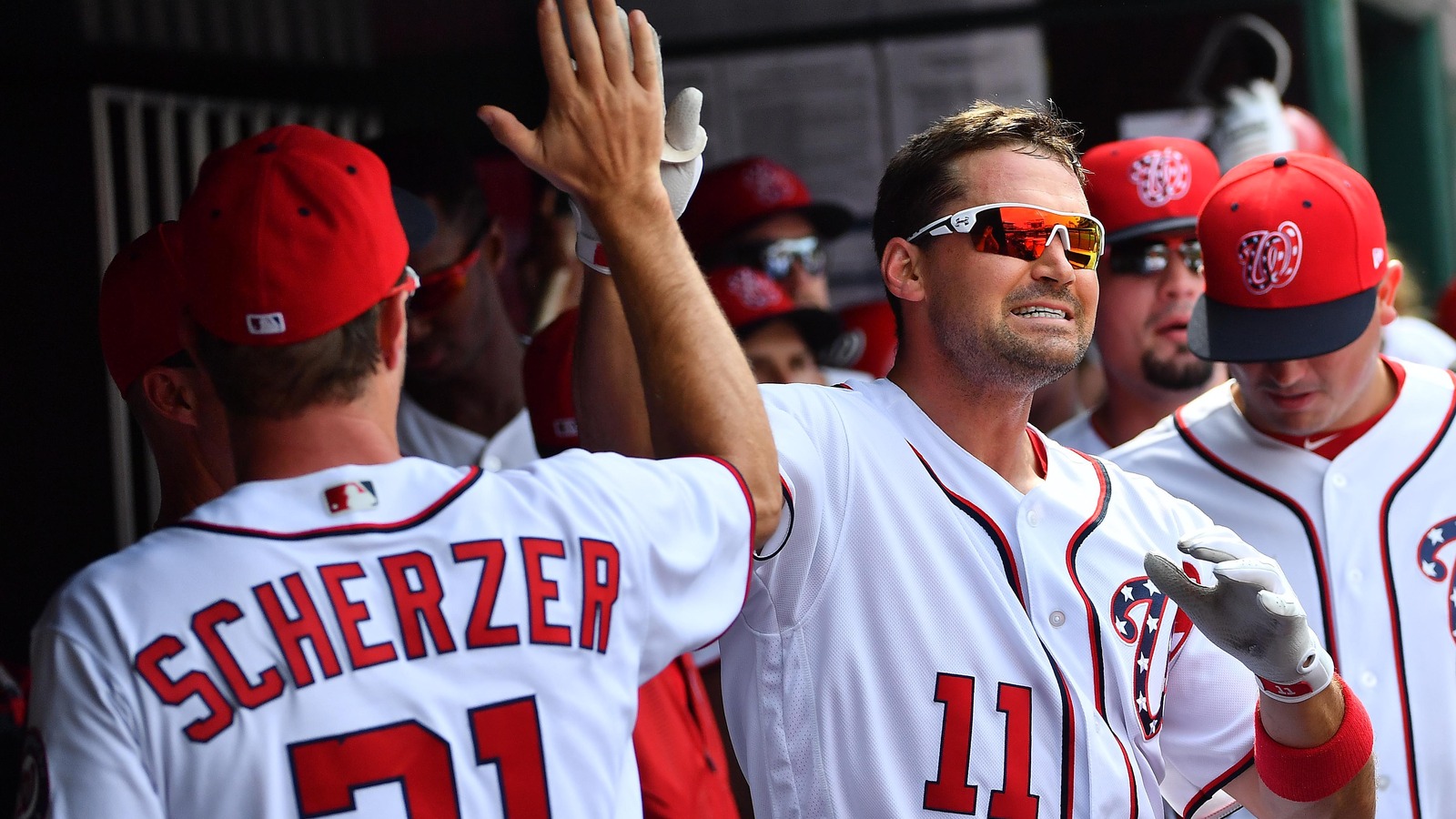 Apr 29, 2017; Washington, DC, USA; Washington Nationals first baseman Ryan Zimmerman (11) is congratulated by starting pitcher Max Scherzer (31) after hitting a solo home run against the New York Mets during the ninth inning at Nationals Park. Mandatory Credit: Brad Mills-USA TODAY Sports
USA TODAY Sports
Washington Nationals first baseman Ryan Zimmerman was named the NL Player of the Month in April and has kept the excellence going in May. His traditional stats are superb: leading all of baseball in batting average (.427), RBI (30), hits (41), total bases (84) and extra-base hits (25). But advance metrics have been equally has grand, as he's tops in slugging percentage, on-base plus slugging and offensive win percentage. He's also in the top five of several other advanced offensive categories.
Not enough has been said about a player once heralded as one of the game's best hitters rediscovering his old form. One can debate the impact of having strong hitters like Daniel Murphy and Bryce Harper have helped him find his groove, but there's no question that Zimmerman is feeling his physical best at first base after years of battling injuries at the hot corner. And really, even if hampered by said injuries, do great pure hitters ever forget how to put the ball in play?
Down: The end of "Baseball Tonight" as we know it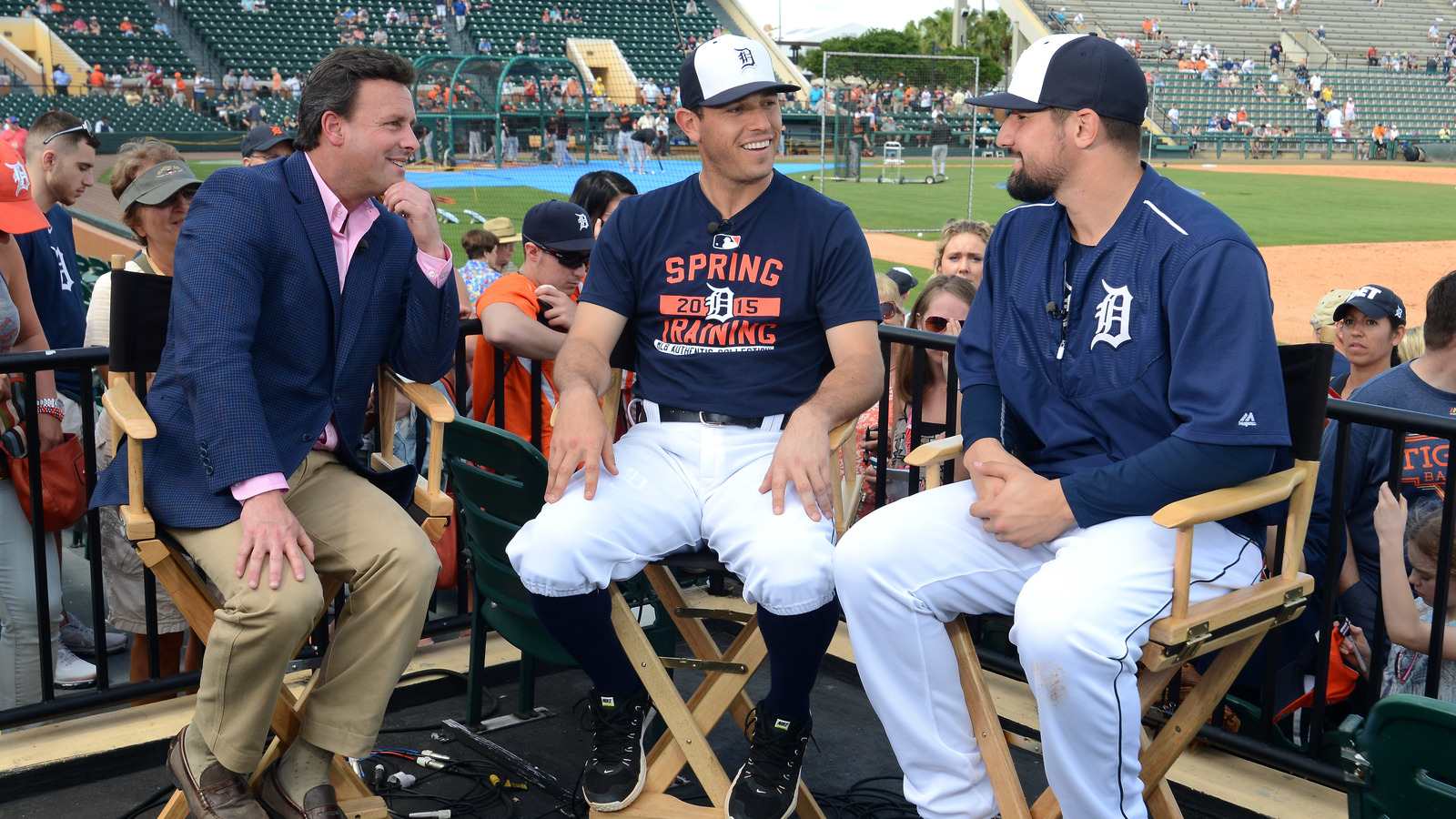 ESPN Baseball Tonight host Karl Ravech (L) interviews Ian Kinsler and Nick Castellanos prior a Spring Training game on March 3, 2015 in Lakeland, Florida. 
Mark Cunningham/MLB Photos via Getty Images
It's hard to avoid this week without mentioning the layoffs at ESPN, especially with how it affects baseball coverage. No matter how one may feel about the network, you cannot deny the impact of one of its longtime staple programs, "Baseball Tonight." It was the first nightly show where every team and every game would get attention on a national scale, even if a handful of teams and players would get more shine than others.
Unfortunately, for many years before the drastic changes at ESPN, the show's place in the eyes of fans had been diminished thanks to the growth of MLB Network, MLB's own online media platforms and the game's decline in national prominence. Now with a smaller group of analysts and being reduced to a weekly show prior to "Sunday Night Baseball," it'll be hard to reconcile the changes to one of the most important sports programs of all time. 
PLAYERS:
Chris Sale
,
Aaron Judge
,
Ryan Zimmerman
,
Joe Dimaggio
,
Alex Rodriguez
,
Manny Machado
,
Dustin Pedroia
,
Matt Barnes
,
Adam Jones
,
Dallas Keuchel
,
Lance McCullers
,
Charlie Morton
,
Ken Giles
,
Chris Devenski
,
Daniel Murphy
,
Bryce Harper
TEAMS:
Boston Red Sox
,
New York Yankees
,
Washington Nationals
,
Baltimore Orioles
,
Houston Astros
,
Texas Rangers
MORE FROM YARDBARKER:
QUIZ: Name the players in MLB's 30/30 Club
The 30/30 Club is an elite collective of MLB players who are both hard hitting and fast. Can you name the players in the MLB 30/30 Club - 30 home runs and 30 stolen bases in one season?
Clue given is the year in which the player accomplished the feat and the number of home runs and stolen bases
MORE FROM YARDBARKER
MLB News

Delivered to your inbox

You'll also receive Yardbarker's daily Top 10, featuring the best sports stories from around the web. Customize your newsletter to get articles on your favorite sports and teams. And the best part? It's free!