Found March 09, 2013 on Fox Sports:
PLAYERS:
Bruce Rondon
,
Jim Leyland
,
Bobby Jenks
,
Tyler Clippard
,
Aroldis Chapman
,
Sergio Romo
,
Alex Avila
,
Phil Coke
,
Joaquin Benoit
,
Al Alburquerque
,
Octavio Dotel
,
Jose Valverde
,
Brian Wilson
,
Rick Porcello
,
Drew Smyly
TEAMS:
Detroit Tigers
,
Boston Red Sox
,
Chicago White Sox
,
Washington Nationals
,
Cincinnati Reds
,
San Francisco Giants
,
New York Mets
Before Detroit Tigers fans demand that the team sign a closer, trade for a closer or kidnap a closer, they might want to consult the calendar. It's March 9. Opening Day is 23 days away. In a normal, non-WBC spring, the Tigers would be just starting their second week of games. In other words, everyone calm down about Bruce Rondon. Rondon, 22, made his fifth appearance of the spring on Friday, throwing 100 mph, throwing strikes, pitching a scoreless eighth inning against New York Mets minor-leaguers in easily his best outing of the spring. Amazing what skipping a turn to work on your mechanics can do. Amazing what might happen if people actually let the Venezuelan rookie get through the spring, rather than rush to judgment every time he misses the plate. I'm talking about fans panicking too soon. I'm talking about reporters tweeting breathlessly about the Tigers' need and supposed search for a proven closer. I may also be talking about the Tigers' manager, but Jim Leyland seemed entirely rational on the subject Friday, considering that like every veteran manager, he would prefer a 10-year All-Star at every position. Seriously, did anyone expect the Tigers to suddenly junk the idea of Rondon as their closer after projecting him in that role for virtually the entire off-season? Before the game, Leyland said: "I'm really not seeing anything I didn't expect. I thought I was going to see a guy come in here and want to show everybody that he can throw hard and go after the hitters. So far, he's thrown hard, and they've hit it hard. But it's way too early to make any predictions on how that stands." After the game -- after watching Rondon throw 15 pitches, 10 strikes, and allow two hits (one a blooper) without once getting to a three-ball count -- Leyland remained decidedly in wait-and-see mode. "He was OK," Leyland said. "It seemed like he was under a little better control, around the plate a little bit better. He threw a couple of pitches that had excellent movement. He didn't do anything wrong today." Now, I'll grant that it's odd for the defending American League champions, a team with a projected payroll of more than $145 million, to entrust the ninth inning to a kid who barely has pitched above Double-A. According to STATS LLC, only three pitchers have earned saves in the World Series after beginning a season with no major-league experience -- Bob Welch (1978 Dodgers), Todd Worrell (1985 Cardinals) and Bobby Jenks (2005 White Sox). If Rondon struggles early, the Tigers could allow division rivals such as the White Sox, Royals and Indians to build confidence and think big. But of course, that is just one side of the argument, and the other side is equally compelling. No, experience is not a prerequisite for a successful closer. As pointed out by my friend John Lowe of the Detroit Free Press, the primary closers for last year's three NL division champions -- the Nationals, Reds and Giants -- had a combined five saves entering last season. Injuries created opportunities for the Nats' Tyler Clippard, Reds' Aroldis Chapman and Giants' Sergio Romo. Some sabermetricians, of course, contend that any quality reliever can close. Many baseball people disagree, but a kid with a 100-mph fastball obviously stands a better chance of fulfilling that prophesy than most. Rondon hardly is a finished product -- he threw only one breaking ball Friday, a slider. Over the next three weeks, Leyland said, he wants to see Rondon develop his secondary stuff, exhibit better overall command and throw a greater number of first-pitch strikes. Alex Avila, the Tigers' starting catcher, already sounds pretty sold. "He has by far one of the best arms I've ever caught," Avila said. "It's just learning when to back off and when to reach back a little bit, being able to command. "He can command his pitches. I've caught him enough in the bullpen to see he has an idea of where it's going. He can do things with commanding his pitches that other guys who throw as hard normally can't." Rondon had poor command in his early spring outings but was a different pitcher Friday, in part because of the adjustments he made at the suggestion of Tigers pitching coach Jeff Jones. Watching video from last season, Jones noticed that Rondon was less upright in his delivery, turning more, using his legs more, staying lower to the ground. Voila! Problem solved. "We looked at the film, and he could see it, too, saw it right away," Jones said. "He's a pretty intelligent kid. He knows what he needs to do. He even said he hadn't felt really comfortable until we worked on the side. He looked very comfortable today." Rondon, speaking through an interpreter, said he was grateful to Jones: "If he hadn't told me to watch video, I wouldn't have realized that my mechanics were kind of off." His day, then, amounted to a step forward. But it certainly was not the final, definitive step. If Rondon needs more time in the minors, the Tigers could go with a closer-by-committee, choosing from among lefty Phil Coke and righties Joaquin Benoit, Al Alburquerque and Octavio Dotel. Leyland openly acknowledges that he would prefer to avoid such a thing, saying it would make his job more difficult, leaving him open to a greater amount of second-guessing. Still, what are the Tigers' options? Leyland has all but ruled out a return by Jose Valverde, and club officials don't seem enthused about two other free agents, Francisco Rodriguez and Brian Wilson. A trade is possible -- the Tigers' chips include outfielder Brennan Bosch and the loser of the Rick Porcello/Drew Smyly fifth-starter sweepstakes. But as Leyland pointed out, more teams than ever view themselves as contenders. Late-inning relievers with those clubs generally are not available, and relievers with non-contenders cannot necessarily be trusted on a bigger stage. The supply of bullpen arms will be more plentiful leading to the July 31 non-waiver trade deadline -- and for now, the Tigers probably would be better off preserving their rotation depth, keeping both Porcello and Smyly. It's March 9. Plenty can happen before Opening Day, and plenty probably will. Still, kneejerk reactions run counter to the slow, steady nature of spring training. Rondon still could prove the Tigers' best option. Everyone calm down.
Original Story:
http://msn.foxsports.com/mlb/story/de...
THE BACKYARD
BEST OF MAXIM
RELATED ARTICLES
RUNS IN THE FAMILY
Justin Verlander has a brother, Ben, who also is a Old Dominion baseball player. Ben had a monster game for his team on Saturday.
LAKELAND, Fla. Danny Worth has to feel like hes a yo-yo going up and down between Detroit and Toledo with such regularity. Worth was placed on the Tigers roster six different times last year, and optioned to the Mud Hens after all but the final September call-up. The 27-year-old utility infielder has been recalled by Detroit 12 times since his big league debut in 2010. Thats...
Detroit Tigers manager Jim Leyland has been managing under one-year contracts for the past few years, which he likes because it allows him or the Tigers to part ways without complications, but he made it clear Friday he has no plans of 
LAKELAND, Fla. Danny Worth has to feel like hes a yo-yo going up and down between Detroit and Toledo with such regularity. Worth was placed on the Tigers roster six different times last year, and optioned to the Mud Hens after all but the final September call-up. The 27-year-old utility infielder has been recalled by Detroit 12 times since his big league debut in 2010. Thats...
The Detroit Tigers are 8-7 in Grapefruit League play as of this writing and are having a rather good spring overall, statistically speaking. A few injuries and a few WBC excused absences are the only flies in the ointment at this point. We're getting to the point where Spring Training starts to get interesting, or as interesting as it can get for a team that came in with the starting...
One of the challenges when it comes to ranking players by position in fantasy baseball is trying to determine which player is going to have that breakout season and return a profit to your auction buy or draft pick. When reviewing the list of outfielders for the 2013 season, one of my picks to break out is Austin Jackson of the Detroit Tigers. Jackson has shown nice growth his...
TEMPE, Ariz. -- A second player from the Angels 2002 World Series championship team has joined the head coaching ranks, though not quite at the level of Darin Erstad, who is in his second season at the University of Nebraska. Jarrod Washburn, the ace of the Angels title team, recently took over as the baseball coach at Webster High School, the left-handers alma mater in the tiny...
Anibal Sanchez lasted only one-third of an inning in Venezuela's World Baseball Classic opener Thursday — the Detroit Tigers' starting pitcher was pulled after a rain delay halted a Dominican Republic rally in the first. After Sanchez's Tigers teammate Miguel Cabrera ended the top of the first with a fly out to center, Sanchez allowed a leadoff single to Jose Reyes. He then...
LAKELAND, Fla. (AP) -- Max Scherzer struck out six in 2 2-3 hitless innings Friday and the Detroit Tigers defeated the New York Mets 3-2. Scherzer walked three. He was taken out after retiring the first two batters in the third inning. Mets starter Dillon Gee allowed one hit in four innings. He gave up one run. Tigers minor leaguer Tyler Collins hit a solo home run to break a...
Drew Smyly extended his scoreless streak to nine innings, strengthening his bid for the final spot in Detroit's rotation, and the Tigers beat the Atlanta Braves 9-2 on Thursday night. Smyly whiffed four in four innings, striking out the side in the second. The 23-year-old lefty started 18 games for Detroit last year and pitched in four postseason games. Braves starter Julio...
They were called old-timers or purists, those who blanched last fall at the thought that Detroit slugger Miguel Cabrera might be passed over for the MVP award after achieving the Triple Crown, leading the American League in batting average, homers and RBIs. On the other side of baseball's dividing line stood new-school thought, people who argued just as vehemently that advanced...
MLB News

Delivered to your inbox

You'll also receive Yardbarker's daily Top 10, featuring the best sports stories from around the web. Customize your newsletter to get articles on your favorite sports and teams. And the best part? It's free!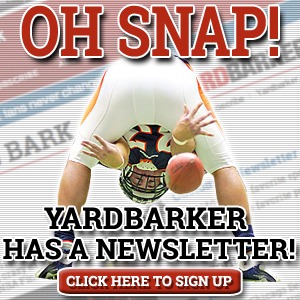 Latest Rumors
The Backyard

Today's Best Stuff

For Bloggers

Join the Yardbarker Network for more promotion, traffic, and money.

Company Info

Help

What is Yardbarker?

Yardbarker is the largest network of sports blogs and pro athlete blogs on the web. This site is the hub of the Yardbarker Network, where our editors and algorithms curate the best sports content from our network and beyond.