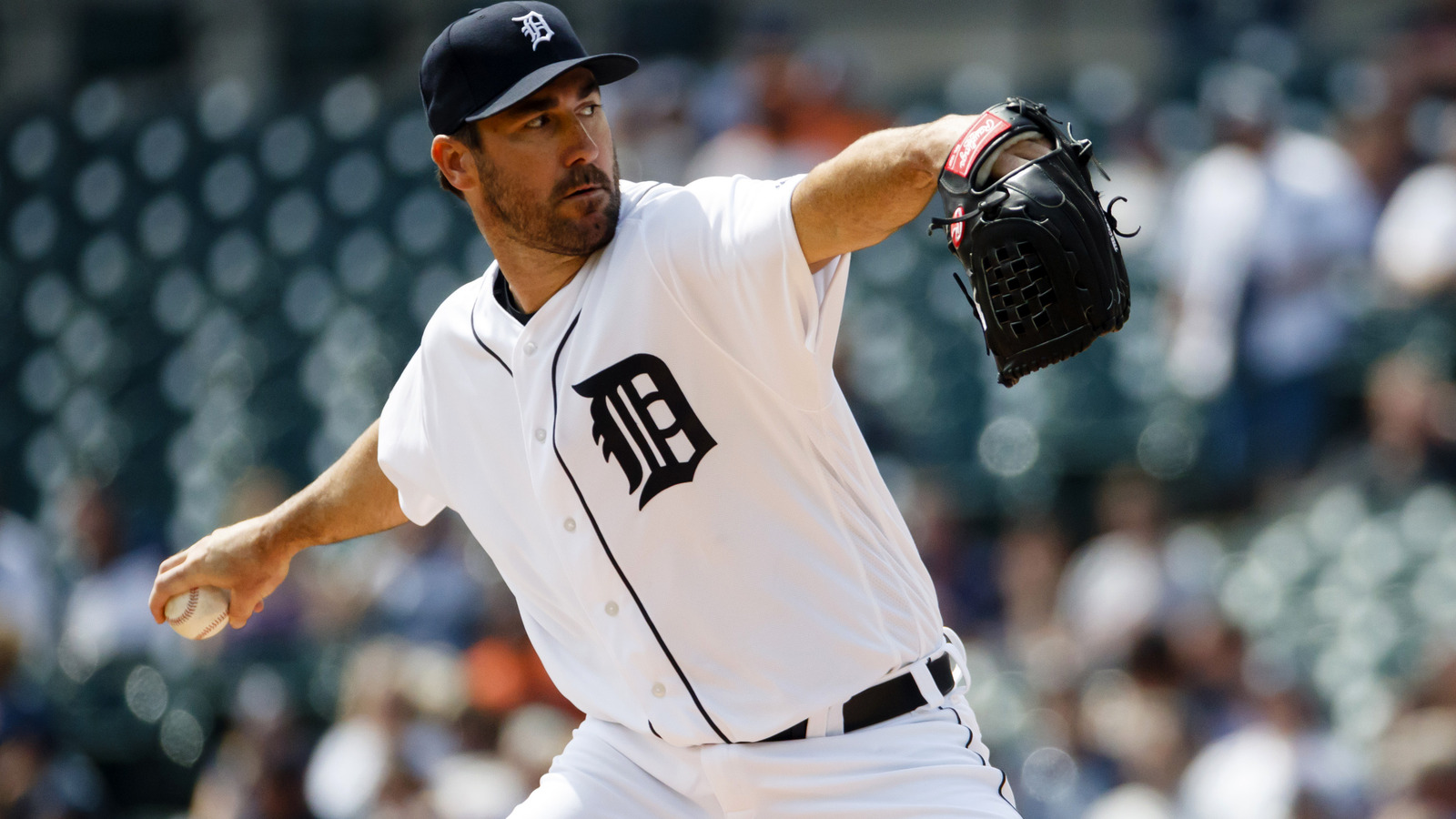 Apr 10, 2017; Detroit, MI, USA; Detroit Tigers starting pitcher Justin Verlander (35) pitches in the first inning against the Boston Red Sox at Comerica Park. 
Rick Osentoski-USA TODAY Sports
After Justin Verlander gave up a career-high nine earned runs in just four innings on Saturday, the Detroit Tigers are looking for answers.
The Cleveland Indians teed off on Verlander for three home runs in a 13-6 victory despite the fact that Verlander's stuff looked sharp. Though he left a few pitches up, on a few occasions, the Indians seemed to be right on top of whatever Verlander threw them, whether it was a fastball or something offspeed.
Tigers catcher James McCann dismissed suggestions of sign-stealing, hinting that Verlander may have been tipping his pitches instead.
"Honestly, we use multiple signs with nobody on base. We change our signs often. It's gotta be something beyond that," McCann said, via Jason Beck of MLB.com. "We've kind of exhausted that side of it, and Cleveland's not the only team we do that with. There's numerous teams that we take extra precautions with our signs.
"Sometimes maybe you just have to tip your cap. But it doesn't mean we're going to stop trying to figure out what's going on."
Detroit manager Brad Ausmus sat in on a video session with Verlander on Sunday morning, but wouldn't give any insights as to whether they'd spotted anything.
"Hitters are always trying to find an edge on pitchers, and looking for pitchers tipping is standard operating procedure," Ausmus said. "I can't tell you whether it is [an issue] or isn't. Only the Indians could tell you that, and they probably won't."
Indeed, Cleveland manager Terry Francona downplayed suggestions of sign-stealing or pitch-tipping.
"So many times over the years — not just here — a pitcher will feel good, but he's getting hit," Francona said. "And he's like, 'Man, I've got to be tipping.' Well, then they spend time thinking about that, as opposed to executing pitches. Sometimes, there's not a lot of good explanations. Like yesterday, we were kind of due.
"Verlander left some pitches up yesterday. If he doesn't do that, we're probably not having this conversation."
Francona is right that several of Verlander's pitches caught more plate than he likely wanted them to. That said, tipping pitches can make even the best pitchers look very ordinary, so it wouldn't be a huge shock if that was a problem for him on Saturday. He's looked very good in his other two starts of 2017, so he and the Tigers can take heart in that.
MORE FROM YARDBARKER
MLB News

Delivered to your inbox

You'll also receive Yardbarker's daily Top 10, featuring the best sports stories from around the web. Customize your newsletter to get articles on your favorite sports and teams. And the best part? It's free!