Found February 23, 2012 on Fox Sports Detroit:
LAKELAND, Fla. -- It's hard to call Tigers pitcher Rick Porcello a veteran when you consider he just turned 23 in December. But Porcello is entering his fourth full season in the big leagues. "He's a baby," Tigers manager Jim Leyland said Thursday morning before the pitchers and catchers went to work. "He's been around the circuit a little bit. He sees how good these guys are. He knows he's good. He knows he can compete. "He's getting an air of confidence about him. (He) went through the good, went through the bad, went through a little in-between. "Now he's settled in. I think he's going to be really good this year." In his rookie season of 2009, Porcello was really good with a 14-9 record and 3.96 ERA. His 14 victories were the most by a Tigers pitcher 20 years old or younger. In his second year, he was 10-12 with a 4.92 ERA, which included a stint at Triple-A Toledo to work on some things that weren't going well. Porcello went 14-9 again with a 4.75 ERA last season, becoming the first major-league pitcher since Dwight Gooden to win 10 or more games in three straight seasons before turning 23. Gooden did so in four consecutive seasons (1984-87) with the New York Mets. Porcello had an up-and-down season in 2011 but excelled in September, going 2-1 with a 3.55 ERA. "I saw him relax a little bit," Leyland said. "It's just another sign of the maturity level. "I saw him not panic when things weren't exactly right. I saw him figure some things out when he wasn't exactly right. "Those are all steps in the right direction, and those are all steps that you have to take, in my opinion." Before taking those steps, Porcello was all over the place last year. He was 1-2 with a 4.25 ERA in April, 3-1 with a 3.52 ERA in May, 2-3 with a 6.97 ERA in June, 5-0 with a 3.06 ERA in July and 1-2 with a 6.82 ERA in August. "A big goal of mine this year is to eliminate big peaks and valleys and just be consistent every fifth day," Porcello said. "That's the most important. Give us a chance to win." For a young player, particularly a young pitcher, it sometimes takes a while to figure out how to prepare for the long season, especially when that season is expected to last through October. Porcello believes he has found a schedule that works for him. "I started throwing earlier this year," Porcello said. "I started about a month earlier, just playing catch, just trying to make sure that my arm strength is where it needs to be by the time April rolls around. "Arm-wise, physically, that's pretty much the main difference. Just did a little bit more shoulder-oriented exercises, making sure that that's strong and I'm ready to go for the season. "Going into the season just trying to basically pick up where I left off at the end of last year. I felt like the ball was coming out of my hand a lot better than it was at the beginning of the year, just want to continue that and keep building off of that." That early work seems to have paid off, at least in how Porcello feels in the early part of camp. "As far as my arm goes and arm strength, this spring is as good as it's ever felt, really," Porcello said. "I feel strong. Just going to try and continue to keep it up." Porcello might be feeling strong, but he knows there's room to improve in every area. He plans to work with former Tigers pitcher Kenny Rogers, who lasted 20 seasons in the majors before retiring in 2008. Rogers is in Lakeland after accepting the Tigers' longstanding invitation to camp. "I'm going to try and pick Kenny's brain a little bit, especially his defensive abilities," Porcello said. "He was a great fielder. "Being able to make some of those plays can save you some outs, save you some runs." With the addition of Prince Fielder, the Tigers will certainly score their share of runs this season. Porcello said he was "shocked" and "happy" when he heard about the addition of Fielder signing. "Obviously, when you can add a guy like that to an already pretty good offensive lineup, that's pretty special," Porcello said. "He's got a big bat, obviously, and I'm looking forward to playing with him." Although adding Fielder gave everyone in the Tigers organization a boost of confidence, they might also get a boost from a more confident Porcello. "Just trying to help us win," Porcello said. "That's the bottom line, is to go out there, be consistent and just give us a chance every fifth day when I'm out there."
Original Story:
http://www.foxsportsdetroit.com/02/23...
THE BACKYARD
BEST OF MAXIM
RELATED ARTICLES
Lakeland, Fla. -- Tigers manager Jim Leyland had a spring in his step Friday morning during the first full-squad workout in Lakeland. After speaking with his outfielders and infielders separately, Leyland put his players right to work. Miguel Cabrera spent his non-batting practice time at third base and Brandon Inge spent his at second base. For Leyland, it was just what he wanted...
On the day of the Prince Fielder press conference, Detroit Tigers' Manager Jim Leyland hinted at a left field position battle between Andy Dirks, Clete Thomas, and Don Kelly, with the winner batting 8th in the lineup. The difference for Dirks and Thomas as compared to Kelly is this: Kelly is on the team either way, the other 2 likely will have to win the gig to land on the roster...
FASTBALL TO YUMMY TOWN
  When you win the A.L. Cy Young and have your name thrown into the discussion for A.L. MVP, this is the stuff that happens. Fear not, Tigers fans. This isn't some sort of lame money-making scheme. According to the Detroit Free Press, sales from Justin Verlander's "Fastball Flakes" cereal benefit VA Hospitals in Detroit and Ann Arbor. The cereal is being sold through...
It's that time of year, folks.  The time where baseball teams are releasing their promotional schedules.By now, we've all seen that creepy, stuffed Don Zimmer bear that the Tampa Bay Rays are giving way, right?Well, not to be outdone, the Richmond Flying Squirrels are doing a Justin Verlander bobblehead...and it will feature the reigning American League MVP and Cy Young...
Brandon Inge wants to play for the Tigers. He isn't going to play at third base, so he had to try to play somewhere. Second base was the open spot. If he's going to play, this is his shot.
Check out the winning entry and the funny finalists in our Detroit Tigers cartoon caption contest!
Blonde bombshell Kate Upton teaches finger mechanics to  AL Cy Young award winner MVP Justin Verlander who graces the cover of 2K Sports MLB  2K12.  His mission to gain entry to the "Perfect Club" where anyone can win a million dollars. Click the link to see how it went down.   
Nothing fancy. Go slowly. Six weeks to prepare. Make the routine plays. Tigers infield coach Rafael Belliard will follow those themes as he instructs Miguel Cabrera at third base during spring training.
The American League Central Division title won in 2011 might have been just the beginning for the Detroit Tigers.
We picked the finalists, you pick the winner! Vote for the best caption in our Detroit Tigers spring training cartoon caption contest!
Green should win unanimously. I'm talking "Justin Verlander winning the Cy Young" unanimously.
MLB News

Delivered to your inbox

You'll also receive Yardbarker's daily Top 10, featuring the best sports stories from around the web. Customize your newsletter to get articles on your favorite sports and teams. And the best part? It's free!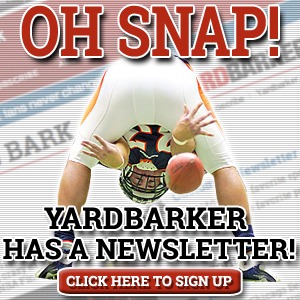 Latest Rumors
The Backyard

Today's Best Stuff

For Bloggers

Join the Yardbarker Network for more promotion, traffic, and money.

Company Info

Help

What is Yardbarker?

Yardbarker is the largest network of sports blogs and pro athlete blogs on the web. This site is the hub of the Yardbarker Network, where our editors and algorithms curate the best sports content from our network and beyond.