Found April 06, 2012 on SeaTown Sports:
In our continuing partnership with "Way Out in Left Field," Patrick Leary previews this weekend's series. Make sure to check out their blog here Part two? Yeah, this is technically the continuation of the series from Japan. That's why it only lasts two games. Maybe that's common knowledge, or maybe I just solved a problem you'd been intensely grappling with for weeks. Either way, you're welcome (Kobe Bryant voice).  Where were we? Oh right, A's versus M's. Fun stuff. Nine runs in two games in Japan. Wait, Patrick, which team scored nine runs in two games in Japan? Both. Combined. Yeah, that's what this rivalry has become. In 2002, it was the plot of Moneyball. Now, you would get laughed at for trying to film it. No one cares. Baseball cared so little that they outsourced the start of this series to Japan. Oh no, we're doing this for the good of the game and continuing to spread it to Japan. Haha good one. ********. It does help the A's, in that they will have fewer home games and therefore don't have to attempt to sell tickets to as many games as in previous years. Slightly less embarrassing. 
OK, but really, those games sucked. The scores were 3-1 and 4-1. The mariners had three hits against Bartolo Colon. Shades of 2009, 2010, and 2011. And Bartolo Colon's Cy Young years. Yeah, that happened. On the bright side, Dustin Ackley and Justin Smoak went deep and Felix and Jason Vargas pitched admirably. And that's the end of the bright side pretty much. Both teams are 1-1. Both teams will throw the same pitchers to the mound, except with the matchups flipped. Let's get this over with.
April 6: Jason Vargas (0-0) vs. Brandon McCarthy (0-0)
Both guys looked great in Japan, but every starter looked good now that I think about it. McCarthy contained the M's pretty well, scattering hits and only making one mistake on Ackley's homer. Vargas got the hook with one out in the seventh, and then the bullpen imploded behind him. He's used to that by now though, so that's okay. Both of these guys pitched in their team's losses in Japan. Both will look to continue their momentum. I think each will surrender a few runs, but neither will get lit up, since its still the first week, where nobody hits. Six innings and three runs allowed for Vargas. April 7: Felix (0-0) vs. Bartolo "the Fossil" Colon (1-0)
These two looked slightly better than Vargas and McCarthy in Japan, and consequently their teams won both of their starts. Colon especially stood out, as he worked eight innings for the win, allowing just one run on three hits. The guy's career was on life support two years ago. Must've had some strong paddles, especially since he's such a fat ass. I don't think Colon can reproduce Japan in his first start in front of his new home fans. Felix, on the other hand, feasts on oakland. He loves pitching against them. He'll roll out another gem. I expect him to go eight innings allowing less than two runs. The M's just need to hit for him.
Three to watch:
Yoenis Cespedes: Making his home debut, Cespedes hopes to garner as much attention as he did in Japan, where he hit the game winning jack against Shawn Kelley, who now plays in AAA. Lost in that success was his complete inability to hit the curveball in that series. That's definitely something to keep an eye on. As a rookie, he'll need to make continued adjustments to major league pitching. I think he has a ways to go, and Felix and Vargas handled him pretty well in Japan. Steady diet of curveballs for Yoenis.
For the rest of this article, including more players to watch and a series outlook, head over to their blog here
Original Story:
http://www.seatownsports.net/mariners...
THE BACKYARD
BEST OF MAXIM
RELATED ARTICLES
The Mariners have transitioned Chone Figgins from third base to a utility backup in the outfield and infield, to make room for promising new players. The Mariners announced their 25-man roster on Wednesday. With Figgins out at third base, the Mariners can now concentrate on putting their most competitive lineup on the field. For instance, it would have been a shame to block Kyle...
NWSB Insider and Seattle Mariners & Tacoma Rainiers blogger Danny Ferguson tells us what to expect from the AAA farm team of the M's in 2012. Fans should see Adam Moore, Franklin Gutierrez and Mike Carp in Tacoma on training assignments before being activated off the disabled list. Does Tacoma have the same potential this season as well? It is hard to know exactly what to...
By the time Oakland gets through its first eight games, the Athletics will already have faced Mariners ace Felix Hernandez three times. It's a crazy schedule that began with these two clubs facing off in their first two games last week in Japan, with each winning once - including ''King Felix's'' Game 1 victory at the Tokyo Dome. Now, the AL West rivals...
Welcome to opening day. Well sort of. After staring the season in Japan over a week ago, the Seattle Mariners and A's will resume their rather unorthodox four-game series tonight at the Oakland Coliseum. They'll face-off again on Saturday, have a rare day off on Sunday, and then begin a four-game series in Texas on Monday against Japanese phenom Yu Darvish. The A's and the...
Chone Figgins had three hits and two RBIs, and Kyle Seager singled twice and drove in a pair of runs, leading the Seattle Mariners past the Oakland Athletics 7-3 on Friday night in the stateside opener for both teams. Seager's two-run single highlighted a four-run third inning that broke the game open for the Mariners, resuming a series that began in Japan more than a week ago...
After launching the season in Tokyo with a split of two games, the Athletics and Mariners resume their unorthodox four-game series on Friday night at the Coliseum. Left-hander Jason Vargas, who held Oakland to two hits and a run in 6 1/3 innings in Japan, gets the start on Friday night for the Mariners. Vargas had a couple of throwing sessions and moved him up to Friday so he...
In the bottom of fourth inning in today's game against the Mariners, Yoenis Cespedes of the Athletics killed a baseball delivered by Jason Vargas … then admired it
Eight days and 5,127 miles later, the Oakland A's and the Seattle Mariners will restart their 2012 seasons.
By the time Oakland gets through its first eight games, the Athletics will already have faced Mariners ace Felix Hernandez three times. It's a crazy schedule that began with these two clubs facing off in their first two games last week in Japan, with each winning once - including ''King Felix's'' Game 1 victory at the Tokyo Dome. Now, the AL West rivals...
MLB News

Delivered to your inbox

You'll also receive Yardbarker's daily Top 10, featuring the best sports stories from around the web. Customize your newsletter to get articles on your favorite sports and teams. And the best part? It's free!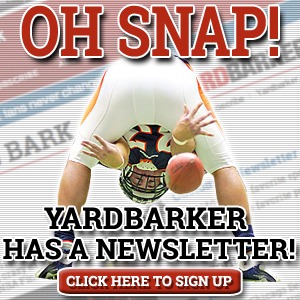 Latest Rumors
Best of Yardbarker

Today's Best Stuff

For Bloggers

Join the Yardbarker Network for more promotion, traffic, and money.

Company Info

Help

What is Yardbarker?

Yardbarker is the largest network of sports blogs and pro athlete blogs on the web. This site is the hub of the Yardbarker Network, where our editors and algorithms curate the best sports content from our network and beyond.