Found December 29, 2012 on Obstructed View OLD:
I got the Kindle version of The Hardball Times annual for my birthday and the first thing I wanted to read was the article about Tommy John surgery. It looked at whether pitchers get back to the level they were at pre-surgery and when that is. They also looked at what the shelf life is for a pitcher who had the procedure before he needs another visit with the surgeon. It's a really good article and if the rest are anywhere near as good as that one, I'll be very pleased with the book. I was thinking about what this meant for Scott Baker as I was reading it. For one thing, we should not expect Baker to be at his pre-surgery production level, but I doubt anyone was expecting that anyway. The first year back is more difficult and their performance just isn't as good. It's good to know that by year two the performance level is back to its pre-surgery level. There was also a velocity drop in the first year back, but it returned in the second year. The authors, Brian Cartwright and Jeff Zimmerman, looked at percentage change in ERA, HR/9, BB/9 and K/9. I'd have preferred they look at percentages rather than rates, but that's what I have to work with. I used the playing time adjusted CAIRO to create a new TJS adjusted projection for Baker. Original CAIRO: 120 IP, 13 HR, 38 BB, 100 K, 4.49 RA, 4.19 ERA, 3.82 FIP TJS-adjusted: 120 IP, 14 HR, 42 BB (BB-IBB+HBP), 4.82 RA, 4.43 ERA, 4.19 FIP They also found that among the pitchers who were successful in their return, a second surgery was likely down the road. Here's a good rule of thumb: If a post-surgery pitcher is able to reach 100 innings pitched in a season as a starter or 40 innings pitched as a reliever, it is reasonable to say that he won't need an immediate repeat of the surgery. However, if the pitcher is able to make it back pitching regularly, he then falls into the group of pitchers who begin to wear out their elbows again and need a second TJS. The time frame for a second surgery, after pitching at full capacity, starts at approximately 400 innings. Here is a list of pitchers who pitched after one Tommy John surgery and were able to return to the majors yet eventually needed a second time under the knife. Baker is a free agent after the 2014 season so this isn't going to be an issue for the Cubs, but they will get only one season in which he's back to full form, or rather they can only expect to get one season. Depending on how much he pitches in 2013 and 2014, it might be in the Cubs interest to let him walk when his contract is up. Interestingly, Kerry Wood lasted the longest among the pitchers they looked at in the book. He threw 876 innings before needing a second surgery. I'm not sure if I'll be doing the aggregate projections this year. I'm inclined not to do it because Fangraphs has most of the available projections available on the player pages. It's something I've enjoyed doing the last several years, but that was in part because it was a lot of fun to look at the Cubs projections back in 2007, 2008 and 2009. Since then it's become more of a drag and thruthfully, I couldn't give two ***** what the aggregate projection for James Russell is. Nor could I care what it is for Scott Feldman and the other 11 starting pitchers the Cubs have. It's something I may yet do. Most of the projections aren't out yet so who knows, but if I don't do it, I'll be using the CAIRO projections unless otherwise noted.
Original Story:
http://www.obstructedview.net/comment...
THE BACKYARD
BEST OF MAXIM
RELATED ARTICLES
Matt Garza says he's ready to pitch and guarantees he'll be ready on opening day. Garza said he has had no problems since he started throwing earlier this month. "If spring training started tomorrow, I would be ready to go," he said. "I'm not ready to pitch six innings today, but I will be ready to go when the season starts. I will be ready to go Opening...
Chicago Cubs right-hander Matt Garza missed much of the second half of the year with a stress reaction in his throwing elbow, but told CSNChicago.com on Friday that he expects to be ready and healthy by Opening Day. Garza said he has had no problems since he started throwing earlier this month. "If spring training started tomorrow, I would be ready to go," he said....
The Chicago Cubs have signed lefty-reliever Hisanori Takahashi to a minor-league deal which includes an invite to Spring Training, Jeff Passan of Yahoo! Sports reports. Takahashi finished up last season with the Pirates after they claimed him off waivers from the Angels. Overall last season, Takahashi went 0-3 with a 5.54 ERA with a 9.3 K/9, the best k-rate of his career. Image taken...
Edwin Jackson has capped a busy offseason for the Chicago Cubs in 2012. Edwin Jackson represents a huge shift in the philosophy of Theo Epstein and Jed Hoyer. The mantra of the front office has been creating short term assets to turn into long term assets. That has been the plan. Or maybe not. Edwin Jackson accepted a contract from the Cubs that by almost all objective measures...
Former major league All-Star closer Ugueth Urbina is back in baseball after spending more than seven years in prison for attempted murder. Urbina, who was released from prison last Sunday, took the field at University Stadium in Caracus, Venezuela on Friday. He told reporters that he was looking forward to playing baseball again. He threw a bullpen session with the Caracus Lions...
Cubs News

Delivered to your inbox

You'll also receive Yardbarker's daily Top 10, featuring the best sports stories from around the web. Customize your newsletter to get articles on your favorite sports and teams. And the best part? It's free!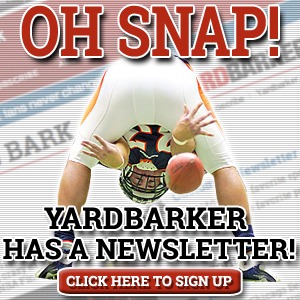 Latest Rumors
The Backyard

Today's Best Stuff

For Bloggers

Join the Yardbarker Network for more promotion, traffic, and money.

Company Info

Help

What is Yardbarker?

Yardbarker is the largest network of sports blogs and pro athlete blogs on the web. This site is the hub of the Yardbarker Network, where our editors and algorithms curate the best sports content from our network and beyond.