Found February 19, 2012 on The Daily Stache:
9. Jordany Valdespin, Middle Infield, Bats: L, Throws: R, Age: 24, ETA: 2012 Valdespin is more evidence of maturity in the Mets farm system. Although he may not factor into the best option as a starting infielder in the long term, he certainly has grown and could be in the mix down the stretch this year of the Mets flounder. For Jordany Valdespin, the positives in his game outweigh the negatives. His development was very sluggish over his first three years or so in the Mets system, but he completely exploded in 2011. He started off as a prototypical contact hitter. Up until 2011, he hit just 14 home runs in the minors. Then in 2011, he experienced a major outburst of power that saw he hit 17 between Binghamton and Buffalo. He's gradually improving his strike zone awareness and cut down on the strikeout numbers last year, which will probably be a concern of his at the Major League level. As it as however, Valdespin is growing into a formidable power hitter. His discipline at the plate needs work, and until then he won't really be skilled at drawing walks. Until he manages to up his on base percentage, he won't fully be able to take advantage of his speed on the bases. He'll be able to consistently swipe over 30 bases a year with significant work on his plate presence, and his speed is a huge part of his game. He also is primarily a shortstop but he has experience at second base, which may make more sense as his range needs some work. The last step for Valdespin would be a shot in the Bigs, and until then we won't be able to see what he will truly develop into. But as a left-handed back, he will be useful somewhere on the Mets 40-man roster at some point. In a perfect world Valdespin can transcend the mold of his middle infield Mets prospect predecessors like Anderson Hernandez have a moderate to successful Major League career. Combine spring training with the soft spots in the Mets middle infield, Valdespin has a great opportunity to prove himself. 10. Matt Den Dekker, Outfield, Bats: L, Throws, L, Age: 24, ETA 2013 9. Jordany Valdespin, Middle Infield, Bats: L, Throws: R, Age: 24, ETA 2012 8. 7. 6. 5. 4. 3. 2. 1.
Original Story:
http://dailystache.net/archives/244
THE BACKYARD
BEST OF MAXIM
RELATED ARTICLES
With the New York Mets one day away from pitchers and catchers reporting, lets take a look at a couple of things Sandy Alderson said yesterday when he spoke to reporters in St. Lucie. I was a little taken back by what he said when he was asked where he'd like to see the team do better? "Well, just in a general sense, we need to pitch better than we did last year. The starting...
Earlier this week, Baseball Hall of Fame catcher Gary Carter died at the age of 57. As a tribute to Gary Carter, Annakin Slayd, a musical artist from Montreal, recorded a song called "Kid" along with a video featuring highlights of Carter during his playing days. Most of the highlights are from Carter's years with the Expos, the team with which he spent...
Yesterday afternoon at Digital Domain Park in Port St. Lucie, New York Mets starter Johan Santana threw 25 pitches off a mound for the first time this Spring.  Santana, who missed the entire 2010 season recovering from surgery to repair a torn anterior capsule in his left shoulder, threw in front of Mets manager Terry Collins, general manager Sandy Alderson and pitching coach Dan...
Photo by Michael BaronOn Wednesday Adam Rubin had an injury up-date on Chris Young, the interesting part was that the up-date came from Terry Collins.  At this point Young is a free agent and Collins is his former manager, it's unusual for a manager to have such an up-date on a free agent. All reports from both sides indicate that they would like a reunion and the Mets could...
It was great to see video of Johan Santana throwing batting practice. Of course it's still a long way from BP to Opening Day but each day he's on the field makes it more likely that he'll break camp with the Mets rather than being placed on the DL. And if Santana is on the roster when the season opens, the Mets might not have a player on the DL for the first time since very...
New York Mets left-hander Johan Santana threw off a mound for the first time since last September.
The following video is brought to you courtesy of Newsday. It shows some of Carter's former teammates reminiscing about the one they called "Kid." What is so nice about the outpouring of love Carter's former teammates have shared is that Carter was often mocked for his "mugging" for the camera, and although some players got on Carter for his exuberance...
Thursday – October 19th – 2006 Top of the 9th and the score is 3 to 1 in favor of the St. Louis Cardinals. The Mets are one loss away from post-season elimination. The St. Louis Cardinals are one win away from the World Series. Cliff Floyd has struck out with runners on first and second. Jose Reyes has just lined out to Jim Edmonds in center.  Hope is rapidly fading when Carlos...
Also, excitement abounds for pitching trio of Matt Harvey, Zack Wheeler and Jeurys Familia
Introduction by Stephen Hanks When I heard Gary Carter had finally succumbed to brain cancer at the too-young age of 57, I had two immediate memories. They weren't of being at Shea on Opening Day 1985, when Carter hit his walk-off, 10th inning home run in his first game as a Met, or of Carter starting the two-out rally that won Game 6 of the 1986 World Series. I remembered first...
Keith Hernandez flied out to center for the second out of the inning. A tomblike silence fell over Shea. Fans stared in disbelief. The 108 regular season wins plus 6 more in the post-season meant nothing. Vin Scully announced Marty Barrett was chosen player of the game. And then…number 8 stepped to the plate. In a career that spanned nearly 2300 games and 8000 at-bats over 19 seasons...
Over my 19 years of existence, I have watched thousands of archived baseball games.  Whether they are on TV or the Internet, it was always interesting to watch old games from back in the 60′s, 70′s, 80, and 90′s. However, it was always the regular and post season games of the 1986 Mets that I enjoyed watching the most and found the most exciting. It wasn't just because...
Mets News

Delivered to your inbox

You'll also receive Yardbarker's daily Top 10, featuring the best sports stories from around the web. Customize your newsletter to get articles on your favorite sports and teams. And the best part? It's free!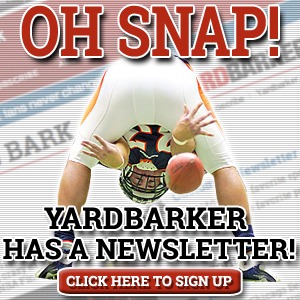 Latest Rumors
Best of Yardbarker

Today's Best Stuff

For Bloggers

Join the Yardbarker Network for more promotion, traffic, and money.

Company Info

Help

What is Yardbarker?

Yardbarker is the largest network of sports blogs and pro athlete blogs on the web. This site is the hub of the Yardbarker Network, where our editors and algorithms curate the best sports content from our network and beyond.