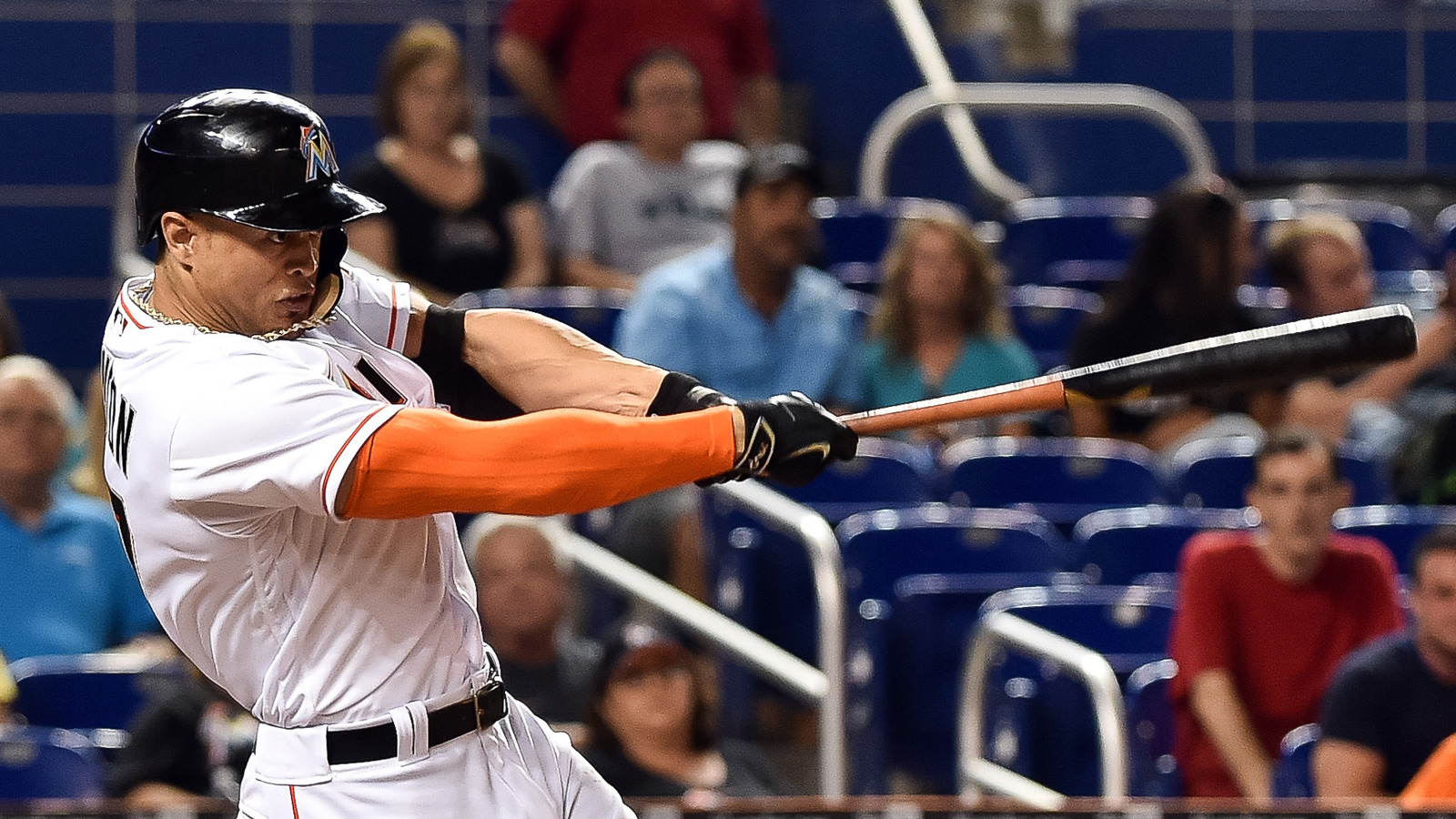 Marlins right fielder Giancarlo Stanton might have one of the biggest power bats in Major League Baseball.
Steve Mitchell-USA TODAY Sports
Any casual baseball fan can recognize power. When the ball travels over the fence, that player represents brawn.
Still, there are few players who can show off that power consistently.
The names of Kris Bryant and Mike Trout might sound familiar, but there are other sluggers we're about to highlight that show off a certain power only they can duplicate.
Here are the top-10 MLB power hitters to watch during the 2017 season.
Giancarlo Stanton, Miami Marlins
When Major League Baseball started bringing Statcast into the equation, nobody proved how impressive this measuring system was until Marlins slugger Giancarlo Stanton stepped up to the plate (no pun intended.)
Last year, he launched the hardest-hit ball ever recorded by Statcast with an exit velocity of 123.9 mph. This was him beating out his previous record, because that's what he does.
The three-time All-Star has a had a league-leading slugging-percentage twice in his career. And even though he regressed a bit last season, it doesn't mean he won't have a phenomenal outing this time around, because he will.
FanGraphs Steamer has the 27-year-old set to slash a .268/.363/.557 line with a jump in home run numbers. For now, we wait and see, but don't bet against him topping those numbers, either.
Mark Trumbo, Baltimore Orioles
Mark Trumbo coming back to Baltimore brings a lot more advantages than him simply being comfortable with the team.
Camden Yards is known to be a hitter's park, so there's one positive. The next is the fact that, well, he's Mark Trumbo and he smashes the ball.
Last season, Trumbo led the league with 47 home runs, and most of them were hit at home (62-percent.) A .256/.316/.533 line for Trumbo last year had him at a career-high slugging-percentage, which ultimately landed him a Silver Slugger Award and All-Star roster spot.
The Orioles are over the moon, happy to have the 31-year-old back on their team.
Khris Davis, Oakland A's
Thanks to Khris Davis, the A's were not completely irrelevant last year in regards to star power.
Davis hit a career-high 42 home runs with the team and is now sharing similar numbers to Trumbo and even J.D. Martinez.
His fly ball/home run rate has been exceptional. He does hit a lot of fly balls, but his 94.1 fly ball exit velocity proves those fly balls are going to go over the fence often.
If he keeps doing what he's doing, he could not only land an All-Star spot in 2017, but might even help put the green and gold on the map once again.
Mike Trout, Los Angeles Angels
Unless you've been living under a rock, you've heard of Mike Trout.
The two-time MVP has had league-high numbers in just about every category you can imagine.
FanGraphs Steamer has Trout predicted to hit over .300 this season, which he will because to be honest we haven't seen peak Mike Trout quite yet.
A career .306/.405/.557 hitter with a resume filled to the brim with accomplishments means he was easy to add to this slugger's list.
Kris Bryant, Chicago Cubs
Third baseman for the Chicago Cubs, Kris Bryant, followed his 2015 Rookie of the Year season with a National League MVP Award on top of his team winning the World Series.
Not bad, not bad at all. He also got married to the love of his life during the offseason.
We haven't even touched his offensive accomplishments.
His contact-percent improved from 66.3 percent to 73.3 percent over the last two seasons, and with two All-Star spots at the age of 25 he's just getting started.
He's predicted to drop in batting average, but only slightly. Bryant can easily prove those numbers wrong.
Aaron Judge, New York Yankees
Have you seen how big this kid is?
That's him on the far right standing at 6-foot-7 inches — you can't miss him.
When it comes to Judge, he has a lot riding on him this spring training. The competition for starting spots is fierce when it comes to the Yankees. There is a lot of talk Judge might start in the minors, but that won't take away the talks of the outfielder's power.
Prior to his injury last season, Judge was named as a participant in the Triple-A Home Run Derby after blasting 16 bombs during his stint in the minors during the first half of play. During his time with the Railriders, Judge finished with a .270/.366/.489 line, and when he was first promoted, he was unstoppable.
He began to regress, but Judge has been having a solid campaign during spring training for those of you who pay attention to those numbers. It will be interesting to see where he starts out in April. He will get his time with the big league club — it's just a matter of when.
Welington Castillo, Baltimore Orioles
When Welington Castillo was acquired by the Orioles from the Diamondbacks, some may have been worried about him leaving the dominant hitter's park in the desert known as Chase Field.
But there's good news.
Camden Yards, like I mentioned before, is still a hitter's paradise. Especially for an offensive catcher like Castillo.
He finished 2016 with an increase in his line drive rate (25.4 percent) and a .264/.322/.423 line. Not a strong power hitter, but certainly a strong-hitting catcher. Hopefully he takes advantage of the power course in Baltimore.
Nolan Arenado, Colorado Rockies
Speaking of hitter's parks.
Nolan Arenado gets to play half of his games at the stellar Coors Field in Denver. Even those who didn't just write a chapter on ballpark factors know about the altitude in that ballpark.
Still, last season, Arenado managed to hit 16 home runs when he was on the road, away from the safety of his home field.
The two-time All-Star holds a career .285/.331/.520 line, and has led the league twice in home runs.
He also doubled his walk rate, which means beyond his power, he's lethal on base.
Jose Bautista, Toronto Blue Jays
Never forget.
Even if you don't think the World Baseball Classic is a thing, Jose Bautista has been putting on a show for the Dominican Republic.
Before that, he's been one of the most potent power bats not only for the Toronto Blue Jays, but in the entire league.
Besides another plus with having a hitter's park on his side, the six-time All-Star seems to be hitting more line drives than usual. This means his balls may not go over the fence as much in 2017, but we aren't exactly expecting a bounce-back season from Bautista, are we?
Bryce Harper, Washington Nationals
It's not a clown question to wonder if outfielder Bryce Harper can hit the ball far. He's coming off of a regression in power season, so he could be like a box of chocolates — we may not know what we are going to get.
However, after this season he will be a free agent, which means he will be proving himself to a team that will be able to afford him, if said team even exists.
He has an impressive resume, which is partly to blame for that huge monetary value he's requesting. Four All-Star spots and a former MVP and Rookie of the Year trophy also help.
On top of the honors, Harper led just about every hitting category in 2015. But will we get that same Harper this season? We hope.
A career .279/.382/.501 line doesn't exactly illustrate what he can do. But at the age of 24, he has plenty of room to grow.
MORE FROM YARDBARKER
MLB News

Delivered to your inbox

You'll also receive Yardbarker's daily Top 10, featuring the best sports stories from around the web. Customize your newsletter to get articles on your favorite sports and teams. And the best part? It's free!