Found November 23, 2011 on The Southpaw:
So. Brian Jeroloman is back. AA never lets me complete a list in peace. For the record, I had him at #73 (this pushes Marcus Brisker out of the top 100 - yes, I have an irrational attachment to having Scott Campbell on the list).
Now, let the festivities begin!
50.
Alan Farina
(age 25 on opening dayof minor league season) RHP - Will miss most if not all of 2012 recovering from TJ. Still has pretty good future after recovery.49.
Sam Dyson
(24) RHP - has been recovering from injury, at least one recent report said he'd had a setback. Good stuff but plagued by injury.48.
Santiago Nessy
(19) C - could go a lot higher if he stays at Catcher and succeeds, much harder to impress if he has to move out to 1B. Big kid for a catcher.47.
Manuel Cordova
(17?) RHP - One of the summers well regarded bonus babies. 46.
Jesus Gonzalez
(17?) OF - another 2011 summer signing. All of these guys in the top 50 were well regarded by scouts and paid like high draft picks.45.
Anthony DeSclafini
(22) RHP - Sixth round pick this summer, some good reports though largely overlooked in the praise for other picks.44.
Tom Robson
(18) RHP - Canadian hero, 4th round pick this year. Will be a sentimental favorite for many.43.
Jeremy Gabryswski
(19) RHP - Second rounder this year, another guy who didn't get the publicity of some others but some observers like him a good bit.42.
Yan Gomes
(24) C - Finished strong in the AFL, had surprisingly good season in AA despite a constant struggle for playing time behind d'Arnaud. Given the opportunity he could climb.41.
Myles Jaye
(20) RHP - considered a quality sleeper choice when drafted in the 18th round in 2010. Didn't set the league on fire, or disappoint. Jury still out.40.
Jario Labourt
(18) LHP - Under the radar free agent last year, pitched fairly well in DSL this year but too early to judge him on stats. Scouts like him.39.
Mitchell Taylor
(20) LHP - Excellent walk and K rate for Bluefield, possibly a temperament issue as he was sent home early for disciplinary reasons.38.
Mark Biggs
(19) RHP - Eighth round pick in 2011 but he fell due to signability. probably more like a 3rd round talent. 37.
Griffin Murphy
(19) LHP - Second round pick looked a bit ordinary in first pro season but it's very early yet. Considered a very quality pick.36.
Joe Musgrove
(19) RHP - Yet another guy who is perhaps underrated because he wasn't a guy who fell due to being hard to sign. Thus not a lot of publicity after the draft.35.
Kellen Sweeney
(20) 3B - Missed almost the whole season due to injury, but if healthy still has a major league ceiling.34.
Dawel Lugo
(17?) SS - All these 2011 bonus players have a "?" by their age because I don't have a birthdate on most of them. All these guys were on the list of the top 40 highest regarded Latin prospects on signing day, essentially, sort of the first round talent of the market.33.
Wilmer Becarra
(17?) SS/CF - Most reports suggest the shortstop is growing out of the position (he's already 6'4") and will likely begin his pro career in CF. 32.
Mike McDade
(23) 1B - A mid-season knee injury wreaked what had been a breakout year. his first-half OPS was .880 and the second half saw only a .561 total. We'll have to see if that was an expected regression or it really was the knee. 31.
Joel Carreno
(25) RHP - Seemed to find a niche as a reliever (in a small sample) which is what I'd expected of him all along. We don't know yet how he'll peak but there might be a very good late inning guy here.30.
David Cooper
(25) 1B - none of the scouts express the view that he'll be anything more than a filler guy in the majors, depsite fans drooling over his 2011 stats. Could have a Dan Johnson like career, or might prove his critics wrong.29.
Sean Nolin
(22) LHP - lost a bunch of weight over the last off-season and re-invented himself. Jays coaches were blown away by the result. With so many good pitchers in the system, this might be the single most overlooked pitcher the team has.28.
Christian Lopes
(19) SS - Seventh round signability steal. This is one of the guys from the 2011 draft I have a strong hunch about, though he might end up at 2B eventually.27.
John Stilson
(21) RHP - Health is a big concern here. if he can stay on the mound, might be one of the biggest bargains in the draft. Question is - will the Jays develop him as a starter, or throw him out there as a closer where he might come very fast.26.
Moises Sierra
(23) RF - Sierra is a bit of an enigma to me. Tools are there, performance is so far just "not bad." I've concluded that given the team's near-majors depth, Seirra is a prime trade candidate (as is Cooper) and I expect him to be an add on to some trade, this winter or next summer (in the same manner that Yohermin Chavez was in the Morrow deal).
In my opinion, there are
easily
40 or more players in the system who would be top 30 prospects on your average MLB list - and there are players as low as #55 on my list that some would make an argument for as being worthy of that praise.
Coming soon: the Top 25!
Original Story:
http://thesouthpawbaseball.blogspot.c...
THE BACKYARD
BEST OF MAXIM
RELATED ARTICLES
The Pittsburgh Pirates designated Eric Fryer for assignment last week to clear a spot on the 40-man roster for their Rule 5 additions.  On the same day they claimed catcher Brian Jeroloman from the Toronto Blue Jays, who they designated for assignment to clear a spot for Clint Barmes.  Fryer cleared waivers today and was outrighted to AAA.  Jeroloman, on the other hand, was claimed...
The Pittsburgh Pirates have offered arbitration to free agent first baseman Derrek Lee, and have declined arbitration offers to catcher Chris Snyder and outfielder Ryan Ludwick. If Lee accepts arbitration, the Pirates will have him under contract for the 2012 season, with his arbitration price likely being a raise over his $8.5 M total compensation in 2011.  If he declines, the...
This afternoon, Major League Baseball and the MLBPA announced a new collective bargaining agreement that will extend labor peace through the 2016 season. Not like it was ever in question, but the good news is that us baseball fans won't have to suffer through any kinds of work stoppages in the near future. But let's take a look at some of the changes to the new CBA and how those...
The Toronto Blue Jays have claimed catcher Brian Jeroloman from the Pittsburgh Pirates, according to a team press release. Pittsburgh designated the 26-year-old on November 21st, only a few days after they claimed him off waivers from the San Francisco Giants. Image by mwlguide under the Creative Commons License.
Less than a week after losing Brian Jeroloman on waivers, the Blue Jays have re-claimed him.  The team announced that it has claimed the 26-year-old catcher from the Pirates.  Toronto's 40-man roster now has one open spot. The Pirates claimed Jeroloman off of waivers from Toronto on Friday but designated the catcher for assignment on Monday to make room for the newly-acquired...
The Pittsburgh Pirates have agreed to pay Clint Barmes $10.5 million to play short stop for them for the next two seasons. To top that off, the 33-year-old middle infielder gets to reunite with his old manager Clint Hurdle, who he played under during his first seven seasons in the big leagues with the Colorado Rockies, where he enjoyed a World Series title in 2007. Barmes...
The Pittsburgh Pirates have officially announced the signing of six minor league free agents via a team press release.  Five of the six we've already heard about (Jose Diaz, Brandon Boggs, Jake Fox, Shairon Martis, Stefan Welch).  The one name we haven't heard is Kyle Cofield. Cofield is a 6′ 5″, 220 pound right hander who pitched in the Chicago White Sox system last year...
Happy Thanksgiving!  Checking in with the Pirates' players and friends in Wednesday's winter league action:   PUERTO RICAN LEAGUE Indios de Mayaguez  1,  Criollos de Caguas  0 Los Indios posted 10 hits but left 8 runners on base, scoring only one run.  A double and two singles brought in the lone run, but left the bases loaded and one out.  Unfortunately, 3B Jeremy Farrell...
Jake Fox and Shairon Martis are among six players the Pirates have signed to Minor League deals. Along with outfielder Brandon Boggs, the two receive non-roster invitations to Spring Training as part of their deals.
Jane: That's not fair, daddy. Lilly got a mango pop and I didn't get one.Louie: Yup.Jane: Well that's not fair.Louie: I don't even know what that means.Jane: Why does she get one and not me?Louie: 'Cuz she's a separate person from you. You're never gonna get the same things as other people. It's never gonna be equal. It's not gonna happen ever...
Alright so this one should be pretty easy as the Buccos have really addressed this position. The Pirates lost Ryan Doumit and it looks pretty unlikely that Chris Snyder will be back.  Those two were supposed to be the catching tandem last season. Doumit had a good season, when he played.  The oft-injured backstop (somewhat) [...]
MLB News

Delivered to your inbox

You'll also receive Yardbarker's daily Top 10, featuring the best sports stories from around the web. Customize your newsletter to get articles on your favorite sports and teams. And the best part? It's free!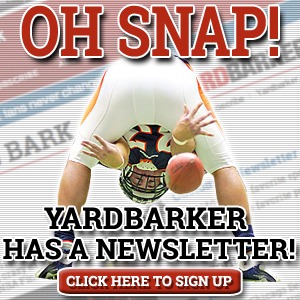 Latest Rumors
The Backyard

Today's Best Stuff

For Bloggers

Join the Yardbarker Network for more promotion, traffic, and money.

Company Info

Help

What is Yardbarker?

Yardbarker is the largest network of sports blogs and pro athlete blogs on the web. This site is the hub of the Yardbarker Network, where our editors and algorithms curate the best sports content from our network and beyond.