It's only been done 16 times in history, less often than a perfect game.  While every one of the four home run perfomances has been great, these five stood out as the 5-best.  It was hard to leave out Mike Cameron's four home runs in five innings with the Mariners, but there were others that seemed more incredible.  5. Bobby Lowe – May 30, 1894 vs. Cincinnati Reds This was the first four home run game, and it came from "Link" Lowe, who was the leadoff hitter, and second baseman for the Boston Beaneaters.  He finished the day with five hits in total, and six runs batted in.  Lowe connected twice in the third inning, en route to making baseball history.  The pitching performance by Cincinnati's Elton Chamberlain is perhaps the most amazing line of the day: 8 IP, 19 H, 20 R, 8 BB, 3 KO.  It is not clear at this time if there's any relationship to Joba. 4. Lou Gehrig – June 3, 1932 vs. Philadelphia Athletics The "Iron Horse" was just one of many contributors in a 20-13 Yankee win against the Athletics at Shibe Park.  Gehrig went 4 for 6 on the day, with six runs batted in.  On this day he was the cleanup hitter, batting behind the legendary Babe Ruth.  The number-7 hitter was third baseman Tony Lazzeri, who went 5 for 6, also driving in six runs.  The Athletics led 8-4 after four innings, when the Gehrig-led Yankees scored 16 runs over the next 5 innings.  Athletics reliever Eddie Rommel's line: 1 IP, 3 H, 6 ER, 3 BB, 0 KO. 3. Gil Hodges – August 31, 1950 vs Boston Braves On a Brooklyn Dodgers team with Roy Campanella, Jackie Robinson, Duke Snyder, and Pee Wee Reese, it was Gil Hodges who drove in 9 runs against Warren Spahn and the Braves.  Hodges was just 26-years old at the time, and totaled 17 bases during the extra inning game.  The four home runs came off of four different pitchers.  Just 14 months earlier Hodges hit for the cycle. 2. Josh Hamilton – May 8, 2012 vs. Baltimore Orioles The first-place Orioles were hosting the powerful Rangers, and certainly using this series as a measurement of their early season strength.  Josh Hamilton put the O's in a brief sleeper-hold with his 8 RBI performance.  Hamilton ended the day hitting a Williams-like .406, with 14 home runs, 36 RBI, and continued to distance himself far ahead of the other MVP candidates in the American League.  A double in the fourth rounded out his perfect night at the plate for the often troubled big leaguer.  Chris Davis was not needed in relief on this night for Baltimore. 1. Mark Whiten – September 7, 1993 vs. Cincinnati Reds Hard Hitten' Mark Whiten went hitless in the first game of a doubleheader on this day.  In the nightcap, the center fielder hit a grand slam, two three-run homers, and a two-run shot on his way to twelve, yes twelve runs batted in.  On the day Whiten's team scored 15 runs, and Bob Tewksbury pitched a complete game.  The performance that day at Riverfront Stadium is still tied as the all-time record for most RBI in one game.  Strangely, the time of game was only 2:17, awfully short for a game that had 17 runs scored.  Seven days later Whiten hit a home run from both sides of the plate in a game.  Whiten had 105 career home runs, and 423 career RBI.
Original Story:
http://sports-kings.com/readingbetwee...
MORE FROM YARDBARKER
MLB News

Delivered to your inbox

You'll also receive Yardbarker's daily Top 10, featuring the best sports stories from around the web. Customize your newsletter to get articles on your favorite sports and teams. And the best part? It's free!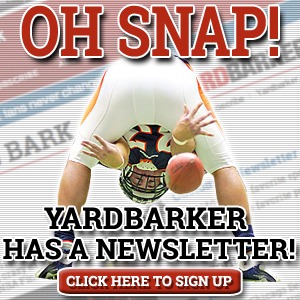 Latest Rumors
Best of Yardbarker

Today's Best Stuff

For Bloggers

Join the Yardbarker Network for more promotion, traffic, and money.

Company Info

Help

What is Yardbarker?

Yardbarker is the largest network of sports blogs and pro athlete blogs on the web. This site is the hub of the Yardbarker Network, where our editors and algorithms curate the best sports content from our network and beyond.