Found November 01, 2012 on The Nats Blog:
PLAYERS:
Adam LaRoche
,
JJ Hardy
,
Brendan Ryan
,
Jimmy Rollins
,
Clint Barmes
,
Adam Jones
,
Mike Trout
,
Carlos Gonzalez
,
Josh Willingham
,
Adam Dunn
,
Martin Prado
TEAMS:
Washington Nationals
,
Baltimore Orioles
,
Seattle Mariners
,
Philadelphia Phillies
,
Pittsburgh Pirates
,
Los Angeles Angels
,
Colorado Rockies
,
Minnesota Twins
,
Chicago White Sox
,
Atlanta Braves
  The Gold Glove Award is a joke. Yes, I mean it. Historically, the award almost never acknowledges all of the best defenders in baseball. It rarely ever gets close. This year was no exception. Let me be clear about something. I'm not writing this because Ian Desmond didn't win at shortstop, nor am I writing this to take away from Adam LaRoche's award and his amazing season. It's just that many of the awards handed out flat out ignored some of the best defensive players of the season. Here's the list of my top four outrages from the 2012 Gold Glove Awards. 4. J.J. Hardy over Brendan Ryan - Hardy had a fine year, both defensively and offensively, for perhaps the most shocking team in baseball, the Baltimore Orioles. That said, Ryan plays for the irrelevant Seattle Mariners and doesn't hit particularly well, which sadly made him irrelevant in this conversation. Ryan lead the AL in UZR at 14.7 and is widely considered one of the best defensive shortstops in the league. 3. Jimmy Rollins over Zack Cozart and Ian Desmond - Rollins is getting older. While he's still a pretty good defensive infielder, his range isn't the same, and he certainly doesn't compare well to either Cozart or Desmond. The worst part is the two best defenders at shortstop in the National League this year, Clint Barmes and Brandon Crawford, weren't even nominated for the award. 2. Adam Jones over Mike Trout - This one is mind-boggling. Adam Jones had a -6.7 UZR this season, or second worst among American League center fielders. Trout, meanwhile, had a 10.6 UZR in center field in his rookie season, and he should be on his way to winning the AL MVP. But that's a post for a different day. Trout's incredible season just continues to be overlooked and/or forgotten. And while I was extremely frustrated by this decision, it was just edged out by this last one. 1. Carlos Gonzalez over anyone at all - Nothing is more outrageous than this. Let's be honest, left field isn't really where you tend to put your most elite defensive outfielders. Just look at the Nats solutions out there over the past several years: Michael Morse, Josh Willingham, Adam Dunn. However, Carlos Gonzalez ranks dead last with a -8.5 UZR among all NL left fielders with more than 100 plate appearances as a left fielder. By UZR, this is more egregious than giving Michael Morse (-8.3 UZR) the left field Gold Glove Award. Martin Prado should have walked away with this award.
Original Story:
http://www.thenatsblog.com/2012-artic...
THE BACKYARD
BEST OF MAXIM
RELATED ARTICLES
J.J. Hardy won his first Rawlings Gold Glove Award for his play at shortstop for the Baltimore Orioles this season. The selection left many wondering why Brendan Ryan of the Seattle Mariners did not win the award. Seattle Mariner fans who got to watch Ryan's wizardry at short are screaming the loudest, naturally. But many others are also crying foul. While the awards themselves...
Last time around, we looked at the 2012 All Defensive Teams when ranking players by various defensive statistics, such as Fielding Percentage, Defensive Runs Save, Ultimate Zone Rating, and more.Sadly and insatiably, much more.This time, for brevity's sake, we're only using DRS and UZR.Defensive stats should be reviewed with a larger sample size than just one year, hence...
MLB News

Delivered to your inbox

You'll also receive Yardbarker's daily Top 10, featuring the best sports stories from around the web. Customize your newsletter to get articles on your favorite sports and teams. And the best part? It's free!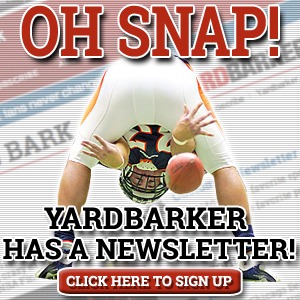 Latest Rumors
Best of Yardbarker

Today's Best Stuff

For Bloggers

Join the Yardbarker Network for more promotion, traffic, and money.

Company Info

Help

What is Yardbarker?

Yardbarker is the largest network of sports blogs and pro athlete blogs on the web. This site is the hub of the Yardbarker Network, where our editors and algorithms curate the best sports content from our network and beyond.